Your room is your own sanctuary where you may feel secure and express yourself honestly about your feelings. Some individuals utilize their rooms to showcase their personalities, while others style them to reflect their feelings at the time. 
We all need to maintain optimism and look for the positive in any circumstance despite life's difficulties and bad experiences.  We can thus appreciate your desire to make some changes if your room appears dull and uninteresting. 
Sunflowers are the best way to convey a pleasant attitude while decorating your space since they are contagious. 
Sunflowers have rounded faces and vivid yellow petals that resemble the sun's beams and stand for hope, joy, and vitality. With this being said, we have compiled several sunflower bedroom ideas for you to enjoy. 
​​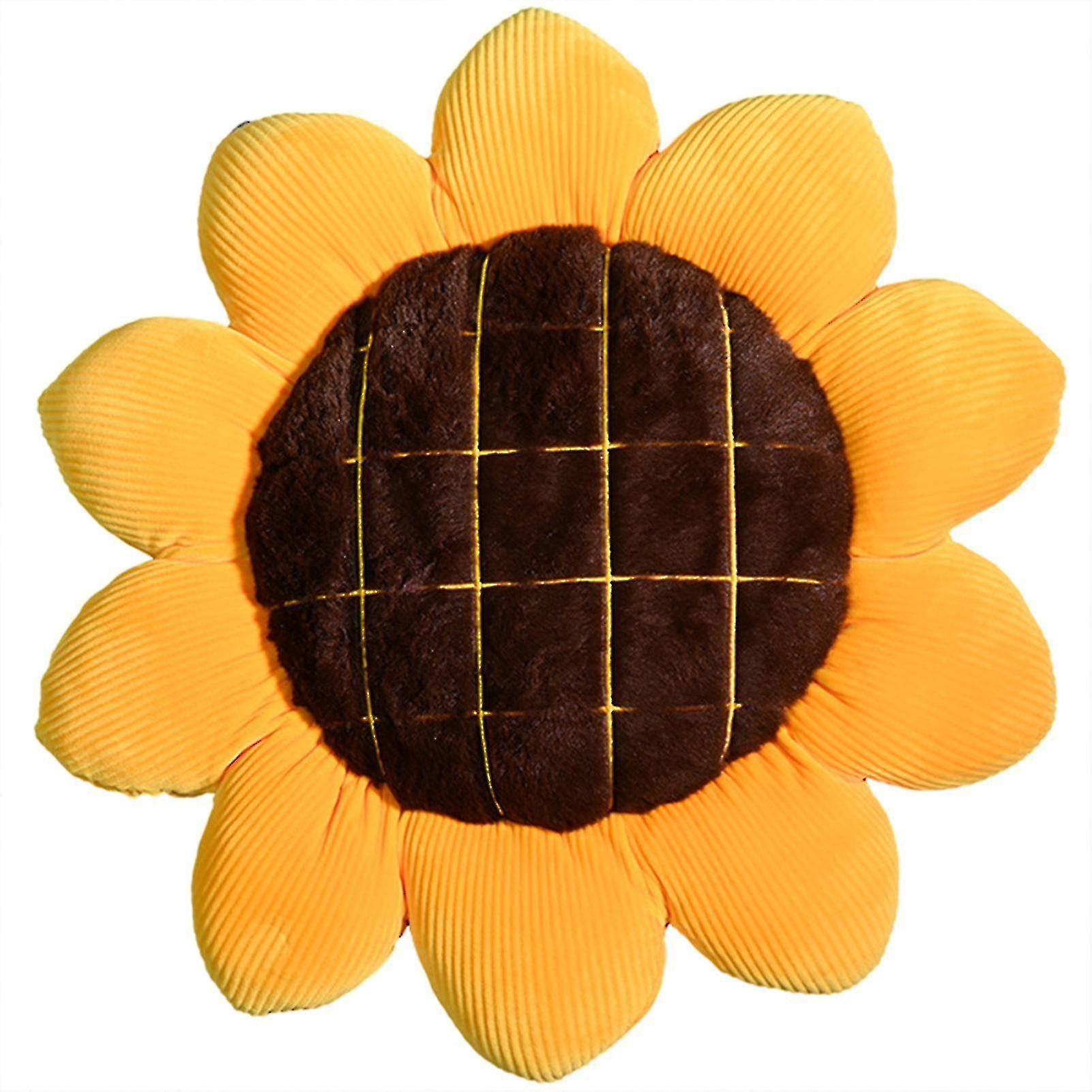 Image Source: Wayfair
The addition of pillows to a bedroom instantly makes it seem more welcoming and cozy. The moment has come, though, to up the hilarity level. Get natural light and a fresh air sense in your space by having a sunflower-shaped pillow. 
Things you should consider: 
Think about purchasing not one, but a set of these adorable sunflower-shaped pillows to decorate your bed.  Make your obsession with this stunning flower obvious.  

Consistency is great so long as the sizes aren't too far off; but, for a more interesting and whimsical look, try mixing and matching pillows of all shapes and sizes; just make sure they all have simple patterns so as not to clash with the rest of the bedding. 

Yellow and brown are two of the most adaptable colors, so you can use these pillows wherever from your bed to your little bedroom couch or armchair.
Image Source: Amazon
These specific bedroom ideas based on a sunflower motif are simple, but they may easily become the room's highlight. You may make your bedroom wall appear amazing by experimenting with various fonts, designs, colors and letter forms.
Points to think about:
Having these wall decals in your room will make a bold statement and serve as a constant reminder to stay grounded and have fun. 

Transform your wall into a blank canvas on which you may superimpose a scene of a life surrounded by fields of sunflowers. Add additional dimension by drawing sunflowers at varying heights and facing various directions. 

Get a gold metallic bedframe, white bedding, and neutral or nature-themed cushions to create a chic yet uncomplicated bed. 

A golden brown body lamp would definitely add a classy touch. 

It would be nice to include a stool and a bedside table to round out the space. One little plant in a container is also recommended.
Sunflowers Blooming on My Drapes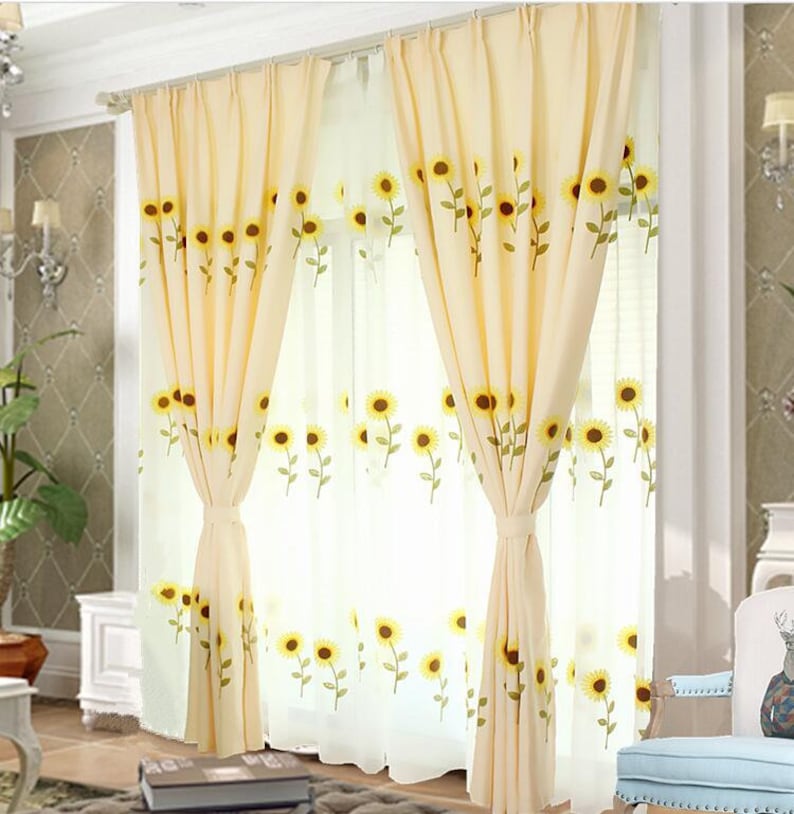 Image Source: Etsy 
If you have these sunflower-patterned curtains, you may pretend it's a sunny day even if it's overcast or raining outside. The aesthetic attractiveness of the space is instantly increased as a result, too.
A few things to think about:
This translucent yellow polyester drape has flowers scattered delicately over its surface, bringing the vivacity of the sun and wind into your bedroom without leaving the coziness of your bed. 

The yellow sunflower will really pop against a neutral background, so if you want to use draperies, don't go crazy with the color scheme. Be consistent with the pattern and design as well. 

If you're looking for a simple layering solution to dressing up the window in your bedroom, consider investing in a linen or silk curtain. 
Amidst a Bed Field of Sunflowers
Image Source: Amazon
Spread this duvet over your bed and pretend you're sleeping in a field of sunflowers. There's no denying how stylish and well-matched the colors are. Indeed, one of the most beautiful ways to decorate a bedroom with sunflowers!
Things to think about:
If you want something that will grab people's attention from far away, go no further than these beddings, which include perfectly sized and well-spaced sunflowers with black and white stripes,  

Butterflies around the size of sunflowers will give a burst of color and life to your bedding. Size is important in design since it aids in creating harmony. Add details like leaves and vines to your design. 

Any standard, neutral-colored leather bed frame will do to provide a western-style look and feel. 

Get a bedside table, a vintage lampshade, and some plant pots to spruce up the space. 

Ceramic flooring is a great choice for a modern home. Put in a brown fur or wool rug for a dash of opulence.
Radiant Sunflower Fairy Lights
Image Source: Roomtery 
Put these battery-operated fairy lights around your bedposts to make your bedroom a warm and comforting place to relax. With these lights, you'll be led to a place of beauty and peaceful rest.
Several points to think about:
Vine tangles on the walls, ceiling, and bedframe create a lovely visual disorder. 

A wooden bed frame is a great way to convey a sense of calm and harmony with nature. Vine and wood have long made a lovely pair. 

Choose artificial flowers like sunflowers and vines to save money. As a bonus, you wouldn't have to worry about constantly making design changes. 

Place a few of your favorite books on a wooden nightstand to both decorate and make use of the space in your bedroom.
It's all about freshness!
Image Source: Freepik
Gather some fresh, local sunflowers whenever you have the chance and display them proudly in your room; they are unrivaled in beauty. Sure, they will ultimately wilt, and the colors won't be as vivid, but you can always acquire a new batch if you feel like it. 
Tips made just for you:
If you want your bed to seem more put together, use soothing hues like cream, white, or light brown. 

Take the simplest approach possible. Thus, the fresh sunflowers in the see-through vase may serve as the focal point of the arrangement. 

Put a vase of sunflowers on your nightstand to bring a touch of sunshine and calm to your sleeping quarters. Too many sunflowers will make the motif conspicuous, so be careful.
Sunflower and Rug for the Bedroom
Image Source: Pinterest 
By adding a carpet with an abstract look, you may make your bedroom seem more like a refuge. A single beautiful sunflower makes this area rug more personalized which also serves as a constant reminder of renewal, hope, and a better future.
Some tips to follow:
Choose a pattern with a lot of movement and color but no literal meaning. The little blurriness would add to the impression of depth and dimension. 

If you want to make your bedroom seem larger, consider getting a rectangular carpet. A polypropylene rug would work great for this purpose. 

In terms of additional color and style, the focal point of your design should be a large sunflower. Add a variety of hues, including green, orange, and brown. Incorporating this design element would provide a touch of originality and artistic flair to the rug.
Luminous Man-Made Sunflowers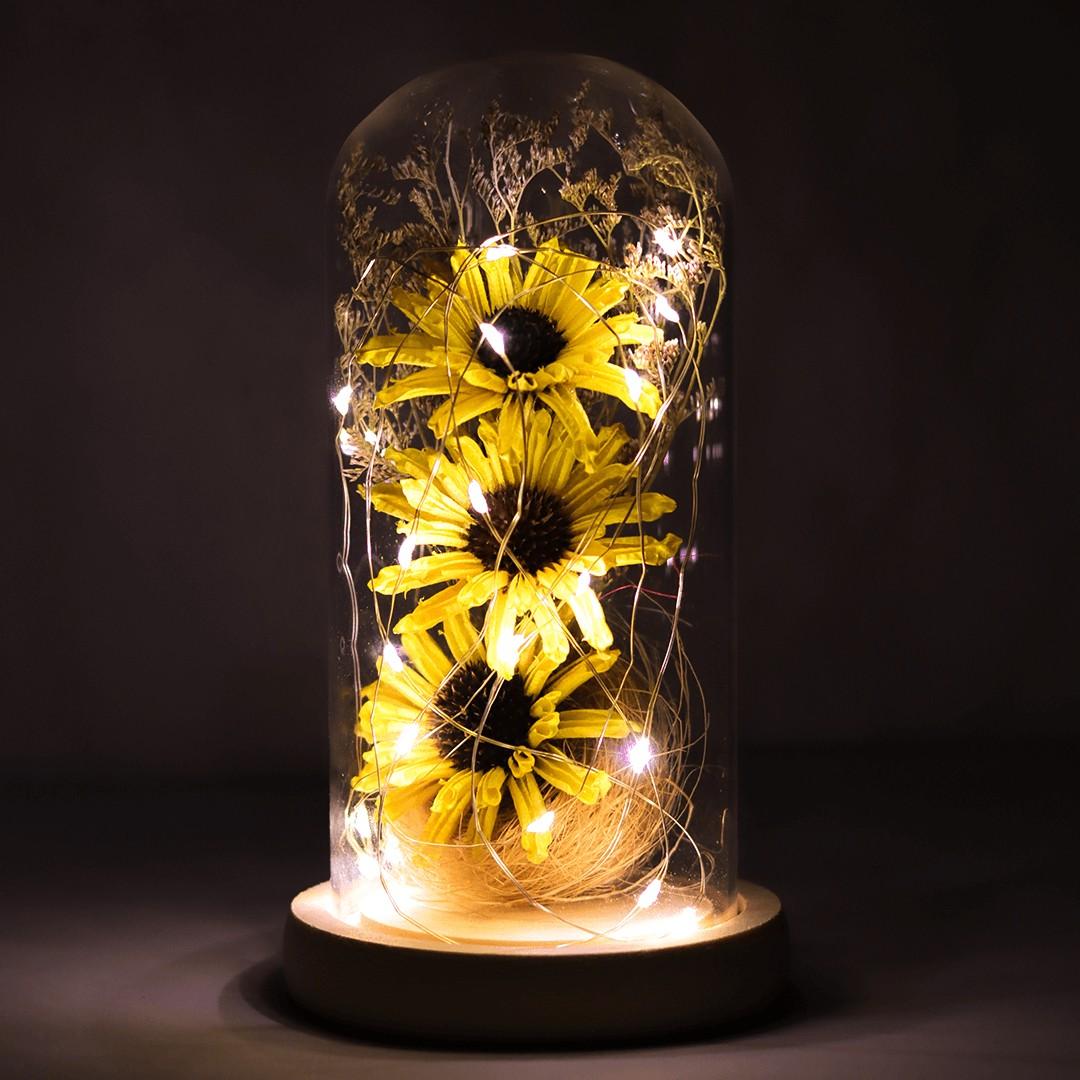 Image Source: Carousell
This glass dome light is one of many adorable sunflower-themed bedroom fixtures. So, get rid of that dull night light and replace it with something that will help you drift off to sleep in no time.
Here are a few pointers to consider:
Artificial vines and hay placed within the glass dome would look lovely beside the sunflowers. The result would be a more artistic and attractive design. 

The lights on the string may be turned on with the flip of a switch, providing a warm glow for a couple to enjoy. 

Turn off the lights and make sure the glass dome is well-lit to create an atmospheric mood.

To keep the glass dome light from shattering, it must be set on a level surface. It would be ideal if you could recommend a nightstand or desk. 
Encouragement and Reminders to Keep  
Image Source: Amazon
Three of the most lovely words in the English language are printed on these wooden plaques to serve as a constant reminder of what you should feel every day. With so many options for sunflower-themed bedrooms, this is an absolute must-have.
These suggestions may help you: 
Every day, repeat to yourself a trio of inspiring phrases. You may add a touch of class and originality to your space by displaying them in a fancy typeface. 

Get wooden carvings made of the phrase. Both the color and the design will hold up well over time. Plus, this would signify how hard it is to strive for greatness yet you try your best to be the best version of yourself. 

Include some sunflowers, of course, around the borders. Avoid the temptation to overdo it by placing a sunflower at every corner as this will look exaggerated. 

The last step is to display them concurrently on your walls. Don't lose the intended tone and meaning by dispersing them.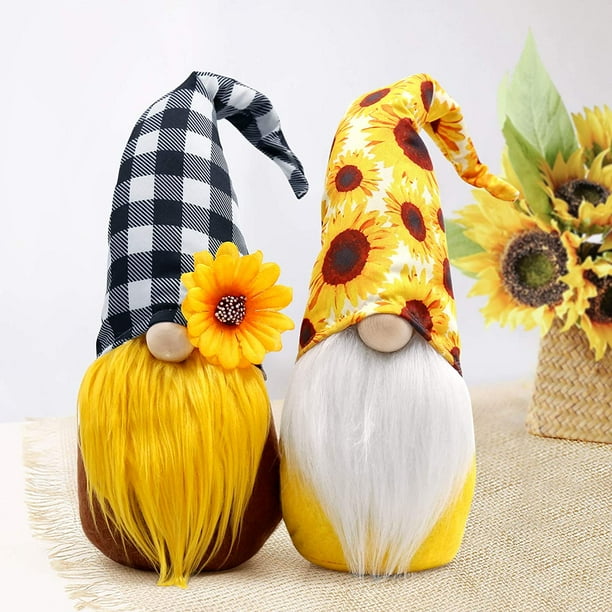 Image Source: Walmart 
No one says gnomes have to stay in the garden. In fact, this sunflower-themed set may serve as a decorative element in a variety of rooms, not only the bedroom. On top of that, it helps you immensely by getting rid of monotony.
Here are some suggestions:
You may put them to use as bookends or as simple decorations. No matter how you put them to use, these elves will steal the show with their cuteness. 

Make sure all of the elves are wearing yellow or have some kind of sunflower motif on them to go in with the theme. 

The goal here is to inject some originality and sweetness into your space, so keep their dimensions modest. Large ones will amplify the effect.

Choose between a basic or happy gnome. Bringing a gnome into the bedroom that has an annoying expression will bring that atmosphere down. 

To maintain harmony and equilibrium, the gnomes must always travel in pairs. The pattern will be thrown off if they are separated.
Keep it Fab With Sunflower Canopy 
Image Source: Amazon 
Isn't it great to open your eyes under a canopy of sunflowers, where your dreams were crafted? Absolutely, it is within your reach! You may live out your inner sunflower dreams with the appropriate use of color, design, and harmony, and never again be green with envy over Mother Nature.
Strategies to consider:
Make teal and yellow your primary colors, or any two that go well together. A canopy with too many colors can make the structure seem cluttered. 

Go with the tried-and-true pattern, where sunflowers flourish in the center of the cloth and the dividing line between the two hues. 

Brown bedframes with white linens provide a modern and western look for the bedroom. 

The walls should be plain so that additional decorative items may be added if desired. Just keep it white for a traditional appearance.

Install ceramic tile flooring for a clean, contemporary design. Putting in a rug is unnecessary. These geometric shapes should do the job! 

To get a country look, place a lampshade made of natural materials over a slender, old nightstand.
Store It In A Sunflower Closet 
Image Source: Ali Express 
Keep your space organized with this wardrobe decorated with cheerful sunflowers. And yes, don't forget that you can also add some personalized designs. As with any other kind of room, tidal rooms are the greatest in any theme.
Here are some tips:
It's recommended to keep the walls white so that you have plenty of room to put any decorations you choose. 

Make sure your closet is a standard, simple white one with plenty of drawers and compartments to keep your displays, clothing, and personal belongings neat and tidy to match the walls that make up the bulk of the bedroom. 

In order to make the closet seem nice, you should paste some new and interesting stickers on it, but you should be careful that they don't harm the design. 

In addition to the stickers, you could also paint a field of sunflowers at the base of the closet. Keep to the safety of neutral tones. 

All bedding should have a minimum number of layers. Say, black and white serve just conventional functions. 

Remember to place a night light on top of your modern nightstand. 

Make your floors wooden for that extra touch of rustic charm.

If you want to maximize the usefulness of your space, place a coat rack in there. 
Frequently Asked Questions: FAQs 
How can we best complement sunflowers with our home furnishings? 
Roses, snapdragons, chrysanthemums, chamomile, and irises all pair well with sunflowers in floral arrangements. Yellow is a happy, sunny color that goes well with many other hues, especially those with a lot of energy, like reds and oranges. However, if you're looking for a striking contrast, blue or purple irises are a lovely choice.
When describing a bedroom, what qualities are most important? 
Incorporating natural elements like wood, linen, rattan, wicker, stone, wool, or geodes into a space makes it seem warmer and more inviting. Make liberal use of them, and stay away from big pieces made of shiny metals or plastics if you can help it; they'll make your space seem cold and artificial.
Do sunflowers bring good fortune?
Because they are so devoted to their sun, sunflowers have earned a reputation for love and dedication. It's a win-win: you get a beautiful display and a feeling of luck and security for you and your family.
How sunflowers should be displayed? 
The vase life of these blooms depends significantly on the ambient temperature. Therefore, you should put your freshly cut sunflowers in a cool place, away from direct sunshine and heat. 
A bouquet won't last as long but will look better for longer if you remove the dead leaves. Be sure to water your sunflowers regularly; doing so will aid in supporting the plant's hefty crown.
When might sunflowers be an appropriate decoration? 
Sunflowers make lovely decorations in late summer and early autumn. You may find them at any supermarket or farmer's market.
Final Words
You now have a great foundation from which to build your sunflower-themed bedroom makeover. Once again, you may decorate your home with sunflowers without filling every available space. 
The only thing you need to do to turn your space into a flowery paradise is to play around with the color scheme and add in some of these items inspired by sunflowers. It's encouraging, however, that you see the possibility of more design investigation. Fear not, because there is nothing to worry about. 
In need of motivation? Check out these articles:
10 Fantastic Grey and Purple Bedroom Ideas You Can Easily Implement In Your Home
Written By: Trisha Mae Raymundo