People don't want to think about their neighbors when they're trying to relax at the end of a hard day by soaking in a hot tub with jets massaging away pains and a bottle of wine in hand. That's why ensuring your personal space is respected is essential when planning a hot tub patio or hideaway. 
Avoid embarrassing situations by planning ahead with these outdoor hot tub privacy solutions. Planning beforehand can enable your hot tub to become a relaxing haven where you can forget about the stresses of the outside world.
To help you rest in peace and enjoy the natural beauty of your hot tub setting, we at Define bottle have come up with eight backyard hot tub privacy ideas that exceed your expectations. 
Cover Up Your Space Entirely 
Image Source: Garden Patch 
Fencing and curtains make for a simple yet effective hot tub enclosure concept. This wooden-fenced patio is outfitted with a pergola for total overhead protection. Despite the fact that the pergola is open on three sides, it may be made more private by closing the panel curtains. 
Few tips for you: 
One side of a fence may be kept open without compromising on privacy, allowing for a panoramic view of the sky above while yet maintaining a feeling of seclusion. 

You may decorate the sides of a traditional black circle hot tub with black and white vases. Avoid the hassle of figuring out a pattern that is needed for furniture. 

A barrier with built-in seating is convenient for those who want to linger. In addition, you may use it to store items, expanding the space available to you. 

A canopy may be used in place of curtains to create a cozier atmosphere.
Relax in Style With this Sleek Gazebo 
Image Source: SPY 
Most people picture wooden buildings when they think of a gazebo. There are, however, several gazebo designs available now that would look great in a contemporary garden. You may be certain that your eyes, in addition to the rest of your body, will enjoy the time spent in this gazebo. Why? Since the scenery was so nice.
Some tips you could consider: 
The aluminum-paneled variant has horizontally-moving slats that can be opened or closed to provide both privacy and unobstructed views. So, you might as well consider this design.

Keep things uniform by constructing a wooden tub with a ceramic-like inside. 

You may also place a stool or two near the tub, but make sure they aren't too tall. It would not look good if the deck revealed inconsistencies due to the fact that part of the furnishings could not be hidden by the deck.
The Pavilion of Perfection
Image Source: Pinterest 
An outdoor hot tub pavilion built of wood blends well with its natural setting and seems to be unnatural only insofar as it is constructed. The tinted side panels provide discretion without obstructing the scenery. White-glove shipping and installation services are provided in all 50 states, and purchasers may personalize the pavilions to their exact requirements.
To achieve this you have to: 
A hot tub in the Jacuzzi type is ideal for individuals who need to relax and let go of their worries. Use wooden tub rims and unobstructed fencing to get this effect. 

It would be ideal if the tub were made of wood as well. However, if you like a more classic look, a ceramic tub is an option. 

The tub should be placed in an area of peace and quiet, such as the backyard, with an appealing view.

Dreamlike Flora 
Image Source: Pinterest
As seen above, series of plant may be planted near a pool or hot tub to provide a sense of seclusion and security. When enclosing the whole yard with fence isn't a possibility, this hot tub landscaping concept may help create a more tranquil and natural space for relaxation. 
Some tips to follow: 
Choose evergreen shrubbery that stays lush all year if you want to utilize your spa in the winter.

Have an open mind about layouts; maybe a brick wall or stone surround would help you feel more at one with the earth. 

Lights and ramps are essential finishing touches for any tub so put them near to each other.

One with Deck and Patio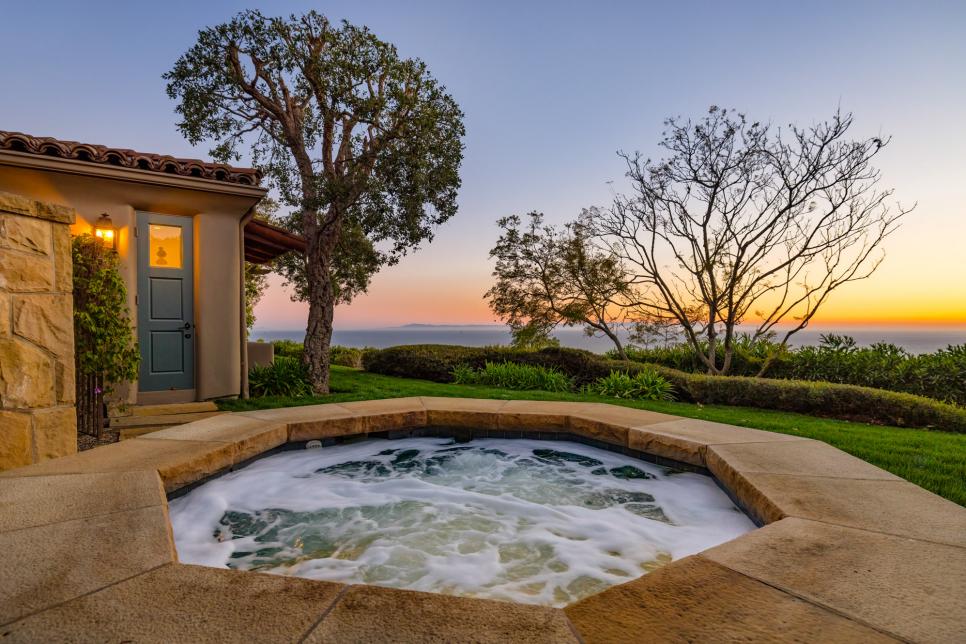 Image Source: HGTV
This hidden outdoor haven is complete with a rim-flow edge hot tub that fits in with the plain concrete patio. The outside area is focused on the circular spa. For sure, you will adore relaxing in the water of this enchanted oasis, which has been designed to complement its stunning surroundings with a harmonious color scheme.
Here's what you can do:
A number of spherical accessories, such as extra-large pots and woven baskets which is arranged around the tub to create visual unity and harmony is another great option. 

However, if you're going for a minimalist, open look, feel free to decorate with plants and flowers. 

Make sure the spot is serene and towards the horizon. You may also keep your bathing necessities in a hidden hideout near the tub.

 Superb Trellis as a Barrier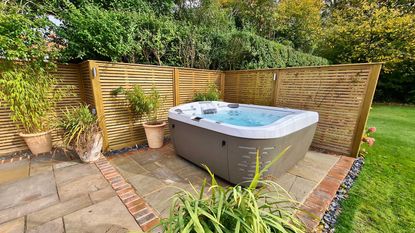 Image Source: Gardening Etc 
The installation of a trellis around a hot tub is a low-cost option for achieving seclusion. Because of the wide variety of shapes, sizes, and colors available, hot tub owners may choose one that looks great in their backyard. There are a wide range of trellis models available, so it's important to choose one that offers the degree of privacy you want.
Here are some options: 
To create a laid-back but profound atmosphere, try using brick as flooring, either in its natural state or with a distressed finish. 

The trellis should be large enough to enclose the hot tub, with sufficient room to spare for guests to maneuver. The trellis shouldn't be too different in tone from the brick. 

Given that the trellis itself is a vertical rectangle, a rectangular tub would be the most visually pleasing choice. On the other hand, if you're going for a modern look, go with a spherical shape and a jacuzzi-style design.

Create a Sensual Ambience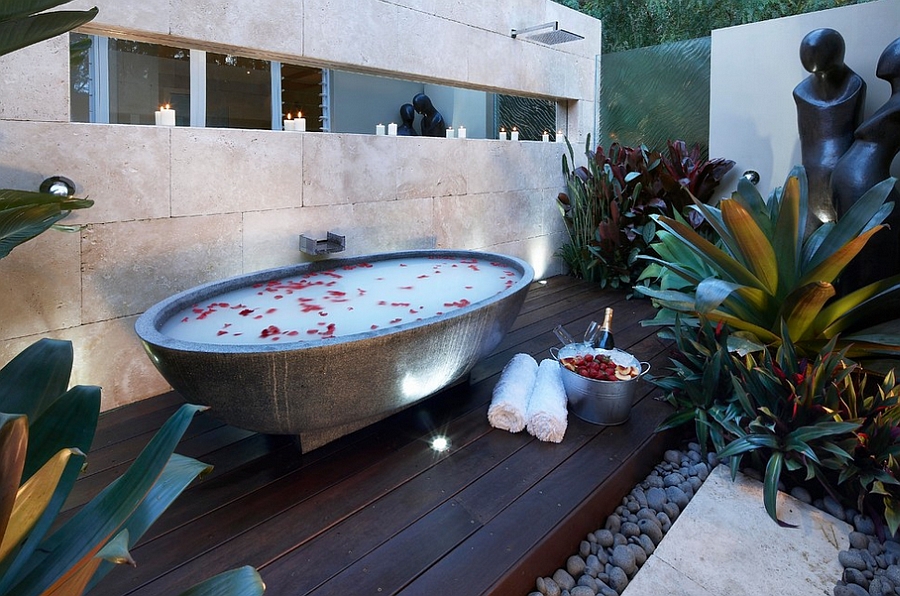 Image Source: Decoist
Some of these outdoor bathroom ideas will blow your mind, while others will show you how to bring your shower or bathtub outdoors in style without breaking the bank. Spend some quality time being intimate, whether with yourself or a partner. You should not expect anybody to peek, thus feel free to use this concept.
What you can do are:
If your hot tub is mostly grey or black, try sprinkling some red petals in there for a pop of color. 

Light some candles to establish a romantic tone. Figures and plants enhance the setting, and champagne is always a welcome addition. 

For the figures, choose ones where the outline is vague but the texture and contour provide clues. To complete the enticing appearance, be sure to have some pebbles too. 

Channel Those Glamorous Glass Panels 
Image Source: Social Dance at Stanford
A cedar pergola with corrugated top panels shields the spa from direct sunlight, creates a sense of seclusion, and makes the hot tub the center of attention. Given the yard's distant location, the cedar paneling serves its purpose well by providing much-needed solitude on only one side. More paneling or a separate hot tub privacy screen may be added to increase the amount of cover provided.
Things you can do: 
Put everything in a wooden chamber for further secrecy. You may make it seem less stifling and more open, though, by installing glass partitions. 

Ceramic and wood for the tub's texture is a great way to blend contemporary and rustic aesthetics. 

Cementing or elevating floorings on a deck is also an option. In any case, it's a beautiful and sophisticated design. 

Add some greenery and a spherical chandelier to the ceiling to make the space seem more vibrant.
Frequently Asked Questions: FAQs
How can I ensure my hot tub remains private? 
Retractable privacy walls, tall or bushy plants in pots, garden trellises with climbing ivy, privacy screens, and a pallet fence are all great options for creating a private space around your hot tub. Pop up tents and gazebos sold on Amazon, however, are excellent alternatives that won't break the bank.
How can I make sure the privacy of my hot tub space? 
A fence surrounding the yard or a privacy screen set up next to the spa are the most apparent ways to ensure your personal space is protected while you relax in your hot tub. There is a plethora of formats from which to choose, making the possibilities for screens seem endless. Choices for enclosing your yard also abound.
Which plants provide the most discretion when placed near a hot tub? 
Plants that are both tall and luxuriant are ideal for hiding your hot tub from prying eyes. Common choices include roses, clematis, bamboo, and boxwood. The Virginia creeper may be used to form a living wall when planted in a big planter box supported by a trellis.
Final Words
No matter what other hot tub privacy ideas you choose to use, the tub itself must be placed on a solid, even surface. It has to be sturdy enough to sustain not just the hot tub itself, its water, and many people using it, but also any stairs or an overhead cover. 
Finally, remember to take into account the scenery that will be shown to you at your destination. If taking in your garden's scenery is a top priority, you should give some thought to which spot offers the most spectacular vistas.
If you are looking for some ways to beautify your backyard, here are some articles that can give you tons of inspiration.
Written By: Trisha Mae Raymundo