Want to completely revamp your bedroom in Animal Crossing? These methods are guaranteed to put you to sleep in no time. 
There are now more resources than ever before to help you make your house exactly what you want it to be, and you can take your imagination to new heights just by borrowing ideas from others. In addition to enjoying playing in and visiting your bedroom, you may also get praise from other gamers. 
What is Animal Crossing?
It's not only about constructing a town in Animal Crossing; it's about creating a family. The player may explore several islands to recruit anthropomorphic animals, such as French-speaking ducks and capitalist racoons, for their burgeoning colony. 
It's a cartoony life simulator where you have to populate an otherwise uninhabited island and make it flourish. It's difficult to convey the fun of this to someone who has never played an Animal Crossing game. Activities like fishing, cutting wood, mining stone, and making make up a large chunk of the game.
With this being said, We've got it everything here to make your playtime fun and functional, from comfortable havens to aquatic mermaid suites. So, come and read our animal crossing bedroom ideas. 
Vacant Room at Grandma's House
Image Source: The Lost Gamer
Grandma's house is always a warm and welcoming place to spend time when you want to relax and unwind. Attempt to recreate the sentimental atmosphere of a loved one's childhood bedroom. 
Keep these in mind:
Specifically, the Chic Wall wallpaper is what makes this set special. It's excellent for Grandma since it has that old-fashioned vibe while yet being soothing to the eye with its pale yellow and green tones. 

The Ranch Beds with Iron Doorplates behind the headboards are another key piece of furniture that contributes to cozy ambiance. 

The addition of a lacey rug, an elegant lamp, a fancy frame, and a mother's cushion covered in a colorful quilt makes for the coziest grandma's retreat imaginable.

You may hang some artwork and paint the walls milk white for some more style and neutrality.
Bright and Open White Bedroom
Image Source: Pinterest
White may not be the first color that comes to mind when thinking of a bedroom, but this neutral shade works well with almost any aesthetic. Bedrooms decorated in this shade are instantly more stylish and vibrant, eliminating any need to second-guess whether or not the furniture's hue is quite right.
Options you can utilize:
Because of the color's ability to reflect light, white wallpaper would do to make the space seem larger. Take advantage of a wooden wall that has been painted white. Use something dark, like wood or brick, as flooring to create contrast. 

Obtain a bedside table with a conventional light and a medium-sized lamp, pictures, flowers in vases, greenery, a wooden stool, a bird cage, and garments hanging up to create a natural atmosphere while maintaining a sense of difference.

It's important to keep the bed and the walls in a similar color scheme. Adding some patterns might make it seem more polished.

Depending on your standards, a modern floor might have either a timber subfloor or a cement one. For the sake of harmony and uniformity, you should definitely paint it white as well.
Room Including a Dressing Area
Image Source: Pinterest
You definitely want your passion for fashion to shine through in your ACNH bedroom design because you like dressing up so much. This is a simple enough construction for novices, and you can always refine the aesthetic with practice. 
Here are a few tips to note:
Make a walk-in closet out of a section of your bedroom. The use of personalized Simple Panels may give a room divider or border the appearance of closet doors.

Patterns may be maintained throughout a room by purchasing matching wall art, throw cushions, wall hangings, and bed linens. 

Put in two couches of similar size to make better use of the space. This will also improve the room's aesthetics by creating symmetry. 

Make your space smart and relaxing with some books and plant life.
A Splendid Suite for the Master Bedroom
Image Source: Pinterest
Pick up pieces of furniture that are both sophisticated and evocative of a bygone era to successfully merge the past and current. Anyone looking to make their bedroom seem more unique and interesting might consider this design.
Some options you could consider:
The carved headboard of a single bed is an eye-catching and unusual feature. Additionally, you may utilize a color-coded layout with few or no patterns. If you want to go for a retro look, brown and off-white are the hues to choose. 

Acquiring carpets of various types and colors allows one to experiment with a wider range of designs and patterns. 

The enormous glass windows and doors dramatically improve the look and feel of the space. Make sure it has tasteful designs that add to the elegance of the space. 

Obviously, you don't want your space to seem chaotic, so partition it in two with a sleek and contemporary divider. Separate the dressing area and the couch by positioning it across from the room from the desk. 

Adding some hanging greenery and a few average-sized flower pots may do wonders for the aesthetic value of a space.
Restful Retreat in Nature
Image Source: Pinterest
Where else can we go to relax except the beach? We can probably all agree that taking in the sights of the natural landscape is the highlight. If you're more at ease doing it in your bedroom, then by all means do it. You'll appreciate the tranquil effect that greens may have on your bedroom.
Things you have to do:
You may give your bedroom a more unique look and a more natural atmosphere by painting the wallpaper green or by purchasing wallpaper that has plants, vines, and bushes. 

Log furniture and a hardwood floor will complete the rustic feel. The bed linens might be a bright orange or a gentle crimson to help them stand out. 

Swap out your vases for some brown jars, a wooden table, some brown pots, and some more rattans for a more medieval look. 

You may hang real plants or buy a couch in the same shade of green to tie the room together more effectively.
21st Century Bedroom Design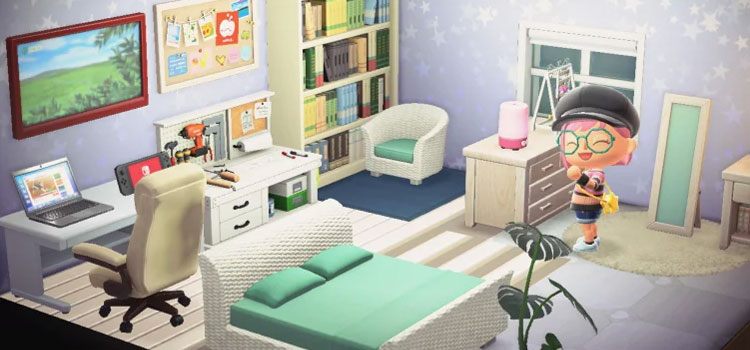 Image Source: Fandom Spot
A cute animal-cross theme bedroom might need a special, soothing layout. The most important thing is to have a strategy for your Animal Crossing bedroom and stick to it. So, go with confidence and give it your all.
Few tips for you to follow:
Intense hues for the bedroom are discouraged. Since the goal is a straightforward but elegant aesthetic, sticking with neutral tones is the way to go. 

Cuteify the space and fill it in entirely. The walls have to be adorned with a variety of decorative elements, including paintings, boards, shelves, closets, a mirror, and a standard window. 

Meld the furnishings together to make optimal use of the space. Instead of putting dividers, you may put the bed next to the desk and a couch close by. 

Choose a spot that may work with either hardwood floors or carpeting and cement to get a mood that is part rustic and part contemporary. You'll have more options for designs to try out.
Ideal and Practical Room for Children
Image Source: Pinterest
Get in touch with your inner child in this lovely space designed for children. This room is perfect for youngsters who want to make their own personal space in the bedroom. You may relax without exerting much mental effort in such a bedroom. Think of all the adorable things you could keep in here!
Suggestions for you:
Using color is a must for this round. There's no need to flatter each other. Spread out a variety of toys over the room; the result should be chaotic yet well-balanced. You can stack massive toys on top of the smaller ones, or vice versa. It's not only for the walls, however; you can do it on the floor, too. 

Use maps and artworks that capture a child's imagination and the hopes and dreams they hold dear. 

Books are also important, but they need to be brightly colored, and they need to be used in conjunction with another instructional object, such as a globe. 

If you want to give your child a traditional playroom, invest in wooden floors. If you have the means to splurge, however, a carpet with a whimsical design that will appeal to children is highly recommended. 

It's a good idea to make most of the pieces little in scale, since they will be used by children. Tiny home furnishings like windows, tables, closets, and mattresses may all benefit from this scale down treatment.
Pink As The New Girlie Scheme
Image Source: Pinterest 
Transform your sleeping quarters with this soft pink motif. Do you recall feeling envious of Barbie's perfect bedroom and closet? The greatest thing is that you can have it right now if you let your imagination and willpower run wild.
Some tips you could take note of:
Replace your hardwood flooring with ceramic tiles. The result would be a stylish and contemporary design. Make it pink, of course, but also feel free to experiment with other colors in that palette. Tile the room with some dimensional elements, such as pastel pink tiles, to give it some depth. 

A bed with a canopy is a statement of sophisticated individuality. Now go ahead and pour yourself a glass. Your bed should have some kind of aesthetic contrast, so consider having it pink and white. 

The girly vibe you're going for calls for the presence of adorable forms like hearts, stars, flowers, and the like, so incorporate these shapes. 

To provide contrast and beauty to the space, a white wardrobe, bedside table, couch, lamp, and table are required. 

Keep things uniform by dividing the wall space in half between white and pink.
Gorgeous Bright Bed Chamber
Image Source: Reddit
People who want to decorate their bedrooms with a variety of items often go for "sunny elegant" styles because they provide a comfortable amount of light while yet maintaining a sophisticated aesthetic. Some things may come in a variety of hues, yet they all manage to stand out and exude a refined sophistication no matter how you put them together.
Helpful suggestions to bear in mind:
Here's one solution if you're wanting a crowded-looking bedroom. Wooden floors, cartwheels and tables, cream-white closets, shelves, and pillows—almost everything goes when it comes to bedroom decor. 

Plant some flora and fauna on the walls and floors. Include a floral assortment for a calm and restful ambiance. 

Vintage lamp shades, an orange sofa, and a stack of reading materials are a great way to make any space seem more lived in and comfortable. 

Even if a room is packed with furniture, air and sunlight may still circulate easily via large windows. 

Parols, which are distinctive little curtains, maybe hung for added style. 

Use a brown-and-white color scheme for the workplace. Adding some contrast helps the whole thing seem more deliberate and beautiful.

Winter Wonderland Bedroom 
Image Source: Fandom Spot
Like Elsa from "Frozen", We are sure that the cold never bother you anyway.  Now is the time to implement this concept into your bedroom in order to wake up to it daily. You may have a luxurious and refreshing bedroom just by having a lot of frozen stuff and the correct furnishings.
Additional tips to remember:
Glass walls and flooring will provide a cool environment. The bed, tables, and chairs should all be included; however, they should stand out by being a different tone, such as a blue and white combination. 

You can pitch a tent and chill out like an Eskimo.  Pillows and a round rug will round off the room nicely. 

Hanging pictures may offer a personal touch and serve as a decorative accent. The designs may be whatever you choose; there's no need that them to have anything to do with ice. 

The chamber seems more mystical with the addition of a snow globe, a bird cage, and a stack of books and potions.
Elegant Vintage Decor for Your Bedroom
Image Source: Pinterest
It might be nerve-wracking to make a large buy at auction or to invest in historic furniture, but once you've chosen to add a vintage bed to your bedroom, you'll be pleasantly delighted at how stunning the room looks.
Additional suggestions you should be incorporating:
Dress the walls in dingy white and earthy brown tones for a rustic vibe. You may decorate the walls with patterns or a more natural motif, such as flowers. Hang a mound of fake flowers across rooms to provide texture, but don't go crazy. 

A wall fan creates a soothing environment. There should also be vintage paintings and floral paintings hanging on the walls. 

Pick a rattan table to display your classic flower vases and planters. 

Log furniture, including couches and beds, should be complemented with plush pillows that complement the rustic style of the room. 

Add rattan chairs and classic wall sconces to complement your wooden study table.
Boho-Inspired, Chic Bedroom
Image Source: Pinterest
Using Bohemian elements in a bedroom is a great approach to creating a space that is both comfortable and unique. The bohemian aesthetic may be easily incorporated into a variety of preexisting design schemes, from minimalistic Scandi to chic urban. 
Helpful suggestions made just for you:
Modify the patterns to make it more native sounding. Orange, crimson, and black is all acceptable hues. Make use of the designs on blankets, sheets, pillows, and tapestries. 

By purchasing a log bed, log table, and bamboo-manufactured flooring, you can create a space that is equal parts rustic and bohemian. 

Acquire some pile flowers, a tapestry, some greenery, and some rattan baskets for further wall decoration. 

A green and white color scheme will bring the room closer to nature. Keep some plants in containers or pots, too. 

Lockers might be provided in place of closets for new entrants. Since lockers may give a room a modern feel, opting for a green color scheme can help it go in with the rest of the furnishings.
Paradise Sleeping Quarters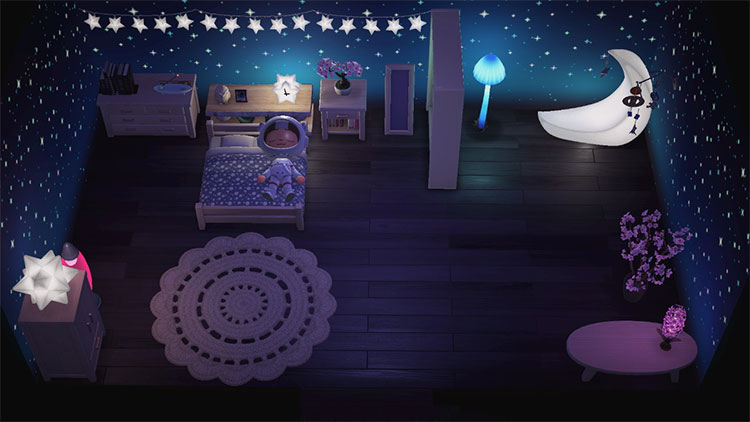 Image Source: Fandom Spot
Celestial bodies as inspiration for home design, fashion, and event planning is widespread. But we know that you want to decorate your bedroom in this unusual style. Celestial decor might be a good fit for a space if you're a fan of the bohemian and dreamy aesthetic.
Suggestions you can follow:
Glowing in the dark furniture is something that should be kept up. Evidently, you need more than one night light, so go out and get several. Pink glowing flowers and starry wallpaper might also work nicely to maintain a comfortable level of brightness. 

The timeless appeal of wood means you should use it for your bedroom furniture, including your bed, table, drawers, floors, and vanity frames; however, if you're confident in your ability to pull off something more contemporary, go for it; it will still fit in with the relaxing atmosphere of your bedroom. 

Crocheting is a viable option for making rugs. Although the standard one would do the job as well. 

It's a fantastic plan to have beddings that go together with the overall motif of the area. Blue fabric with star designs would look great on the sheets.
Image Source: The Bell Tree Forums
You've been fascinated by the ocean's natural phenomena ever since you were a little child. And believe us when we say that this is not a terrible idea. But we have a better suggestion: Why don't we go on an underwater adventure and channel our inner mermaids? We're certain that you'll find it to your liking.
Follow these suggestions:
Choose a sea-themed material like driftwood or an ocean-themed bed instead of wood or a traditional bed frame. Use sculptures of clams as bed frames and chairs. 

Make sure the seats, dresser, and divider are all clam-shaped or at least reminiscent of one. A design inspired by the depths of the ocean would be a nice touch.
Put in a coffee table that has a sense of history but is still stylish, and use it to store extras like toys and a radio. The wall will gain depth and functionality as a result.

The perfect floor design would be abstract yet include elements like starfish, coral, and a wide range of colors to make the theme pop. 

Do some wall work. You should choose a wallpaper that goes well with the whole concept. Pink with white or blue underwater shells or icebergs is a cool modern option. Painting clams, shells, and a wavy pattern behind and in between them on the lower portion of the wallpaper is a great way to make it stand out.
Bedroom Setup for a Pirate Hunt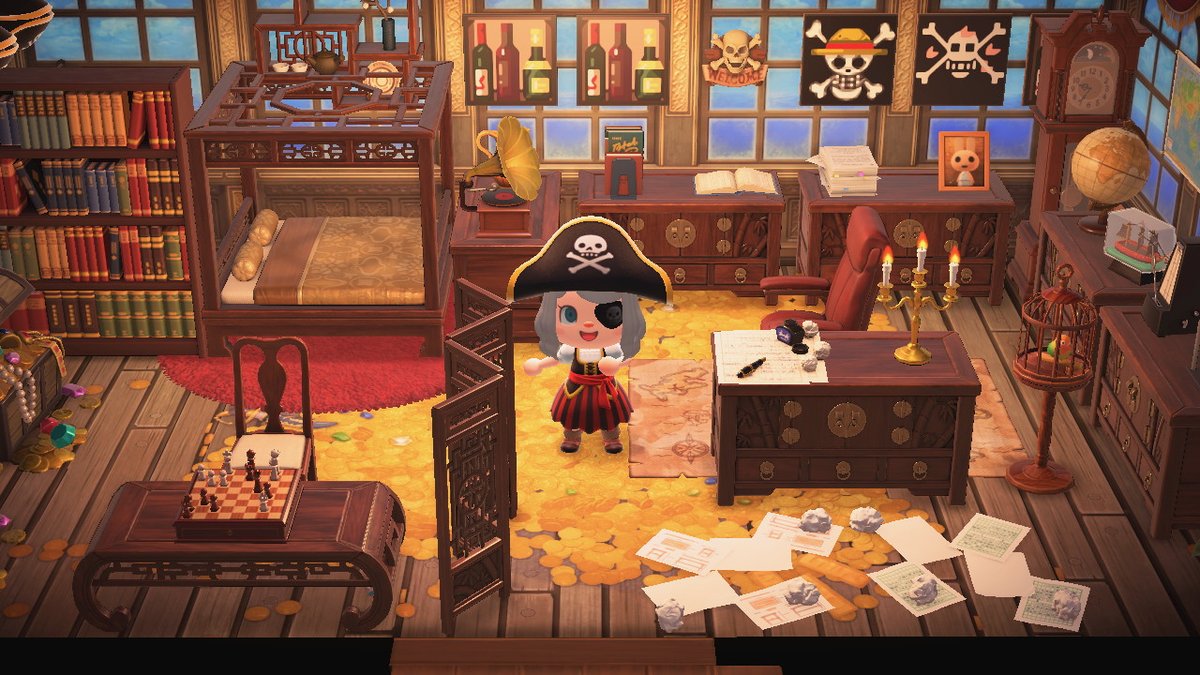 Image Source: Twitter
The space has to be remodeled from the ground up to reflect a pirate motif. Within the confines of this one chamber, a whole pirate universe might be imagined and brought to life, with a wealth of wonderful features and play accessories waiting to be discovered.
To achieve this design you have to:
Color scheme should include shades of brown and gold. If you want to give the impression that you're on a treasure hunt from another era, this is the way to go. 

Furniture made of wood is recommended. Floors, shelves, dividers, bed frames, tables, and window coverings should all be made of wood. 

Put some flyers and gold coins on the ground to make the area seem more active and useful. 

In order to create aesthetically interesting designs, you may use things like globes, pirate ships, candles, chessboards, maps, books, portraits, wines, and rums. Anything that makes you feel like you should be spending your time in the middle of the ocean like a pirate. 

Red should be used as a bold accent color for bedding, carpets, and chairs.
Frequently Asked Questions: FAQs
How can I give my place a psychedelic vibe? 
These characteristics of the psychedelic style include elusive geometric shapes and an oversaturated color palette. Patterns may range from simple to very complex fractals, paisley, and everything in between. Decorate your space with galaxy projectors, colorful pillows, artificial vines, tapestries in unusual shapes, and patterned tapestry vases.
Any tips on making my bedroom appear more shabby chic? 
An immediate dose of vintage elegance is added to a bedroom with the use of pastel colors, delicate patterns, and textured textiles. Picture frames from Next and a clock from Not on the High Street can help you get that antique look.
What makes a bedroom beautiful? 
Disco balls and vivid paint are staples in aesthetically pleasing spaces. Their ceilings are covered with vines, and their walls are adorned with unframed artwork.
What factors contribute to a pleasing aesthetic? 
As a fundamental concept of design, aesthetics describes how aesthetically attractive something is. Aesthetics is concerned with how things seem to the human eye, therefore it takes into account things like harmony, proportion, color, movement, pattern, size, form, and visual weight. 
Designers prioritize both usefulness and aesthetics when creating new designs, which is why many successful apps and websites have both aesthetically pleasing and practical designs.
Which color scheme would work best as a backdrop? 
It's better to choose vivid, eye-catching hues. You can get by with just about any hue so long as it stands out against your backdrop. To catch a user's eye, utilize bright colors like yellow, orange, red, green, purple, or blue. Sometimes you just need to see things in black and white. 
Final Words
Even though the game's characters are a big part of the pleasure, the true excitement comes from customizing your own area in Animal Crossing. 
There are, of course, a plethora of other bedroom design plans from which the player may choose. These fifteen, and we hope they serve as a source of motivation for you. 
Also, to gather more information and inspiration, feel free to check out these articles: 
12 Splendid Western Bedroom Ideas You Could Not Stop Admiring From The Beginning
Written By: Trisha Mae Raymundo