No one enjoys living in close quarters, yet circumstances beyond our control often dictate that we make do with less space. However, we have a voice in the matter of adornment! The good news is that you can make your little area seem comfortable, cool, and as near to palatial as you can go without a king-sized bed by using some smart decorating and imaginative organizing. 
The finest designers, regardless of scale, can take a little bedroom and transform it into a relaxing retreat befitting the end of a hard day (and worthy of display). 
To begin, let's define Western decor. 
The essence of Western décor is based on using traditional Western objects and motifs. What Sunset calls "comfort zones" include woodsy decor, natural materials, opulent patterns, and a cozy color scheme.
Keep reading to view 10 examples, and make a list of the things you like most about these western bedroom ideas. 
Bedroom with a Southwestern Flair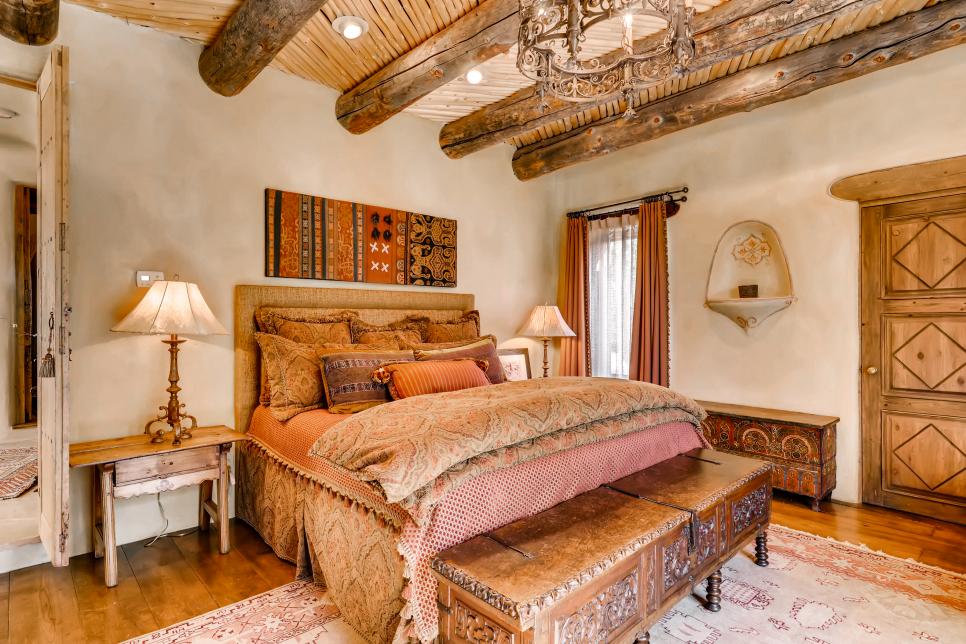 Image Source: HGTV
Everything in this master bedroom, from the wall art to the carved furniture, is decorated in warm earth tones, a hallmark of Southwestern design.
Things you can do to achieve this design: 
Beautiful hardwood flooring, exposed beams, massive wooden furniture, and a number of throw cushions in rich hues characterize the rough and earthy look of rustic western décor. 

Large logs may be arranged vertically with bamboo or wood in between them to create a striking ceiling pattern. 

To add a touch of rustic charm, a painting should be hung on the wall. You should never settle with portraits since they represent modernity.

You may liven up your brown bedroom by adding a splash of color with pink, orange, red, or cream. 

There should be an air of antiquity to the lighting as well. Use candlelight or a chandelier with a classic lampshade for a cozy atmosphere.
Cowhide and Buffalo Plaid Accessory 
Image Source: Overstock 
Although the pattern is called buffalo check after the Western mammal of the same name, its origins are in the East. This is a wonderful method of proclaiming one's undying devotion to a timeless black-and-white design.
Tips for you:
The black-and-white buffalo check bedding creates a traditional atmosphere in the room,

As for the wire longhorn sculpture and leather cap give it a western flair, so you might as well add some of these. 

Choose a pillowcase with a bold design and bright colors if you want it to really pop. 

The walls shouldn't be stark white or black if you want the space to seem balanced. Choose mellow tones of brown or cream, and accentuate with a fireplace.

The fun chair, as the name suggests, adds a sense of levity and charm to the surrounding environment. To avoid competing with the rest of your bedroom decor, use a neutral color like grey.
Modern with a Nod to the Past
Image Source: My Domaine 
This bedroom's design is plainly based on midcentury, although it takes a less conventional approach to the style than the usual dark and edgy interpretations. Everyone can find something to love about a room painted in a spectrum of hues.
Additional tips for you: 
If you want the space to be more balanced, just follow the patterns. The dreamiest thing would be to spread the designs about the space in various sizes. 

Display your acceptance of multicolor patterns in a painting and hang it on a plain white wall. 

Add some life and greenery with a few medium-sized houseplants. 

Have a brown-hued bed, floor, and nightstand to meet one of the criteria for a western bedroom. 

Lampshades and nightstands should come in pairs to provide a sense of balance. Use a classic lamp with a white shade and a wooden base to create a look that is both contemporary and rustic.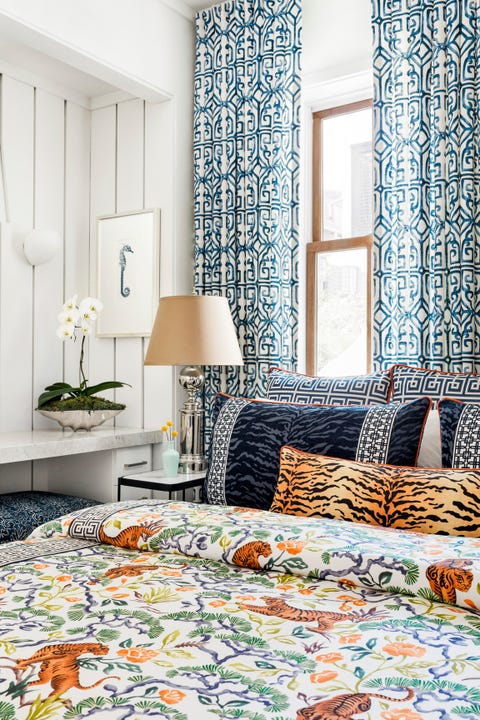 Image Source: House Beautiful 
When space is at a premium in a compact bedroom, don't be reluctant to position the bed in front of a window. Show off your bed with tons of prints and do not be afraid to explore more designs. 
Some tips to follow:
Think of the area as a blank canvas on which you may paint whatever you choose. Get it all white and then sprinkle on some patterns.
Go with flashy curtains to have the area look good and can match every design of the area.

You can also have a desktop nearby. The sleek appearance of a desktop doesn't ever need resealing, reconditioning, or polishing.  More than that, it allows you to utilize your bedroom for dual purposes (as a bedroom and an office)

The bed will come to life and be more practical with the addition of animal patterns, so go for such if you want to enliven and improve a boring space. 

Use the throw pillows as an extension or supplement to the animal patterns. Claws and animal skin designs are also a classy options.
Western Bohemian Aesthetic
Image Source: The Cards We Drew
Put the classic black and white together. Because boho is often associated with bright colors and whites, this is a novel twist on the style. Using these simple but adaptable hues, you have a ton of leeway in how you decorate your Western-style bedroom.
Things to put in mind: 
The bright and airy atmosphere of the master bedroom is helped by the use of white for both the walls and the bed linens. 

Dimension and a touch of bohemia are brought to the room by the placement of patterned throw cushions.

Artificial vines from the ceiling to the walls will make the space seem more natural and vibrant. 

Rugs made from crocheted yarn are both eco-friendly and inexpensive. What's more, it has the potential to project a charming and earthy aesthetic. 

Complement the room with some portraits and abstract artworks. For a more artistic feel, try mixing and matching patterned cushions, carpets, and linens.
Image Source: The Bedding Planet
The western-styled decor is easily recognizable by the prevalence of stunning woven fabrics with patterns and color palettes derived from traditional Native American tribal art. An excellent compliment to any home design is an art that both stays true to the original style and still looks fresh and modern.
More tips for you: 
As an alternative to photographs and paintings, you may decorate the walls with cowboy hats, belts, and a vest to spark additional imagination. 

Have a bed and nightstand made of wood to maintain a uniform color scheme. Use a variety of patterns to add color and beauty to your bedding. 

A lampshade with a wooden base and a dirty white shade would also be considered antique. 

The walls might be white, but if you wanted to add some rustic charm, you could use wood or a muted brown paint color instead.
Make it Exquisite with Lucite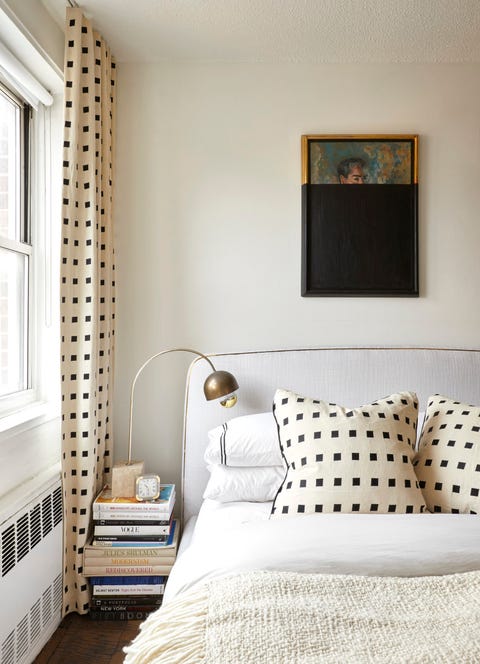 Image Source: House Beautiful
In confined quarters, Lucite is your best buddy. This bedroom is another stunning illustration of how minimal design can have a dramatic effect. To add a touch of contemporary style without making the space seem claustrophobic, pile books near your bed. 
Other tips to consider: 
Use basic black and white, but recognize which hue predominates. If you choose all-white, inject some whimsy with black by adding little accents like throw pillows and window treatments embroidered with charming designs. If you go with the alternative option, have it the other way.  

Invest in one of these woven blankets if you're looking to spark some inspiration and give off some reassuring tones. 

Piling up your books is a free way to make room for more reading material. That's not all, this makes a slick showing, too. 

Might as well have some mysterious portraits, like this one, hanging around.
Girls' Room with Arizona Desert-Inspired Colors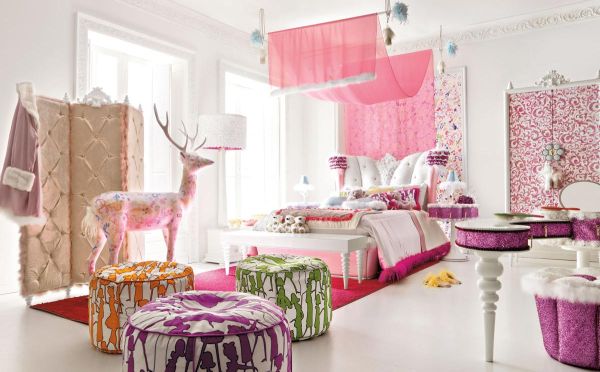 Image Source: Decoist
This boho-chic bedroom is a tribute to the sunset hues of the Arizona desert, with its pink, coral, and yellow accents. The room may easily be updated as the young girl gets older, thanks to the shiplap walls, wood flooring, and neutral drapes.
Additional suggestions just for you:
Use bold hues if you like. Use a variety of textile and wall-covering designs to add visual interest to a room. As an analogy, think of your bedroom as a blank canvas on which you may paint anything you choose. 

Boho chic may be guaranteed in the furniture by including a circular seat and a colorful divider. A glittered and sticker-adorned deer figurine is another option. 

Carpets, too, should be available in a variety of colors and have a minimal design. Don't go crazy with the prints, but feel free to include them if you believe they'll look well with the rest of your work. 

The room would seem incomplete without the stuffed animals and the ceiling embellishments that go along with the bohemian and trendy motif. Other beautiful choices are feathers and dream catchers.
Leave the Headboard Behind 
Image Source: Leave the Headboard Behind 
When working with limited space, less furniture, and accessories are preferable. This minimalist bedroom conveys a strong feeling of individual style and relaxed living despite its modest, gentle color palette and bare decoration approach. The high-quality components and unified style are responsible for this.
More advice to keep in mind:
The western bedroom isn't complete without some stripes. Use the aforementioned designs on your window coverings and bed linens. You may keep them as-is if you want, but if you find the pattern to be too dominant, try pairing it with a simple throw. 

Pillows may also have a variety of colors and designs, but it's important to have some that are solid colors and patterns to create visual harmony. 

Wall color shouldn't be overly dominant. For the minimalist, a white one with grey insides is ideal. 

You may use carpets with simple patterns and colors without going too crazy with your scheme. 

Obviously, wood is essential to the western motif. Beds, flooring, and vanity frames made of wood are highly recommended.
The Westernized Bunk Room
Image Source: Home Addict 
Bunk beds are great investments since they may be used for years and even passed down from kid to child. Your children will develop lasting bonds with their peers and siblings as they use the common area to talk quietly and laugh about whatever is on their minds. The bunk beds may become whatever the kids' imaginations dream up, from the epicenter of action to a quick stronghold against the evil guys.
Few tips you could incorporate: 
Using a variety of other colors in conjunction with red may reduce its impact. Put some green, grey, filthy white, and black on your cushions and sheets. Statement pillows may be paired with one another to create a thrilling effect. 

A hardwood interior looks great with yellow and white lighting. 

Instead of putting them in the empty area between your beds, hardwood-made stairways towards the bed above might provide the impression of a more spacious room. 

Throw down a dingy white carpet or keep the hardwoods if you want to add depth to the room. 

Set the Room Afloat
Image Source: Back at the Ranch Furniture
This guest room combines the best of New England seaside charm and rustic style with its abundance of warm tones, antique furniture, and whitewashed exposed beams. Vintage suitcases are a classy addition to the space beneath the bed.
Here are some options to think about:
Wooden walls, ceilings, and flooring are all you need to produce a rustic western look and feel. 

You may choose to make your bed and nightstand stand out by painting them a contrasting color from the rest of the room, or you can paint them to blend in with the walls and flooring. 

Make a point with the bedding and let color be the focal point. It's not worth over-exerting yourself by choosing bold hues. Use a lot of whites and grays. 

Photos or paintings might be used to liven up the decor. A picture or photograph in black and white or a color with the same value may be used as a bedspread.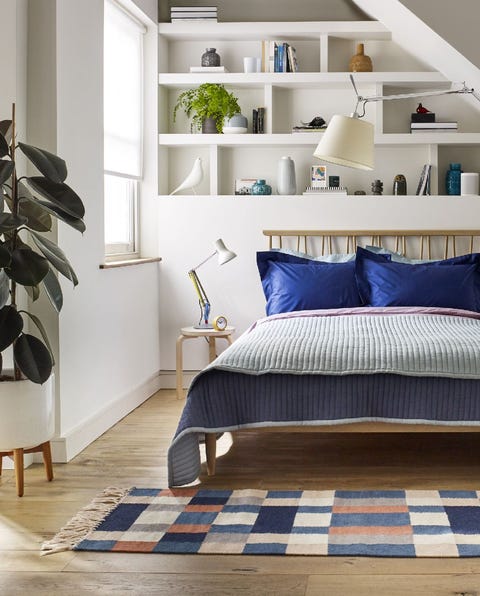 Image Source: House Beautiful 
You need to be creative and clever with the storage space you have if your bedroom is little; otherwise, you'll never locate anything until you stub your toe on it. Draw inspiration from this area, which has a bed with a bookcase framing the bed to provide additional storage and a place to showcase personal items.
Some options to incorporate:
Modify your space so that it serves your needs. Put some shelves up instead of a dramatic wall. This is quick and easy to do. 

The contemporary, southwest-inspired aesthetic is reflected in the space's use of dark, muted hues. Choose bedding in shades of navy blue and black. If you find quilts with patterns boring, try one with a plain background and textured horizontal stripes woven in. 

Light bulbs are no longer an option. Invest in a sleek, up-to-date lamp. 

In order to convey a sense of vitality and freshness, it's a good idea to decorate with some potted indoor plants.

Carpets may be simple, but picking one with a pattern is a great way to add visual interest and a variety of hues. You may choose between a standard-size carpet and a huge one that tucks neatly beneath the bed. 

Wooden floors are ideal, while whitewashed walls and ceilings complete the industrial-rustic feel.
Frequently Asked Questions: FAQs 
Which hues best represent the West? 
Nowadays, fashionable hues include clay, dusty pink, cream, and green. The best part is that they complement each other perfectly! These four hues conjure up images of sweeping western vistas. Therefore, all you boho chicks and anybody with western-themed houses would like this color palette.
What is the concept of the western home? 
A western house honors the essence of the West by showcasing its distinctive colors and textures, as well as a perspective of the surrounding countryside. Not every Western-style house has the same exact features or layout, although many do.
How much would it require to completely renovate my bedroom? 
The average cost to renovate a typical bedroom is roughly $4,000. However, transforming an attic or unfinished basement into a bedroom may cost up to $40,000. The typical cost of a complete bedroom remodeling is $20,000. This figure accounts for all associated expenditures, such as labor, design, inspection, and construction.
Final Words
If you're already familiar with Western design concepts or are just starting to appreciate the aesthetic, these tips and ideas will help you incorporate some Western elements into your home or make your whole house seem like a ranch. 
However, if you're interested in learning more about bedroom design and how to make it fit your own tastes or transform it into a spectacular space, you may do so by reading these: 
Written By: Trisha Mae Raymundo