Creating a comfortable bedroom in Sims 4 isn't always a breeze. The bedroom may be a source of stress even if the rest of the home is in order. When you're starting from scratch in Sims 4, designing the perfect bedroom might seem like an insurmountable task. 
To help you get started, this article will go through the top 10 Sims 4 bedroom ideas you can steal as you play and enjoy the game.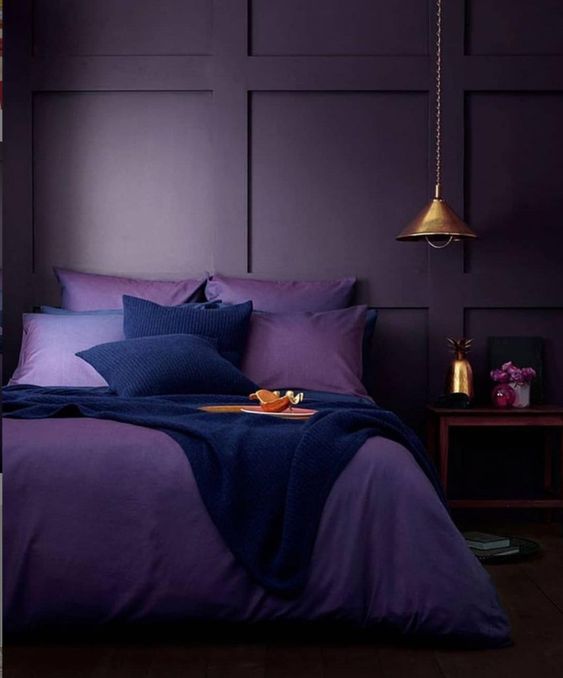 Image Source: Digs Digs
This Dark Bedroom is a must-see if you're creating a traditional house with a vintage look and feel on the inside and out. A few dark timber pieces and some violet bed linens make up this unpretentious bedroom. There are old-fashioned cabinets and windows, much as you'd find in a mansion.
Ways to have this bedroom design:
To darken the whole bedroom, it is not necessary to paint the walls absolutely black. You just need to choose dark hues such as dark purple and navy blue. Thus, you may darken the space and experiment with other hues to provide design depth. 

Pendants with a single light bulb existed before chandeliers. Include this in your minimalist-designed space. Gold is the hue of grandeur, so use it if you want to make a statement. 

Small lavender flowers in a vase are perfect for minimalists, but if you want your arrangement to stand out, use average-sized blooms.
Set 2 of Jasper's Bedroom 
Image Source: The Sims Resource
This lovely room is ideal for young Sims. This is a whole room available in many color schemes. It has everything you need, from a bed to a table to chairs to a desk to lights and more! You'll love the way the colors come together to provide a vibrant glow.
Some options for achieving this look in your bedroom:
Observe the unfinished wood throughout the room. This sort of bedroom has a rustic design that conveys a sense of simplicity. Keep unfinished wood in your bed, dividers, drawers, and shelves. 

You may paint the wooden flooring either grey or white. The design is more attractive when it incorporates a little of contrast. 

In addition to your belongings and artwork, you may add indoor plants of various sizes for a pleasant atmosphere. 

Add a sofa or a single stool to your bedroom to make it practical and enjoyable.
Image Source: The Sims Resource
The Margo Bedroom is a great option if you want a contemporary space that seems like it was taken straight out of a magazine. In-game, the CC-created room looks fantastic. Every piece of furniture or amenity typical in a bedroom is included.
Routes to achieving this look in your private quarters:
The margo bedroom motif incorporates seaside motifs. To establish a wall's dimensions, stack the wood. Basic black and white, as well as brown, are available as paint colors. 

It is preferable to have wooden or cement floors, however, carpets would make the space more pleasant. This will not only to protect you from dust but also prevent your room from being unattractive. 

To add style, have your curtains be white with designs in silver or gray. Likewise for the doors and surplus wood from the ceiling and walls. 

For a modern look, you may have a bed with a substantial layer of wood below. This will accentuate the bed linens. 

Don't forget the side tables, and be sure to keep their sizes consistent.
White Contemporary Bedroom 
Image Source: The Sims Resource
But if you're anything like others you like to go traditional, you just can't get enough of stylish new bedrooms. This one has been outfitted with a bed, as well as individualized walls and linens. The space is mostly white in color, with a minimalistic, clean aesthetic.
What you can do to get this look in your bedroom:
Take note of the walls' effortless grace. Consider getting one since walls with vent-like dividers make the space more refreshing and attractive. 

The colors should not deviate too much from white. Simply, maintain a neutral and natural aesthetic. 

No need for a luxurious bed. All you need is a basic white bed frame and grey-patterned bedding. 

Do not overcrowd the areas and furnishings with exhibits, since this would seem chaotic. 

It is preferable to have indoor plants to make the space more lively and pleasant.
Greenery Means Astonishing Scenery 
Image Source: Winner9
If you're not into glitz and opulence, you should definitely check out this structure. There is just some light furnishings in the room. Vases and flowers fill the room, while artwork decorates the walls. You may choose the shade that best suits your taste from among a green variety of available options.
How to get this bedroom layout:
It is unnecessary to overstuff the space with plants and vines. Green, the main hue of nature, can help you merge with it, so incorporate it on the wall. The wall painting might also include patterns of petals or leaves. 

If the walls are mint green, the bed and its accessories should also be dark green. 

Uniqueness may be achieved with a wooden bedside table and stools with undetermined proportions and equilibrium. 

Don't forget to get a carpet with a rustic design to place beneath your bed, as well as parallel ceiling lights

.

Bring Manhattan To Your Bedroom

 
Image Source: Pinterest
The Manhattan Bedroom is without a doubt my most-loved Sims 4 bedroom concept. The room's understated elegance and inviting atmosphere are just what you need to unwind. It's a cozy little room with just enough space for a bed, a dresser, and a mirror. This bedroom layout works well in City Living apartments, but most people also used it successfully in a home.
Have this type of design through:
If you want to keep things simple, you may choose to have a bed with a metal frame and bedding in neutral colors such as black and white. 

LED lights may be used as bed curtains to provide some style. In addition, this will aid to illuminate the area. 

The cluttered appearance of this bedroom gives creativity to the vacant area, so feel free to hang and place many displays such as photos, radios, clothing, and personal items. 

Combine the rustic and modern styles with unpainted cement walls and hardwood floors.

Pink Innocent Fantasy Land 
Image Source: The Sims Resource
This is the ideal bedroom for you if you like soft and cheery hues. The original style is available in a pink-and-white color scheme. The bed, curtains, and chair are all staples in this bedroom. Whether you're shopping for a child's or an adult's bedroom, give this some thought.
Tips for obtaining this bedroom design:
Never fear having everything in pink, since it conveys a lively and feminine image. You may add neon-colored screens and LED lights to increase design and loudness. 

To distinguish themselves from the furnishings, the bedding might be a subtle pink or white color. However, pillows should have a range of colors to encourage more experimentation with hues and patterns. 

Obtain some simplicity yet uniqueness by purchasing a rectangle mirror with an arced top. 

For a natural effect, you may also add large indoor plants and rainbow artwork.
Bed Structure Made From Pallets 
Image Source: Pinterest
All you city slickers, we've got the perfect bedroom for you—a Pallet Bed Frame! The just sight of this bedroom is enough to make your heart skip a beat. The primary component is the pallet bed itself. But it's all so stunning and modern. Be sure to check out the bedroom, since it is perfect for a young Sim that is into painting.
How to have this bedroom design:
A futon bed is one of the most inexpensive-looking beds, but it also adds a rustic touch. Therefore, if you are a traditionalist, you may also wish to get one. Don't forget to put white sheets on the bed, since they symbolize cleanliness and simplicity. 

Install some maple wood on the flooring for a more modern wood style. You may also add a sheepskin rug for a touch of opulence. 

Regarding hues, walls, blankets, beds, and flooring should always be coordinated. You may use simple patterns in your design. Also, select neutral hues. 

Add personal items such as a guitar, books, and potted plants to enliven the room. Anything that defines you will add more room ownership.
Create "Anne" Amazing Bedroom

 
Image Source: The Sims Resource
When playing The Sims 4, most players often utilize the Anne Bedroom. This basic bedroom for two Sims is one of the simplest constructions on the list. The tone is soft and refined, with no lack of taste. The wide windows, the bed, and the bedding all appear really genuine.
How to get this bedroom layout:
Choose rustic and basic hues for the overall palette, such as white, brown, and cream. This will convey simplicity and gentleness, which is aesthetically pleasing. 

You may prefer to purchase a low bed since it is distinctive and conveys a sense of tranquility. You may add a table behind the bed to make the room seem bigger and more useful. The table can be used to store exhibits and personal items. 

Utilize your available space by including a shelf with distinct rows and columns. Remember to fill the empty slots with various items. 

Giant and strange lights are distinctive. Acquire two lights with triangular wooden bodies to achieve equilibrium.
Image Source: The Sim Resource
There's also the "Call of the Wild" room, if you're looking for a place to sleep. According to its name, this is the bedroom that makes the most effort to include natural elements. It's decorated with flora and natural wood tones. This space is available in many color schemes, so you may choose the one that best suits your tastes.
Ways to get this bedroom style:
Opt for simple numerous ceiling lights rather than a sputnik chandelier. Add sputnik imagery on your wall to scream sophistication. 

Adding glass panels to a space enhances its elegance, so you may as well do it. 

Have a wall-mounted wardrobe next to the bed. One of the doors may be left unadorned, or a built-in mirror can be installed. Choose a standing mirror if you believe there is still room to be filled. 

If you like an extravagance, a stacking chair with a wavy rise is appropriate. Additionally, you may include this form into your bed. 

For a breath of fresh air, make your windows as large as possible and use them as walls. 

Add an indoor plant as the last touch to maintain a fresh environment.

Colors should be calming and neutral. Select teal, brown, white, and light pink.
Frequently Asked Questions: FAQs
The Sims 4: What to Put in a Bedroom? 
You may save the hassle of finding the perfect fabric swatch by placing an end table, two-seater couch, or ottoman in front of your bed. A room's decor may be greatly influenced by the wallpaper and flooring. The appropriate window dressings may really help your theme stand out.
How can I add a sense of foreboding to my bedroom? 
Opt for Subtle Dark Furniture 
You may still have a dramatic impact with dark colors even if you like white walls. Pick up hefty, dark pieces like the black bed seen here for your bedroom. Add dark carpeting and your formerly brilliant space will seem dingy and dreary.
Which color is the worst to have in a bedroom? 
If you're trying to get some shut-eye, it's best to avoid bright shades of blue, green, pink, orange, and yellow and instead go for subdued pastel variants of the hue. As a general rule of thumb, the brighter the color, the worse it is for sleep, and the softer the color, the better it is for calming down a bedroom.
Which of these is the most vital component of a bedroom? 
A quality bed should be the first item you invest in for your bedroom. The bed is the most important piece of furniture in your bedroom, and the rest of the space should revolve around it.
How can I design a bedroom that is suitable for both genders? 
Throw in a few designs that aren't either masculine or feminine for a balanced look. 
On the other hand, you may relax knowing that there are many alternatives available with prints that are not associated with either gender. Avoid flowers in favor of geometric or graphic prints such as stripes or abstract motifs, but avoid anything too flashy.
Final Words
The Sims 4 is beloved by many for its practically infinite potential in terms of building. But it also has the power to be annoying. As a result, having access to sources of motivation is essential. 
It's important to remember, however, that your Sim's bedroom isn't limited to serving just as a place for rest and sleep. The use of vibrant lighting, eye-catching technology, and themed furnishings will set the mood for fun and competition.
Here are some of the interesting articles we have for you in case you want to explore more bedroom ideas: 
15 Animal Crossing Bedroom Ideas You Won't Be Able To Resist
Written By: Trisha Mae Raymundo