When you first move into your dorm room at college, it's exciting to imagine all the ways you may personalize it. Because there are always fresh styles and ideas to try out, decorating your new dorm room can be a lot of fun. In any case, you may be pondering the question of what kind of bedroom design will best suit your needs.
Well, it is time to provide the answer to the question, "What bedroom setup is suited for me?" We have compiled a list of stylish preppy bedroom ideas just for you.
What Is the Preppy Style?
Let's have a firmer grasp on the preppy aesthetic before diving headfirst into decorating advice. As far as preppy style goes, you might go in two distinct ways.
New England and East Coast prep are credited as the original inspiration for the preppy aesthetic. But now, with its timeless designs and vibrant hues, it's not only for country club setups.
The preppy aesthetic is more of a state of mind than a set of rules to be adhered to while decorating one's home. This interior design is based on a classic style meant to evoke the refined atmosphere of country clubs, social graces, or horse competitions.
What accessories do you need to make your bedroom preppy?
Great preppy room accessories are a cloth laundry basket, a wall or desk clock, and a trendy dimmable bedroom light. When decorating a room, it might be helpful to include objects that serve many purposes.
Image Source: The Spruce
In preppy houses, pink isn't exclusively for children's bedrooms! You should apply this cheerful color everywhere you like in your home. It really comes into its own in a guest bedroom, where attention is to the tiniest of details.
Speaking of details, here's what you should keep an eye on:
Cute tassels attached to the drawer knobs of the nightstand can make a huge difference.
Pink is a gentle color, therefore it works well on walls if you match it with another gentle hue which is white.
Fur blankets, artificial white and pink flowers, and a blanket with a fur and folded design all work together to create a refined look.

Accentuate with Coastal Elements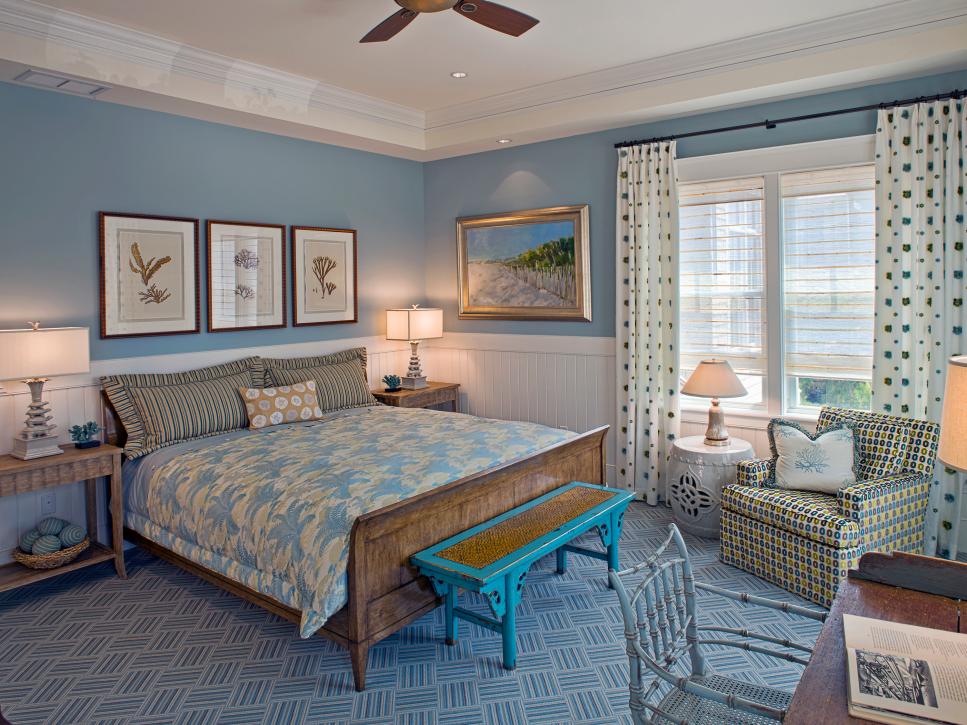 Image Source: HGTV
Don't be afraid to include a few coastal touches into your preppy environment, such as wicker, soft white textiles and furniture, and plenty of blue tones.
What you can do to add more beauty are:
Put some portraits in there to give it that beachy feel.
Avoid standing out by using bold hues; instead, blend in by using muted tones like pale yellow, grey, and white.
Choose a traditional lampshade to cast light throughout the room, but feel free to be creative if you want to make a statement.

Create a Sophisticated Effect
Image Source: Havenly
A tidy and fashionable space is what we call "preppy." Yes, we assure you that bringing such a chic ambiance into your bedroom will make you never want to leave it.
Here are some tips for you:
A chic table lamp, some framed pictures, and a container of flowers are little touches that can make a big difference.
The true meaning of art is to introduce a touch of mischief or mystery into a space, so add a single or some mini portraits.
Paint the walls the same color, but give the flooring some variety. In this approach, not only can you maintain harmony, but you can also enhance its aesthetic appeal by adding pleasing contrast.
A pillow seat gives cuddliness and a shelf adds practicality; both are welcome additions.

Patching Everything Up With Gingham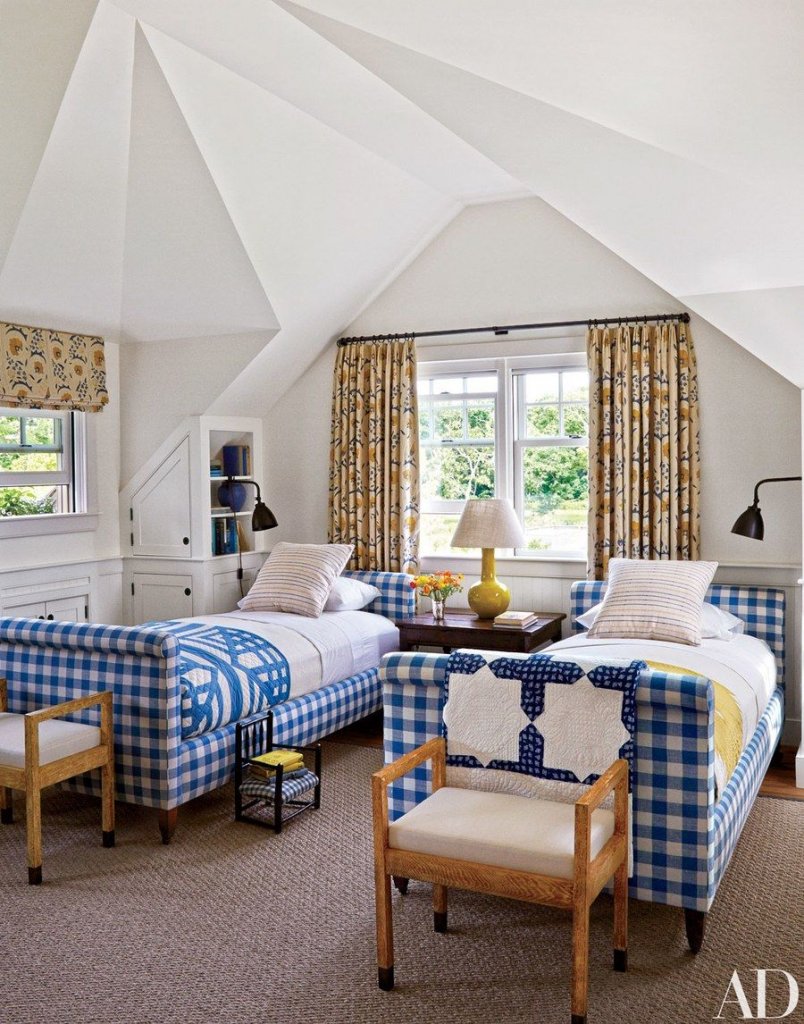 Image Source: Amazing Interior Design
Go for the gingham look. This wonderful design may also be seen on walls and floors. So, why not incorporate them on your sheets? You will be surprised at how you can save more while also maintaining a vintage industrial vibe.
Some tips for you:
For a kid's room, nothing beats classic blue and white gingham wallpaper, which also works well when combined with other patterns.
Have only one rustic stool, ideally a rectangular one, to make the bed seem even bigger and wider. One should bring along a modest seat cushion.
Add a contrast to encourage more original thought, so pick out some complementary elements that contrast with the rest of the room, such as some fresh, soft designs for the drapes and the carpet.
If you want a cool ceiling, make it uneven, a symmetry perhaps.

A Tarzan In Your Own Forest
Image Source: Pinterest
The decor of a preppy room tends to be lighthearted and fun. Embellish the design with your own designs and spice things up with some animal themes. We're all in favor of a good thrill ride, but you must have missed the thrilling part. Your mini-adventure may now be experienced in the comfort of your own home.
What you can do is as follows:
Sprinkling plush animals around your bed, walls, and floor add a whimsical touch to your space without the need for precise placement.
A basic brown drum chandelier dressed up with a piece of supple fabric can do the job if you're on a tight budget.
Choose a color scheme of muted tones for the space so that the decor stands out. That dark brown is unacceptable.
Bed height in relation to the floor or the number of foot stands should also be kept to a minimum if the bed or else it would be a modern bed.

Mixed and Match Pattern Anthem
Image Source: Pinterest 
A subtle combination of patterns is often used in preppy home design. Pattern mixing is neither difficult nor expensive. It's not hard to track down checkered textiles with a neutral tone. All you need to do is make sure everything is in sync with the materials.
What you can do are:
Select motifs that are close in style to one another. If you want a cluttered look that nevertheless seems balanced, consider using a pattern of rounded, broken thick lines.

You may highlight the borders of your cushions, carpets, and comforter by framing them with broad lines. Above the headboard, it would be lovely to have designs reminiscent of nature. However, it is essential that the room's decor match the bed's color scheme. 

Use an all-white tone to create visual interest. Use the color on the walls, nightstands, and bed linens. 

Spruce up the space with some aesthetically pleasing additions like new seats, a new lampshade, and some framed artwork.
Important Tip: Just increase or decrease the size of the designs to your liking. Keep in mind that huge patterns will be lost in small regions, while little ones will dominate in vast ones.
Botanical Tone of your Own
Image Source: The Spruce
If you are someone who would like to combine the outside and interior vibe into your room, here is the best way. You can go for a botanical experience in just a short period of time. Surely not only you will smell different spectacular scents but relaxation is rest assured too.
Here's what you need to know:
The addition of some botanical prints to a preppy bedroom won't make the fact that you've hung a lot of plants there seem odd. In fact, it can add a breath of fresh air will be brought into the room.
A wall painted white will let the hanging plants and soft, textured draperies stand out without the addition of any photographs.
You may have fun with patterns; various flowers come in varying sizes, so it's a good idea to include them into your walls.
To avoid having your pillows overpower the rest of your decor, use colors and patterns that complement those already present.

Playful Beginnings Type Of Bedroom
Image Source: Pinterest
If you are an athlete or simply want to be one, this design could be a great reminder. This article features a broad variety of sport and athletic-themed wall decals, from football to soccer to dance to BMX. No need to go in search of a place to get your sports-themed bedroom.
If you are an athlete, having a game as a background will motivate you to perform at your best. Have it grey for a contemporary and creative style, but keep it natural if you value realism.
Decorations to hang or express emotion. Instead of displaying extra photographs, you might prevent overacting by hanging a framed version of your favorite sports jersey.
If you have bold walls, it would be nice to balance them off with dark floors. A carpet that conveys elegance and different hues, however, will help to create visual harmony. The same holds true for the pillows and sheets.
Change the lampshades to different forms and use them for different purposes to create an Olympic-style light that is still see-through. Don't forget to place it above the bedside table with some sport-inspired memorabilia.

Stick to the Basics With Primary Colors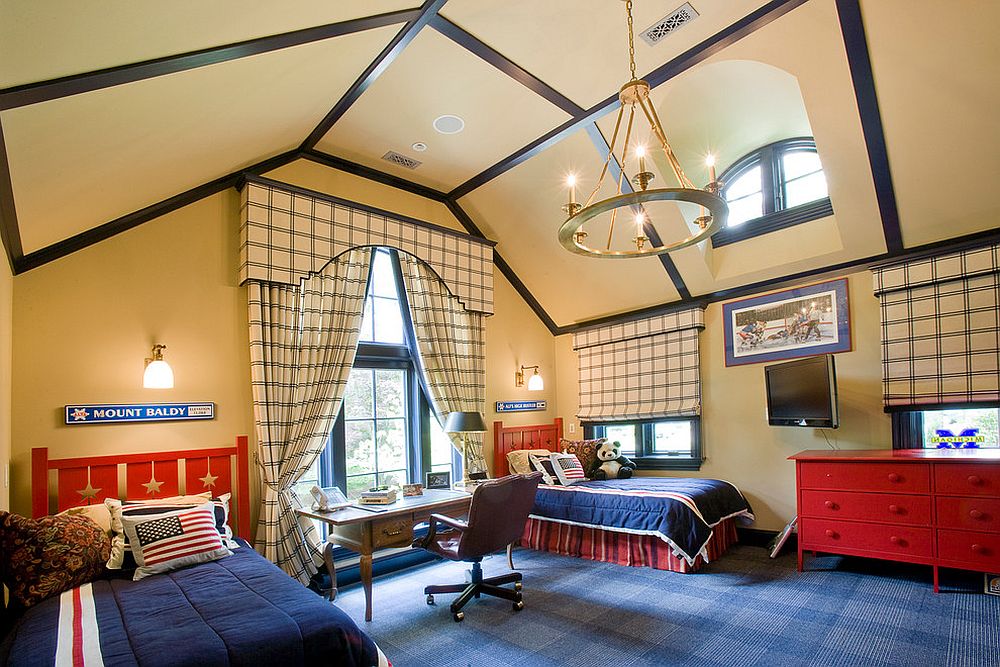 Image Source: Decoist
If you're looking for a great color scheme for a preppy bedroom, many individuals love the look of red, yellow, and blue. Why? Because it breathes new life into the bedroom and brings an air of summertime relaxation into the space.
Great tips to help you out:
Be as bold as you want with the array of colors in your beddings. Complementary hues, such as red and navy blue, create a cozy atmosphere in a bedroom. Your own taste dictates whether your pillows should be white or patterned.
You may also have patterned drapes if you want, but keep the yellow tones subdued as your walls are already a mustard hue. By doing so, you may prevent them from competing with one another and becoming too powerful.
A simple candle chandelier will do the job; there is no need for anything more elaborate.
Since the subject will be lying in bed, sconces that direct light downward are the best option. Then you may have the light on while reading a book or a school assignment.

Professional Busy Bee Design
Image Source: Interior Design Ideas
You may go all out with preppy patterns if you don't mind a cluttered bedroom. Some homeowners swear by preppy designs. Consequently, if you count yourself among those fans but also want to present a more professional image, storing your gear in your bedroom is a safe choice.
Tips for you to follow:
Establish an air of solemn professionalism by decorating in all black and white. Use these hues for furniture and linens as well, however, feel free to be creative with patterns.
Placing some of your belongings, such as books, on a white shelf next to you may help break up the monotony. A bigger impression of the space may be created in this way as well.
Minimal paintings and portraits should be displayed in the immediate vicinity of your desk.

Take Me To The Old Fashioned Style
Image Source: NoBroker
Although it's been a century, this design aesthetic is as popular now as it was then. This is because doing so might evoke a flood of sentimental recollections. Remember that a bedroom is a place of relaxation and reflection, full of memories both happy and sad.
Ways to achieve this style:
Invest in a king or queen bed with a massive head and footboard to really make a statement.
Adding duvet covers with vintage-inspired patterns is a simple way to get that aged look. You may also use this on your linens, but be careful that the dye doesn't run.
Portraits may be very little or quite large. Be sure to stock them with a variety of tweed designs such as floral patterns, paisley, and a floral wreath.
Choose a single, traditional sink and a window that emphasizes minimalism.
The flooring and walls may have a little squeak, but that's part of the charm, right?

Where Dark Lies, Neon Thrives!
Image Source: Pinterest
Yes, we understand that a dark bedroom is an ideal place where you can catch Z's but wouldn't it be more creative if you play with lights and mix it all up to make it more Instagrammable?
Things to remember:
We can't possibly discuss elegance without including neon signs. The addition of a customized one with your name, initials, or a favorite phrase may give a stylish and unique touch to your bedroom.
Display some endearing ornaments, but remember to double-check your tastes sometimes. True, LED lights may also be installed in the nooks and crannies of walls.
You may add a touch of mystery to a traditional setting by installing a huge ceiling fan.
Have a white bed and bookshelf, or decorate them with patterns, but don't go too dark, otherwise, the room will seem unbalanced.
Alternative symmetries and color palettes in paintings are also wonderful choices.

Keeping It Natural In All Ways
Image Source: The Spruce
Who says a bedroom with just natural light is dull? The good news is that you can make your bedroom a more restful space by adding the proper furniture and decor. An ideal place to rest for the night or take a quick nap.
Ways to achieve this:
Since natural light is so important throughout the spring, summer, and on the seaside, it is just as crucial during the planning stage. It amplifies the happy, vibrant colors of the subdued preppy tones.
All white walls will convey a basic, natural vibe.
Adding sliding glass to the windows is a nice upgrade.
Brown flooring is standard, but a carpet carefully chosen to complement the floor pattern may provide a touch of originality.
Keep a plant in a pot on the vanity for instant revitalization.
Even the bedding should have a warm, homey vibe. Because brown and white are the most elemental colors in the natural world, feel free to embrace them.

Bohemian, Hippie, and Preppy Flair Bedroom
Image Source: Psymedia
Perhaps the phrase "Bohemian Style" has been thrown about in your lexicon. Bohemian fashion, sometimes known as "boho style," was originally a Hippie aesthetic. Have these incorporated into your bedroom and you will surely love it!
Things to acquire for your bedroom:
Perhaps the greatest method to inject some playfulness into your space and bring the outside inside is to install a swing or hammock if you already have the anchoring hardware in place.
Throwing in some inexpensive kilim pillows will give your bedroom a hippy, bohemian vibe. They complement any design scheme and look great propped up against a sofa, bed, or chair.
Tapestries on the wall are a cheap and easy way to add color and style to any area.
Rattan is a malleable wood that has several applications, including furniture, textiles, nutritional supplements, decorative items, and more. A hippie bedroom can never have too many rattan plant pots, baskets, or other ornamental pieces.
The greatest method to give a space a more vibrant atmosphere is to fill it with plants and succulents. Make careful to choose ones that are suited to indoor life. Find some interesting pots to put your critters in for added flair.

Eclectic That Speaks A Little Bit Of Chic
Image Source: HGTV
Eclectic isn't simply a mishmash where anything goes since it blends different historical periods and design styles. Instead, it's a carefully arranged aesthetic in which complementary hues, textures, and patterns are harmoniously mixed with a few key neutrals.
Few tips for your designing stage:
Choose a golden brown for the chairs and pair them with light brown for the flooring, photographs, and rattan decorations.
The usage of teal throughout serves to unify the traditional and modern aesthetics so have your bed in this color.
Go for lighter shades of purple, apple green, or lavender for your curtains to avoid upsetting the room's color scheme.
Make sure the colors of your lampshades, whether they're classic or not, go well with the rest of the room and the plant on your vanity.

Creatively Deco With a Smidgen of Grace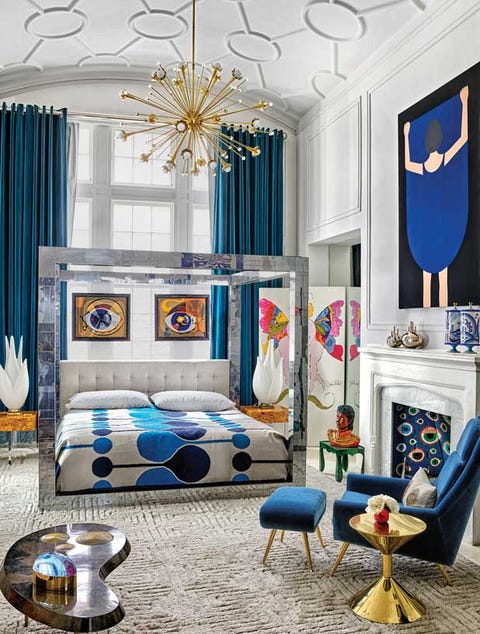 Image Source: Elle Decor
Bedroom decor doesn't need artistic skill. You may easily decorate your bedroom using store-bought artwork and furnishings. It's important to choose an item that exudes sophistication for your bedroom.
Some tips for you to follow:
As colors are the first thing that comes to mind when discussing art, it is recommended that you use a wide variety of them to decorate your space while yet maintaining some kind of order. Create your own private museum with soothing patterns.
To that end, avoid doing anything as extreme as using a white bed with a riot of color on it. Use a patterned duvet cover or encase it in glass or metal to give the impression of luxury.
In addition to the walls and ceilings, the chandeliers should also have an artistic feel. Experiment with different forms, sizes, and patterns. In fact, this wouldn't look awful at all and would be a fantastic way to make an impression on everyone who happens to enter your room.
Because they are only ornamental, occasional stools and tables may be made diminutive, but care must be taken to maintain the overall symmetry.
Linen or cotton drapes and wool or nylon carpets will ensure that your home's refined aesthetic is always on trend.

French Country Vibe
Image Source: Kathy Kuo Home
The softness that French Country hues evoke is instantly welcoming and cozy. The addition of a few pieces of antique French Country furniture, such as a bed, may transform a boring bedroom into a charming retreat reminiscent of the French countryside.
Here are the things you should do:
If you want to set the mood for romance, go for an upholstered linen bed in an antique white color. Avoid the bright red and instead go for a more natural, subtle style.
Find decorative accents that reflect the girl's personality, such as a dressmaking mannequin, lovely flowers, or an antique wire shoe rack.
Curtains have to be a soft pastel color, preferably pink. Of course, you don't want to destroy the mood by adding in some loud colors, do you?
Chandeliers can be old but still in style, you won't be needing a luxurious one for this style.

Image Source: College Fashion
Final Words
All along, the most popular options for bedroom decor have been preppy looks. Although they never fail to get people talking, true preppers know that their bedrooms shouldn't be a slobbery disaster zone. Try to maintain as much order as possible. Keep in mind that you are the master of your own bedroom and should always do what makes you happy.
More ideas coming your way by reading these:
12 Sunflower Bedroom Ideas that Warm Your Heart Day and Night
https://definebottle.com/modern-western-bedroom-ideas/
Written By: Trisha Mae Raymundo