Most people who have a pool are quite concerned about keeping it private. Swimming in your own backyard is the best, but nobody likes it when their nosy neighbors poke their heads in or stare. Oh, well, we think we have an answer. Fourteen of them if you insist on being precise. 
Utilize these easy-to-implement landscaping strategies to make your home a more private and secure place for your loved ones. Get some peace and quiet by your pool with these sixteen pool privacy ideas. 
Image Source: Modular Walls
If you want to increase the seclusion of your pool area, installing privacy screens is a great choice. They're simple to install and don't cost much. They are either freestanding or may be moved about easily. 
With privacy screens, you may increase the level of seclusion in just the one spot that requires it. In this case, a single privacy screen will enough to obstruct the desired region. 
Before installing privacy screens, it's a good idea to double-check with your HOA to make sure they're allowed. If you want to use it to enclose your pool, you may also need to make sure it complies with local ordinances.
Lovely Chilling Water Features
Image Souce: Morehead Pools 
Perhaps water features aren't the first thing that comes to mind when you think of enhancing your pool's seclusion, but they can be an excellent addition. 
Some of the pros of having water features: 
They serve as a noise barrier, reducing communication between you and your neighbors. 

They're a great extra touch that help create a soothing mood. 
Slides, waterfalls, and massive fountains are all great water features to think of. How much you spend on a water feature installation depends on the amenities you decide to put in it. The initial investment of a water feature is just part of the equation, however; you need also think about its maintenance expenses.
Get Expert Landscaping for Your Pool Area
Image Source: Outdoor Perfection
Your pool's surroundings may be transformed into a peaceful oasis with the aid of some well-designed landscaping. However, if you don't choose the right trees and plants, you'll have to spend more time and money maintaining your pool. Get in touch with a professional landscaper in your area for guidance on which trees might work best around your pool. 
Layer your garden with plants and trees to mimic a natural setting. The plan calls for a ring of towering trees around the outside. Middle-sized shrubs and plants should be planted next. And finish off the front with some bright flowers, miniature shrubs, and succulents. 
The massive root systems of the incorrect plants may cause serious structural damage. They may also attract pests and animals, and lead to debris issues that need continuous pool cleaning.
Here are several tree varieties that work well near pools since they need less upkeep and are low-debris magnets: 
Evergreen Trees

Holly Trees

Oleander Trees

Banana Tree 

Citrus Tree

Fruitless Olive Trees

Windmill Palm Trees 

Japanese Maple

Acacia Trees 

Fences To Cover Your Spaces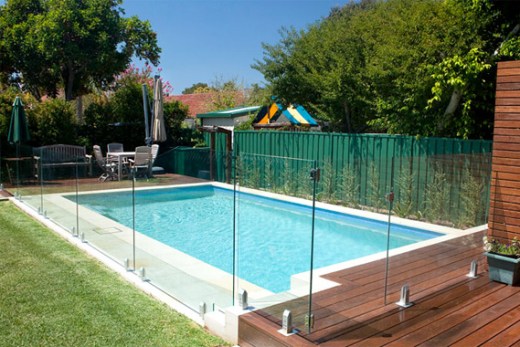 Image Source: House Logic 
Swimming pool fences provide both safety and privacy benefits. They're also required, albeit the minimum and maximum height standards vary by state. 
The price of a pool fence might range greatly based on the materials you choose for it. The price of a wood fence will almost always exceed that of a vinyl one. 
Pool Fences: What to Consider When Choosing One 
Bamboo Fence

– is an excellent alternative if you're searching for a greener fence for your swimming pool. An eco-friendly replacement for conventional pool fences, bamboo is a fast-growing and versatile grass that can be used to create attractive and functional barriers around your pool. Further, bamboo has qualities that allow it to fit well in a pool area.
Vinyl Fences

– are wonderful additions to any home since they need little any upkeep. They are attractive, long-lasting, and very adaptable. As an added bonus, they often outlast their wooden or chain-link alternatives by a wide margin.
Wood Fence –

has a timeless style that hasn't gone out of fashion. Wooden fences may be found in a number of different designs, including privacy, picket, and rail. Even though redwood, pine, and hem/fir are readily accessible, rot-resistant cedar is the material of choice. Wooden fences may be stained whatever color you choose, or you can just let them weather to a silvery gray.
Mesh Fool Fence

– is the finest option since it follows all guidelines for pool safety and doesn't get in the way of your family's time spent in your backyard sanctuary.
What would happen if there wasn't a barrier or fence surrounding the swimming pool? 
Unfenced pools provide an "attractive nuisance" because they entice people, particularly minors, onto private land where they do not belong. Therefore, if you have no fence or a barrier that is not sufficiently effective, you may be held accountable for harm sustained by trespassers.
Canopy To Snoop Around Your Pool 
Image Source: Pinterest 
To some extent, a pool canopy may block prying eyes, depending on how close your neighbors are to your property. If you live on a hillside and your neighbors can see into your pool from below, a canopy will provide you with some much-needed overhead privacy while you're not really using the pool.
Designs that you could incorporate for your canopy: 
Columnar 

Rounded

Oval

Spreading

Weeping

Oval vase

Pyramidal

 

Umbrellas For Shady Design
Image Source: Outdoor Elegance 
However, although pool umbrellas are the most cost-effective option, they also provide the least personal space of the other alternatives. 
Things to remember while installing umbrellas around your pool area: 
You should use an aluminum-framed pool umbrella if you live in an area prone to storms. 

Make sure the umbrella you choose allows for a lot of adjustment in height and tilt. To ensure your personal privacy, you may tilt the umbrella to the angle of your choice. 
Possible Umbrella Varieties for your pool area: 
Parasols for Above-Ground Pools 

Waterproof Pool Umbrellas 

Anchor the Beach Umbrellas 

Above-Ground Pool Umbrellas with Weighted Bases
Umbrellas may not provide the highest level of privacy in every circumstance, but they can provide a great degree of versatility since they can be moved and positioned to suit the scenario.
Fill The Pool With Charming Pergolas
Image Source: Houzz
A pergola, if constructed properly, may offer a great deal of elegance to your swimming pool. In combination with a separate screening element, such as a fireplace or waterfall, they may be utilized to create a private space. 
Combining a pergola with a privacy screen or enclosing the rear side is another low-cost option.
How can I construct a pergola without breaking the bank? 
Save trees by repurposing old garden furniture. Making advantage of an already existing fence or wall is another low-cost pergola solution. In the end, you'll need less quantity of lumber for your pergola, which might significantly reduce your costs.
Design Ideas for your pergola: 
Put some lights around the pergola. 

Perhaps some simple, tasteful drapery could soften the look of the pool area, such as white or a neutral hue. 

Set up some plant hangers and enjoy the outdoors 

Comfy seats for people to relax in are also a great option

If necessary, rattan ornaments may be added. 

A little floral decor may also brighten things up. You get to choose whether they are synthetic or organic.

Gazebos 
Image Source: Pinterest
A Gazebo is quite similar to a Pergola, but with a completely enclosed roof, it offers much greater protection from the elements. If you don't want to struggle with the sun, a pergola is another fantastic alternative since its roof still lets air and light through. 
On the other side, Gazebos often come with a slew of extras, such a fully equipped barbecue and a TV in a comfortable sitting area. If you want some extra seclusion by the pool, a gazebo is a wonderful choice.
In addition to that, you may embellish your gazebo with the following: 
Install a sink and wine fridge at the bar. 

Wrap the gazebo with twinkling lights. 

Put up some curtains if you're concerned about your personal space. 

A fire pit or fireplace is a welcome addition 

Make room in the center for a jacuzzi

Poolside Cabana for Extra Privacy and Elegance
Image Source: Pinterest 
Cabanas beside the pool may be thought of as a cross between a gazebo and a pergola. They often include a weatherproof mattress and curtains for privacy (if desired). 
Cabana amenities might include the following: 
Refrigerator

Television

Water Bottles

Comfy Seats

Huge Umbrellas 

Personal Server 
It's important to note that some cabanas include complementary snacks or small meals.
Where you could find Cabanas?
Although cabanas are most often associated with the pools of high-end hotels like the Hilton and the Hyatt, they are also available for purchase on Amazon for use in private swimming pools.
Hedges to Beautify Your Pool Edges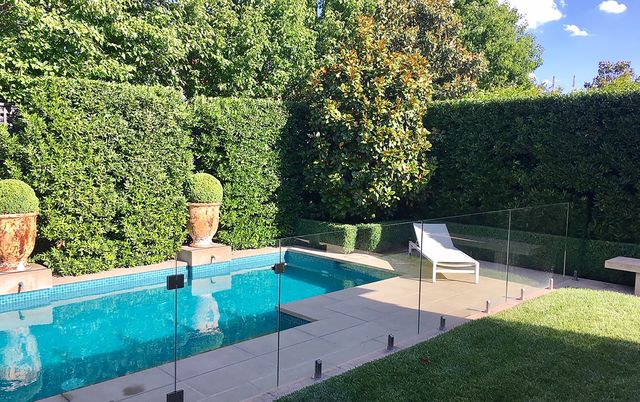 Image Source: Warner Nurseries 
This is a fantastic alternative to erecting a fence if you want privacy but are scared to do so. By carefully planning their growth and placement, bushes may be shaped into stunningly tall hedgerows. The shrubs provide a lovely natural barrier. 
A Helpful And Magical Trivia: 
In Harry Potter and the Goblet of Fire, there was a very confusing labyrinth. It will not only provide you the solitude you've been looking for, but it will also make a lovely natural cluster of lush vegetation around your pool. Ideal for concealing the pool and adding a splash of style to your backyard. 
The Lilly Philly and the Monkey Apple are two common species found in hedgerows. When given the right conditions, it may reach a height of 16 feet and a width of 20 feet. This plant is wonderful for screening the pool since it blooms in the summer and bears fruit in the winter.
Image Source: Curiosa Living
This is the cutting edge of pool landscaping for quick seclusion. The majority of the possibilities we've considered so far provide discrete ground-level living. However, what about the secrecy of a tan from above? 
Using a privacy sail, you may erect a makeshift wall at any time and in any location. You may customize the aesthetic of your pool with the help of these sails, which are available in a wide variety of sizes, styles, and colors. Attaching them to the preexisting framework is all that's required. 
If you need a landscaping specialist or advice on which pool privacy plants will thrive in your area never hesistate in giving your trusted landscaper a call. 
Tightly spaced Latticework or Trellis panels 
Image Source: Pinterest
The use of a screen to separate the pool from the rest of the yard is a simple way to maintain privacy. Thin wood strips with holes in the center were formerly woven into intricate patterns. The perfect complement to the landscape surrounding your pool, they provide your privacy. 
Many individuals find pleasure in training vines or plants to cover these barriers. Beautiful plants, such as ivy and honeysuckle, provide a discreet barrier. Fill in the gaps in your walls with creeping plants to create a beautiful vertical garden.
Separation Screen for Outdoor Pool 
Image Source: Perimtec 
The pool deck privacy walls will connect to the perimeter of your current deck around the pool. If you have the right equipment, they're easy to install. Decks may also be used to completely surround hot tubs. 
Panels made of wood might completely impede visibility. Using diagonal pieces of wood, you may create a tiny window in the wall that will enable you to look outside but will prevent anybody from seeing into your pool. 
A wooden deck is a frequent upgrade for in-ground pools. Installing walls around the pool area might be a long-term solution to the problem of prying eyes. 
It's possible to shut off the world, even any curious onlookers or wandering youngsters, and fully immerse yourself in your happiness.
Stone Walls For Your Chilling Space
Image Source: Pinterest
Both above- and below-ground pools in certain cities are required to be surrounded by walls. So you might consider having these type of walls if your pool is located somewhere open. 
To hide your swimming pool from prying eyes, build masonry or stone walls around it. Because of this, the wall's height and appropriate location will be based in part on the degree to which your land slopes. 
Strong, beautiful, and seems completely natural, mortared stone walls may be built in a variety of heights to fit your needs as well.
15. Pool Deck Divider Wall 
Image Source: Wall Theory
A divider wall may be installed on a pool deck to separate the pool area from the rest of the deck or patio, making it more private and secure for swimmers. This may deter non-swimmers or youngsters from walking into the pool area alone and assist avoid unintentional falls into the pool.
Ideas to know: 
If you're looking for something that goes a step further into modernism and refinement, a metal divider separated by a white concrete wall is a terrific choice. 

Black with design panels is an option for a classic, understated aesthetic. 

Having a panel that is elevated from the ground provides a welcome change of scenery. But if this evades your privacy, you can also have it touching the ground.

It's important to choose a color scheme that flows well together; lounge chairs and floor tiles, for example, look great in black and white. 
16. Pool Planters and Greenery Panels 
Image Source: Evergreen Walls
The pool area may be made more private and evoke a more tropical atmosphere with the help of greenery panels. Both may make your backyard pool area seem more like a luxurious resort.
Here are some ideas: 
This layout is ideal for you if you are the outdoorsy kind. Cover the wall space with grass, either fake or real. DIY-ers have the option of not hiring an expert to complete the work. 

Some tall plants in a container placed strategically between the pool and the green wall will provide a nice touch of style. 

Wooden decking instead of ceramic tiles around the pool would provide warmth and a more natural aesthetic. 

Cementing the edges adds a unique artistic touch to the overall look. It's probably not worth the effort to paint it, since the ink might run in the often moist environment.
Frequently Asked Questions: FAQs
What size of a backyard pool is ideal? 
In a pool measuring 18 by 36 feet, six to eight persons may relax in luxury. Larger parties will appreciate the extra area in this pool. A pool of 16 feet by 32 feet would be suitable for no more than five persons.
Which pool retaining wall is the best?
Polymer pool walls are comprised of a non-corrosive material that is robust and stable and will never rust, corrode, or dent, which makes them a desirable option for swimming pools. Since polymer walls are lighter than steel walls, there is less of a risk of injury while moving or installing them.
How much does designing or redesigning a pool area cost?
The first thing to keep in mind is that the price of pool improvements may vary widely, from about $6,000 to $15,000 on average. In the United States, the average cost to renovate a pool is $8,908.
In what do the pool's walls consist?

 
These days, homeowners may choose between polymer walls and steel barriers for their vinyl pools. Galvanized steel, used for steel pool walls, is strong and durable, and it resists corrosion, which helps the pool last longer.
How long do pool coverings typically last? 
A good quality pool cover should last anywhere from 6-10 years. A winter blanket, on the other hand, could only be effective for three to five years at most. The pool's environment and the anticipated amount of usage will be the determining factors.
Final Words
When it comes to pool enclosure, you can choose from a wide range of customizable features that we have mentioned above. 
In the end, everything comes down to the specifics of your pool, property, and design preferences. Pinterest is a great resource for seeing how other people have built walls around their pools for added security.
However, if you want to explore more about this topic, you could always go to:
11 Backyard Pool Ideas on a Budget that Can Steal the Show Anytime
Written By: Trisha Mae Raymundo and Rachel Tate