Here are 27 creative decking cover ideas. Be ready to turn it into an inviting space for relaxation. Whether you're looking to escape the heat of the day or set the mood with some magic, these clever ideas will get your creative juices flowing. 
This selected collection reveals a plethora of possibilities to fit your style and tastes, from the classic beauty of timber lattice to the sleek sophistication of glass roofs, and from the organic charm of living green roofs to the adaptability of retractable canopies. Transform your deck into an outdoor haven with these innovative ideas that flawlessly combine design and function.
Pergola with retractable canopy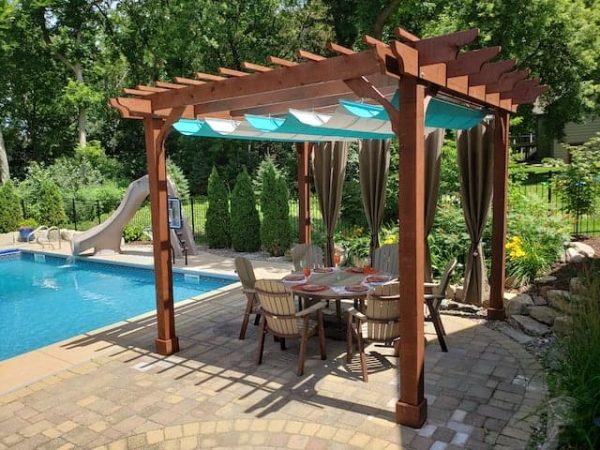 Image Source: Pergola Depot
Install a retractable canopy pergola to complete your backyard haven. This adaptable setup combines the attractiveness of an open-air pergola with the convenience of a retractable cover. Make use of the cover and shade when it's needed, and relax in the sun when it's convenient.
Things to keep in mind:
Create an outdoor sanctuary by adding a wooden pergola. Made from durable wood, it will last for years while looking great in your garden or on your deck.

Invest in a wooden dining lounge set to turn your deck into an outdoor eating oasis. It's a place where you can relax in style and enjoy delicious food while making memories that will last a lifetime.

A blue and white canopy will give your outdoor area a beachy feel. This sailcloth-inspired cover is functional and stylish, providing welcome relief from the sun.

Brown, heavy-cloth drapes will do wonders for both seclusion and ambiance. With these plush curtains, you can transform your deck into a cozy retreat where you can repose in private.
Image Source: Bob Vila
Shade sails are an easy way to add a touch of class to any outdoor area. These chic cloth canopies, which may be triangular or rectangular, provide shade and a contemporary look. A shade sail may be used in many different ways and is a great way to add both practicality and beauty to your patio, deck, or garden.
Things to keep in mind:
Shade yourself in understated style with a beige sail. This sophisticated fix adds a calming touch to your outdoor area by filtering sunlight and providing a sleek, understated aesthetic.

Use a black plastic metal dining lounge set to create a look that is both modern and cozy. This set is the perfect combination of form and function for eating and relaxing in contemporary style.

A hardwood floor deck can greatly improve your time spent outside. Its inherent allure and adaptability make it an ideal starting point for any design, and it creates an atmosphere that is wonderful for socializing, unwinding, and appreciating the outdoors.
Image Source: Houzz
A bamboo roof may completely change the vibe of your outdoor space. Bamboo roofing is natural and eco-friendly, creating a rustic and tropical atmosphere while protecting from the weather. Under the warm embrace of a bamboo roof, you may relax to the sound of rustling leaves and the beauty of nature.
Things to keep in mind:
Put down a brown hardwood floor deck to establish a cozy tone. Its warm tone and organic texture provide a relaxing and adaptable outdoor area, perfect for hosting a variety of events.

Embrace the tropics with bamboo shingles. This eco-friendly option gives your outdoor space a hint of exotic charm while also offering shade and a connection to nature.

Yellow cement walls will provide a splash of color and energy. An invigorating and interesting background that works well with nature and design is provided by this burst of color in your outdoor haven.

Use white, standalone chairs to up the class factor. The clean lines and simplistic design of these pieces make them ideal for outdoor use while also enabling the surrounding colors and materials to stand out. 
Image Source: Pinterest
A glass ceiling is an elegant addition to any deck. Relax in the sunshine and watch the stars without worrying about the weather in your own outdoor retreat. Whether it's raining or shining, a glass roof provides a stylish refuge for socializing and unwinding.
Things to keep in mind:
Make a chic haven by constructing a glass enclosure with black metal accents. Adding a hint of urban sophistication, this cutting-edge combination of transparency and structure lets you take in your surroundings in style.

Bamboo deck flooring is an excellent way to do this. Its eco-friendly appeal and distinct texture enhance your outdoor environment, allowing you to feel at one with nature.

Black and white patio furniture can provide striking contrast. The minimalist all-black aesthetic oozes modern sophistication, providing a sleek and relaxing setting for your outdoor haven.
Image Source: Pinterest
Wooden lattice is an easy way to add character to your deck. This classic layout makes use of both sunny and shady areas to create a relaxing outdoor space. Your deck is now the ideal spot to rest and stay in touch with nature thanks to the interlaced hardwood slats that provide seclusion and ventilation.
Things to keep in mind:
Toss in some country chic with a latticed wooden ceiling. Because of its elaborate design, your outside area will be bathed in a stunning dance of light and shadow.

Wooden Chairs and a Table Set: Upgrade your relaxation with these high-quality furnishings. Your outdoor space will be perfect for socializing and unwinding thanks to the natural beauty of wood.

Outdoor Patio Location: Create a patio in your backyard and start using that extra area. There is no limit to how you may personalize this space to suit your needs as a place to relax, party, and take pleasure in the outdoors.
Image Source: Pinterest
Installing louvers on your deck's roof can greatly improve your time spent in the great outdoors. Easy adjustments to light and air circulation let you respond quickly to seasonal shifts. With this ingenious cover, you may have the best of both worlds: the fresh air and the protection of a roof over your head.
Things to keep in mind:
A white-painted louvered roof offers a lot of flexibility. This modern option blends form and function, enhancing the look of your outdoor space while enabling you to regulate the amount of sunshine and breeze that enters.

Choose a sleek all-white dining and lounging set. This stylish set will add a touch of modern elegance to your outdoor area, perfect for dining and lounging.

Put down some light gray cement for a laid-back look and feel. It is both sturdy and aesthetically pleasing, and its neutral color palette works well with a wide range of design components.

Wooden interiors are cozy and inviting. This natural feature not only enhances the aesthetic value of your outdoor area, but also helps to create a warm and inviting atmosphere.
Image Source: Pinterest
A new geodesic dome may breathe new life into your patio. This fascinating work of architecture is not only a sight to see but also provides superior protection from the elements. The geometric pattern in the design maintains a balanced load, making this a reliable and fashionable deck or garden accessory.
Things to keep in mind:
Enjoy cutting-edge design with a white geodesic roof and metal details. This work of architecture is both beautiful and practical, giving shelter from the weather while also complementing your outdoor decor.

Light gray oak flooring creates an atmosphere of calm. The neutral tone is easy on the eyes and provides a soothing backdrop that unites your outdoor space with nature.

Relax in style with a classic chaise couch. Its simple decor makes it an ideal place to unwind and take in the scenery.

A wooden seat with metal legs adds a touch of contemporary chic. This combination of materials yields a seating configuration that serves its purpose and looks great in your outside space.
Image Source: Craft Bilt
Use polycarbonate panels to spruce up your outside space. These adaptable and long-lasting transparent coverings block the sun's harmful rays without blocking the natural light. Make your deck a comfortable retreat with just the right amount of shade and airflow so you can take in your surroundings in all four seas. 
Things to keep in mind:
Decorate pillars with climbing plants to bring the outside in. These verdant plants breathe new life into your garden and create a magical ambiance.

White polycarbonate panels will give your space a fresh, contemporary vibe. Their minimalist form provides security without sacrificing aesthetics, since natural light may enter while the space still seems open.

Lounge chairs made of metal and plastic are both sturdy and comfortable. With this sturdy set, you may relax in style while still having everything you need for your outdoor haven.

Brown wooden and aluminum screens provide both seclusion and a modern look. These adaptable features improve the visual appeal and practicality of your outdoor retreat by adding an artistic touch while defining your area.
Trellis with climbing plants
Image Source: Pinterest
A trellis covered with climbing plants is a great way to dress up your yard. This lovely mixture enhances your outside space with the splendor of nature. The shadiness of the entangled plants and the privacy they provide are enhanced by the trellis's aesthetic value. Make a calm haven where nature and design blend in perfect harmony.
Things to keep in mind:
Using a trellis to support climbing plants and bright blooms, you may transform your outdoor area into a magical oasis. Your outdoor space will benefit from the aesthetic enjoyment that this natural display creates.

Enjoy the finer things in life on a brown tufted couch and chairs. The sophisticated and cozy aesthetic is perfect for lounging and hosting guests in your outdoor haven.

Enhance the look by installing a hardwood deck with two tiers. This architectural element enriches your outdoor space by dividing it into functional and visually pleasing sections.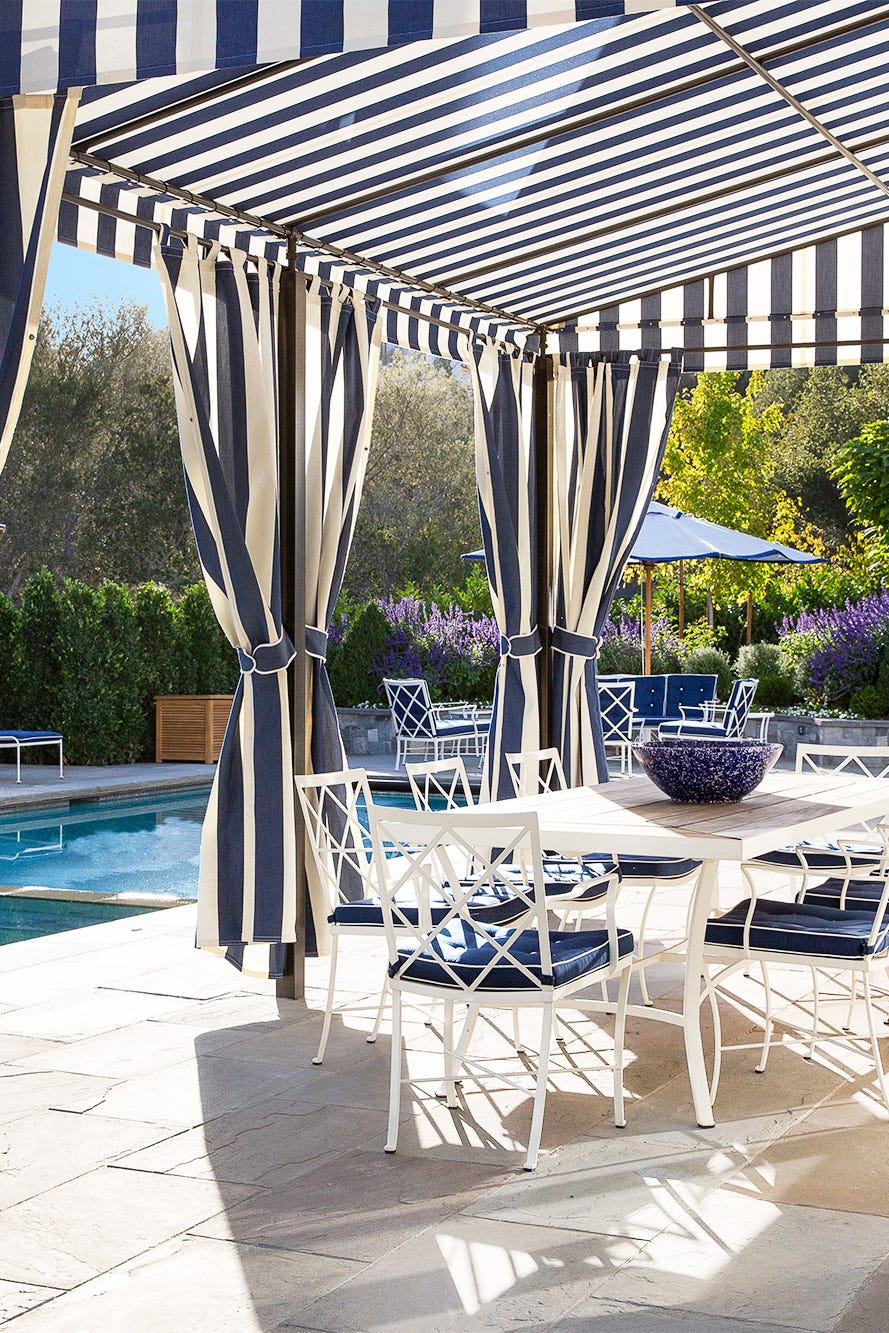 Image Source: House Beautiful
Fabric drapes are a simple way to upgrade your outdoor space. These curtains serve many purposes: They conceal your deck or patio from prying eyes, diffuse harsh sunlight, and create a warm and welcoming atmosphere. Fabric curtains provide warmth and beauty to every room, whether they are drawn for privacy or flapping in the air.
Things to keep in mind:
A cover made of striped white cotton adds a refined touch. This adaptable piece of architecture does double duty by providing shade and concealment while simultaneously elevating the aesthetic value of your outdoor living area.

A white modern dining set is the epitome of chic modernism. You can now dine in elegance and comfort in your outside space thanks to the simple design and clean lines.

Make your deck seem better by tiling it with ceramic tiles. Its refined and polished surface is also low-maintenance, making it a great base for a variety of outdoor design options.

Make a deck and a swimming pool your ideal outdoor escape. With the right combination of comfort and design, you can transform your backyard into a sumptuous haven of fun and relaxation with a pool.
Image Source: Houzz
A gazebo is the pinnacle of outdoor living. This classic building has all the makings of a great place to unwind or host a party, thanks to its combination of covered and open spaces. The elegant structure of a gazebo will be the main point of your deck or garden while also serving as a quiet retreat from the outside world.
Things to keep in mind:
A wooden triangle roof deck is an excellent way to stand out. This one-of-a-kind architectural feature not only provides welcome shade and protection from the elements but also serves as an eye-catching focal point.

Go for chic simplicity by installing a concrete deck floor. Its modern underpinnings of neutrality and sleekness serve as a canvas upon which your outdoor features may shine.

Enjoy the convenience of a multipurpose hardwood lounge dining set. This setup provides the best of both worlds, making it easy to go from relaxing to eating in your outdoor refuge.

Brick pillars will give your home an air of classic elegance. These timeless classics will not only keep your outdoor area standing but will also provide a touch of rustic elegance that will set the mood just right.

You may take a peaceful walk through nature on a beautiful grass lawn and a squared-off path.

Ceramic potted flower plants are a classy way to inject some life and beauty into your home or office.

Indulge in some downtime and get in touch with nature with the help of a swing made of wood.
Image Source: amaZulu, Inc
Enjoy yourself in a thatched-roof paradise. This one-of-a-kind cover will give your outdoor area a touch of the tropics and a whole lot of personality. Thatch's natural, earthy texture offers an appealing ambiance, perfect for unwinding on a terrace or by the pool in a setting evocative of exotic retreats.
Things to keep in mind:
Relax under a thatched roof in the tropics. The exotic look and feel it lends to your outdoor haven comes from its natural beauty and texture.

Pinewood deck flooring offers both a cozy feel and plenty of design options. Its warm tones and distinctive grain patterns will provide a welcoming backdrop for your outdoor space.

Comfort and contemporary style come together in a black metal mesh lounge set. The clean geometry and long-lasting materials combine to provide a sophisticated retreat amid your outdoor haven.
Corrugated Metal Deck Roof
Image Source: Pinterest
Install a metal deck roof made of corrugated sheets to improve your outside area. This weatherproof cover, which takes its design cues from the industrial world, will shield your space from the elements while adding a bit of modern flair. Spend time outside in comfort and elegance under this roof's unique texture.
Things to keep in mind:
A gray metal roof with corrugations represents contemporary utility. Its modern style will look great in your outdoor area while also protecting you from the elements.

Add some rustic charm to your gray metal roof by installing hardwood shingles. This combination of modern and traditional elements creates a warm and appealing outdoor space.

Relax on a spacious open terrace surrounded by lush vegetation. This peaceful haven is open to the outside and provides a haven of peace and natural beauty in which to relax.
Artsy wood and metal cover
Image Source: Pinterest
An elegant wooden and metal canopy may do wonders for your patio's overall look. Adding a touch of contemporary art to your deck, the combination of rustic wood and clean metal offers a compelling contrast. This one-of-a-kind setup will provide welcome shade while also elevating your outdoor environment to the level of a work of art, worthy of relaxation and appreciation.
Things to keep in mind:
Metal accents may set off the aesthetic of a roof. Adding these artistic flourishes to your outdoor area will turn a practical building into an attention-grabbing work of art.

Frames and pillars made of wood will add coziness to your deck. Wood's natural grain and coloration complement your backyard well, making it a great place to unwind or host a party.

Integrating a deck into your home's blank wall might help you achieve a uniform look. Enjoy your outdoor haven with comfort and style thanks to the smooth movement from inside to outside that this integration provides.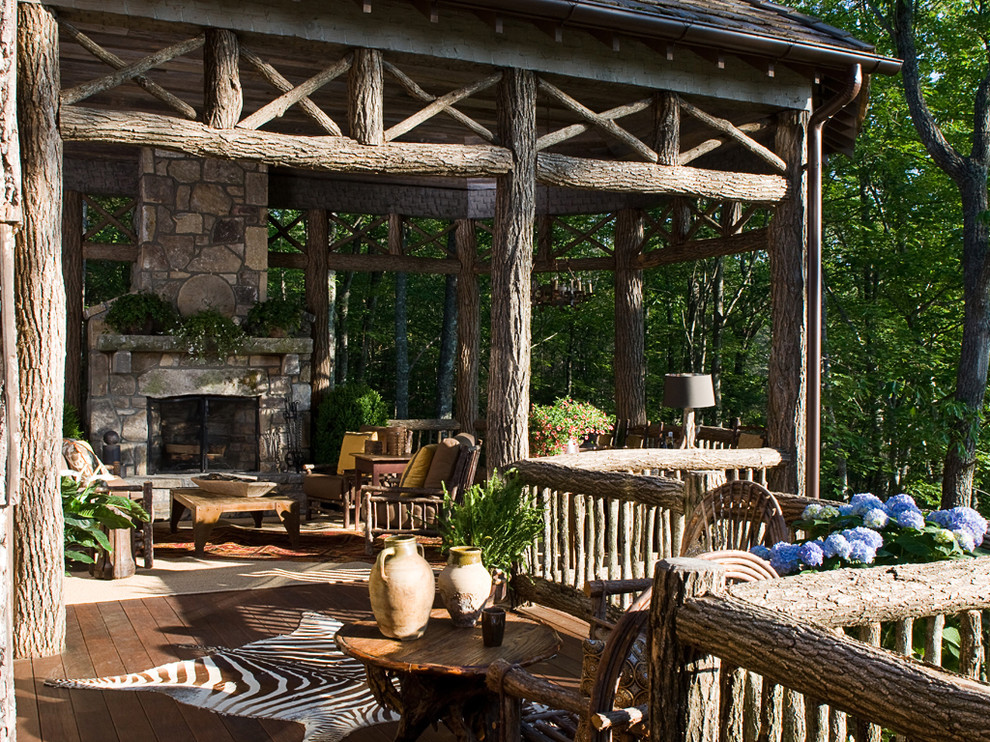 Image Source: DigsDigs
Add a log cover to your deck and instantly you have a cozy, woodsy retreat. The rustic allure of aged wood creates an environment ideal for relaxing in. This one-of-a-kind covering does double duty by shielding you from the sun and bringing you closer to nature, transforming your patio into a tranquil oasis of natural beauty.
Things to keep in mind:
Create a warm and welcoming patio area by framing logs together. The warmth and timelessness of a log cabin's decor make it an ideal place for socializing and unwinding in the great outdoors.

Add coziness by using wood for the ceiling and the roof. This architectural detail blends well with its natural surroundings while also providing shelter and a sense of class.

Brick details around the fireplace boost the warmth factor. Adding brick to your outdoor space will give it personality and warmth because of the material's tactile texture.

Unwind in style with wooden patio furniture. Your patio or deck will be transformed from an ordinary place to spend time with friends and family to a chic and comfortable hideaway thanks to the mix of wood and soft seats.
Image Source: Warehouse military, hunting, and hiking clothing and accessories
Bring together your two passions with a camouflaged roof. This cover will make your deck seem like it was always a part of the landscape. Camouflage's aesthetic fascination adds a new dimension, making for a pleasant vacation while also providing protection and a sense of being immersed in nature.
Things to keep in mind:
Origami roofing fabric conceals your outdoor area in a creative atmosphere. This cutting-edge structure combines aesthetics and use, providing welcome shade and a show-stopping focal point for your deck.

Gray wood flooring is a new take on the classic patio. The modern look and feel it brings to your outdoor space comes from the combination of its cool color and streamlined design.

Use a white sofa and lounge chairs to add a touch of class. This classic color scheme will make your outdoor area seem and feel more elegant, perfect for spending time with friends and family.

Put some plants in sleek black ceramic pots to brighten up the room. These organic touches will liven up your deck and help to create a balance between nature and design in your outdoor haven.
Slanted Polygal Deck Cover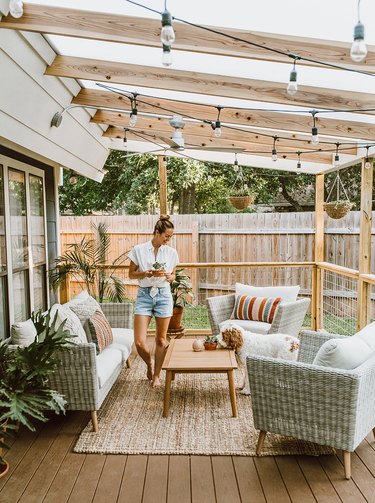 Image Source: Hunker
Make the most of your outside area by installing a Polygal deck cover at an incline. This novel approach provides reliable weatherproofing while yet letting in some natural light in a diffused form. Its contemporary look and practical features will make your deck the envy of the neighborhood.
Things to keep in mind:
Polygal deck covers with hardwood accents bring together cutting-edge design and natural beauty. This combination of materials not only provides a functional cover for your outdoor area but also adds aesthetic appeal.

Relax in luxury on a plush green couch and lounge chair. This comfortable furniture arrangement provides a tranquil retreat amid nature, ideal for socializing and reflecting.

Add coziness with a wooden coffee table and deck flooring. These rustic accents help you feel more at one with nature when hosting friends and family for a get-together.

Create an unimpeded view of your surroundings by framing a window or door in wood. This design feature is both aesthetically pleasing and functional, enabling you to take in the natural splendor of your surroundings.
Solar panels with a transparent cover
Image Source: AlumWorks
Sustainable and fashionable solar panels with a see-through cover. Take advantage of natural sunlight while relaxing on your terrace. Energy efficiency and a bright, attractive environment for leisure and enjoyment are two of the many benefits you'll enjoy from this cutting-edge solution's eco-friendly design.
Things to keep in mind:
Black solar panels are the height of eco-chic. This innovative option is both aesthetically pleasing and environmentally responsible, providing shade for your outdoor area without sacrificing either.

Use a white stainless metal ceiling and pillars to provide a contemporary touch. The modern, minimalist aesthetic will give your outdoor space a sense of structure and style.

Add visual interest with brick flooring. Its weathered allure lends personality to your outdoor environment while also serving as a sturdy base that goes well with many different styles.

Enjoy the height of style and relaxation on a white metal dining lounge set. This contemporary set provides an elegant setting for outdoor dining and relaxation.
Image Source: Pinterest
Bring the calm beauty of Asia to your outdoor area with a cover designed in the Asian style. Make your deck a relaxing haven by decorating it with wood, classic furniture, and clean, simple lines. This Zen-like synthesis of nature and culture is an invitation to find inner peace and stability.
Things to keep in mind:
If you want to add some flair to your wooden patio roof, go for an irregular pattern. This one-of-a-kind structure will protect you from the elements and make a bold statement in your backyard.

A velvety black L-shaped couch combines contemporary style with relaxing comfort. Make the most of your outside area with this chic and comfortable seating arrangement.

Wood flooring with black borders is a sophisticated addition to a patio or deck. The distinction between the two creates a sophisticated base for your outdoor refuge, adding clarity and elegance.

Warm up your patio with some lighting. These soft lights offer a warm and welcoming ambiance, perfect for transforming your outside area into a magical retreat as the sun goes down.

Image Source: A Piece Of Rainbow
A cloth canopy in a variety of colors will provide life to your outdoor space. These canopies are not only functional as shade structures, but they also provide a sense of fun and merriment to your deck. Pick from a wide variety of colors to liven up your room and turn it into the perfect hangout for friends and family.
Things to keep in mind:
Use a mixture of metal and wood for your chairs. With this set-up, you can furnish your outdoor space in comfort and style thanks to the complementary blend of classic and contemporary elements.

Add some life with brightly painted wooden tables. These striking additions to your outdoor area will inject life and personality into your meetings and meals.

Modern brick flooring is an excellent example of this trend. Its modern, uncluttered look makes for a chic backdrop, and its sturdy construction means it'll last for years in your backyard oasis.

Put your artistic spirit on display under a canopy of vibrant fabric. This one-of-a-kind canopy does double duty as a sunshade and a design feature in your outdoor living area.
Image Source: Herron's Amish Furniture
A deck cover in the Prairie design will let you take in all the splendor of the open plains. This minimalist and earthy style was conceived in the heart of the United States. The end effect is an outdoor environment that blends seamlessly with its natural surroundings, adding aesthetic appeal and a sense of rustic tranquillity.
Things to keep in mind:
Use ceramic tile in soft, neutral tones to produce a calming tone in any room. Its welcoming surface and soothing tones make it a great addition to any outdoor living area.

Prairie-style deck covers are an investment in classic beauty. This timeless structure not only provides shade but also enhances the visual appeal of your outdoor space.

Try out some contrast with a black frame around your hardwood table and chairs. An elegant addition like this will make your outdoor dining area more welcoming to friends and family.
Image Source: Designing Idea
The natural elegance of stone and the classic allure of wood are brought together in perfect balance in this design. Your home will have a one-of-a-kind allure because of the harmonious harmony created by the contrasting textures and earthy tones, which reflect the power of nature and the warmth of workmanship.
Things to keep in mind:
The brick stone fireplace serves as the focal point of the room and is a source of both historical beauty and homey comfort.

The black leather seats and timber frames create a fashionable but welcoming environment by harmoniously blending contemporary and natural design characteristics.

Ceilings, flooring, and walls made entirely of stacked wood will transport you to a rustic cabin in the woods. The natural materials and muted tones create a calming, woodland setting.

Cooking in a modern stainless steel kitchen will elevate your skills to new heights. With such a high-quality set-up, every time in the kitchen will be an adventure in taste and technique.
Wooden Symmetrically Stylish 
Image Source: FreshPatio – Patio Designs and Garden Ideas
Build a relaxing retreat with complementary elements like a pair of wooden pergolas, a pair of lattice screens, a pair of timber trellises, a pair of gable roofs, or a centrally-placed wooden sail shade. Feel at one with nature as you relax in the cool shadow of your outdoor refuge. 
Things to keep in mind:
Embrace symmetry by framing your outdoor area gracefully with a wooden deck ceiling that adds both aesthetic appeal and a warm, inviting feel.

Enjoy the best of both natural texture and modern elegance with bamboo mesh seats supported by sleek black frames.

Add some soft gray cushions to your seats for added comfort and to match the earthy tones of the room.

Teak wood is used everywhere, from the ceiling to the floor, providing a warm and welcoming atmosphere.

An outdoor coffee table in a contemporary color scheme of brown and black will bring your living space to the next level.

Tile your deck's floor with a focal design to give your outdoor space a more artistic feel.
Image Source: Pinterest
Dual canopies provide a new level of sophistication and practicality to your outdoor living area. The terrace is transformed into a place of harmony and beauty by the symmetrical addition of two cloth coverings.
Things to keep in mind:
Enjoy the splendor of nature by decorating your outside area with blooming plants in pots, which will provide both color and fragrance.

A durable and stylish black lounge set made from plastic and metal is waiting for you to discover it.

Ceramic flooring provides a cool, polished surface that is aesthetically complementary to an outdoor space.

Double mustard canopies provide coziness and flair to your outdoor living space by blocking the sun and adding a splash of color.

Black metal slender pillars will give your deck a modern style while also adding solidity and an air of refinement to your backyard retreat.
Image Source: Houzz
Imagine a safe place with two gable ends that are perfectly symmetrical. This work of architecture not only protects you from the elements but also adds aesthetic value to your outdoor space.
Things to keep in mind:
Add creative flare and a smooth feel to your outdoor area with a glossy, delicately carved cement floor.

Incorporate clean lines and modern components into your outdoor dining space with a metal modern dining set.

Enjoy the shade and privacy of a double gable roof in white and gray, a symbol of refinement and practicality.

Wooden pillars and ceilings will provide warmth and beauty to your outdoor retreat, creating a seamless blend of nature and design.
Cool Custom Mosaic Deck Roof 
Image Source: alumawood.com
A mosaic roof may add a touch of elegance to your outdoor space. This work of art not only protects you from the elements but also adds a stunning aesthetic touch that will make your deck the envy of the neighborhood.
Things to keep in mind:
Large, plush gray cushions provide a cozy spot to kick back and socialize in elegant luxury.

White deck pillars are an elegant touch that will never go out of style.

A white mosaic deck roof will give your home a touch of class and protection from the elements.

Take in the sights of nature by carefully landscaping the area around the deck to create visual and acoustic harmony.

The deck floor should be tiled with elegant white tiles for a contemporary look that will complement the rest of the design.
Japanese Inspired Deck and Covers
Image Source: Pinterest
Japanese design principles may be used to create a serene outdoor space. Layout with simple forms, bamboo partitions, Zen gardens, and tatami furniture. Relax in the company of nature while appreciating the beauty of simple design.
Things to keep in mind:
Make a soothing first impression by constructing a walkway over calm waterways at the entrance to your outdoor area.

Have your deck a serene retreat by decorating it with minimalist furniture and plenty of plants that represent the Zen philosophy.

Build your deck out of real wood for a touch of traditional Japanese style.

Add a sense of authenticity and visual appeal by including brown wooden panels that mimic traditional Japanese aesthetics.

Add a splash of color with a red cushioned table; it will fit right in with the Japanese decor while providing a comfortable place to meet.

Selecting rock-stone flooring for your outdoor space will bring to mind the calming presence of a Japanese garden.
Frequently Asked Questions: FAQs
Can I put a deck cover on by myself?
While do-it-yourselfers may be able to tackle the setup of some simpler systems, others could need expert assistance.
What should I look for when purchasing a deck cover?
When making a decision, think about how much shade you want, how much you can afford to spend, and how aesthetically pleasing the tree will be.
Are there eco-friendly decking cover options?
Living green roofs and other environmentally friendly design choices are available.
To what extent am I able to integrate several proposals for a cover?
Certainly, you may get a one-of-a-kind appearance by using features such as trellises, climbing plants, and retractable awnings.
Do deck coverings need regular maintenance?
Wood may need periodic staining, while metal may benefit from periodic rust protection, but both need regular care.
Final Words
Decking coverings provide a wide variety of options for sprucing up your outside area. All the choices are lovely in their way, from pergolas draped in climbing vines to modern retractable awnings. Choose from contemporary elegance with glass or polycarbonate roofs, or go for a design inspired by nature with bamboo shades or trellises with climbing plants. 
It's important to match your selection with climatic factors and desired functionality. Decking covers come in a wide variety of styles, from traditional to modern, from functional to whimsical, allowing you to create an outdoor space that is perfect for entertaining guests and relaxing in comfort.
Still looking for more ideas. Learn more with these additional articles: 
Written By: Trisha Mae Raymundo