Children with vivid imaginations will always find dinosaurs fascinating because they are the equivalent of the fantastical beasts in their make-believe worlds. Most kids learn the names of the scariest dinosaurs, including the T-Rex and Stegosaurus, and their collection of dinosaurs quickly evolves from cute plush toys to threatening models that sit on their bookcases. 
Given these facts, why not cater to their dino-craze by making them a room that seems like it was plucked straight off the set of Jurassic World? Well, maybe not exactly like that, but you can have a lot of fun trying these creative dinosaur bedroom ideas! 
Educational Bedroom in the Dinosaur Era
Image Source: Pinterest 
Transform your kid's bedroom into a study nook. In this manner, he or she may gain knowledge about the things that interest him or her while still having fun.
Some things to consider:
For newbies and your little children, a simple black plastic bed will do. Bedding with vibrant dinosaurs is an easy way to inject some fun into the space. Include some pillows in a dark color as well. 

Spread out some toys and acquire a single sofa to make the area seem more active and homey. 

Simple walls will do quite well. It would be enough to have a dirty white wall and a green one. 

Shelves filled with a variety of dinosaur-related literature not only make the space seem more put-together but also serve a practical purpose for a young learner. 

Stickers may be a great addition to any room's decor. You may also put a single word of direction above the shelves. 

Consider getting a brown jute rug for added style and design.
Amusing Dinosaur Trinkets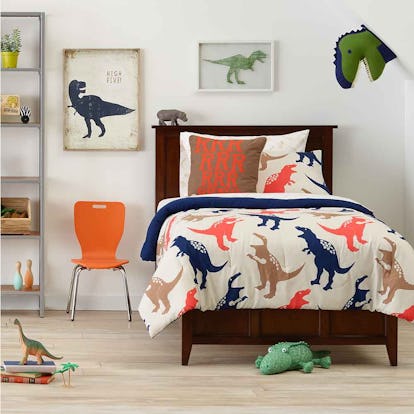 Image Source: Pinterest 
People claim that accessorizing enhances a woman's attractiveness. So now it is time to put these accessories in your room for an interesting and welcoming new design.
Things to think about:
A wooden bed evokes images of the prehistoric past, which is often thought to be the home of dinosaurs. As a result, you can't deny that it's a brilliant bit of design. 

Beds may be made more stylish by using a thick blanket decorated with images of dinosaurs and matching decorative cushions. A statement cushion with a complementary color scheme or pattern would be a lovely addition. 

Carry a wide selection of extras. Stuffed toys may liven up the otherwise plain white walls and flooring. Don't forget to adorn the walls with some artwork, such as portraits or paintings. 

The wooden bed would look great with ceramic tiles or wooden tiles. 

Including a chair and books will make the space more usable. 

Shelving improves the usability of a space. Choose a classic steel shelf to display dinosaur memorabilia or your own belongings for a more up-to-date feel.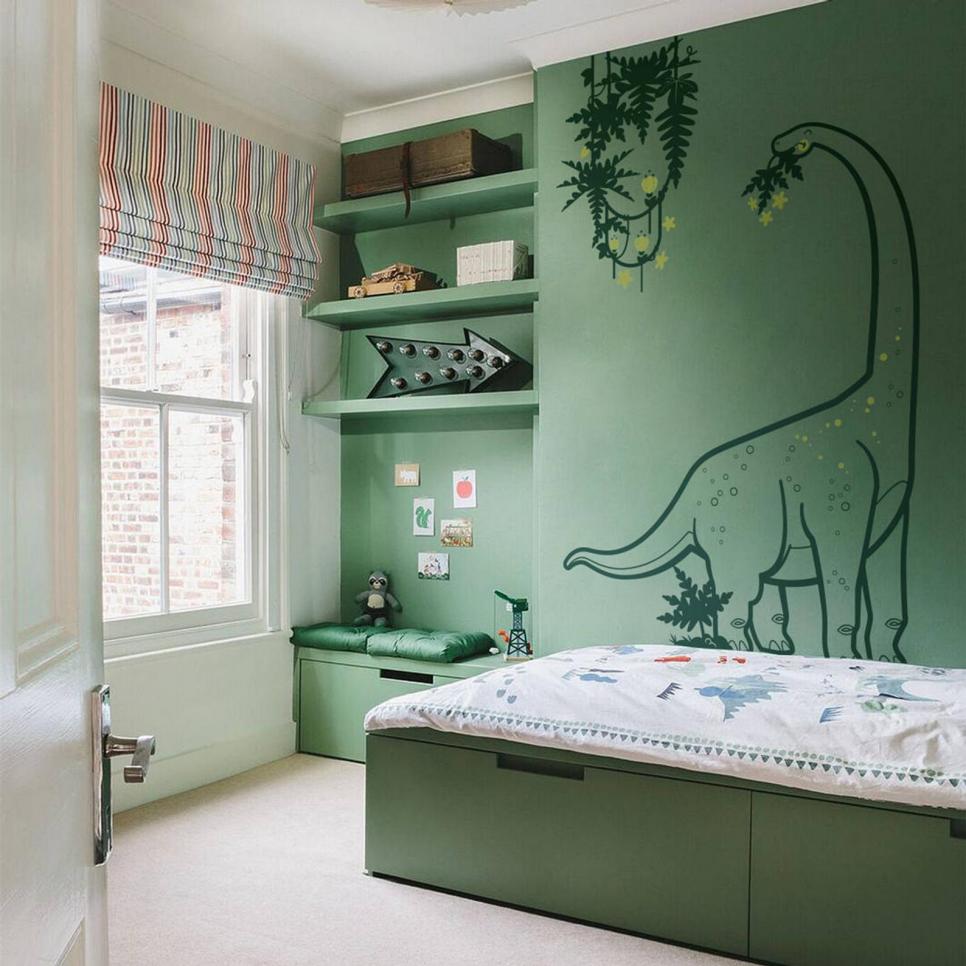 Image Source: Pinterest 
Adding some green and herbivore dinosaurs to your bedroom can help dispel the fear others have of these extinct creatures. In this approach, you may understand dinosaurs' vital role in ecology.
Here are a few things to remember:
If you want your room to have a sweet, childlike vibe, decorate with wallpaper featuring a herbivorous dinosaur or paint one on the wall yourself. Some painted vines would really help sell the illusion. 

Shelves placed into the wall are a terrific extension of the wall and may provide the illusion of more area. Displays and cherished photographs might also find a wonderful home here. 

To achieve harmony between the various colors, white should be used for the ceiling, the floor, and the windows. 

To add to the feeling of being outside, you might replace the curtains with shades. 

A storage bed is perfect for those who value privacy and want a place to keep their belongings close at hand. Obviously, you have to stick to the designated color scheme.
Image Source: Metro UK 
The dinosaurs in many dino-themed rooms are overemphasized. The emphasis might instead be on making the room seem like a lush jungle and showcasing your kid's dinosaur toys. 
Several points to think about:
Invest in a hardwood bed with a crisscross framework for a more rustic, jungle feel. Add some artificial vines, some words about dinosaurs and the jungle, and some jungle-themed sayings for an imaginative twist. 

Attempt to find a mattress with a mossy feel for the bedding. Verify if the hue works well with it. The ideal color scheme would include shades of grey and green. Pile on the patterns by shopping for throw pillows and dino pillows in complementary colors and patterns. 

Boost the aesthetic by bringing in some indoor plants, rattan, figurines, and stickers. 

Using wooden furniture and flooring is a natural extension of the rustic aesthetic, which will only enhance the overall appeal of the room. 

There's no need to go to such elaborate lengths with wall design. A white wall decorated with greenery, photographs, and a mounted dinosaur would look fantastic. 

If you want to convey the impression of a cluttered yet jungle-like setting, invest in a brown wool mix rug. Add a large rug in the form of a leaf to complete the effect.
Artsy Real-Looking Dinosaur Lair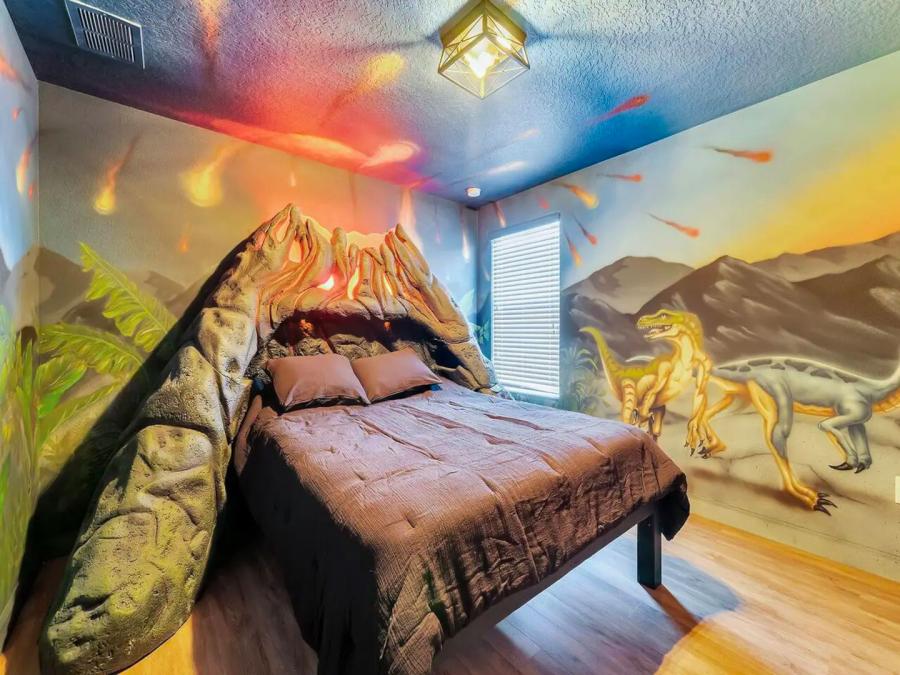 Image Source: Oddity Mall 
Isn't it great to have a creative 3D effect in your own space? Try to picture yourself waking up to this with your favorite tune. You probably wouldn't want to go out of your room too often.
Several things to think about:
Experience a time-traveling adventure with wall murals depicting volcanic activity, mountainous terrain, and a desolate island. 

In order to get a more earthy aesthetic for the bed, you should adorn the headboard in the style of a cave or a volcanic formation. Do not forget to have your pillows and bedding in dark brown. For the sake of flexibility, bed frames should be black. 

Adding some hardwood flooring in a light brown color would further complement the white walls. 

An authentic feel of the past may be achieved by painting a popcorn ceiling blue. 

Choose a ceiling light that has a vintage look and a warm color temperature for maximum effect.
Glowing Dinosaurs All The Way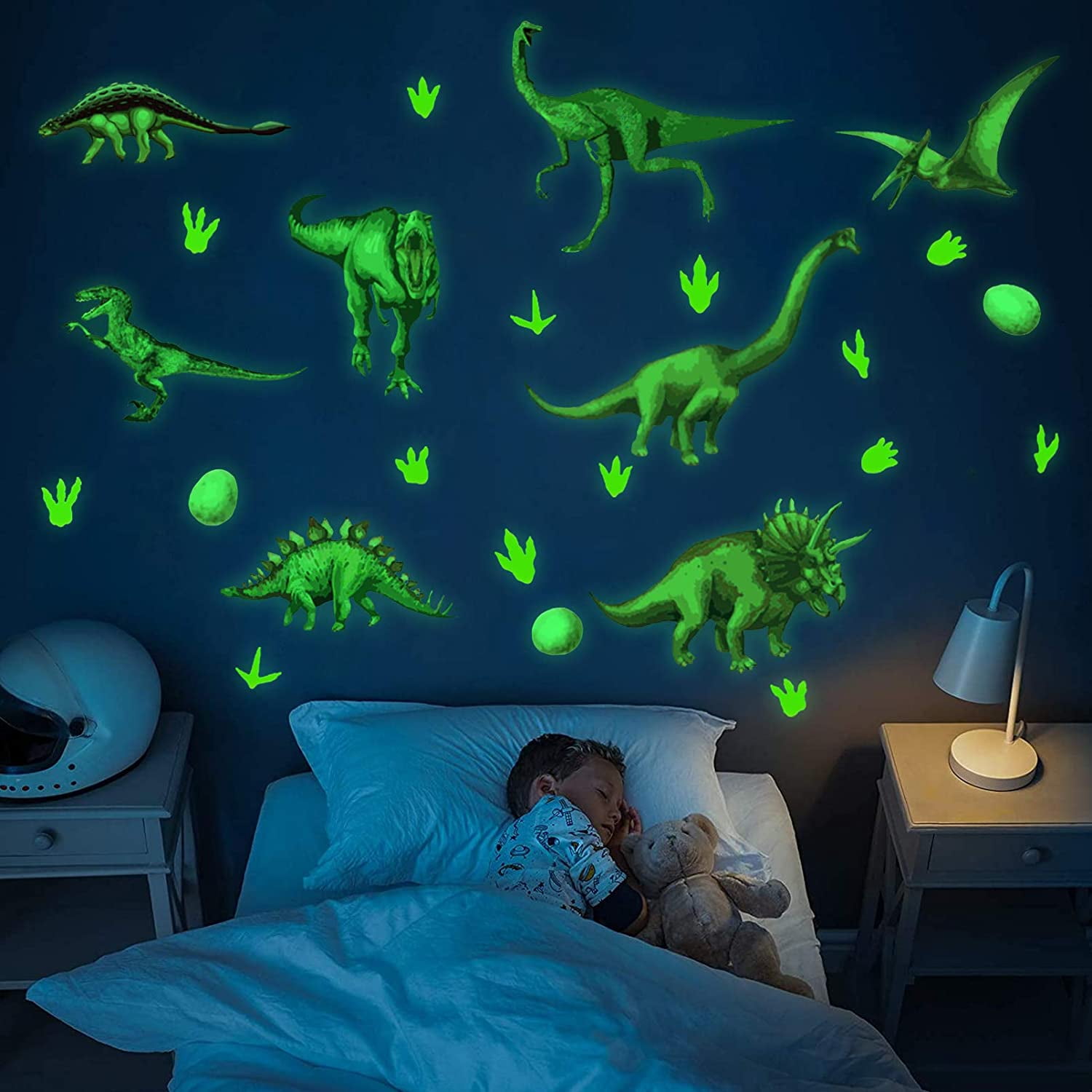 Image Source: Wallmart Canada
These dino-themed wall lights are the ideal way to add some character to your bedroom decor while also benefiting from the enchantment of soft lighting. Your child's sleep quality will definitely improve in this room.
Here are some tips to consider:
Make it seem as if you're choosing your dinosaur from among the stars. Put some glowing lights up on that black wall in your bedroom. 

Ensure that all of your furniture and linens are white to help draw attention to the wall. 

If you're going for a spare, modern design, you'll want to choose a bed without a headboard.
Freedom Wall Of Dinosaurs

Image Source: The Home Depot
Add some life and interest to the space so that you want to hang out there. Not only will your room seem nicer, but it will also be in a much better condition for study and play.
A few tips for you:
Create a dino-study den in your room and spend time there every day. Use different colored chalk or stickers to identify each dinosaur on your wall. Tapestries are another option if you feel the urge to refresh the space before long. Include some text for more flair. 

Choose a tiny white bed with an L-shaped frame to highlight the artwork on the wall. Add depth and complexity by combining it with grey sheets, blankets with a yellow and grey pattern, and a white pillow. 

If you're going for a laid-back, casual atmosphere, the cotton rug is a good choice. This also contributes a special touch. 

It would be wonderful to have a contemporary, uneven bedside table or storage that matches the room's color palette. 

A single chair in muted grays and zigzag patterns evokes a bygone period, making it an ideal choice for a room themed on the dinosaurs' genesis.

Floorboards made of wood and walls painted white make for a modern take on the rustic look. This layout works well as a compromise option. 

In addition, don't be afraid to place some of your own goods and touches like your current toys since this does not truly effect the complete room concept but rather makes the area more useful.
Frequently Asked Questions: FAQs
Is there a good way to teach youngsters about dinosaurs? 
It is very vital to include hands-on activities while teaching a preschool topic about dinosaurs. Provide a large quantity of dinosaur playthings. Make your own dino-themed sensory bin or miniature world for pretend play. Create play-dough fossils. 
Is it okay to introduce children to dinosaurs? 
Yes, because they do wonders for the mind. According to research conducted in 2008, youngsters that have strong interests, especially in a conceptual area such as dinosaurs, benefit from enhanced knowledge, perseverance, attention span, and information processing abilities. 
How can I make my room seem more spacious? 
Make good use of shadows and bright hues. 
It's common knowledge in the decorating industry that using lighter paint colors may make a space seem more airy and open. The reflecting qualities of light and bright walls assist to optimize the beneficial effects of natural light and create an airy, spacious atmosphere. As a result of the light being absorbed, the space will seem smaller if dark hues are used.
What colors might make a room more cheerful? 
Light greys and blues will reflect the lightest, so stick with them. A sunny hue may lighten and warm a dark, dismal area, so don't be hesitant to use light terracotta or yellow paint colors if that's what you're going for.
Final Words 
If your kid is crazy about dinosaurs, you may have considered turning their room into a mini-exhibition hall. Your youngster will feel at ease in a bedroom decorated with a theme that incorporates some of their favorite things. 
Having this may also help them appreciate their alone time more. Even if your kid outgrows their new room in a few of years, you can probably find some nice, sturdy items that can be used for a long period of time.
With any luck, this article will serve as a useful resource while you shop for your kid's dinosaur-themed bedroom furniture. But if you believe you're capable of more, read some of our other pieces.
Written By: Trisha Mae Raymundo