Numerous patio privacy fencing ideas exist to help you turn your outside area into a secluded retreat. You may use these innovative ideas to achieve whatever patio goals you have, whether they are privacy, security, or a more aesthetically pleasing space. 
Traditional wooden fences and bamboo screens (which are reminiscent of the tropics) coexist with more contemporary choices like horizontal slats and elegant metal panels. Use used wood pallets for a country look, or go classic with trellises and climbing plants. With these one hundred suggestions, you may turn your garden into a peaceful retreat.
Image Source: Fenceworks
The classic look of a wood fence on a patio has stood the test of time. Because of its timelessness and adaptability, it may be used to enhance a wide range of outdoor design schemes. Traditional wood fencing, whether it's a picket fence for a cottage-style look or a solid panel for privacy, makes any outdoor area seem more cozy and homey.
More ideas for you:
The rustic beauty of your outdoor area is accentuated with a tall wooden fence. Its all-natural design provides extra seclusion and enhances the visual appeal of your outdoor space.

Your yard will seem like a tropical paradise with a thick layer of green grass covering the ground. It's a nice place to relax, have a picnic, or have a ball game with friends and family.

Your landscaping will have more visual interest with a slanted cement walkway. It will help you navigate your outside area and add to the contemporary style of your home.
Image Source: Bamboo Import
An exotic and eco-friendly option for patio seclusion is a bamboo screen. Bamboo panels or rolls may be utilized to make a lovely screen, thanks to their eco-friendliness and tropical feel. It'll provide your outside area a sense of peace and quiet in addition to privacy.
More ideas for you:
A bamboo screen fence creates an exotic and relaxing atmosphere in any outdoor setting. Its organic make-up shields your patio from prying eyes while adding a sense of tropical calm.

Place some pebbles at the base of your bamboo screen to give it a more natural, peaceful vibe. They provide a peaceful ground cover that improves the look of your garden.

A gray concrete floor is a contemporary and adaptable base for your outdoor room. It is long-lasting and simple to clean, and its neutral tone makes it a good fit for a wide range of decor.

A wooden seat is a warm and welcoming addition to your outdoor haven. It's a great place to relax and take in the sights because of the simplicity and comfort of its design.

Modernize and make better use of your outside space with the addition of a standing lamp on a cement texture. It's a great way to decorate your outside space while also making it easier to see in the dark.

A rich and lively environment is created by the many planters placed on the ground and hung from the ceiling. They enable you to grow a wide range of plants, bringing a plethora of new sights, smells, and sounds to your yard.
Image Source: Ergeon
A patio fence with horizontal wooden slats is a great way to update the look of your outdoor area while maintaining a natural feel. This understated design lets in fresh air and light without sacrificing seclusion. Its modern design and simple lines make it a flexible pick that can be used with a wide range of outdoor furnishings.
More ideas for you:
A fence with horizontal wooden slats adds a touch of contemporary style to any outdoor area. Its modern lines and warm wood texture provide discretion without sacrificing style.

The addition of landscaped green grass may completely change the look and feel of your outside space. It improves the visual appeal of your outdoor space while providing a soft, welcoming surface for a number of uses.

The thick, verdant greenery of hedges serves as a discreet and practical privacy screen. Their thick foliage creates an air of refinement while also offering privacy and a beautiful background of lush flora.

The towering pink trees provide a splash of color and visual intrigue to your backyard paradise. The contrast of their brilliant flowers or leaves against the natural environment will increase the aesthetic value of your garden.
Trellis with Climbing Vines
Image Source: Better Homes & Gardens
A trellis with climbing vines is a beautiful and practical way to provide seclusion to your patio. A pleasant and natural vibe is created by the mix of flora and these elements. In addition to providing seclusion, blooming plants that climb the trellis, such as jasmine or ivy, are a sight to see.
More ideas for you:
A trellis covered in climbing vines is an attractive and eco-friendly way to create a private space on a patio. The tangled plants provide privacy and a sense of rustic allure to your patio.

Pink flowers on a trellis make for a charming and passionate setting. The flowering vines will provide you some seclusion while also adding a splash of color and fragrance to your patio.

Your outdoor space may have both beauty and use with a wooden trellis fence. The timeless elegance of your patio or garden will be complemented by the added seclusion provided by this classic design.

A splash of color and life to your outdoor area may be achieved by placing flowerbeds next to the fence. These secluded spots have a stunning flower background thanks to the attentive landscaping.
Image Source: Pinterest
Patios with metal privacy panels look contemporary and chic. These long-lasting and easy-to-maintain panels are perfect for any modern or urban outdoor space. They may be found in a wide variety of styles and finishes, and in addition to hiding your patio from prying eyes, they can also provide an air of industrial or minimalist chic to your outdoor space.
More ideas for you:
An outdoor setting is instantly transformed by the addition of a sequence pattern on a black metal screen. It adds privacy and aesthetic appeal to your space while also being a fascinating design feature.

A sleek black metal screen fence serves both practical and aesthetic purposes. Its modern aesthetic will complement your outside space while also providing you with some much-needed seclusion.

A black metal screen set off well by a wooden partition. It not only makes a space more private, but also cozier and more in tune with nature.

The combination of the red stones and the gray stones behind the metal screens is quite eye-catching. The contemporary style of your outdoor area is complemented by this colorful and textural palette.

The fence's wooden base makes for a nice transition. It maintains the seclusion and aesthetic integrity of the black metal screen while adding a touch of rustic appeal.

Planting grass amid stones is a great way to bring the outside in and soften the hardscape. The resulting contrast enhances the aesthetic appeal of your landscaping.
Woven Willow or Reed Panels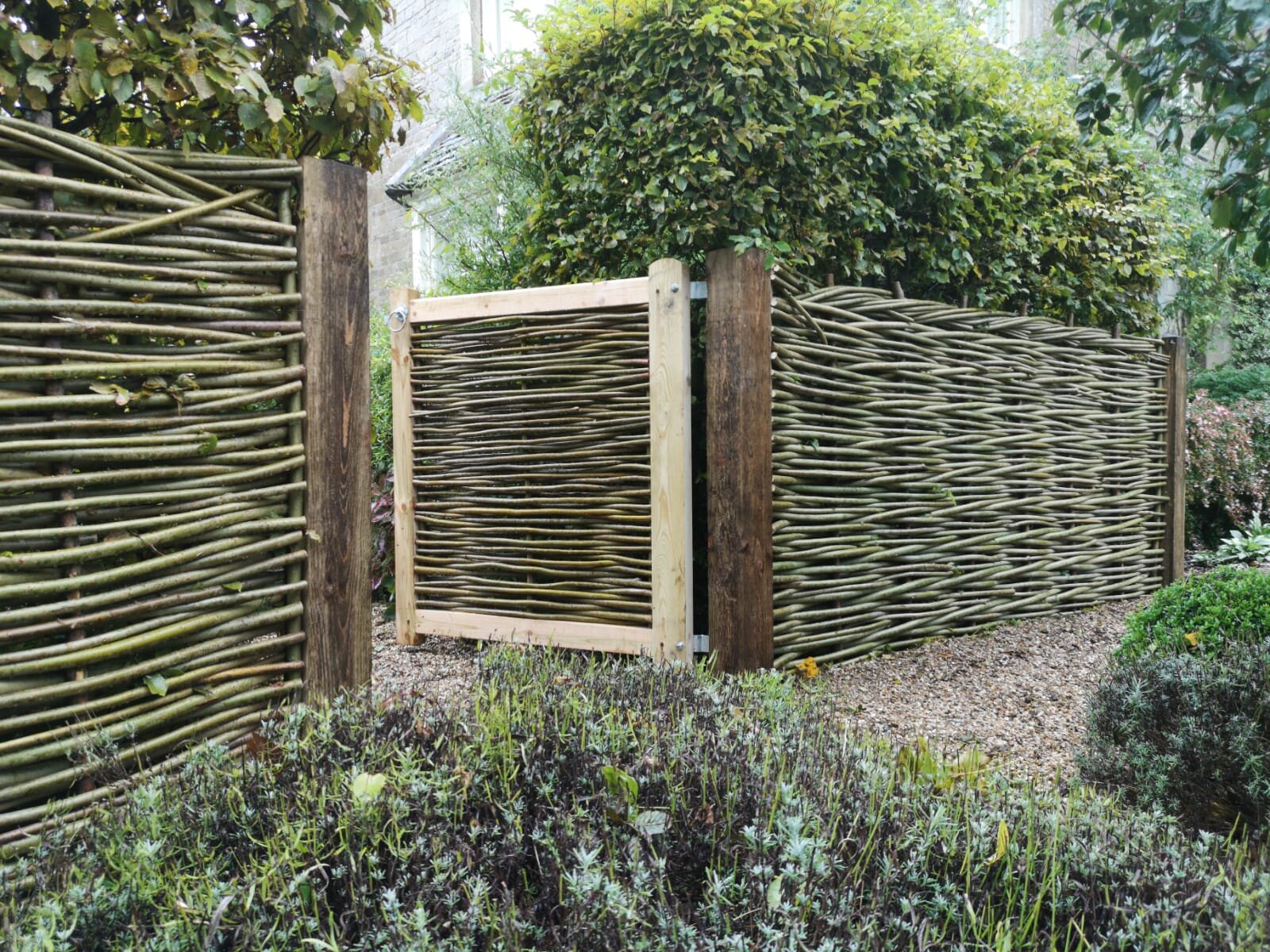 Image Source: WonderWood- Willow
Woven willow or reed panels provide seclusion and add a touch of rustic character to your patio. These environmentally friendly panels are calming and look great outside. An attractive and welcoming addition to any outdoor environment, thanks to its natural texture and warm tones.
More ideas for you:
The horizontal reed panels provide a relaxing and natural look to your patio. Their calm aesthetic makes for a peaceful environment that is also private.

Structure and coziness are provided by wooden pillars set amid reed panels. They help keep the fence in place while also enhancing the natural aesthetic.

A dynamic and earthy ground cover may be achieved by growing both brown and green grass. Your outdoor space will have more dimension and appeal with this combo.

When added to reed panels, hedges provide an extra barrier against prying eyes. As they grow, their thick foliage forms a natural fence that adds to the privacy of your yard.
Image Source: Pinterest
The privacy needs of a patio may be met with an easy-care and adaptable vinyl fence. It has a sleek, contemporary aesthetic that works with a wide range of outdoor decor styles. Vinyl fence is a fantastic option for a private and hassle-free patio since it is weather- and rot-resistant, offers privacy, and requires very little maintenance.
More ideas for you:
A vinyl privacy fence in sleek black is the perfect blend of form and function. Its modern look makes it a flexible addition to any outdoor setting, providing privacy without sacrificing aesthetics.

Trees and other vegetation planted around the perimeter of the fence give the area a warm, welcoming look and feel. It calms down your outside space and softens the look of the fence.

The vinyl fence's top is decorated with miniature parallel lines. They liven up the fence's design without detracting from its sleek, modern aesthetic.
Image Source: CORE Landscape Products
Your patio will have both more seclusion and visual appeal with an outdoor art wall. You may transform your outside area into a piece of art with the help of this novel fence choice and the artwork you already own. It provides privacy and an interesting view, making it a great addition to any patio.
More ideas for you:
A slender and stylish metal patio chair in a modern blue color scheme promises relaxation. Its sleek silhouette and vibrant color will liven up any outdoor sitting arrangement.

Glossy red and black pots create an eye-catching contrast. They're an elegant way to show off your plants of choice in the garden.

A garden filled with both red and green plants is a sight to behold. Their juxtaposition in your outdoor environment will be both bright and eye-catching.

The fence's wooden posts add a homey touch. They improve the look of your outside space while adding coziness and a touch of nature.

Metal screens with intricate vine engravings provide discretion in vogue. These elaborate designs are both aesthetically pleasing and practical; they serve as a barrier while also providing support for climbing vegetation.

The wooden slats used for the flooring are both classic and sturdy. Their versatility and aesthetic value make them a great addition to any patio design.
Living Wall with Planters
Image Source: Pinterest
A living wall made of planters is a colorful and environmentally friendly way to screen off a patio. It's a beautiful natural barrier that uses plants and fences for seclusion. Plants, herbs, and flowers in vertical planters not only provide privacy but also revitalize, beautify, and calm an outdoor area.
More ideas for you:
Slender horizontal bamboo fences provide a natural and understated boundary for a patio. Its subtle style creates a secluded space without sacrificing the room's breezy, tropical feel.

An eye-catching accent is a black ceramic pot. It's a great way to show off your favorite plants while also updating the look of your patio.

The barrier is transformed into a focal point with the addition of potted plants. They will brighten up your patio and make it seem more alive.

Privacy may be achieved in a modern and striking way with the help of large square vegetal screens. A green wall formed by these screens provides a beautiful visual element to your outdoor area.

The addition of a brick wall next to the bamboo fence makes use of a more natural setting. It provides texture to your outdoor design while yet fitting well with the natural aesthetic.

Panels made from straws and sticks seem creative and original. They improve the fence's aesthetic while also adding some originality to your yard.

The other side of the fence is a sleek and modern white vinyl. Your patio will have a more well-rounded appearance with the addition of this sleek and colorful piece.
Image Source: Pinterest
Enclosing a patio with glass panels is a contemporary and stylish option. These glass or frosted panels allow for unobstructed views while providing discretion. Because natural light can pass through them, the space seems more open and spacious. Adding glass panels to your outdoor area is a modern and stylish move.
More ideas for you:
Modernize your patio with the added seclusion of frosted glass panels. Their see-through nature creates a sophisticated and contemporary atmosphere by blocking unwanted views while filtering in ambient light.

The screen's combination of metal and wood gives it a look that is both modern and rustic. They add to the aesthetic value of the building while also improving its functionality.

The main point of this image is a tall plant. Its height and lush greenery will give your outdoor area an air of vitality and renewal while also providing you with some much-needed solitude.

Horizontal glass panels with a narrow gap in between them provide for a striking visual. This layout will keep prying eyes out of your patio while yet letting in some fresh air and a sense of space.
Image Source: Family Handyman
A gabion wall is an original and modern approach to patio enclosure. It's a unique and textured barrier made of wire mesh cages packed with stones. This option may be used in both contemporary and rustic outdoor spaces, providing privacy and acoustic insulation while adding a touch of raw elegance.
More ideas for you:
Infuse your outdoor area with energy and modern style with a reddish-orange metal trellis fence. Its sophisticated design ensures discretion while making a bold aesthetic statement.

A gabion wall may give your patio an urban, urbane vibe. This unique and textured barrier, made of wire mesh cages filled with stones, combines elements of nature and technology.

The rich brown and black borders really set everything off. They provide a finishing touch to your outside area while also complementing the decor.

Low-maintenance and lush, artificial green grass is a great option for landscaping. It makes a spotless, but lively and pleasant surface for a wide range of uses.

Under the fence, a layer of beige pebbles provides a natural aesthetic. They go well with the rest of the design, and they provide a nice touch to your outside space.
Garden Vintage Window Fence Frame
Image Source: Pinterest
Create patio seclusion in a delightful and whimsical fashion with the help of a garden antique window fence frame. Repurposed window or frame pieces are put in a fence design to provide a sentimental and attractive boundary. This ingenious solution not only provides privacy but also gives your outdoor space a unique, retro look.
More ideas for you:
A wooden fence running vertically along your property lines is an instant classic. Its rustic allure offers seclusion while providing a blank slate for individual style.

The nostalgic allure of a white old window. It will serve as a focal point, adding whimsy and history to your patio's design.

An adorable and creative touch is provided by a yellow bird's nest in the form of a home made of wood. It adds a sense of whimsy and refinement to your outdoor space while yet maintaining a focus on nature.

The bright yellow and pink of the artificial flowers brighten up your patio. They liven up your outdoor space with a splash of color and aesthetic appeal.

The historic window is framed by delicate white draperies that provide an air of romanticism. They hide your outdoor area from prying eyes while adding a mystical air to your yard.

Greenery and aesthetic appeal are added by artificial climbing vines on the window. They improve the look of the old window with hardly any effort on your part.
Vertical Terracotta Pot Wall
Image Source: Gardenista
Your patio will get a sense of seclusion and charm with a vertical terracotta pot wall. Plants and flowers in clay pots may be stacked or hung to create a colorful living fence. This eco-friendly, space-saving solution improves the aesthetics of your outdoor area while reducing your carbon footprint.
More ideas for you:
Create a beautiful focal point in your garden by building a wall of terracotta planters. Putting your favorite plants on display in these handmade clay pots will give your yard a touch of warmth and individuality.

A wooden bench and table set can greatly improve the look of your outside space. Made from long-lasting natural wood, it provides a comfortable setting for outdoor dining or socializing.

Add some style to your landscape with planters on pots. These adaptable stands take the best of both planters and pots, enabling you to present your plants in a manner that is both sophisticated and accessible.

Brick walls are both aesthetically pleasing and long-lasting. These robust walls are a timeless addition to any environment, whether they are utilized for gardening, as a background for vegetation, or in building.
Geometric Metal Privacy Fence 
Image Source: Charles & Ivy
A geometric metal fence provides privacy for a patio in a contemporary and visually appealing way. This metal fence choice has complex patterns or designs, giving your outdoor area a modern feel. It may be customized to your liking and will last for a long time while providing you with seclusion on your patio.
More ideas for you:
A stunning black finish on a sleek and contemporary geometric metal privacy fence can greatly improve your outdoor privacy. It's a great addition to any home or business because of how well it integrates form and function in its modern design.

With cemented flooring, you may create an outdoor surface that will last a long time with little upkeep. It is ideal for patios, pathways, and more because its sturdy structure guarantees durability, and its neutral look compliments a wide range of architectural styles.

Frames and borders in black with an alluring parallel line pattern can do wonders for your interior or exterior design. These finishing touches give mirrors, paintings, windows, and other architectural features an air of refinement and symmetry.
Image Source: Pinterest
When it comes to patio enclosure, lattice panels are both functional and aesthetically pleasing. These intersecting wooden or vinyl panels provide a private space without sacrificing aesthetics. They create a warm and welcoming ambiance by letting light and air in. Lattice panels are great for bringing a touch of nature to your patio by supporting climbing plants like roses or clematis.
More ideas for you:
Adding wooden lattice panels to your outdoor decor will give it a classic look that will last for years. These ornamental screens not only provide seclusion but also enhance the aesthetic value of your garden by serving as a beautiful background for climbing plants.

With movable lattice panels, you may rearrange your outside space any way you choose. Change the layout of your outside area to provide the perfect amount of seclusion, shade, or separation for any activity.

Install a stone floor with the look of brick to completely remodel your patio or pathway. This attractive option is long-lasting and low-maintenance, giving your outdoor space the traditional appearance of brick with none of the hassle.

Your outdoor mealtime will be much improved by the addition of a stone table with an elegant line design. Its solid build and attractive design make it a showpiece for outdoor dining and socializing.

Build a fence out of wood to demarcate and protect your property. This time-honored option provides seclusion and a bit of rustic charm, making for a warm and welcoming setting ideal for outdoor pursuits and leisure.
Image Source: Bridger Steel
Corrugated metal panels provide seclusion and an industrial look for your patio. These low-maintenance, long-lasting linens are sleek and contemporary with an earthy undertone. They are a great option for enclosing your outdoor area in a modern, urban style because of their clean lines and durability.
More ideas for you:
Frames and pillars made of wood may give a room a warm, inviting atmosphere. Pergolas, trellises, and ornamental arches are just some of the outdoor constructions that may be supported by these adaptable frameworks.

Make a bold statement with a landscape that has contrasting red and black rocks. These colorful and textured stones are a great accent for walkways, flowerbeds, and water features.

Corrugated metal panels are the key to pulling off an urban loft aesthetic. Roofing, siding, and even accents may all benefit from these multipurpose materials. They are weatherproof and provide a contemporary, edgy look to any outdoor space.
Image Source: Vinyl Fence Wholesaler
A stacked stone wall provides a classic and sophisticated option for patio seclusion. Besides providing privacy, this rustic, natural fence also enhances the aesthetic appeal of your outdoor living area. A stacked stone wall, with its durable earthiness and flexibility to compliment a wide range of patio designs, is an excellent choice.
More ideas for you:
A piled stone wall may greatly improve the visual appeal of your outdoor space. Stone retaining walls and walkway borders built from piled stones are an ageless and reliable boundary option.

The sight of green grass in a yard is a sight to see. Picnics, games, or just resting in your yard will be more enjoyable because of its brilliant color and smooth texture.

Include skinny trees in your landscaping plans. These beautiful and compact trees successfully provide needed shade, seclusion, and aesthetic appeal without overwhelming their surroundings.

A stacked stone wall of varying heights may give your outdoor area a unique look. This creative method improves the wall's aesthetic value and helps it merge with its natural surroundings by giving it a dynamic and organic aspect.
Image Source: Pixels
An inventive and eco-friendly option for patio seclusion is a wall made from recycled bottles. Colorful and see-through, this barrier is made from empty glass bottles set in cement or mortar. This ingenious method of concealment recycles materials while also enhancing the aesthetic value of your garden.
More ideas for you:
Constructing a wall out of recycled bottles is both good for the environment and aesthetically pleasing. These bright and eco-friendly bottles may be a great creative addition to your patio or garden.

A dramatic black stain on an untreated oak wall produces a beautiful contrast between the two styles. This simple but striking design decision will give your room more personality.

Don't be afraid to let your grass grow long and wild. This natural and free-spirited style encourages animals to visit your outdoor space while also adding an air of mystery and allure.

Bottles stacked in an inverted pattern may provide a creative touch to outdoor décor. These recycled bottles may be used as planters or decorative elements, bringing fun and eco-friendliness to your home.
Image Source: The Home Depot
The shutter privacy screen adds a touch of classic style and adaptability to your outdoor space. Louvered panels or repurposed shutters are placed to form a stylish and practical screen. It'll keep prying eyes out of your business and give your patio a touch of yesteryear charm.
More ideas for you:
Wooden shutters provide a beautiful privacy screen for an outdoor area. You can enjoy your outside space in peace and quiet thanks to this beautiful and practical addition that also adds visual appeal.

Define your property with a slender, gray wooden fence that is both stylish and unobtrusive. Its understated aesthetic creates a soft barrier while giving your garden some modern flair.

Add a finishing touch of form and function by installing a solid wooden wall underneath your shutter screen. This addition not only improves your privacy but also makes your outside area seem more complete and warm.
Privacy Screens made from Recycled Doors
Image Source: Stacy Risenmay
Screens constructed from repurposed doors provide an original and eco-friendly approach to patio privacy. Used door frames are repurposed into a colorful, rustic fence that provides seclusion without sacrificing style. This ingenious move is easy on the environment and the eyes, adding personality and visual intrigue.
More ideas for you:
Reusing doors in bright hues like cyan, white, yellow, and green as screens is a great way to incorporate color into outdoor spaces. These bright doors have a dual purpose, as both decorative and functional room dividers.

Use a wooden bench to provide a warm and inviting sitting space. It may be used for lounging or entertaining because to its attractive appearance and long lifespan in the outdoors.

Throw pillows in shades of cyan and green will provide both comfort and color to your sitting space. These bright touches will help tie your outdoor space together and create an appealing ambiance.

A recycled door used as a screen that can be moved around is a great way to be eco-friendly and flexible. Your outdoor area will get personality and use from this recycled item, giving you more freedom to rearrange furniture and other features as required.
Image Source: Pinterest
Stained glass panels are a classy and creative way to shield your patio from prying eyes. The colorful and intricately patterned ornamental glass pieces used here create a gorgeous, semi-translucent frame. Not only do they keep prying eyes out of your backyard, but they also provide a fascinating splash of color and light.
More ideas for you:
Stained glass panels in a rainbow of colors can brighten up any room and provide a touch of elegance and sophistication. Infusing your space with a kaleidoscope of colors and patterns, these intriguing items will take your breath away.

Use rock walkways to make your space seem more organic and rustic. These long-lasting and low-upkeep walkways complement your garden's natural design while still being practical.

White picture frames are a classic choice for framing outdoor scenes. These timeless accessories will bring a touch of elegance to your outdoor space while drawing attention to the natural beauty of your location.

Elevated screens are a great way to combine seclusion and aesthetics. These architectural elements can help you feel more at peace in your outdoor area, and they will also make it more interesting and complex.
Image Source: Pinterest
In order to keep your patio private, a stucco wall is a strong and adaptable option. In addition to acting as a sturdy barrier, the textured surface also provides visual interest to your outdoor area. Stucco walls, which come in a wide variety of textures, colors, and finishes, are versatile and attractive additions to any home.
More ideas for you:
Wooden paneling on the wall's top half adds natural warmth and texture to any room. Whether you're working on the inside or outside of your home, this organic material will provide an air of rustic appeal and architectural intrigue.

Incorporate durability and adaptability by cementing the lower section of the wall. Its sturdy build provides stability and may be painted or decorated in any way the owner chooses.

Put some lush green grass against your stucco wall to make it seem more natural. Urban and organic themes are harmoniously combined in this space because to the stark contrast between the textured wall and luxuriant flora.
Image Source: Ropes Direct
Having a rope fence running vertically along your patio gives it a beachy, seaside feel. The thick ropes that are strung vertically between the pillars make for an interesting and distinctive fence. This ingenious option not only shields your personal space from prying eyes but also imparts a feeling of openness and marine enchantment to your garden.
More ideas for you:
A tall wooden fence may be used to separate areas of your yard and provide seclusion. Its timelessly elegant design provides practical benefits while complementing the look of your home.

Tall wooden pillars will give your environment a sense of height and majesty. Outdoor elements like pergolas and trellises may be supported by these sturdily built pillars, which also function as eye-catching focal pieces.

Add some rope between the wooden pillars for a sailor or rustic feel. Whether you use it to hang plants or as a lovely barrier in your outdoor space, this inventive addition is sure to please.
Image Source: Pinterest
Your patio will instantly seem more relaxing and private with the addition of a nautical fence. These fences are often made from aged wood or driftwood, giving them a rustic, beachy appearance. They provide a touch of seaside charm to your outdoor area while maintaining privacy with their aged, rustic look.
More ideas for you:
A nautical fence is the perfect way to show off your coastal style. This whitewashed and weathered fence design will give your outdoor space a sophisticated seaside vibe.

Take pleasure in a well-kept lawn that has been freshly cut. This thick covering of grass not only makes for a spotless playing field, but also adds to the aesthetic appeal of your yard.

Use logs and branches as a fence for a natural and earthy feel. This innovative and eco-friendly strategy is a beautiful and functional method to outline your outdoor space.
Cinder Block Wall with Stucco Finish
Image Source: Phoenix Block Wall Experts
An updated and hardy option for patio privacy is a wall constructed of cinder blocks and stuccoed over. A sleek and sturdy enclosure is achieved by combining industrial blocks with a smooth stucco surface. Aside from serving as a practical barrier between your backyard and the street, it also serves as an interesting architectural element.
More ideas for you:
Build a cinder block wall to provide a strong and practical barrier. These sturdy blocks may be used to create a wide variety of garden beds and other outdoor projects.

Stone block flooring is an elegant addition to any outdoor area. Stone blocks, with their natural and ageless appearance, are an excellent choice for patios, walks, or outdoor gathering spaces since they are both attractive and functional.

Add stucco to your cinder block wall to improve its visual value. This textured covering not only protects your outdoor space from the elements, but also lends it a sense of style and unity.

Smooth gray pillars are a stylish addition to any outdoor space. This simple and monochromatic feature makes for an eye-catching centerpiece and is a good match for modern and industrial decor.
Image Source: iStock
For a more creative and colorful patio privacy solution, try hanging a variety of flowers. Using hooks, you may build a beautiful living barrier out of hanging flower baskets or pots of various sizes and colors. These hanging gardens not only provide you with some privacy, but they also add some color and scent to your yard.
More ideas for you:
Installing a metal fence can give your property a cutting-edge, industrial appeal. It provides protection and seclusion while also modernizing your outdoor area with its elegant and long-lasting design.

Adding parallel lines may do wonders for the visual attractiveness of your metal fence. These geometric designs enrich the fence with texture and aesthetic appeal, creating a chic and lively outdoor space.

Use a wide variety of flower garlands to decorate your fence. The metallic edges are rounded off by the brilliant and cascading flowers, making for a delightful and colorful display that adds beauty and liveliness to your outdoor space.

Nest pots are a great way to add a creative and original touch to your decor. This unique planter will be the focal point of any outdoor space while also providing a comfortable environment for your prized plants.
Stone Pillars along with Aluminum Fence 
Image Source: Pinterest
Your patio seclusion may have both natural beauty and contemporary design with stone pillars and an aluminum fence. The metal fence is long-lasting and provides privacy, while the stone pillars provide classic appeal. This complementary combination raises the elegance and class of your outdoor area.
More ideas for you:
Use stone pillars as the cornerstone of your outdoor space. These organic, long-lasting materials not only provide a touch of classic beauty to buildings but also help keep them standing.

Brick wall detailing looks great on stone pillars and will boost their curb appeal. You may give your outdoor area more depth and personality by combining stone and brick textures.

Get a cutting-edge, contemporary style with a black powder-coated metal fence. This low-upkeep fence choice provides privacy and helps your outdoor space seem more polished.

Make a wall that rises at an angle to the ground into a striking architectural element. This design feature will make your outdoor area more dynamic and interesting to look at.
Image Source: Plant Professionals
Hedge plantings provide a lush and organic solution for patio privacy. A green wall is created by tall, dense plants like arborvitae or boxwood. These living walls not only hide your outdoor area from prying eyes, but they also provide a sense of quiet and nature to your yard.
More ideas for you:
Tall green hedges may provide both seclusion and aesthetic appeal. Create privacy and add some foliage to your outdoor area with these thick, bushy plants.

Create a beautiful garden with a plant bed made of white stone. White stone, with its pure and brilliant look, makes a stunning focal point when contrasted with colorful vegetation in a garden or yard.

Put up a wooden fence to demarcate your land. This time-honored option gives your outdoor space a bit of rustic character while also providing protection and anonymity.

Adding an elaborate X pattern to your wooden fence can really step up the design. This original geometric design enhances the aesthetic value and distinctive personality of your fence.
Wrought Iron Fence with Decorative Scrolls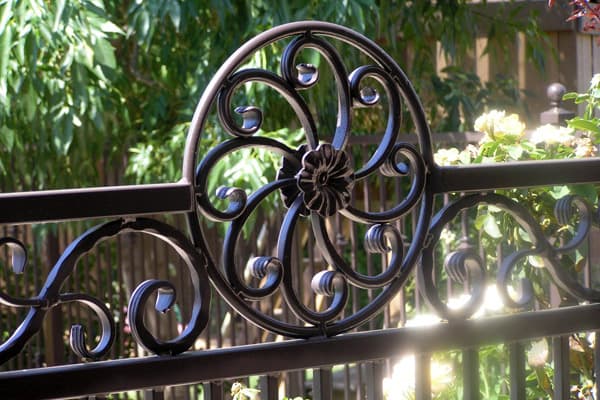 Image Source: Sun King Fencing & Gates
A wrought iron fence with scrollwork adds a touch of class and privacy to your outdoor space while also keeping unwanted visitors out. The iron fence is both strong and elegant thanks to the exquisite scrollwork. This choice protects your personal space while also boosting the aesthetic value of your outdoor area.
More ideas for you:
A black wrought-iron fence is the perfect way to make a statement in your garden. Wrought-iron fences are traditional and durable, thanks to the material's ageless beauty and endurance.

Add some creative flare to your fence with some scrollwork. An elegant and eye-catching focal point in your garden, your wrought iron fence will be enhanced by the addition of these detailed and decorative features.

Plant beautiful flowers and trees all around your wrought iron fence. You may turn your backyard into a picture-perfect haven by erecting a black fence and surrounding it with colorful plants.
Image Source: Lushome
Your patio will have quick and permanent privacy with a brick wall. Brick adds to a building's prestige and permanence while also shielding its occupants from prying eyes and providing security. This option is attractive and functional since it comes in a wide range of brick patterns and finishes that complement a wide range of outdoor design schemes.
More ideas for you:
Build a brick wall to increase your outdoor seclusion. This traditional option not only provides privacy, but also brings a touch of timelessness and rustic beauty to your outdoor setting.

Make your journey more welcoming by laying down a stone path. The stones' unique hues and patterns will help direct guests as they explore your garden.

You may improve the look of your brick wall by installing a wrought iron fence along its top. The brick and wrought-iron contrast well with one another, and the brick's toughness complements the iron's beauty.

Black and orange bricks may give your brick wall a splash of color and character. You may add even more visual interest to your outdoor area by arranging these contrasting brick hues in patterns or motifs.
Image Source: Fallston Fence
An old-fashioned and endearing addition to any patio is a white picket fence. It defines your outdoor area while keeping things light and airy with its signature white or natural hardwood look. Picket fences are perfect for enclosing a patio and giving it a classic, homey feel.
More ideas for you:
Put up a white picket fence for an instant dose of traditional appeal. This timeless classic exudes homey simplicity and a dash of Americana in your garden.

White pillars will add a touch of class to your picket fence. In addition to their functional value, these architectural features may elevate the look of your outdoor space and create a distinct entryway.

Plant a variety of flowers and plants along the fence to add vibrancy and color to the yard. The lush vegetation and colorful flowers provide for a picture-perfect and warm setting against the stark white wall.

Create a sleek and contemporary walkway out of long, flat cement slabs. Its clean lines and simple construction make it easy to navigate your outdoor area while projecting an air of modern sophistication.
Image Source: Arrow Metal
Privacy for your patio that also looks contemporary and chic is possible with perforated metal panels. These perforated sheets make a transparent wall that lets in some light and airflow but keeps prying eyes out. They improve the look and utility of your outdoor area while also lending it a modern, industrial vibe.
More ideas for you:
Use black perforated metal panels to create an urban loft feel. These adaptable materials may be used both inside and outdoors to give your home a contemporary and edgy vibe.

Use thin, little holes in your perforated metal panels to make a bold creative statement. Light and shadow may bounce off of this elaborate pattern to give your artwork more dimension.

Smooth gray cement flooring creates a modern and chic base. Its spare design acts as a blank canvas against which the striking perforated metal panels may stand out, creating a unified and cutting-edge aesthetic.
Image Source: Pinterest
A tile mosaic fence may provide a splash of color and style to your patio while also providing seclusion. It's a beautiful wall made of different tiles with different patterns. This ingenious strategy not only guarantees privacy but also enhances the attractiveness of your outdoor area by adding a mosaic of colors and patterns.
More ideas for you:
A tile mosaic fence is a great way to upgrade your outside space. This creative and striking option will change your boundaries into a colorful and visually interesting canvas.

Make your fence stand out with mosaic tiles in a rainbow of colors and patterns. Each tile is a work of art in its own right, creating a lively and interesting setting.

Put some grass around your mosaic to make it seem more complete. Your outside area will seem more appealing and pleasant thanks to the contrast between the colored fence and the brilliant grass.

Frame your tile mosaic fence with wood for added strength and warmth. These frames not only hold the mosaic in place but also provide a sense of rustic beauty to the entire design, bringing harmony between the mosaic's creative flourishes and the rest of the room.
Frequently Asked Questions: FAQs
What is the best material for patio privacy fencing?
There are several considerations when deciding on a material. Wood's classic, organic, and cozy look is hard to beat. The use of bamboo makes a room seem more tropical and green. Metal has a more contemporary appearance, but vinyl is low-maintenance. The finest material is the one that complements your aesthetic, financial, and upkeep goals.
What is the optimal height for a personal fence?
Your unique requirements and zoning laws will determine the optimal privacy fence height. In order to provide the desired level of privacy, fences are typically 6 to 8 feet in height.
How do I maintain a wooden privacy fence?
A wooden fence requires annual inspections, cleaning, and re-staining or sealing. Inspect the fence for any decay or damage; fixing these problems quickly can help the fence last longer.
Are there privacy fence options for small spaces?
Yes, seclusion may be attained even in very modest patio settings. To make a space seem more cozy, use vertical gardens, trellises, or pots with tall plants or grasses.
What's the average lifespan of different privacy fence materials?
A privacy fence's durability is determined by the materials used and the care it receives. With the right maintenance, a wooden fence may last as long as 30 years, a vinyl fence as long as 15, and a metal fence for much longer than that.
Final Words
Trying to find ways to make your patio more private may be a fun way to add some flair and individuality to your backyard. There is a variety of privacy fencing options available, from the timelessness of timber fences to the exoticism of bamboo screens to the sleek modernity of metal panels. 
Living walls, repurposed materials, aesthetic components, and natural solutions like privacy hedges are all viable options. You need to find a happy medium between isolation and visual appeal to make your garden into a tranquil haven. You can make your outdoor sanctuary a private retreat that reflects your personality and style with the help of these patio privacy fence ideas.
Want to know more articles? We got you! Here are some interesting articles: 
10 Best Ways To Keep Mosquitoes Away From Your Patio, Porch, And Backyard.
18 Pergola Privacy Screen Ideas To Boost The Style of Your Outdoor Space
Written By: Trisha Mae Raymundo