We want to have a place outside as well, where we may enjoy the fresh air and the company of nature. Having an extra room to gather with loved ones or host visitors would be wonderful. It'll be a great spot for them to chill out and forget about their worries. 
We've put up a gallery of outdoor spaces, and there's even more ideas on another list. This time, we've compiled a gallery of mid-century modern patio designs and gardens to inspire your own outdoor area. 
Image Source: Houzz
Beautiful landscaping includes a lush grass and well-maintained concrete paths. For sure, your guests and loved ones would be able to catch up and relax under the moon with this kind of set up. 
Things that you should think about: 
If you want to have a relaxing evening with your loved ones, I recommend purchasing a metal rocking chair. To add a classic, but more daring, touch to any patio, paint them black. Put them in a circle around the fire pit. 

As the evenings become chilly, add a bowl to your fire pit to keep you toasty. The fire pit's color and configuration are also crucial considerations. The fire pit in this photo is housed in a square arched basin, giving it a modern appearance that goes well with the revolving chair. 

Put some decorative cushions on the sofa. Throw pillows should be a contrasting color to the chair so that it stands out. I recommend the white one with the designs. 

The deck's color scheme need to be earthy brown. Raise them up, too, so that the patio space gets the attention it deserves and the rural aesthetic is respected. 

The patio will seem more natural and chic if you grow some vines and flowers along its edges.
Resurrecting a Midcentury Icon in Long Beach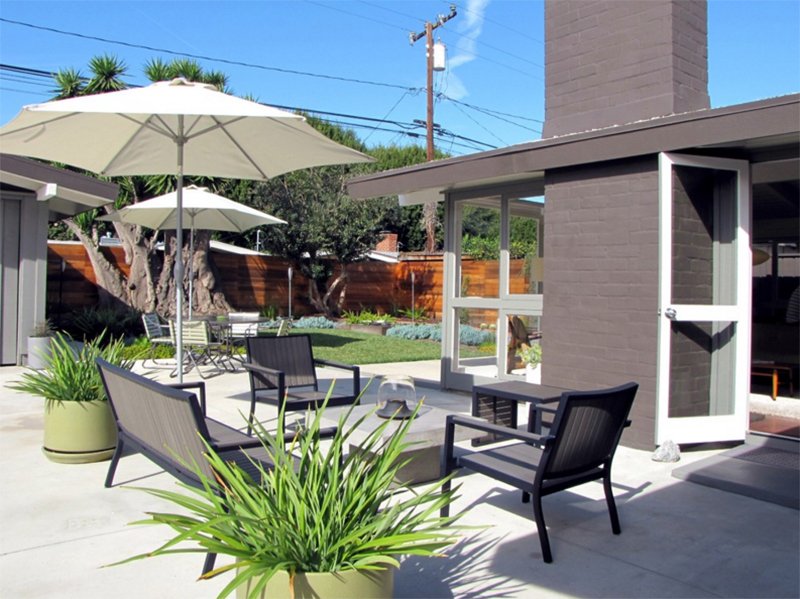 Image Source: Home Design Lover
The neutral tones of the gray outdoor furniture, brick fireplace, and block wall provide for an attractive backdrop. The wall is covered in Gray siding with Night Horizon on the fascia.
Options to follow: 
Use a series of white umbrellas in a standing position. You shouldn't use bold hues on the patio since they will clash with the existing bland decor. 

Have the patio chairs be a black windsor style. You can get a sleek, contemporary design and make the black hue pop, even during the day. 

You may save space and money by opting for a tile patio instead of a wooden one. Ceramic tiles might be an acceptable substitute. A shiny finish is unnatural looking in outdoor settings and should be avoided. 

Scatter some plants in a large container. Make sure each one is original. Having such large and spread-out ferns is wonderful. In order to maintain consistency with the color scheme, a yellow-green pot might be used. 

If you want to have a nice, chill time with your friends and family on a sunny day, you should cement the coffee table, too.
Reimagining the Middle Ages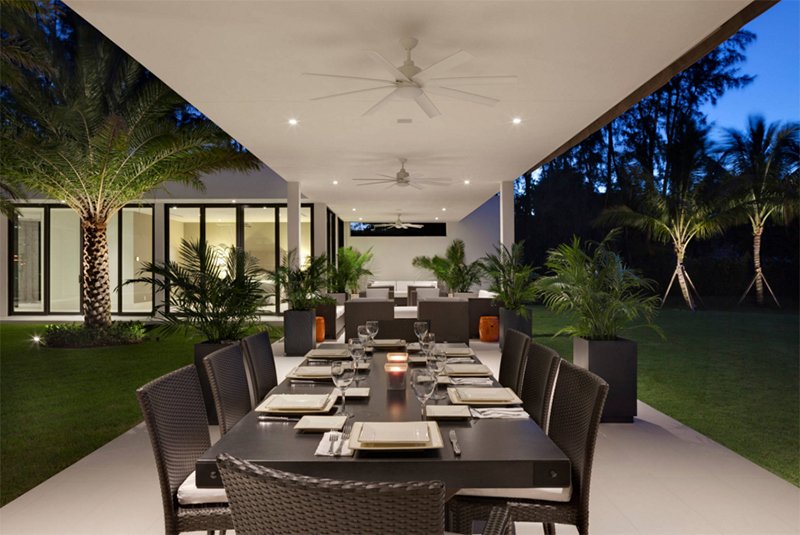 Image Source: Home Design Lover
Nothing beats a get-together with loved ones outside in the fresh air. When the air caresses your skin, you can't help but feel at ease as you open up to your friends and family. 
Consider these suggestions:
The white walls, ceiling, and flooring, together with the green grass, provide a stunning backdrop for the wicker dining and living furniture.

The metal chair works well both inside and out. Create a mid-century modern look by painting it black and decorating it with rattan. 

The furnishings in your home must, of course, be symmetrical. If you have black chairs and want to host a large party on your patio, a black rectangular table is a safe option. 

You don't have to give much consideration to the tiles since you may always use ceramic. See to it that they are sufficiently sized. The impression of modernism you're going for will be completely ruined by the presence of tiny children. 

Make sure the ceiling is shiny enough to keep you on the path of current design. If you want to create a chill atmosphere, install some ceiling fans that are the same color as the ceiling.
Contemporary Prairie Revival Mansion
Image Source: One Kindesign
A large patio gives you more space to spread out, which in turn gives you more opportunities to relax. It is almost like an extension of the outside space, but it is done in a fashionable manner.
Some tips made just for you: 
If you want to turn the outside space into a patio, you should consider having it created in a way that gives off a regal atmosphere. For example, the floors should be raised, but there should be a lot of demarcation between the different areas. A minuscule staircase need to be featured as well, and its hue ought to be delightfully brown, which means that there ought to be a great deal of brown variance. The ideal tiles to use are ceramic ones. 

Get two different kinds of couch sets so that you can fill in all the uncomfortable places and also make the location even more practical. This will ensure that you fill in all the problematic spots. 

You could start out by purchasing a black windsor chair and a black rectangular table to use as your initial lounge set. At this table, you and your loved ones may have some beverages and a delectable meal together. 

But, the second lounge set need to be more relaxing, and it ought to be available for usage after the meal. Make sure you have some white pillows for those who will be sitting there to ensure that they have a really relaxing experience. 

For the second lounge set, incorporate a couch in addition to the windsor chair. To round off the design, don't overlook the need of a coffee table or fireplace. 

You could also wish to have some plants placed on soil and surrounded by rocks for additional design, but this is not required. This would make the natural quality and contemporary feel even better.
Piedmont Home with a Mid-Century Modern Flair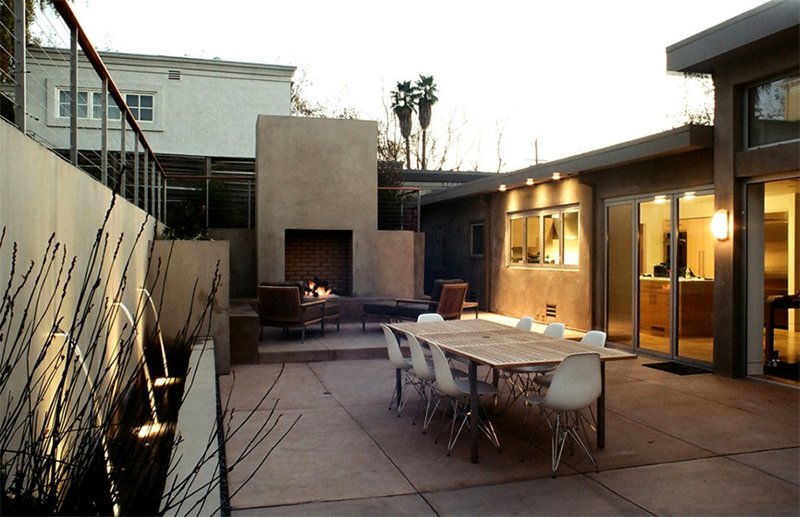 Image Source: Houzz
You won't believe that this patio was previously the ugliest home on the block, but with little hard work and creativity, it may be transformed into a magnificent picture. To begin, all you need is the appropriate pieces of furniture in proper direction.
Things that you should follow: 
When the weather outside is frightful, you may create a cozier atmosphere by turning on some additional lights. The shadows that are cast by the lights also contribute to the aesthetic appeal of the environment. 

Injecting some contemporary style into the space is a good idea, and modern white chairs are a great way to do just that. 

In the same way that the seats should be thin, the tables should be as well. Brown table top with plenty of lines is a good example of an additional design to have on hand. 

Choose a ceramic material and large enough tiles for the floor. In today's fashion, this would be ideal. 

The second couch group offers a fireplace as an additional customization option. This would add to the mid-century aesthetic while also warming those gathered around it. 

Don't forget the chaise lounges, either. Get them dyed black. Black and white, you know, are the typical hues of modernism. 

Please remember to bring pillows. To make sure everyone is comfortable while they are lounging and enjoying their refreshments, set them on the lounge chairs. 

The walls should be a neutral tone as well. Choose between gray or white. Remember that the fireplace's walls shouldn't be parallel, and that this asymmetry should be incorporated into the design in some way.
Modernist House in Madison Park's Midcentury Style
Image Source: Pinterest
In addition to the house's design, the outside space's minimalist furnishings have also caught our eye. Not only does it have an authentic midcentury vibe, but the hue that has been used is also ideal.
Options that you should be aware of: 
Knitted trim on a wing chair gives it a distinct mid-century modern feel. Not only does it have an air of antiquity about it, but the hue is also great for use in the great outdoors. 

You may feel as if the image is rather far, which is great since you will have no trouble using the area right away. Knowing the layout and how many pieces of furniture to include is all that's required. 

Cushions should be used on the chairs. White cushions are great since they can be used in almost any setting. In addition, white is both a classic and a contemporary hue. 

Make sure the floor matches the chairs in color and pattern. Just placing them in horizontal woods will give off a more authentic medieval feel. 

The coffee table should echo this sense of rustic, colonial elegance. The edges of a rectangle table, whether horizontal or vertical, will do the work! 

Put a few of the potted plants on the coffee table, and scatter the rest throughout the room for added breathability.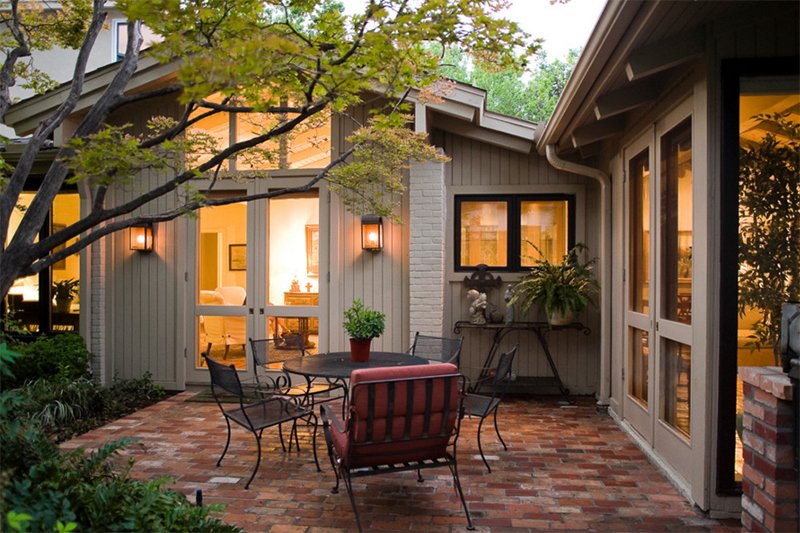 Image Source: Houzz
This brick-paved space now has an iron dining set. The home gives off a classic vibe yet with a dash of mid-century modernism.
Get this design through: 
A black metal chair with slim arms would be quite mid-century modern. Also, their cutting-edge styles represent the present day. 

To maintain harmony, it's recommended that you also get a black, circular table. If there are uncomfortable voids at the table, you may want to measure it and see if you can add more seats. 

A single red cushion that is the right size and shape for each chair would work just nicely. There's no need to place one on each seat. Have a unique chair that stands out all day long by having the same texture but a distinct design. 

You may achieve the pinnacle of mid-century chic by simply installing lantern-like wall sconces in strategic locations or by using string lights to create a cozier atmosphere. 

Plants, or at least one large potted plant, make lovely decorations and table focal points. The room would have a more pleasant and rejuvenating vibe with this added. 

You may choose either red or brown flooring, but you should experiment with other color combinations. You may also go with little ceramic tiles or bricks instead of large ones.
Image Source: Houzz
An up-close look at the patio, which has not just an outside eating space but also an outdoor kitchen. In addition, there is room for hanging towels and a grill that is suspended over the counter.
Acquire this design by: 
Given its age, the antique Greek chair should be brown. Don't try to make the theme work better by using a different color on it. Additionally, make sure they are sequential so the arrangement doesn't seem weird. You needn't worry about the ridiculousness of this appearing. 

If you're going for a rustic aesthetic and your seats are on the skinny side, the table should follow suit. You have the choice between a conventional square or rectangle, or a horizontally stacked wood design. 

Get some large grey tiles for the floor. Not only does it portray modernism, but the clarity it provides is also wonderful. 

Keep in mind that there is an L-shaped counter next to the table. This improves the space's use, particularly for special events. 

Some of the cooking equipment and gadgets might be stored in hidden cubbies built into the side of the counter. This works out well for your needs. 

The bar stools are a must-have, after all. Especially if you choose the stainless steel kind, they will seem really cutting edge in your kitchen. 

Put some lights in, but just on the surface of the table. This kind of design is not only simple and inexpensive, but also environmentally friendly.
Image Source: Den Garden
No one said that you could just use string lights over the holidays. In the same way, you may utilize it to create a dramatic atmosphere in your garden. The furniture arrangement is not only comfortable, but also aesthetically beautiful.
Ideas to mull over: 
A foldable chair with some extras, like stripes across the back, would be perfect. The uniqueness of mid-century design would be brought home to you every time you looked at this. 

Have a little table for two. That's four too many seats. If you have too many people there, it will appear crowded. 

Choose a table that has a minimal design yet a contemporary feel. This is a brilliant step toward merging the contemporary with the mid-century aesthetic. The finest choice is a white table with metal legs. 

Add a hearth to the second room. Choose a piece of furniture that might help your visitors feel at home rather than a coffee table. The untidy appearance and lack of definition of the fireplace are classic examples of mid-century style. 

Make sure your visitors can kick back and relax on plush seat cushions. Make sure they're white too, just to be safe. Some bright red accent pillows would also make a bold statement. 

In order to maintain an air of practicality, the brick-style counter in the back should never be removed.
Frequently Asked Questions: FAQs
What is a good illustration of the mid-century modern style? 
Egg chair
The Egg chair, created by Arne Jacobsen in 1958 for the Radisson SAS hotel in Copenhagen, is a defining piece of Danish contemporary furniture. Using cutting-edge technology at the time, it was believed to have been influenced by Eero Saarinen's Womb chair. 
What is the defining feature of mid-century modern architecture and interiors? 
Including both indoor and outdoor influences, mid-century modern interior design is characterized by a minimalist aesthetic that emphasizes clean lines and subdued color palettes. 
What are the specifics of the mid-century modern aesthetic?
The aesthetic of the mid-century era is characterized by a combination of geometric and organic forms. Some of the most attractive pieces of mid-century modern furniture, such as coffee tables and chairs, are also the simplest. 
When comparing modern to mid-century modern, what distinguishes the two? 
The use of ornamentation is a defining feature of the mid-century modern style, distinguishing it from the contemporary style. The contemporary aesthetic is often characterized by a stark simplicity. It's not well known for its showmanship or grandeur. Nonetheless, ornamental touches are welcome in mid-century modern design. 
To what do mid-century dwellings often attest? 
The mid-century modern style of the 20th century was distinguished by its simple forms, subdued curves, lack of adornment, abundance of glass, emphasis on efficiency, and open floor plans meant to maximize the flow between indoor and outdoor life.
Final Words
Good preparation and a wide range of furniture styles are all that's required. It's sufficient to use basic furniture; pay more attention to the placement and selection of ornamental elements like plants, stones, and others. 
A fire pit or fireplace is a great way to add ambiance and warmth to your outdoor area. But at the end of the day, it is your preferences that will win. So, choose carefully. 
Speaking of choosing, you may choose among these related articles. In case that you may want to explore more ideas.
10 Best Ways To Keep Mosquitoes Away From Your Patio, Porch, And Backyard.
https://definebottle.com/front-porch-lighting-ideas/
Written By: Trisha Mae Raymundo