Your porch is one of the first features of your home that people see. If you want a unique, modern, classic, or out-of-the-box porch design, you found them. Our choice of 20 porch designs for several types of homes will give you plenty of ideas. These designs encompass the very practical and functional to the innovative, wacky, and fun.
Porches have two primary purposes. They can function as a pass-through area or as an inviting outdoor living space. They are a convenient landing space for those who lead busy lives in all our comings and goings. It can give your home abundant curve appeal and a distinctive appearance.
Practical Considerations with Porch Designs
When choosing a design for your porch and ideas of what you can use it for it is crucial to think about the following:
Think about how the design will fit the design of your overall home.
List what you want from your porch.
For example, do you want it to supply cover, serve as a chillout zone, hang pot plants, an outdoor camping/relaxing area, a mud room where you can place clothes, shoes, or boots, or even a storage area?
Consider the dimensions of your home, do you have limited space or a large farmhouse.
The following ideas and suggestions will spark your imagination and help you get creative. These 20 ideas feature everything from retro, modern, rustic/country, or minimal but attractive designs that will broaden your mind and help you start renovating or building anew.
Our 20 Porch Design Ideas and Suggestions to Ignite your Creative Spark
 #1 Mustard Colored Country House Porch
Design by Studio Rober
t McKinley
/ Photo by Read McKendree
This beautiful porch design is ideal for any suburban or country home. The porch design blends nicely with the overall build of the house. You can either house your pot plants, entertain guests outside, or use it as a location for outdoor camping.
Suggestions for Use
Outdoor Living Area: Transform the covered porch into an extension of your indoor living space. Add comfortable seating, tables, and outdoor rugs to create a cozy and inviting outdoor living room. This space can be used for relaxation, socializing with guests, or enjoying a morning breakfast with a coffee or glass of orange juice by your side.
Al Fresco Dining: Set up a dining area for enjoyable outdoor meals. Consider adding a dining table, chairs, and string lights or candles to create a lovely ambiance during evening dinners.
Reading Nook: Create a peaceful reading nook on the porch by adding a comfortable chair or a small sofa with cushions and a side table to hold books and drinks. It is a perfect spot to enjoy an enjoyable book while feeling the gentle breeze.
Plants and Greenery: Use the covered porch to highlight your love for gardening by placing potted plants, flowers, and greenery. The protection from the elements will allow you to grow various plants and flowers year-round.
Work or Study Area: If you need a quiet space to work or study, consider converting part of the covered porch into a functional workspace. Set up a desk, chair, and storage solutions to create an efficient and inspiring environment.
Add Drapery: Drapery adds an elegant touch to any porch. Curtains, when closed, can supply some comfort as well as seclusion on hot nights. Try gauzy drapes, such as the basic light-colored curtains.
#2 Large Porch
There are multiple options for home dwellers of large townhouses. In the summer, these are ideal places to entertain family and friends for barbecues and outdoor parties.
A  spacious front porch is ideal for dividing it into different areas. For instance, interior designer Ghislaine Viñas designed a Hudson Valley front porch with an open wrap-around layout, allowing multiple seating areas around the perimeter. One of these areas is a cozy spot in the corner where you can enjoy intimate conversations with just two chairs and a table.

Design by Ghislaine Viñas / Photo by Garrett Rowland
To create a comfortable and stylish porch, consider the following design elements:
Comfortable seating: Incorporate outdoor sofas, sectionals, or cushioned chairs made of weather-resistant materials for added durability.
Outdoor rugs: Outdoor rugs help define seating areas and add warmth and texture to the space while combining various design elements.
Cozy nooks: Create cozy nooks with hanging swings, hammocks, or suspended daybeds to relax and enjoy the outdoor breeze and scenery.
Greenery and plants: Add potted plants and hanging baskets of various heights and types to bring a touch of nature and visual interest to the porch.
Lighting: Install outdoor lighting like string lights, lanterns, and sconces to create ambiance and extend the use of the porch into the evening.
Outdoor curtains: Consider adding outdoor curtains for privacy and protection from the elements.
Outdoor dining area: Create an outdoor dining area with a large table and comfortable chairs for meals with family and friends.
Fireplace or fire pit: Incorporate a fireplace or fire pit for warmth and a cozy atmosphere during chilly evenings.
#3 Garden and Greenery Porch
Julia Greene is an expert decorator who loves to create inviting and cozy spaces. Her front porch reflects her love for greenery as she carefully places an array of pots alongside each seating area.
She believes incorporating natural elements, from wreaths on her doors to freshly cut flowers from her garden, instantly transforms an outdoor space into a warm and welcoming haven. With Julia's eye for detail and her passion for greenery, you can create a beautiful and inviting porch that will impress all visitors.
Creating a garden porch is an excellent way of creating a seamless transition between your indoor and outdoor spaces.
 Check out these design ideas for garden porches:
Pergola or Trellis: Add a pergola or trellis to your porch, allowing climbing plants like ivy, roses, or wisteria to grow and create a natural, green canopy. It adds a touch of romance and supplies partial shade.
Vertical Gardens: Incorporate vertical garden elements on your porch using wall-mounted planters, hanging pots, or a living green wall, adding a lush and vibrant ambience to the area while saving space.
Natural Materials: Opt for natural materials like wood, stone, or brick for flooring, furniture, and accents. These materials blend well with the garden surroundings and supply a warm and inviting atmosphere.
Water Features: Install a small fountain or tabletop water feature on your porch. The background of flowing water adds a soothing element to the garden and helps emphasize tranquility.
Garden Furniture: Choose Garden furniture that blends in with the natural surroundings. Wicker, rattan, or wrought iron furniture with soft cushions in earthy tones can make the space comfortable and stylish.
Outdoor Pathways and Garden Beds: Extend the garden feel onto the porch with pathways made of steppingstones or pavers and raised garden beds with colorful flowers or aromatic herbs.
Lighting: Install outdoor lighting such as fairy lights, solar lanterns, or string lights to illuminate the porch during evenings and create a magical feel .
 #4 Farmhouse Porch
To maintain the farmhouse-style aesthetic of her home, interior stylist Tammy Delbridge updated her front porch. She skillfully combined modern elements – like sleek black French doors – with traditional architectural design. Tammy also added rocking chairs to amplify the porch's allure, create contrast, and instill a sense of summer relaxation on a classic farmhouse porch.
Here are some tips to create an attractive and homely farmhouse porch:
Rocking Chairs, swings, and vintage décor: Create a quintessential farmhouse porch with classic rocking chairs, a rustic swing, and vintage decor elements.
Reclaimed wood flooring: Add some reclaimed wood flooring and a white picket fence, creating a warm and nostalgic feel.
Mason jar pendant lights and natural fiber rugs: Illuminate the evenings with mason jar pendant lights, while natural fiber rugs and farmhouse colors add rustic charm.
Planter boxes: Make it inviting with welcoming signs and blooming planter boxes.
Screened Protection: Transform your porch into a cozy retreat with screened protection.
Vintage furniture pieces and outdoor farmhouse kitchen: Add a touch of history with vintage furniture pieces and an outdoor farmhouse kitchen for a timeless appeal.
Farmhouse Colors and Welcoming Signs: Choose a farmhouse-inspired color palette and hang welcoming signs to create a homely atmosphere.
#5 Enclosed Porch
Photo: Laurey W. Glenn (https://www.southernliving.com/home/porch/screened-in-porch-ideas)
The pleasures of reading a book on a warm day or enjoying a cup of tea on a chilly morning porch may be the highlights of your day. Introduce a sofa, a raffia cocktail table, and a few armchairs to improve the outdoor experience. You may also want to layer in various textures and textiles. Combining all these elements makes your indoor porch the ideal place to unwind and relax.
Indoor porches are suitable places for reading a book or enjoying a hot drink on chilly mornings. Why not introduce a sofa, a raffia cocktail table, and a few armchairs?
You may also want to layer in various textures and textiles. Combining all these elements makes your indoor porch the ideal place to unwind and relax.
Maximize the natural light: Install large windows or glass panels to maximize natural light and transform your enclosed porch into a sunroom
Comfortable Seating and Pot Plants: Add comfortable seating and greenery to create a relaxing space perfect for unwinding after a long day.
Repurpose into a workspace: Create a productive and inspiring workspace with built-in shelves, a spacious desk, and task lighting.
Design a cozy reading nook with a comfortable armchair or chaise lounge, soft throws, and a bookshelf filled with your favorite books.
Indoor garden: Transform your porch into an indoor garden room with potted plants, hanging planters, and a small garden table.
Entertainment space: Set up a media center with a TV, sound system, and comfortable seating for an entertainment lounge. – Design an intimate dining area with a table and chairs for dining with a view.
Indoor fitness center: Create a dedicated fitness area with exercise equipment, yoga mats, and space for stretching.
Game room: Set up a game room with board games, a card table, and comfortable seating for hours of fun with family and friends.
Heating and cooling options: Ensure your enclosed porch is well-insulated and equipped with heating and cooling options for a comfortable four-season room you can enjoy year-round.
#6 Old Meets New Porch
The porch area of this 19th-century Australian home is reminiscent of a charming dollhouse with intricate gingerbread details that add character to the property. Avant-garde butterfly chairs by Angelucci 20th Century supply a comfortable spot to bask in the sun.
Here are some old-new porch design ideas:
Vintage charm: Combine traditional rocking chairs, vintage signs, and weathered wood flooring for a quaint charm.
Modern comfort: Integrate modern features like stylish outdoor sofas, sleek metal accents, and contemporary lighting fixtures for a sophisticated look.
Rustic elegance: Embrace rustic appeal with stone or brick accents, cozy fire pits, and wooden furniture while incorporating elegant outdoor chandeliers or candle sconces.
Minimalist oasis: Create a serene and minimalist porch with clean lines, neutral colors, and uncluttered furniture arrangements for relaxation.
Antique-style lighting: Install antique lanterns, vintage-style pendant lights, or Edison bulbs to add a nostalgic ambiance to the porch.
Sustainable materials: opt for eco-friendly materials like reclaimed wood, recycled plastic furniture, or sustainable textiles for an environmentally conscious porch design.
High-tech Entertainment: Incorporate modern technology with outdoor speakers, a weatherproof TV, and smart lighting controls for entertaining and relaxation.
Boho chic: Combine colorful patterns, eclectic decor, and comfortable floor seating for a bohemian-inspired porch with a mix of old and new elements.
Farmhouse industrial: Merge farmhouse aesthetics with industrial touches using galvanized metal accents, vintage-inspired farm signs, and farmhouse-style furniture.
Zen garden: Create a tranquil Zen Garden porch with Asian-inspired decor, bamboo furniture, and soothing water features.
Mediterranean retreat: Design an inviting Mediterranean-style porch with wrought iron furniture, terracotta pots, and vibrant tiles.
Coastal escape: Infuse a coastal vibe with nautical decor, beach-inspired colors, and natural materials such as seagrass and driftwood.
Eclectic fusion: Blend old and innovative design styles together for an eclectic porch that highlights your unique personality and preferences.
Victorian elegance: Recreate the elegance of the Victorian era with ornate ironwork, vintage-style wicker furniture, and intricate details.
Scandinavian Hygge: Capture the essence of Scandinavian Hygge with warm textiles, natural materials, and soft lighting for a homelike porch.
#7 Ship Deck Porch
(https://escapeadulthood.com/blog/2014-04-08/dude-transforms-deck-into-pirate-ship.html)
Creating a ship deck-style porch will captivate visitors, friends, and family. It will also ensure you have a feature that few people have in your neighborhood. Who knows, you might even start a trend. You can even charge to come aboard.
Introducing a few deck chairs, a hammock, and even a ship (steering) wheel gives a feel of sailing across the sea. You can also add a Pagoda and slide-able canvas cover to keep you out of the sun on hot sweltering days.
Designing a ship-style, nautical, or coastal porch involves incorporating elements inspired by the sea and maritime aesthetics.
Here are some design ideas for a ship-style porch: 
Nautical Color Palette: Use a classic nautical color scheme that includes navy blue, white, and shades of blue, giving an ocean and sky-like feel.
Ship-Style Railing: Install a ship-style railing with horizontal slats or ropes to mimic the look of a ship's deck and railings.
Maritime décor: Decorate the porch with maritime elements like ship wheels, anchors, lifebuoys, and nautical flags to create an authentic ship atmosphere.
Rope accents: Incorporate rope accents in the design, such as rope railings, curtain tiebacks, or rope-wrapped planters.
Outdoor nautical lighting: Use outdoor light fixtures inspired by nautical designs, like lanterns or sconces, lending a maritime flair.
Weathered wood flooring: opt for weathered or reclaimed wood for the porch flooring, reminiscent of a ship's deck and sea-worn textures.
Adirondack chairs: Place classic Adirondack chairs in white or navy blue, supplying comfortable and timeless seating.
Nautical stripes: Use striped patterns in cushions, rugs, and curtains, evoking the look of sailboat sails.
Porthole windows: Add porthole windows or mirrors to accentuate the ship-inspired theme.
Driftwood accents: Incorporate driftwood pieces in decor or furniture to bring a natural, beachy element to the porch.
Nautical artwork: Hang maritime-themed artwork or prints, such as sailboats, lighthouses, or coastal landscapes.
Sailcloth shade: Consider using sailcloth or canvas fabric to create shades or awnings, supplying shade and contributing to the nautical ambiance.
Marine plants: Use potted plants like seagrass, succulents, or palm trees to evoke a coastal feel and withstand maritime conditions.
Ship lanterns: Hang ship lanterns or maritime-inspired pendant lights for illumination and as decorative focal points.
Hammock or Swing: Add a hammock or porch swing for a relaxing and breezy spot to enjoy the sea-inspired atmosphere.
#8 Cabin-Style Porch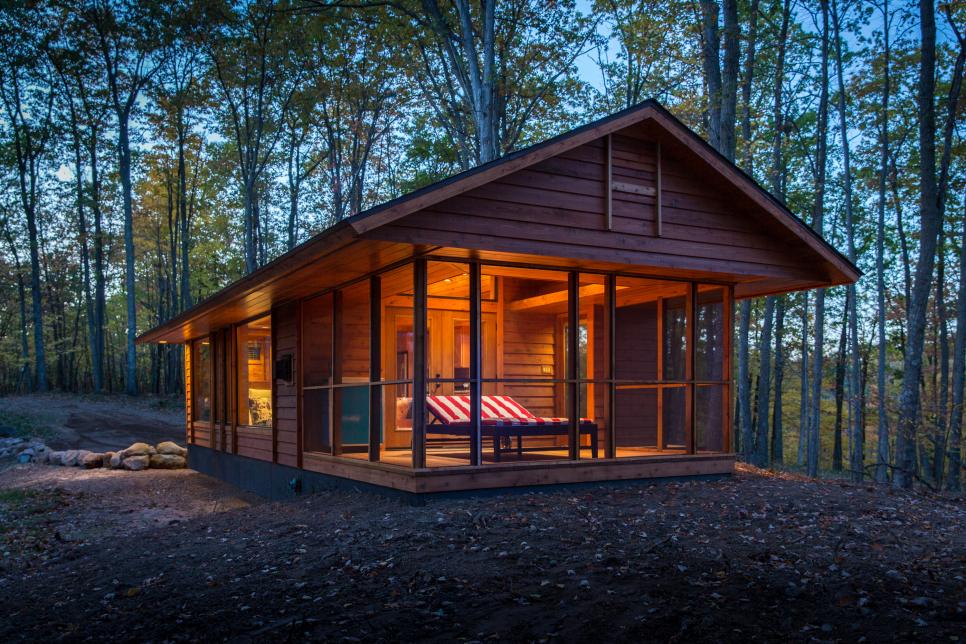 Photo by Steve Niedorf; designed by Dan Dobrowolski and Kelly Davis from https://www.hgtv.com/profiles/professionals/dan-dobrowolski/tiny-cabin-is-luxury-small-space-living-pictures
Cabin-style porches exude a warm, rustic vibe, perfect for nature lovers who crave outdoor adventures. After a day of hiking through rugged rivers, forests, and hills, these porches offer a comfortable spot to spend the night, surrounded by enchanting woods. If you want a comfortable outdoor camping experience, they are what you need to immerse yourself in the beauty of nature at night.
Designing a cabin-style porch involves embracing a rustic, cozy, and nature-inspired ambiance.
Here are some design ideas to achieve that look:
Natural materials: Use natural materials such as wood or stone for the porch flooring, walls, and columns to create a genuine cabin feel.
Log furniture: Incorporate log furniture, such as Adirondack chairs, benches, and tables, to add a rustic touch to the porch.
Cozy textiles: Add soft and warm textiles like plaid or faux fur blankets, throw pillows, and outdoor rugs to create a cozy atmosphere.
Fireplace or Fire Pit: Install a fireplace or fire pit on the porch for a rustic focal point and to supply warmth on biting cold evenings.
Wood accents: Add wood accents to the porch, such as log railings, wooden beams, or a log cabin-style ceiling, to enhance the cabin aesthetic.
Cabin décor: Decorate the porch with cabin-themed décor, such as lanterns, wildlife sculptures, or antler chandeliers.
Screened porch: Consider converting the porch into a screened-in space to enjoy the outdoors without the hassle of bugs.
Nature views: Position the porch to take advantage of a mountain landscape, a forest, or a tranquil lake.
Wraparound porch: If space allows, design a wraparound porch to maximize outdoor living and enjoy different views from various angles.
Wildflower garden: Plant a wildflower garden around the porch to attract butterflies, birds, and other wildlife, adding to the cabin's natural appeal.
Rustic lighting: Use rustic light fixtures like lantern-style sconces or vintage-inspired pendant lights to create an inviting glow.
Porch swing: Hang a porch swing with a comfortable cushion to supply a relaxing spot to take in the surroundings.
Outdoor dining area: Set up an outdoor dining area with a wooden picnic table and benches to enjoy meals with friends and family.
Nature-inspired color palette: We suggest earthy and natural colors like browns, greens, and tans for the porch's décor to complement the outdoor surroundings.
Stargazing spot: Place some comfortable seating, like rocking chairs or a chaise lounge, where you can stargaze and enjoy the night sky.
#9 Indoor Fireplace Porch
Picture by Brie Williams   (https://www.bhg.com/decorating/fireplace/styles/outdoor-fireplace-ideas/)
An outdoor fireplace is a gorgeous focal point for the porch and enhances its overall appearance. This fireplace's wooden finish and high ceiling add warmth and sophistication to the screened porch. The natural texture of the wood complements the pristine white floors and walls while harmonizing with the lush woodland surroundings. Designing a fireplace porch creates a cozy and inviting outdoor space.
Here are some design ideas to think about:
Fireplace as the focal point: Make the fireplace the centerpiece of your porch design. Choose a traditional stone hearth or a modern metal structure while introducing comfortable seating and arranging furniture to face the fireplace for a welcoming atmosphere.
Covered and open spaces: Design your porch to have a mix of covered and open spaces. A covered area with a fireplace can supply shelter from the elements, while an accessible area allows you to enjoy the outdoors on pleasant days.
Natural materials: Incorporate natural materials such as stone, brick, wood, and wicker in your porch design. These materials add warmth and charm to the space while blending in with the outdoor surroundings.
Cozy seating: Go for comfortable and weather-resistant seating options. Think about plush cushions, outdoor rugs, and throw blankets for added coziness during cooler evenings.
Built-in features: Consider adding built-in features around the fireplace, such as storage for firewood or shelves for displaying decor and plants.
Lighting: Install ambient lighting to set the mood in the evening. String lights, lanterns, or sconces can create an enchanting atmosphere around the fireplace porch.
Pergola or Trellis: Incorporate a pergola or trellis over the porch for shade and create a sense of privacy without completely blocking the view of the sky.
Greenery and landscaping: Surround the porch with plants and greenery to enhance the outdoor ambiance. Climbing plants on trellises, potted plants, and a well-maintained garden can all contribute to a beautiful outdoor setting.
Fire Pit alternatives: A fire pit makes a great alternative. Fire pits come in various shapes and sizes and can still supply a warm gathering spot.
Weatherproofing: Ensure that your fireplace porch is well-protected from the weather. Consider using weatherproof materials for furniture and finishes. A plan for covering or protecting the fireplace during rainy or snowy seasons is crucial.
Personal touches: Introduce personal touches such as decorative pillows, outdoor artwork, and other accessories to make the porch feel like an extension of your home.
#10 Modern Design Porch
Photo: overstock.com (https://www.bobvila.com/articles/front-porch-ideas/)
Are you in search of some fresh ideas for your front porch? Consider adding an industrial waterfall feature to your exterior entryway! This distinctive addition will captivate visitors, while the soothing sound of the water cascading down will transform your walkway into a peaceful oasis. Go for a sleek double glass door and a stylish hanging porch light to give this design its final addition.
Building a modern porch involves clean lines, minimalism, and a focus on functionality combined with flair.
Here are some design ideas to create a modern and stylish porch:
Sleek architecture: Emphasize clean and sleek lines in the porch's architecture. Avoid excessive ornamentation and opt for a minimalist approach to create a modern, sophisticated look.
Contemporary materials: Use modern materials like metal, glass, concrete, and composite materials to give the porch a contemporary edge. These materials look sleek and tend to be durable and minimal maintenance.
Open and airy: Create an open and airy feel by keeping the porch uncluttered and maximizing natural light. Consider using glass or large windows to connect the interior space with the porch.
Neutral color palette: Stick to a neutral color palette with pops of bold colors as accents. Whites, grays, blacks, and earthy tones work well for a modern porch, creating a timeless and sophisticated look.
Furniture with clean lines: Choose outdoor furniture with clean lines and minimalistic designs. opt for sleek and comfortable seating with weather-resistant cushions and upholstery.
Modern lighting: Install contemporary light fixtures to complement the modern design. Pendant lights, recessed lighting, or LED strips can add a touch of elegance and create a warm atmosphere during the evenings.
Greenery and planters: Incorporate modern planters with architectural plants and succulents to add a touch of greenery and soften the space. Consider using geometric planters or hanging planters for a modern twist.
Statement rugs: Add a stylish outdoor rug with a modern pattern or geometric design to anchor the seating area and add visual interest.
Privacy screens: Use modern privacy screens or partitions to define the porch space and add an element of privacy without obstructing the view.
Outdoor art and décor: Include modern outdoor art pieces, sculptures, or decorative accents to add personality and flair to the porch.
Fire pit or fireplace: Consider incorporating a modern fireplace/fire pit for aesthetics and warmth. Modern fire features can be an eye-catching focal point for your porch.
Multi-functional space: Design the porch for multiple purposes, such as an outdoor dining area, a relaxation spot, or a home office. Flexible design elements can adapt the space to diverse needs.
#11 Porch Surfer Design
Design by Raili CA Design / Photo by Becca Tilly (https://www.thespruce.com/porch-ideas-4139852)
The Raili CA Design team created this exceptional open front porch for Kelly Slater's surf ranch, infusing it with a laid-back Southern California vibe. The porch boasts exquisite, reclaimed wood planters brimming with greenery that blends perfectly with the environment, flat wood plank flooring, and generous storage space for bikes or surfboards.
Creating a surfer porch involves capturing the easygoing coastal vibe synonymous with surfing culture.
 Here are some design ideas to design a surfer-inspired porch:
Beach-like colors: Use a color palette inspired by the beach and ocean. Select shades of blue, turquoise, sandy beige, and sunny yellows to evoke the feeling of being near the sea.
Surfboard décor: Incorporate surfboards as decorative elements on the porch. Hang them on the wall or use them as tables or shelves.
Outdoor shower: If space allows, consider adding an outdoor shower on the porch. It is practical for surfers to rinse off after a session and adds to the coastal atmosphere.
Beachy flooring: Use weather-resistant and easy-to-clean flooring materials that resemble the look of a sandy beach, such as sand-colored tiles, stone pavers, or composite decking with a natural wood grain finish.
Relaxed seating: Choose comfortable and casual seating with cushions in beachy colors or prints. Why not select materials like wicker or rattan for that coastal touch?
Hammock or Hanging Chair: Add a hammock or hanging chair for the ultimate relaxation spot to sway in the breeze and enjoy the surf vibes.
Nautical elements: Integrate nautical elements such as ropes, netting, and anchor motifs in the décor to further enhance the maritime ambiance.
Outdoor bar area: Create a surf-themed outdoor bar with a tiki bar or beach-style bar stools. Display colorful beach glass, seashells, and surf-themed mugs or glasses.
Surf art and photography: Decorate the porch with surf-themed artwork, photographs of waves, or vintage surf posters to celebrate the surfer's lifestyle.
Palm trees and greenery: If possible, plant palm trees or other tropical plants around the porch to create a coastal oasis and supply some shade.
Beach bonfire pit: Install a fire pit on the porch where you can gather in the evenings to share surf stories and enjoy the warmth.
Outdoor sound system: Set up an outdoor sound system to play your favorite surf tunes and create a relaxing ambiance.
Outdoor surfboard rack: If you are a surfer, consider adding an outdoor surfboard rack to store and display your boards.
#12 Spanish/Moroccan Style Porch
Design by Marie Flanigan Interiors / Photo by Julie Soefer
This front porch design by Marie Flanigan Interiors is distinctively beautiful. The bench looks incredibly comfortable, and the Moroccan lanterns look stunning, especially when illuminated and casting beautiful shadows. The unique patina on the lanterns gives them a timeless and rustic feel to adore. It is the ideal place to unwind and appreciate the natural beauty surrounding it.
Spanish and Moroccan-style porches, often inspired by Mediterranean and Moorish architecture, are known for their warmth, charm, and inviting atmosphere.
Here are some design ideas for creating a Spanish or Moroccan-style porch:
Arched entryway: Design the porch with an arched entryway or arches throughout the space. Arches are a distinctive feature of Spanish architecture and add a touch of elegance and romance to the porch.
Terracotta tiles: Use terracotta tiles for the flooring or as decorative accents. The earthy tones and rustic texture of terracotta tiles complement the Spanish style and evoke a warm and welcoming ambiance.
Wrought iron details: Incorporate wrought iron elements in the porch design. You may want to include wrought iron railings, light fixtures, and decorative accents. Wrought iron adds a touch of authenticity and enhances the Spanish charm.
Stucco walls: Consider using stucco for the porch walls. Stucco is a traditional exterior finish in Spanish-style architecture and supplies a textured and timeless look.
Color palette: Embrace a warm and vibrant color palette. Use shades of terracotta, warm yellows, rich reds, and earthy browns to reflect the colors of the Mediterranean landscape.
Wooden beams: Add exposed wooden beams on the porch ceiling. Dark-stained or natural wood beams add character and contribute to the rustic appeal of Spanish architecture.
Courtyard feel: If space allows, create a courtyard-like feel with potted plants, a central fountain, or a small garden in the porch area. This design element is common in Spanish-style homes and adds a serene and intimate atmosphere.
Mosaic tiles: Use mosaic tiles for tabletops or decorative accents. Mosaic tiles add an artistic flair and further enhance the Mediterranean vibe.
A Fountain or water feature: Consider adding a small fountain or water feature to the porch. Flowing water adds a calming and refreshing element to the space.
Lush greenery: Surround the porch with lush plants and vines. Bougainvillea, palm trees, and other Mediterranean plants can create a beautiful and vibrant setting.
Outdoor Fireplace or Chimenea: Install an outdoor fireplace or a traditional clay chimenea. These elements add to the Spanish style and supply warmth and ambiance during cooler evenings.
Outdoor seating area: Create a comfortable seating area with wrought iron or wooden furniture adorned with colorful cushions and throw pillows.
Moroccan lanterns: Hang Moroccan-style lanterns to add an exotic and inviting touch to the porch lighting.
#13 Victorian Style Porch 
(https://www.front-porch-ideas-and-more.com/victorian-style-houses.html)
Victorian-style porches have ornate, elaborate, and decorative characteristics. These were all prevalent during the Victorian era from the mid-19th to the early 20th century. During that period, homes had an opulent look with plenty of attention to detail. You can see Victorian-style porches in some parts of the US and Europe. These include in locations like Louis, Kentucky, and San Francisco, California.  You can also find them across the UK and in Europe.
Victorian-style porches exude elegance and nostalgia, harking back to a time of grand architecture and meticulousness. If you are considering designing or renovating a Victorian-style porch, incorporating these ornate features and attention to artistry will help capture the essence of this architectural style.
Typical features of Victorian-style porches include:
Extensive use of ornate wood trim friezes, and window trim
Exterior house trim (brackets, running trim, etc.) and decorative balusters.
Plantings in containers or window boxes that are symmetrical and colorful on the porch.
Intricate features (moldings) on the porch between pillars or columns and around the entrance frame.
Are laden with Wrought iron furnishings.
Here are some ideas for Victorian porch designs:
Intricate Woodwork: Victorian porches often feature elaborate woodwork, including intricate balusters, spindles, brackets, and scrollwork. These decorative elements add a sense of grandeur and artistry to the porch.
Gingerbread Trim: "Gingerbread" trim, also known as fretwork or latticework, is a hallmark of Victorian architecture. They usually have a delicate and decorative wood trim to adorn the eaves, gables, and porch railings.
Wrap-around Design: Many Victorian porches wrap around the front and sides of the house, creating a sense of continuity and supplying ample space for outdoor seating and relaxation.
Turrets and Towers: Some Victorian homes feature turrets or towers, which may extend to the porch area, adding a distinctive and romantic touch to the overall design.
Ornate Columns: Victorian porches may have ornate columns with intricate capitals, such as Corinthian or Ionic styles, supporting the roof structure.
Stained Glass: Stained or leaded glass windows and panels were a popular feature of Victorian homes. You can incorporate these into the porch design to add color and character.
Multiple Entryways: Victorian homes often have multiple entrances, and the porch may supply access to distinct parts of the house, reflecting the social norms and customs of the time.
Extravagant Railings: Elaborate and decorative railings, often featuring a combination of wood and metal, are found on Victorian porches.
Rich Color Palette: Vibrant colors are another feature of Victorian-style porches. Deep reds, greens, blues, and gold were popular choices.
Carved Details: Carved details, such as ornate newel posts and porch brackets, were commonly used to enhance the visual appeal of the porch.
Patterned Flooring: Victorian porches may feature patterned flooring, such as decorative tiles or intricate wooden patterns.
Ceiling Details: The porch ceiling might have decorative molding for beadboard paneling, adding another layer of sophistication to the design.
 #14  Black and White-Stripped Porch
(https://thistlewoodfarms.com/20-best-affordable-outdoor-rugs-to-buy-online/#/)
Take inspiration from KariAnne Wood, the talented blogger of Thistlewood Farms, who has effortlessly elevated the style of her front porch with a chic black-and-white striped outdoor rug.
She has expertly paired this with vibrant fuchsia flowers in beautiful planters and baskets, creating an inviting and breathtakingly beautiful ambiance that will leave an impression on visitors to her home.
The key to designing a black and white style porch is balancing the contrasting colors and textures while adding greenery and natural elements for a well-rounded and visually appealing space. This timeless color scheme offers versatility and can suit a range of modern to traditional styles. A black and white-style porch can create a classic and sophisticated look with a modern touch.
Here are some design ideas to achieve this elegant monochromatic aesthetic:
Flooring: Consider using black and white patterned tiles or a black and white checkered pattern for the porch flooring. This creates a bold and eye-catching visual statement.
White Railings and trims: Choose white railings and trims to contrast against the black elements and add a clean and bright touch to the porch.
Black wicker furniture: Use black wicker furniture with white cushions or throw pillows. The combination of black and white creates a timeless and stylish look for the seating area.
Striped outdoor rug: Lay down a black and white striped outdoor rug to tie the design together and add a touch of texture.
Potted plants: Place potted green plants or white flowers around the porch to add a touch of natural beauty and break up the monochromatic scheme.
Black and White cushions: Choose cushions or seat covers in black and white patterns or solid colors to complement the overall design.
Black and White throw blankets: Add cozy black and white throw blankets on the seating to create an inviting atmosphere during chilly evenings.
Black lanterns or sconces: Install black lanterns or sconces on the porch walls for an elegant lighting solution.
White curtains or sheer panels: Hang white curtains or sheer panels to add privacy and soften the porch's look.
Black and White artwork: Hang black and white artwork or photographs on the porch walls to add a distinctive touch and continue the color theme.
White pergola or trellis: If the porch has a pergola or trellis, paint it white to match the white elements and create a cohesive look.
Black planters: Use black planters for the potted plants to coordinate with the black-and-white theme.
Monochromatic décor: Incorporate black and white décor items such as cushions, vases, and lanterns to keep a consistent style.
#15 Small Porch Design
The key to designing a small porch is to maximize every inch of space while supporting functionality, comfort, and eye-catching style. Using innovative storage solutions, space-saving furniture, and well-chosen décor helps create a beautiful and enjoyable small porch that suits your needs and personal style. Remember, small should not cramp your creativity. It is just the opposite.
Here are some small porch design ideas:
Compact seating: Select space-saving and compact seating options like a small bistro set, foldable chairs, or a built-in bench with storage underneath.
Vertical greenery: Use vertical space by adding hanging planters or a vertical garden to bring in some greenery without using valuable floor space.
Foldable furniture: Consider using foldable or collapsible furniture that can be easily stored when not in use, maximizing the available space.
Multi-functional furniture: Choose furniture with built-in storage or multi-functional features, such as a storage ottoman or a side table with hidden compartments.
Bright colors: Use bright and light colors for the furniture and décor to create an illusion of a larger space. White or pastel hues work well for this purpose.
Mirror magic: Hang a mirror on one of the walls to visually expand the space and reflect light, making the porch feel more open and airier.
Rugs and mats: Define the porch area with a small outdoor rug or mat to create a designated seating or relaxation spot.
String lights: Hang string or fairy lights to add a mystique to the porch and create a cozy ambiance at night.
Potted plants: Incorporate potted plants and flowers to bring life to the porch and create a refreshing atmosphere.
Privacy screens: Use decorative privacy screens or lattice panels to add a sense of enclosure and create a more intimate space.
Small garden features: Consider adding small garden features like a tabletop fountain or a mini water feature to add a soothing element to the porch.
Outdoor art: Hang small outdoor artwork or decorative wall pieces to personalize the space and add visual interest.
Lightweight furniture: Choose lightweight and easily movable furniture to rearrange the porch layout as needed.
Minimalist approach: Embrace a minimalist design, focusing on essential elements and avoiding clutter to keep the small porch visually uncluttered and open.
Window boxes: Install window boxes with blooming flowers or herbs to add charm and color to the porch railing.
#16 Roof-Style Porch
Backyard Roof Crafters by Nikita Villa
There are several popular and attractive options to consider for roof-design porches. The choice of roof design depends on the architectural style of your house, the climate, and your personal preferences.
Think about roof-type materials such as shingles, metal, or thatch, as they will affect your porch roof's overall appearance and durability. Consulting with a professional designer or architect can help you choose the best roof design that complements your home and meets your functional needs.
Here are a few roof-design porch possibilities:
Gable-Roof: The Gable Roof-Style is a classic and versatile possibility with two sloping sides that meet at a ridge in the middle.
Shed Roof: Shed roofs are perfect for contemporary-style homes with a single slope.
Hip Roof: A Hip Roof may be ideal for areas with high winds or heavy snowfall, as it has slopes on all four sides for stability.
Flat Roof: Flat Roofs offer a modern and minimalist look and require proper drainage to prevent water pooling.
Combining Roof Styles: Combining different roof styles, such as a gable roof with a shed roof, can create a visually appealing and unique design.
Pagoda/Trellis: Adding a pergola or trellis with climbing plants can create an open and airy feel to your porch.
Vaulted/ Cathedral-Style Roof: A vaulted or cathedral-style roof creates a sense of spaciousness and grandeur for a visually stunning effect.
#17 Patio-Railing Design
(https://www.decksdirect.com/deck-railing/metal-deck-railing)
Your porch's railings are a crucial part of your home's exterior. They supply much-needed support and safety while also contributing to the overall aesthetic of your property.
The design of your porch railing significantly affects the style and appearance of your home. You should also ensure your porch design adheres to local building codes and regulations.
Your railing should meet the required height and supply adequate stability. With assorted options available, you can mix and match different elements to create a unique railing that complements your home's architecture and reflects your style.
If you are unsure about the best design choice for your porch, consulting with a professional designer or architect can be incredibly helpful.
Here are some ideas for porch railing designs.
Traditional Wood railing: A classic and timeless choice, traditional wood railings offer a warm and inviting look. They can be simple with straight balusters or more elaborate with turned or carved designs, depending on your preference and the architectural style of your home.
Modern Metal railing: Consider using metal railings for a contemporary and sleek appearance. Stainless steel, aluminum, or wrought iron railings can add sophistication and durability to your porch.
Cable railing: Cable railings supply a minimalist design, allowing for unobstructed views of the surroundings. They are an excellent choice for modern and coastal-style homes.
Glass railing: Glass railings create a sense of openness and are perfect for porches with beautiful views. They work well in modern and contemporary settings, adding elegance and transparency.
Craftsman Style railing: Craftsman-style railings typically feature square or rectangular balusters with a solid, sturdy appearance. They complement Craftsman, Bungalow, and Arts and Crafts-style homes.
Farmhouse Style railing: Farmhouse-style railings feature simple and rustic elements like wooden or metal posts with cross-hatched wire or vertical slats. These railings suit country-style homes.
Asian-inspired railing: For a Zen and serene ambiance, consider an Asian-inspired railing design. These railings involve bamboo, horizontal slats, or geometric patterns.
Geometric railing: Play with geometric patterns and shapes for a more eye-catching railing design- involving diagonal or zigzag arrangements of balusters.
Nautical rope railing: Rope railings offer a unique and coastal-inspired look. Pair these with wooden posts for a rustic touch or combine them with metal posts for a more modern feel.
Nature-inspired railing: Incorporate natural elements into your railing design, such as branches, vines, or other organic materials, for a whimsical and earthy appearance.
#18 Greenhouse Design Porch
(https://homemadebycarmona.com/greenhouse-decorating-ideas/)
When planning your greenhouse porch, it is crucial to think about the local climate and the types of plants you intend to grow. It will help you create the ideal environment for your greenhouse, ensuring that your plants thrive and that you have a relaxing space to enjoy.
Adequate ventilation and temperature control are essential for the success of your greenhouse, so make sure to install systems that can help you regulate the temperature and keep the air circulating. With suitable planning and attention to detail, your greenhouse porch can become a beautiful and functional space.
When planning your greenhouse porch, consider the local climate and the types of plants you want to grow. Adequate ventilation and temperature control are essential for the success of your greenhouse, ensuring that it stays a thriving space for both plants and relaxation.
Here are some suggestions to inspire your greenhouse porch design:
Greenhouse Sunroom: Build a greenhouse with large windows or glass walls that can be opened during warm weather to function as a sunroom or closed during colder months to maintain the greenhouse environment.
Hanging Garden: Use the porch space to hang planters and create a vertical garden. Install hooks or railing-mounted containers to hold a variety of plants, herbs, and flowers.
Greenhouse Lounge: Transform part of the porch into a cozy lounge area with comfortable seating, cushions, and throw pillows. Place potted plants and hanging baskets around to create a welcoming atmosphere.
Climbing Plants and Trellises: Incorporating trellises along the porch walls and plant climbing vines or creepers will create a natural green wall to add privacy to your space.
Herb Garden Nook: Choose a corner as an herb garden nook within the greenhouse. Grow a choice of aromatic herbs easily accessible for cooking and seasoning.
Indoor Greenhouse Bench: Install a greenhouse bench along one side of the porch to serve as a growing area and a seating space. You can also use it to display potted plants and gardening tools.
Hanging Macramé Planters: Introducing a bohemian ambience to your greenhouse porch by hanging macramé planters with trailing plants adds texture and visual interest to the space.
Greenhouse Potting Station: Dedicating a part of the porch to a potting station with shelves or cabinets to store gardening tools, pots, and soil ensures everything you need is nearby.
Rustic Greenhouse Porch: Use reclaimed wood or rustic materials for the greenhouse structure and porch furniture to create a charming and homelike atmosphere.
Miniature Greenhouse Display: Arranging a collection of miniature greenhouses or terrariums on shelves or small tables on the porch introduces a decorative element while highlighting different plant varieties.
Greenhouse Swing: Hang a porch swing inside the greenhouse area, allowing you to enjoy the serene environment while gently swaying among your plants.
Glass Ceiling Greenhouse: If possible, create a glass roof or skylights on your porch to allow ample natural light into the greenhouse and enhance the growing conditions for your plants.
#19 European Porch Design
(https://www.houzz.com/professionals/home-builders/colonial-homecrafters-ltd-pfvwus-pf~1635856359)
Would you like to create an elegant and charming outdoor space? If so, incorporating European design elements into your porch may be the way to go. These designs typically combine traditional and modern elements to create a unique and inviting atmosphere.
When choosing design elements, it is crucial to consider your home's architectural style and the theme you want to achieve. European design porches often focus on creating a sense of harmony and beauty, so pay attention to details and artisanship in your design choices.
Here are some European porch ideas to inspire you:
Wrought Iron Railings: Add an elegant touch to your porch with wrought iron railings featuring intricate designs. This design element is typical of Mediterranean and French-style homes.
Arched Doorways: Create a Mediterranean or Spanish-inspired look with arched doorways or windows. Arches add grandeur and timeless appeal to your porch.
Classic Columns: Use columns with ornate capitals inspired by Greek or Roman architecture to support the roof or porch structure. This design element is prevalent in neoclassical European homes.
Cobblestone Flooring: Consider using cobblestone or brick flooring for a charming and rustic European look. It adds texture and character to the porch area.
Hanging Flower Baskets: Decorating your porch with hanging flower baskets filled with colorful blooms adds a vibrant and welcoming feel commonly seen in many European villages.
Covered Entryway: Create a covered entryway with a pitched roof or awning to supply protection from the elements and add a cozy feel to your porch.
French Doors: Install French doors that open onto the porch, allowing a seamless transition between indoor and outdoor spaces. French doors are a typical feature in French and European cottage-style homes.
Pergola with Climbing Plants: Construct a pergola over your porch and let climbing plants like roses, wisteria, or grapevines grow along the structure. This adds a romantic and picturesque feel.
Mediterranean Tile Accents: Use Mediterranean-style tiles as accents on the floor, walls, or steps. These decorative tiles often feature intricate patterns and bright colors.
Balcony Above Porch: If your porch is on the ground floor, consider adding a balcony above it for a multi-level European-inspired design. This feature is common to Italian and French architecture.
Outdoor Lighting: Install decorative outdoor lighting fixtures like lanterns or wall sconces to create a warm and inviting atmosphere during the evening.
Fountain or Water Feature: Add a small fountain or water feature to your porch to evoke the tranquility of European courtyards and gardens.
#20 DIY Porch Design
Picture by Richard  Leo Johnson (https://www.bhg.com/home-improvement/porch/porch/diy-porch-ideas-to-steal/)
Designing and creating a DIY porch can be a rewarding and enjoyable project. Consider the climate and weather conditions when choosing materials and DIY projects for your porch. Safety is paramount.
Ensure that any structures you build are sturdy and secure. A little creativity and some handy skills can create a beautiful and inviting DIY porch that suits your style and preferences.
Here are some DIY porch design ideas to inspire your outdoor space:
Comfortable Corner Seating: Build a simple wooden bench or use repurposed pallets to create a cozy corner seating area on your porch. Add cushions, throw pillows for comfort, and decorate with potted plants for a welcoming touch.
Pallet Swing: Convert wooden pallets into a comfortable and charming swing for your porch. Hang it using sturdy ropes or chains and enjoy relaxing moments swinging in the breeze.
Vertical Herb Garden: Construct a vertical herb garden using wooden pallets, wall-mounted shelves, or repurposed hanging shoe organizers. Grow a selection of herbs, and you will have fresh ingredients for cooking right on your porch.
Privacy Screen: If your porch lacks privacy, build a DIY privacy screen using lattice, bamboo, or trellises covered with climbing plants, making it a secluded and private space.
Outdoor Curtains: Install outdoor curtains on your porch to add a splash of elegance and supply shade when needed. Choose weather-resistant fabric and hang them using curtain rods or wires.
DIY Planter Boxes: Build planter boxes using reclaimed wood or pallets. Arrange them along the edges of your porch and plant colorful flowers or greenery to enhance the porch's aesthetics.
Mason Jar Lanterns: Create charming and rustic lanterns using mason jars. Insert candles or battery-operated LED lights inside the jars and hang them around your porch for ambient lighting.
Repurposed Furniture: Invigorate your old furniture by repurposing and repainting them to suit your porch's theme. An old table can become a charming centerpiece, and an unused dresser can serve as extra storage space.
Gravel or Stone Flooring: If you want a budget-friendly porch flooring possibility, use gravel or stones. Level the area, lay a landscape fabric to prevent weeds, and spread gravel or arrange stones for a countrified and natural look.
DIY Hammock: Create your hammock using sturdy fabric or an old bedsheet. Tie it between two trees or install hooks on your porch for relaxing naps.
DIY Fire Pit: If you have enough space, build a DIY fire pit using bricks or stones. It can be a comfy gathering spot for friends and family during chilly evenings.
Painted Rug: Add a decorative touch to your porch floor by painting a faux rug using stencils and outdoor paint. This can be a fun and cost-effective way to personalize your porch space.
Bottom-line: Selecting the Ideal Porch Design
Choosing a new porch design or refurbishing an existing one can be daunting – given the many options available. Your budget and personal preferences will influence your choice. However, there are some key factors to consider when selecting a design. You may need to obtain planning permission from the local authority.
The size of the project and timeline are also important considerations. Additionally, it is essential to ensure that the porch design matches the architecture and appearance of your home. Our selection of 20 different porch designs will help guide your choice.