Outdoor decorating is not that different from interior design, although it does provide you with a little more leeway in terms of individual expression. Whether it's a dining table, cushions, or a sofa, outdoor furniture, and décor can be a lot of fun. While you may be a minimalist's sanctuary or a maximalist's canvas at home, when you go outdoors, such restrictions are off the table. Instead, embrace the freedom to explore new styles, details, and materials that may not otherwise have been part of your routine. 
This must-have outdoor furniture list is full of necessities that make a patio, deck, balcony, or backyard garden comfortable and fascinating to spend time in, whether you're assembling an outdoor space for the first time or looking for new seasonal options.
Acacia Outdoor Chaise Lounge Set Image Source: Charles Bentley 
Chaise couches are an essential part of any patio in the spring and summer. Sunbathers, both locals, and guests, will appreciate the comfort and visual appeal of these reclining, solid-wood beds. Don't forget the sunblock, okay?
Tips that would come in handy: 
A gazebo, pergola, or open outside area is ideal for this lounge set. Be sure they have somewhere to put their feet up off the ground by providing flooring. 

Always stick to the color scheme established by the walls and floors. 

Pile on some crisp white pillows to convey fluidity, cleanliness, and renewal.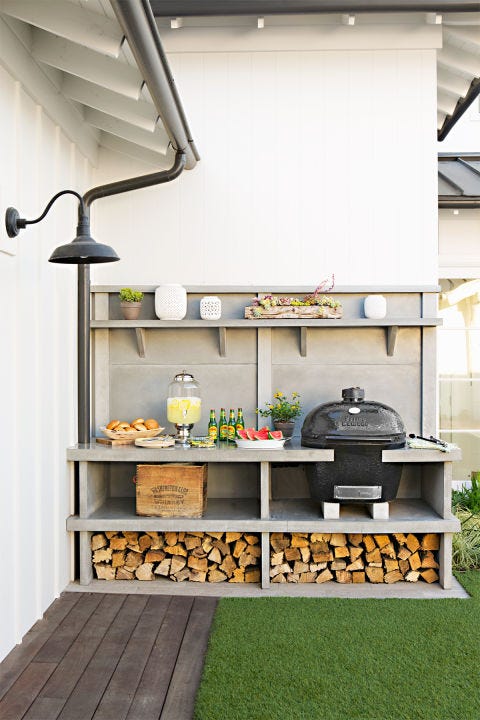 Image Source: Country Living Magazine 
Having a grill is one thing, but having a fully functional outdoor kitchen is quite another. Shelving systems that can house tableware, cooking utensils, condiments, and other must-haves keep the grilling process simplified and orderly, even without a full-fledged kitchen. 
Some tips for you: 
Lots of kitchen tools and supplies mean you'll need as many shelves and drawers as you can get. 

If you like spending time with your family and friends while cooking, then having an open kitchen is for you, but if you want some privacy, then a built-in kitchen is the way to go. 

Having a set that can withstand the elements without being damaged is a huge benefit. 

Kitchen paint and wall color should be muted and complementary.
Magnificent Steel Patio Accent Table
Image Source: Home and Jet – Home, Travel, Lifestyle
Coffee tables and end tables have dual purposes. You may use them as a platform for decorations or to store things like beverages, books, and other necessities for your outside activities. Outdoor side tables are the answer to the age-old problem of what to put in the empty spaces between sofas and chairs.
Few tips for you: 
Since you will be using something in the great outdoors, choose an item that can be used in a variety of ways and has a design that is in keeping with nature. 

Set up your outdoor end tables next to the pool, patio, garden, or gazebo. The space will have more visual appeal and depth.  

To make the most of the table's surface, set out some drinks, baskets of flowers, or other accessories for use in the presence of nature.
Patio Umbrella with Scalloped 9-Foot Aluminum Pole
Image Source: Living Spaces 
Some individuals thrive in the sunshine, but most would agree that shade is a need for any outdoor setting. How to accomplish it in the most aesthetically pleasing manner? Have some umbrellas for the patio. Reduce glare, unbearable heat, and sunburn with these weather-resistant products.
Few suggestions to consider: 
You can't go wrong with a classic black and white umbrella, and it will complement any look. 

Ideally, the umbrella would be located near a gathering spot, such as a table for dining or a group of lounge chairs. 

Have some decorative patterns on the edges of the umbrella for a more pleasing look. 
For some more overarching options, try this fantastic sunbrella offset umbrella.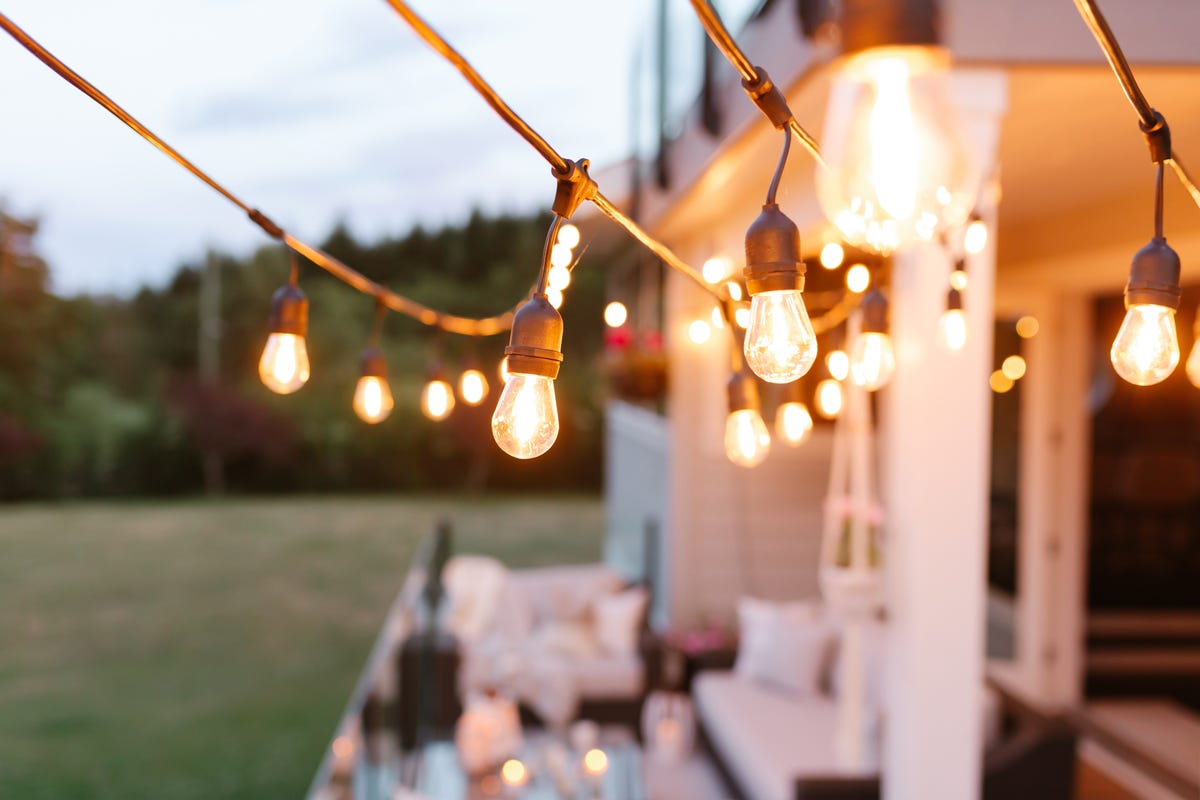 Image Source: Best Products 
The additional hours of daylight do not negate the need to properly light outdoor dining and lounging areas. These atmospheric bulbs are watertight, so they can withstand the elements no matter the season
Suggestions to remember: 
To create a relaxing and inviting atmosphere for your visitors and family, hang your lights near their favorite gathering spots. Pergolas, swimming pools, gazebos, and patios are all examples of such spaces. 

Choose bulbs with a warm color temperature for a more inviting and aesthetically pleasing atmosphere. 

Be careful to hang the lights near a wall or piece of furniture that has a neutral color scheme to avoid clashing with the rest of the room's decor.
Decorative Cabana Cushion for the Patio
Image Source: Pinterest 
Not everyone needs to sit at the same table while eating outside, so it's enjoyable to experiment with different seating configurations. Poufs are cozy and stylish no matter whether you choose coordinated stripes or a variety of designs. This alternative is UV-resistant and portable, allowing you to move with the sun. 
Tips to follow: 
Choose a variety of poufs in various colors and patterns to show off your appreciation for design experimentation and enhance the house's beauty. 

To further emphasize the creative potential, the pouf seats may be dispersed randomly. The improved functionality of the space is an added bonus. 

Put the poufs somewhere dry to keep them clean. Do not put them near a body of water or on bare land.
An All-Natural Patio Table
Image Source: Apt Deco 
There's nothing quite like a leisurely lunch eaten under the stars, but it's impossible to do so without a quality outdoor table. This basic dining table is constructed from teak and is a great addition to any outdoor space, whether you're going for a Scandi vibe or a more traditional farmhouse design.
Other options made for you: 
Given its size, this piece of furniture should be positioned front and center, surrounded by similar upholstered items. 

If you want to liven up a boring table, a potted plant or a few flowers can do the trick. 

This table may be used in either a sunny or shaded setting due to its adaptable design.
Gas Fire Pit Table for Outdoor Use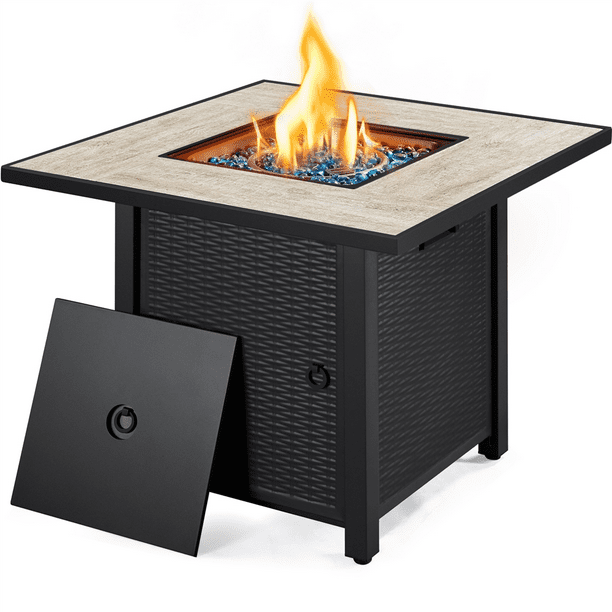 Image Source: Walmart 
In the evening, as the temperature begins to drop, a campfire like this one, which runs on propane, may help keep everyone toasty. The glass beads are a classy addition, and you won't have to worry about any smoke or fire hazards. And with this on hand, s'mores are always a possibility.
Some options for you: 
Maintain form coherence throughout. If you choose a rectangular fire pit, your outdoor seating should also be rectangular. 

Choose a black-framed fire pit if you want it to be adaptable and contemporary. To improve its aesthetic value, using some common design trends is strongly suggested.

If you want your fire pit to look its best, place it on a surface covered with ceramic tiles.
Waterproof Heavy Duty Patio Chair Cover
Image Source: Galleon Ph
Despite the fact that they aren't the most aesthetically pleasing additions, outdoor furniture coverings are a need in areas where the weather is either unpredictable or often wet. This one isn't too ugly, as it was designed specifically to hide those soft, luxurious sofas, but there are more options for seats, tables, and loungers of varying sizes.
Suggestions to consider: 
It's recommended to match the cover color to the seat color for uniformity's sake. 

Allow some wiggle room for the size of the cover. Fitting it in wouldn't help much, particularly on windy and chilly days. 

A color scheme of complementary opposites, such as beige and brown, might work well if you insist on having any kind of pattern at all.
Snuggly Contrast Pillow Set 
Image Source: Pottery Barn 
It's important that outdoor cushions have the same playful vibe as their interior counterparts and look well with the surrounding furnishings. Comfort is still crucial, but it's not as critical, when it comes to outdoor fabrics, so you may relax a bit more and have more fun. 
Things to keep in mind: 
Print combinations, unusual materials, and bold designs are all in the realm of possibility. Just make sure there's something down to earth to provide a sense of warmth. 

Pile them on the couches and chairs; scattering them about sends a chaotic message.

Throw pillows and seats should be in contrasting colors to give each piece of furniture a chance to shine.
Textured Concrete Flower/Plant Pot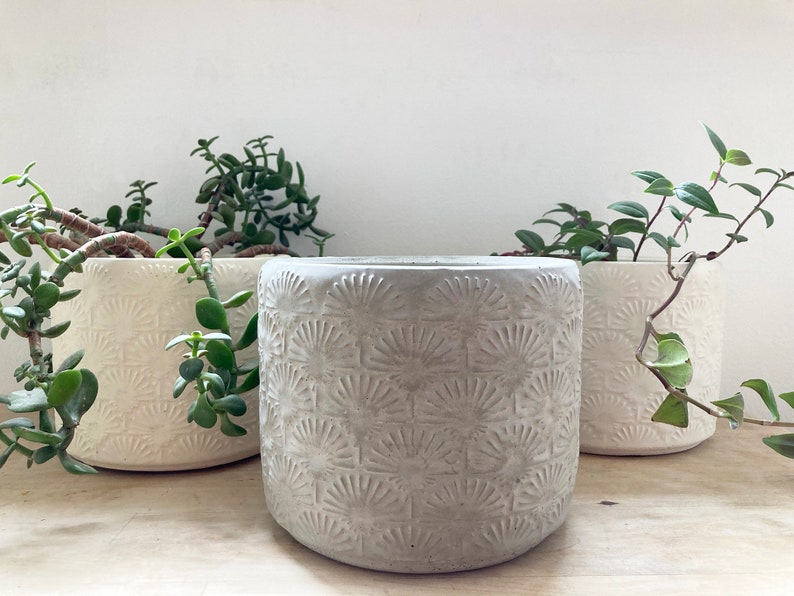 Image Source: Etsy
Although indoor gardening is more conducive to the seasons of winter and autumn, caring for outside plants as soon as the weather allows it is an easy way to inject some awareness into your day. Having planters that are as lovely as the plants they contain makes gardening that much more rewarding. 
Some things to ponder: 
For peace of mind during wet and windy weather, consider investing in concrete planters, which are long-lasting and ecologically beneficial. 

Choose designs inspired by the natural world to improve the room's visual appeal. Selecting a color scheme shouldn't be too difficult; stick with neutrals that can easily be paired with other accents. 

For a revitalizing atmosphere, set the containers around the perimeter of a pergola, pool, gazebo, or other outdoor gathering space. 
Exterior Rug Made From Charcoal Material
Image Source: Wayfair Canada 
Putting down an outdoor rug on a deck or patio immediately transforms the space into an extension of your house. They are quite fashionable while being crafted from fabrics that are impervious to wear and tear from things like moisture, sunlight, and spills.
Things to think about:
This rug's adaptable color palette makes it suitable for use on a wide variety of flooring. 

If you want to hide certain pieces of furniture, make sure their dimensions are exactly perfect. If the whole floor were covered, the room would seem lopsided. 

A simple pattern is nice, but if you believe a more complex one will add depth to the overall design, go for it.
Mold and Mildew Spot Remover
Image Source: Amazon
Though it may not be as eye-catching as a scalloped umbrella or colorful cushions, a mildew and stain remover is an essential element of any outdoor cleaner's armory. This method is effective on filth on plastic, resin, fiberglass, and even textiles.
Additional tips for you:
Keep an additional outdoor cleaner on hand; doing so might prevent damage to or premature deterioration of your furnishings. 

Make sure to keep them on a nearby shelf so they are easy to reach without cluttering up the space or drawing unwanted attention. 

Only purchase from tried and true brands. If this is your first time using a cleaner, you should learn as much as possible about it beforehand through thorough research.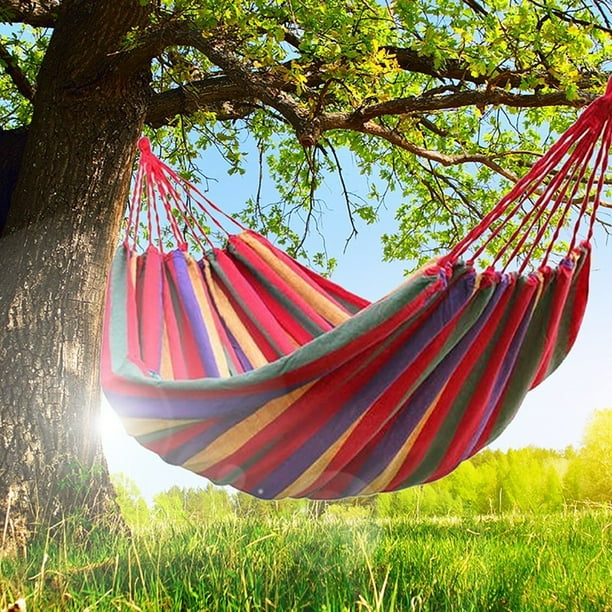 Image Source: Walmart 
Hammocks provide a perfect way to unwind in the fresh air. A bed is a finishing touch on the ideal backyard, should it be your current favorite space. Whether you want to relax on a sunny morning, read a book, or play a game on your phone, you'll find that this space provides the perfect setting.
Here are some options for you: 
Choose a vibrant, rainbow-colored hammock accessory to draw attention to the hanging spot. 

Hammocks are most comfortable and safest when used in the shade, so hang them between trees or in any other shady spot. 

Whenever in doubt, go with the standard adult size. This wiggle room would make it possible for persons of varying heights to relax in a hammock together.
Image Source: Reviewed USA Today
These dishes will turn your outdoor feasts into pieces of beauty with their classic shapes. The layered forms and colors on these bamboo-fiber plates make for a stunning display. They may be used both inside and out, and they can withstand the elements and the dishwasher.
Here are some things you can do:
Invest in an adorable little glass and a plate with an interesting design. Add additional color and abstract shapes to the designs to make them more visually attractive. 

A tablecloth may help keep the mood neutral in a dining area. It's important that the tablecloth complement the dishes and cutlery. 

There's no need to make any special catering preparations. You're free to create a complete mess, but you should provide necessities like napkins, potted plants, silverware, and plates to make the space seem complete and practical.
Frequently Asked Questions: FAQs 
What kinds of outdoor furniture are the most desirable? 
You should seek weatherproof items that won't seem worn out after only one season of use. If you're looking for stylish, weather-resistant wood patio furniture, teak is a great option. Aluminum, resin, and plastic are further examples of lightweight, weatherproof materials.
Which outdoor furniture is the greatest and most long-lasting? 
Since it can be formed into more intricate shapes, metal outdoor furniture tends to be the sturdiest and longest-lasting alternative. It's a frequent motif for garden and patio fixtures, ornaments, and furnishings.
What kinds of patio furniture can you safely keep outside all year? 
If you want to keep your patio furniture out throughout winter, good options include teak, aluminum, and sunbrella cushions. Except for stone, all other forms of outdoor furniture should be carried inside or stored.
How often between evenings should I be covering my patio set? 
It's not necessary to cover your furniture every night to ensure its longevity, although doing so in damp environments may certainly help. Furniture covers are a must during the spring and summer months when humidity levels rise and precipitation becomes more frequent.
Is it possible for the sun to ruin the patio furniture? 
Sun damage and fading may occur to even the best patio furniture if proper maintenance is not taken. No piece of furniture, no matter how expensive, can withstand prolonged exposure to sunlight without suffering harm.
Final Words
The benefits to the mind and spirit from time spent in nature are well-documented. Without a doubt, it's a lot more enjoyable when you do it in a stylish and comfortable outdoor living environment.  There are tons of outdoor furniture options to choose from. You can take a look at ArchiPro's range of outdoor furniture to spice up your outdoor space.
There's a perfect arrangement for each home, whether it's a modest or luxurious patio, balcony, or outdoor fire pit. Also, we hope that our rundown of potential backyard furniture options has been helpful to you. 
If you're looking for more reading material, here are a few articles that may be of interest to you:
Written By: Trisha Mae Raymundo