These days, personal space might be hard to come by in the average office environment. The good news is that there are a lot of cool tricks you can use to make your cubicle a quiet, productive place to work. Use physical barriers like desk partitions, curtains, or privacy panels to segment your office area. Put frosted glass film on your cubicle windows for a sophisticated look. 
The alternative is to use practical solutions, such as noise-cancelling headphones, desk plants, or bulletin boards, to minimize interruptions and maximize productivity. Make it your own by hanging up some art, putting up a mirror, or putting up some repositionable wallpaper. These 11 cubicle privacy ideas, covering anything from cable management to footrests, can assist you in making your office a more pleasant and productive place to spend your time.
Image Source: Versare
Office cubicles may be made more private with the use of desk dividers. These dividers make it easy to demarcate individual workstations, which helps in maintaining focus. They come in a wide variety of materials and designs, so you can choose one that fits in with the rest of your office's decor while still providing you with the solitude you need to get your job done.
Additional suggestions for you:
Gray smooth cemented flooring will give your room a contemporary feel and provide durability and style.

A swivel chair in timeless black and white will look great in your office while also providing you with the comfort you need to get work done.

Use a pinewood tabletop to combine form and function with a hint of natural warmth.

Desk dividers in a professional gray with crisp white borders will help you keep your work area neat and tidy.

A standing desk may improve your health and productivity by providing a more active work environment.

Walls painted in a neutral beige gray will add a touch of class to your business while yet maintaining a soothing environment.

Sliding window walls provide flexibility in the workplace by providing natural light while also allowing for seclusion or open cooperation as required.
Image Source: Pinterest
Curtain rods are a chic and adaptable solution for adding seclusion to workstations. You can quickly surround your work area with these curtains, creating a sense of privacy and minimizing interruptions. Curtains, which come in a wide variety of colors and materials, may help you create a more private and productive environment in your cubicle.
Additional suggestions for you:
Hang some sheer green curtains to provide some solitude and a breath of fresh air in your office.

An L-shaped office table may help you get more done in less time because of all the extra room it provides.

Add some beauty and vitality to your workplace with a thin, dark, clear green vase filled with colorful plants.

Keeping your desk and computer cords neat can help you stay focused and productive.

Put some green on the wall to inject some life and character into your office.

Having a built-in shelf in your workplace is a great way to make the most of the space there and keep things neat and tidy.
Cubicle shelves for storage and privacy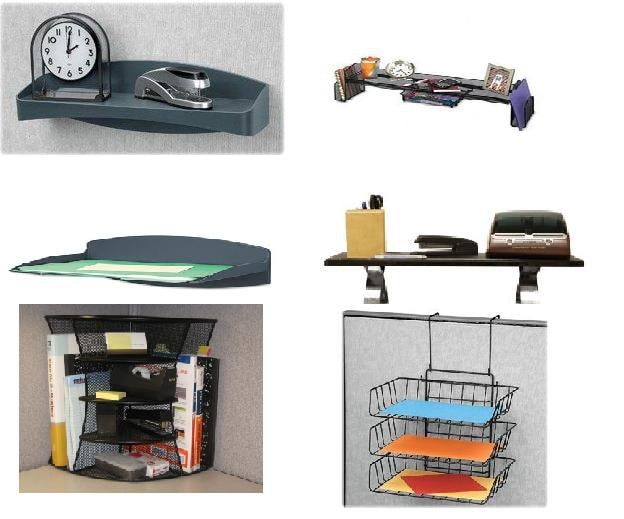 Image Source: Workspace Bliss
Shelves in cubicles not only provide people somewhere to put their things, but also make the space seem more private. These bookcases may be used to partition off workspaces and block off any potential distractions. At the same time, they provide useful room to keep work belongings and personal effects out of sight.
Additional suggestions for you:
Adding wooden shelves to your workplace will give it a rustic look and provide you with more room to store your belongings.

Use metal shelving with three levels to store more in less space while maintaining a modern look.

Desk storage solutions are a great way to preserve efficiency and order in your workstation, allowing you quick and simple access to frequently used items.

Floating shelves are a great way to update the look of your workplace while also providing you with some much-needed extra storage space.
Frosted glass window film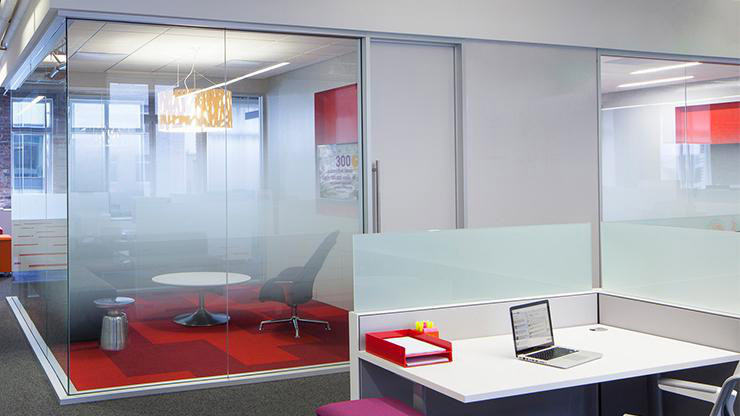 Image Source: Decorative Films
Frosted glass window film is a stylish and functional option for creating personal space in cubicles. It may be stuck to glass to create a transparent screen that blocks visibility but lets light through. This film is favored for its ability to increase seclusion without sacrificing beauty, as well as its ease of application.
Additional suggestions for you:
Create a stylish separation in your workstation while increasing privacy with a frosted glass window desk partition.

White desks are the epitome of modern minimalism, and will set the tone for your focused workday.

Carpeted flooring is a great way to improve the acoustics and thermal comfort of your office.

To facilitate movement and ergonomic support throughout extended periods of work, a swivel office chair combines both features.

Installing a golden chandelier in your workplace is an easy way to add a touch of class to your interior design.
Removable cubicle wallpaper
Image Source: GreenSoul
Removable cubicle wallpaper is a flexible and personal way to provide seclusion in the workplace. It's a great way to provide a little of seclusion to your cubicle walls while also expressing your individuality via the use of patterns and motifs. It's a sensible option for making the office more pleasant and aesthetically pleasing, since it's simple to apply and remove.
Additional suggestions for you:
Decorate your office with flower wallpaper to provide a splash of color and individuality while also creating a warm and welcoming workplace.

An L-shaped desk allows you to spread out and keep everything in its place, making it ideal for productivity.

A sleek wood desk top may be both practical and aesthetically pleasing, adding a touch of natural warmth to your office.

A table with a matte black base is a great example of contemporary contrast, since it is both sturdy and stylish.

Incorporate fashion and functionality into your working environment with a leather swivel chair.

Maintain order and improve your office's aesthetic with the help of a wooden clipboard.

Use tall, uneven, navy blue desk dividers to create a dynamic and fashionable workplace arrangement that also serves its practical purposes.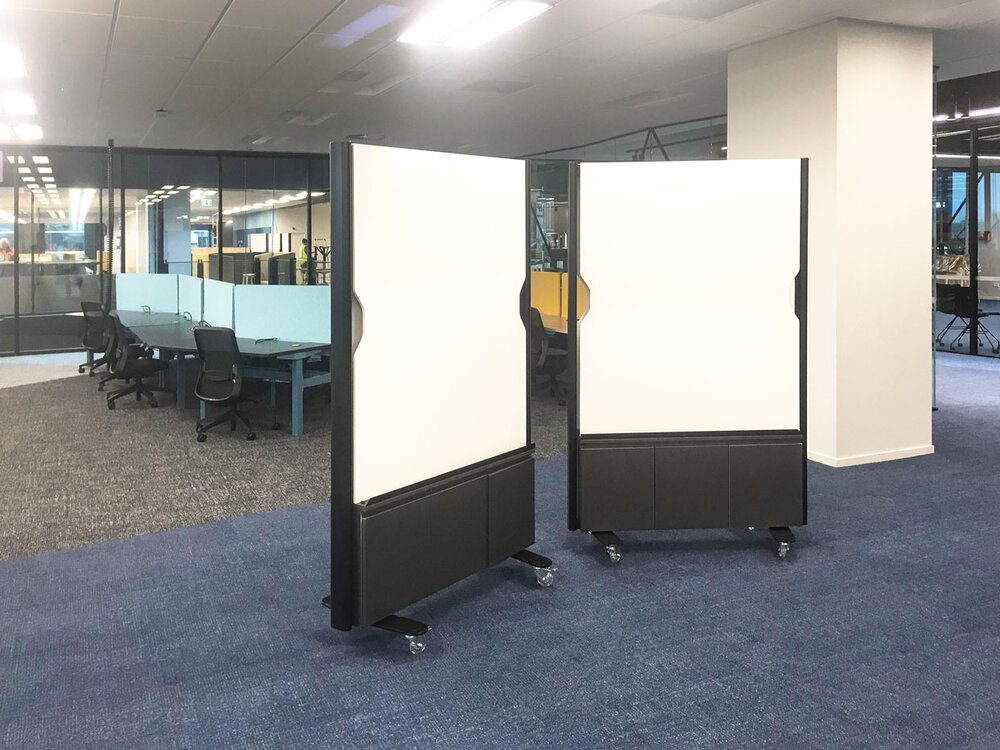 Image Source: Capital Commercial Furniture
Cubicle privacy and efficiency may both benefit from the use of mobile whiteboards. They provide a place to jot down ideas and to-do lists while also creating a visual barrier between coworkers in an open office. Mobile whiteboards provide a versatile option for both individual and group work in cubicle settings because to its portability and adaptability.
Additional suggestions for you:
Enhance your team's ability to get things done and communicate effectively by using portable whiteboards.

Navy and gray carpeting strikes a nice balance between professionalism and coziness, creating an inviting space that's perfect for working or relaxing.

Desk dividers in a rainbow of hues will add a splash of color and personality to your workstation while also giving you some much-needed separation.

Offices benefit from white walls and ceilings because they reflect light and provide the impression of more space.

Installing white, rectangular ceiling lights will provide uniform illumination while also minimizing the office's energy use.

You may have both privacy and a sleek, contemporary atmosphere in your office by installing sliding glass doors with sleek black accents.

White pillars may be used to improve the aesthetic appeal of your office space by providing a touch of sophistication and variety to the room.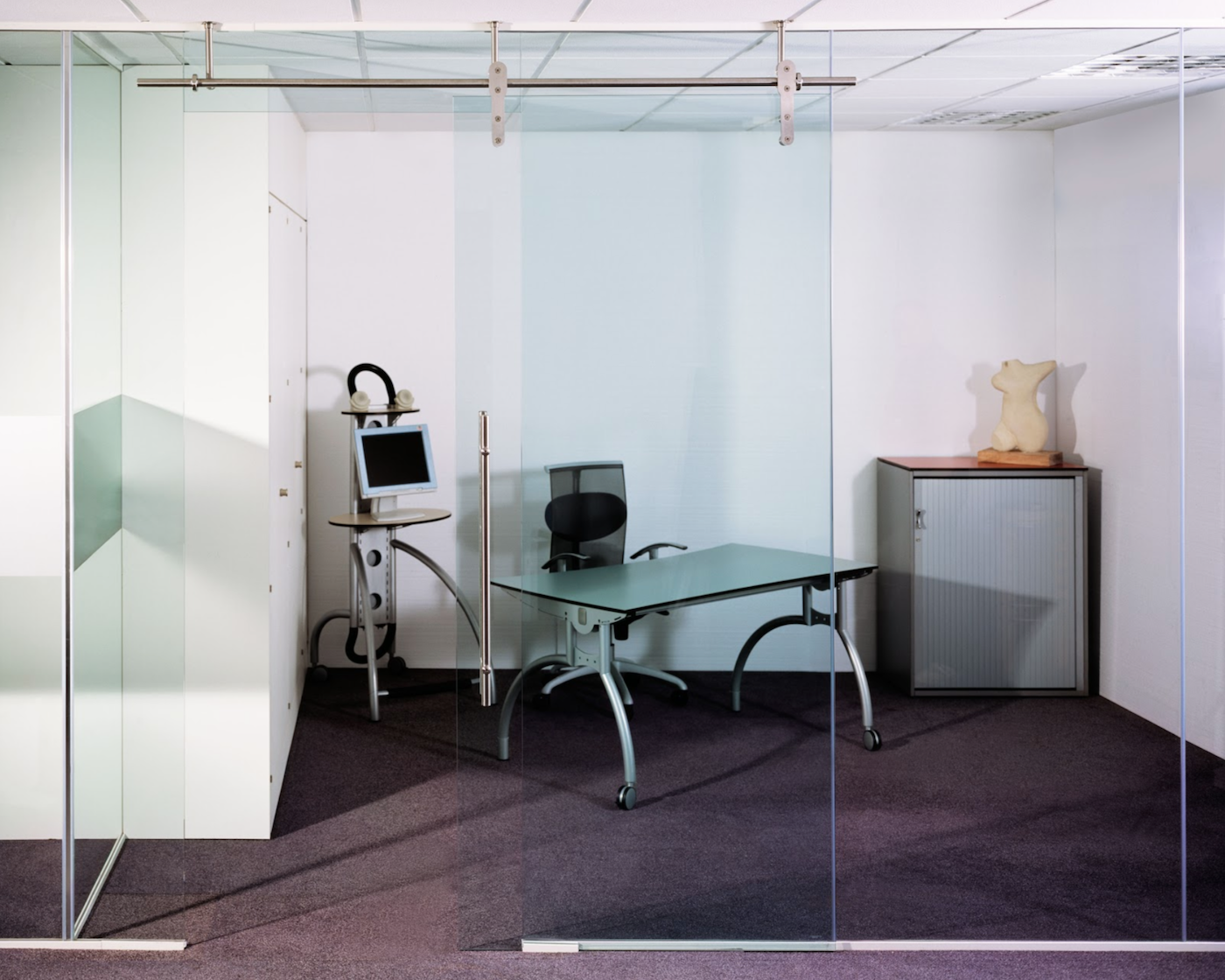 Image Source: Avanti Systems
Sliding doors are a convenient and economical way to increase cubicle security. For times when you need to focus without interruptions, these doors may block off your office. Their sliding mechanism facilitates access and personalization, giving them a functional option for partitioning off areas for more focused and private work.
Additional suggestions for you:
Sliding glass doors let you achieve a modern and adaptable workplace layout, with the added benefit of providing seclusion when it's required without closing off the space.

Dark gray carpeting combines good looks and comfort to create an aesthetically pleasing and functional space.

A contemporary standing desk may improve your health and productivity by offering ergonomic advantages and room for expansion.

A tabletop in matte black provides a beautiful and sophisticated surface for work.

Support yourself and your employees with a swivel office mesh black chair that provides both comfort and movement.

Use stylish desk storage solutions to keep your necessities in order and your office uncluttered.

Invest in a small cabinet to store your business materials and personal belongings out of sight.

Put a little bit of yourself into your workplace design by placing miniatures about your desk.

Place some minimalist figurines about your workplace to bring a touch of class and sophistication to your design.
Desk plants for natural barriers
Image Source: Solutions Office Interiors
Cubicle partitions made of plants are both visually beautiful and ecologically sound. The judicious placement of plants in the office may serve to create natural barriers that are both private and aesthetically pleasing. This not only makes the office a more pleasant place to be, but it also helps keep employees healthy.
Additional suggestions for you:
Create a more tranquil and natural atmosphere in your office by utilizing desk plants as partitions.

White metal desk dividers provide seclusion and a contemporary aesthetic to your office.

A mesh black swivel chair combines both comfort and elegance by offering the support and movement necessary for an efficient working.

Floating table tops made of wood are an attractive and practical way to upgrade your office's aesthetics and practicality.

Built-in lights on white and gray ceilings provide uniform, energy-efficient illumination for your workstation.

Brown carpeting with white and black accents creates a symmetrical and elegant look for your office floor.
Vanity Mirrors for a Stylish Way
Image Source: Pinterest
Vanity mirrors are a modern addition to any cubicle. These mirrors are not only a beautiful addition to any office, but they can also be used to create a more private place. They are reflective, so your cubicle will be brighter, and opaque, so no one will be able to see in or out.
Additional suggestions for you:
The addition of mirrors in the form of a pentagon will take the aesthetic of your workplace to the next level.

Mirrors with a gray border provide a touch of elegance to any room while also serving a practical purpose.

Incorporating mirrors into desk dividers is a great way to improve the look and feel of your workplace while also creating the illusion of more space.

The use of beige desk dividers may accomplish both of these goals, creating an aesthetically pleasing and useful space in which to do work.

White-framed desk dividers are a great choice for those who need seclusion without sacrificing style.
Hanging artwork for visual privacy
Image Source: Autonomous
Adding artwork to the walls is a unique and aesthetically pleasing approach to partition off workspaces. Decorating your cubicle with artwork does double duty: it adds character while also acting as a visual barrier that keeps others out and keeps you focused. It'll give your office a new look without going overboard on style.
Additional suggestions for you:
Embrace a natural and adaptable office with a wooden freestanding desk table, which combines form and function well.

Comfort and elegance in the workplace may be increased with the installation of a contemporary polypropylene carpet.

Put in some elegant teak flooring to make the office seem more homey and look better.

Exhibit your pieces of art with a beautiful background provided by a navy blue accent wall.

Modern and minimalist artworks put on a shelf may give your office a sense of individuality and serve as a source of inspiration.

Give your workstation the light it needs with a modern touch by installing a slender black floor lamp.

Offices benefit from white walls, which reflect light and provide a spacious feel.

Decorate your workplace with white and blue wall hangings to provide depth and color.

Add some flair and personality to the room by decorating it with books and vases.

Create a welcoming and comfortable sitting area in your office by adding a single-seat green couch and a white throw cushion.
Image Source: Eric Santiago
Cubicle privacy may be easily achieved with a monitor hood. These covers, which you can affix to your screen, make your workstation more private and less distracting. Adjustable screen dividers improve productivity by preventing distractions from individuals not immediately in front of a computer.
Additional suggestions for you:
Use black monitor hoods to eliminate glare and increase privacy while maintaining a quiet, distraction-free work environment.

Smooth pinewood tables may be used for a variety of purposes and look great in any workplace.

Create a chic and modern workplace that combines form and function for maximum efficiency.

White window blinds serve many purposes (controlling natural light and offering privacy) while still looking sleek and modern.

Create a relaxing environment at your workplace by painting the walls a soothing color like gray or white.
Frequently Asked Questions: FAQs
Is it possible to tailor cubicle privacy solutions to specific needs?
You may put your own spin on cubicle partitions. You have the freedom to customize your office to reflect your unique tastes by selecting from a wide range of colors, patterns, and materials.
Does office lighting change because of privacy cubicles?
Many partitioning systems for offices are designed to let in light from windows while yet keeping occupants' personal space secure. Examples of such materials are frosted glass films and sheer drapes, which let some light in but block the view.
Do concepts for cubicle privacy also work to lessen background noise?
Yes, noise-cancelling headphones and acoustic panels are two examples of privacy solutions that may make your cubicle more peaceful and productive.
Is there a way to provide any kind of temporary cubicle privacy in open office plans?
Absolutely. Temporary and simple to remove, many cubicle privacy solutions are appropriate for shared or flexible office environments.
Do cubicle privacy ideas require professional installation?
DIY installation is often possible for cubicle dividers. Professional installation may be required, however, for solutions that are very difficult, such as sliding doors or substantial alterations.
Final Words 
Improve your professional life by using some of these clever cubicle privacy solutions. From portable whiteboards to desk dividers, they provide a wide variety of options for improving your office environment. These concepts aren't only about making you seem good; they'll also increase your efficiency and ease of life. Incorporating some of these privacy options into your cubicle will help you create a sanctuary where you can concentrate, lessen interruptions, and feel more fulfilled in your work. 
Taking charge of your own area is more important than ever in today's open, fast-paced offices. Check out the alternatives, choose on a setup that works for you, and turn your cubicle into a peaceful haven where you can get work done in peace.
The following readings might provide you with further information and inspiration: 
Written By: Trisha Mae Raymundo