Whether you're a professional bartender or just want to host parties with tasty drinks, we know how difficult it can be to fit everything you need into a small space.
The challenge of making the most of the limited square footage of space is met head-on by the opportunity to convert every nook and cranny into an attractive and functional bar arrangement. We've put together this guide to help you make the most of a small bar area while still getting the look and feel of a proper establishment.
We will look at a broad variety of choices, including space-saving furniture, innovative cart designs for bars, and inventive do-it-yourself initiatives. Find out how to make the most of your walls, install vertical storage, make use of versatile furniture, and make a stunning impression on your visitors.
All you need is a little creativity and some creative bar ideas to turn your small apartment, snug basement, or modest outdoor patio into a pleasant retreat for leisure and entertaining. Let's delve in and see what these 49 bar ideas for small spaces. Yes, this is worth reading for!
Image Source: The Creativity Exchange
With this closet-to-bar conversion concept, you can turn your disused closet into a fashionable and practical bar. Install floating shelves for your liquor bottles, get a small bar cart for mobility, and include a wine rack to make the most of your space. Make it your own with the addition of lights, mirrors, and barware for a stylish and handy place to entertain guests.
Options that you should know:
This timeless white wall cabinet will add a touch of style to your home while giving you plenty of room to store your everyday necessities.

Made from stunning oakwood, this bar's flooring oozes warmth and refinement, making it an ideal setting for hosting parties and socializing over drinks.

These sleek and contemporary open white shelves are the perfect place to display your favorite ornaments, books, or culinary utensils.

An exquisite gray and white marble countertop will do wonders for the aesthetic value of your kitchen or bathroom. Its high-end appearance and long lifespan make it an excellent option for those concerned with both form and function.

These ceiling-mounted spherical sconces exude sophistication and would look great lighting a bar. Their subtle refinement and comforting light will transform your home.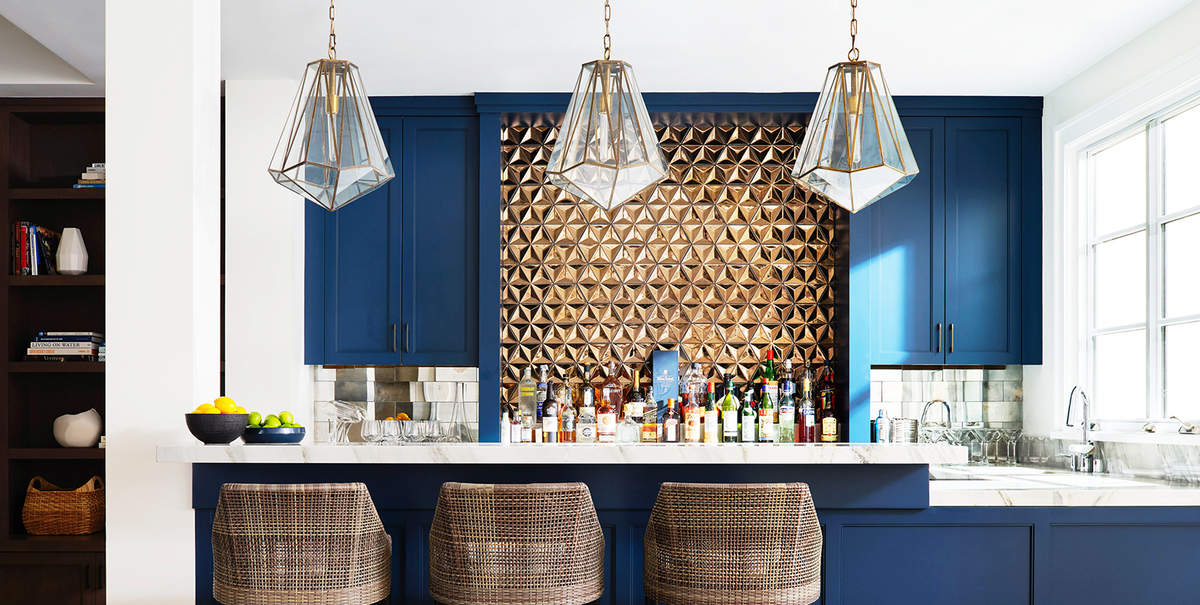 Image Source: Good Housekeeping
Embrace opulence in a compact setting with our suggestions for elegant bar design. Make a statement with a mirrored bar cabinet and add sparkle with crystal glasses and shiny barware. The addition of metallic accessories, velvet bar stools, and a stylish chandelier will create an opulent setting that will leave your visitors in awe.
Some options that you should consider:
This gorgeous gold-finished geometric lantern pendant light will provide a dash of modern elegance to any room. It creates an alluring focal point and emits a comforting light.

Cabinets with a deep navy color make a striking decorative statement in the kitchen or living room. Their dark color provides an air of refinement and contrast that works well with many different kinds of decor.

Install a gold accent wall at the room's focal point and embellish it with fascinating geometries. This striking accent reflects your individuality by adding a touch of current and creative flare.

Woven bar stools are a great way to achieve both of these goals. Adding texture and visual appeal to your bar or kitchen, their elaborate woven patterns and strong construction create a rustic but modern touch.

A marble counter will instantly enhance the look of your kitchen. Its inherent beauty and durability of marble combine to provide a luxurious tabletop or worktop for food preparation and service.

Put out your best wine glasses and bottle opener on the counter to wow your guests and make hosting a breeze. Exhibit your collection and make it simple to use in the kitchen and at the table.
Image Source: Elle Decor
Our bar suggestions may bring a burst of tangy, refreshing citrus into even the smallest of rooms. Use bar decorations and décor that include bright lemon and lime colors. Put up a cocktail bar with a citrus twist by serving drinks in a lemon-shaped ice bucket and serving them on lime slice coasters. You may spice up your home bar with this spicy and invigorating drink.
A few possibilities:
This little white table may serve several purposes, and its two drawers provide for easy storage. It's the perfect combination of form and function, making it ideal for rooms of any size.

Citrus-themed wallpaper can inject life and vigor into any room. Its vibrant colors and intricate designs will inject your room with energy and good cheer.

Combining a classic white wall with contemporary citrus wallpaper results in a beautiful synthesis of the two styles. The citrus wallpaper may shine as a design feature thanks to the room's contrasting features.

White oakwood flooring adds a touch of class and sophistication to any interior. Their airy, pale tones may serve as a springboard for everything from modern to rustic decor.

A vase from the mid-century modern era may give your home an air of refined modernity. Its modern, understated style makes it a versatile accessory that can be used to showcase a variety of plants and flowers.

Turn heads with this inverted oblong mirror framed in gold. The creative flair of this one-of-a-kind mirror makes it a conversation starter and a stylish addition to any wall.
Image Source: Houzz
You may turn a cramped apartment into a tropical haven. Decorate with seashells, driftwood, and ocean-themed art to bring the beach inside. Use a bar cart in beachy hues, show off some tropical glassware, and mix up some cool drinks for a beach get-together. Create an atmosphere reminiscent of a beachfront resort in your own home.
Some alternatives:
A lantern pendant light with a charcoal frame will provide stylish illumination. Its one-of-a-kind form and warm illumination provide for a compelling atmosphere that elevates any space to a higher level of elegance.

Create a warm and welcoming atmosphere by putting together a rustic bar out of oak wood. The rustic charm of the wood makes for an inviting setting for socializing with friends and family or sipping a glass of wine.

Pinewood flooring will add to the rustic charm of your home. Their neutral tones and natural wood patterns complement any decor while providing a timeless base.

Wooden chairs with aluminum table legs combine modern design with relaxing seating. The seating arrangement is both contemporary and diverse due to the mix of wood and metal.

Create a dramatic scene with a glistening gold wine wall. This extravagant and attention-grabbing piece displays your wine collection in style while elevating the overall grandeur and refinement of your home.

Choose a white ceiling for a classic, unchanging effect. Since it generates a light and airy environment, it may serve as a blank slate upon which to showcase other design elements.
Have The Bar Glossy As Possible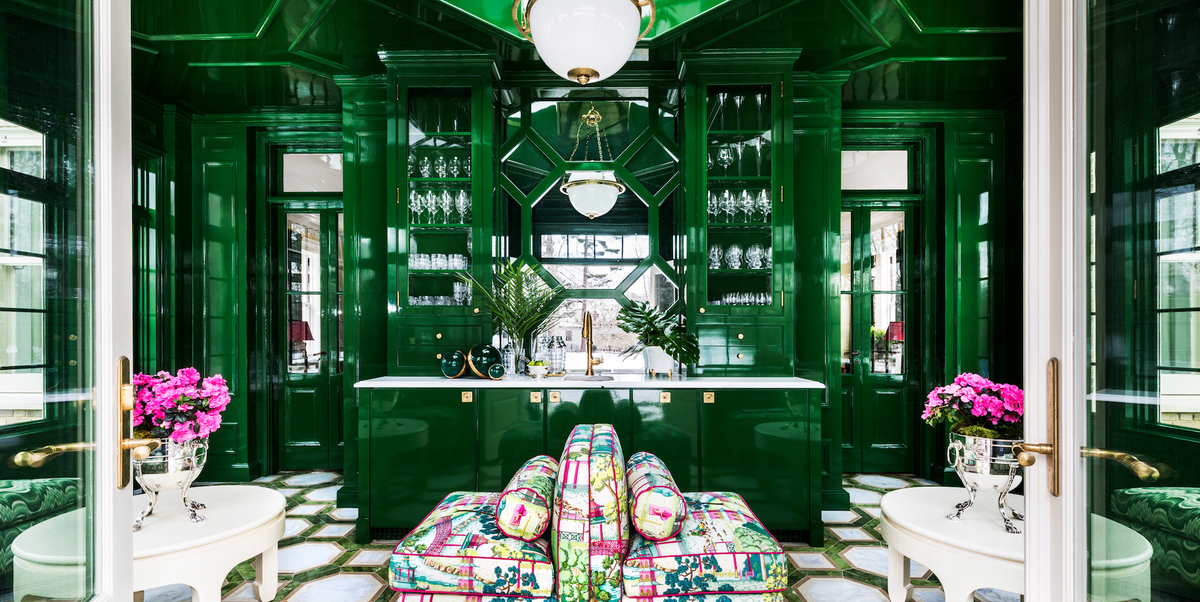 Image Source: Veranda
Make the most of your limited bar area. The shelves, cupboards, and counters in your bar should all have glossy surfaces. Include shiny elements like metallic accessories and mirror backsplashes. Adding some sleek bar chairs and glasses can give your little bar area a sophisticated air.
Here are some suggestions:
Glossy deep green walls will create an inviting and opulent ambiance in your bar. The deep, glossy sheen adds a touch of class, ushering in an ambiance that's sure to leave a lasting impression.

A bright, back-to-back couch is a fun way to liven up any living room. With its eye-catching color scheme and one-of-a-kind furnishings, this area is both visually striking and inviting.

Pink flowers in a clear vase will add a touch of sophistication and femininity to any room. The soft flowers liven up the space with a burst of color and a breath of fresh air.

A white door with glass panels may do wonders for a room's visual attractiveness. The use of white and transparent materials like glass produces a spacious and contemporary feel.

Create a more creative look for your bar by arranging the glassware racks in a geometric arrangement. This ingenious addition improves the design as a whole by adding aesthetic appeal and a modern edge.

Light up the room with a simple white pendant lamp. Its minimalist form casts a warm and comforting light, making it a versatile accessory for any room.

Choose round white coffee tables to inject some style and flexibility into your living room. The neutral tone and gentle contours make for a peaceful and welcoming meeting place.

Put down a floor with bold geometric designs to make a statement. These designs, whether on tiles or carpets, will inject a sense of modernity and creativity into your home.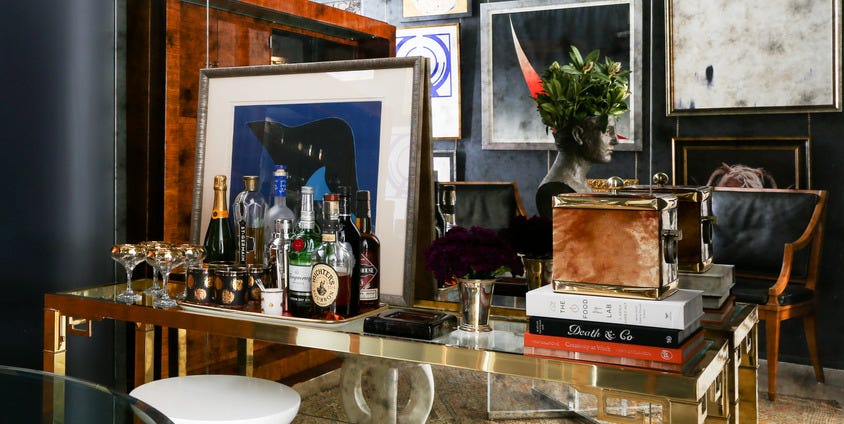 Image Source: House Beautiful
A classy bar may do wonders for a cramped living area. Use luxurious materials like wood, marble, and brass to create an opulent ambiance. Exhibit only the finest liquors, crystal glasses, and other bar essentials. Make the most of a little area by designing a bar that is big on classic style and sophistication.
Additional tips for you:
Make an eye-catching contrast with a matte black wall and some rough timber. Black matte's sleekness contrasts well with the rustic materials' warmth and texture, making for an attractive and eye-catching design scheme.

An elegant stainless bar cart may serve several purposes in your home. Its transportable convenience and spacious inside make it an ideal place to store and show off your favorite bottles of wine, beer, and glasses.

Hang some modern paintings and portraits up to give the place a dash of flair. These works of art are sure to be a conversation starter, while also enhancing the aesthetic appeal of your room and serving as a point of focus.

Include some contemporary art figurines and books to liven up the space without taking away from its practicality. These ornaments not only make a room seem more interesting and unique, but they also make people think and create conversations.

The bar cart is a great way to store and transport all of your drinking essentials in one convenient location. Everything you need to make a delicious drink is right there, plus you can show off your collection at the same time.
Just Use the Small Appliances
Image Source: Pinterest
Embrace the allure of compact appliances with these suggestions for minibars. Use gadgets that are both tiny and efficient, such as blenders, coffee makers, and wine coolers. Use electric bottle openers to save counter space and invest in a compact cocktail shaker. Make the most of the space you have by employing compact equipment to provide a fully-stocked bar.
Things that you should know:
A slim, under-counter refrigerator is a great way to make the most of the space in your bar. You can keep your drinks and supplies chilled and close at hand with this space-saving gadget without sacrificing style or convenience.

Mixing black matte with stainless steel for the countertops makes for a stunning and contemporary look. The matte black surface is a great contrast to the shiny stainless steel, elevating the look of your bar.

LED-lit BAR lettering makes a striking visual statement. Your bar will instantly seem more sophisticated and welcoming thanks to this eye-catching addition.

Use a soft gray on the walls for a sophisticated and soothing atmosphere. This hue is adaptable and may be used to generate a calm and relaxing mood while yet lending an air of refinement to the room.

Pinewood flooring provides a touch of rustic elegance to any bar. Pinewood's deep tones and distinctive grain patterns give it a natural look and feel, making it the perfect material for creating a warm and welcoming bar.

Put your best glassware and decorative pieces on display with the help of LED-lit shelves. These lit shelves provide an eye-catching display that updates your bar's aesthetic while also drawing in more customers.

Add photographs that showcase your own style and taste to the bar area. Adding a personal touch and giving your visitors something to talk about, hanging artwork or framed images that have meaning to you is a great idea.
The Mystic Arts of the Mediterranean
Image Source: Architecture Art Designs
Bar ideas that draw inspiration from the Mediterranean will take you on a magical trip. Use warm, earthy colors, mosaic patterns, and artwork with a Mediterranean flavor to transform your little room into a cozy retreat. Put out rare liqueurs, make herbal drinks that smell like the tropics, and set the mood like a quiet Mediterranean bar. Soar away to a magical land courtesy of Mediterranean mysticism.
Tailored suggestions for you:
Leather seats on stools supported by metallic legs will give your interior an air of modern elegance. The leather and aluminum construction of these chairs is both stylish and comfortable.

Wooden shelving and work surfaces provide for an appealing aesthetic. The warmth and workmanship that wood represents is enhanced by its inherent beauty and texture.

Add some mid-century flair to your home with a candle chandelier. Its one-of-a-kind style and warm illumination will make any area seem more welcoming and reminiscent.

The cave-like rock walls provide a sense of natural beauty and texture to the room. These natural and rough walls enhance the space with a raw elegance that is both distinctive and evocative of nature's beauties.

Add rock ceramic flooring for a really cave-like feel. This flooring choice, which is both elegant and long-lasting, was designed to give the impression of real stone.

Draw attention to your furnishings and set the mood with a soft blue glow from a cabinet's illuminated shelves. This soft, comforting lighting does wonders for the aesthetic appeal of the displayed objects.
Display rack for bottles of booze with lights
Image Source: Pinterest
A rack with built-in lighting is an eye-catching way to show off your liquor collection. Mount or buy a floor-model bottle display to flaunt your collection. By installing LED strip lights or spotlights, you can give your booze collection an alluring glow, making it the center of attention in a way that's both chic and welcoming.
Here are some options:
Use multicolored lighting to make a striking presentation with your beer selection. This will liven up the atmosphere of your pub and attract more customers by making your beer seem more interesting.

Use eerie branches as a backdrop for your beer racks to create an air of mystery and intrigue in your bar. These limbs make for a lovely setting, adding a touch of mystery and the beauty of nature to the ambiance.

The addition of backlit text and statements to your bar design can help establish the mood and draw in customers. These illuminated details, which serve as both decoration and center of attraction, might display humorous sayings, brewery names, or creative artwork.

Use open, floor-standing shelves to show off your beer collection. In addition to showcasing your collection, this setup makes it simple for visitors to access it.

Create a low-lit, moody bar with a focus on glowing objects, and you've got yourself a glow-in-the-dark party. You can improve the entire experience and give your bar a distinctive spin by doing this.
Make use of a mirrored backsplash
Image Source: Pinterest
A mirrored backsplash is a great way to expand the visual area of a compact bar. To make your bar area seem more expansive, install a smooth, reflecting surface behind it. Your little room will have the appearance of being much bigger and more welcoming thanks to the reflective qualities of the mirrored backsplash. It's a sleek and functional accessory that will make your bar seem fancier.
Things to know:
A mirrored backsplash can instantly elevate the look of your home bar. This reflecting surface has a dramatic visual impact, expanding the room and lending an air of refined elegance.

Traditional white wall cabinets and walls help you achieve a timeless and elegant aesthetic. This color scheme's neutrality creates a soothing atmosphere while highlighting the room's other features.

Add a touch of modern sophistication to your home bar by installing a shiny white countertop. It's sturdy and simple to keep clean, and its glossy, reflecting surface gives a sense of contemporary luxury.

Adding flowers, glasses, and a few beers will round off the look and utility of your home bar. The flowers will provide a breath of fresh air and natural beauty, while the glasses and beer will make for an attractive and easily accessible display.
Image Source: The Spruce
Put your own stamp on your little bar by decorating it to represent your own tastes and passions. Exhibit works of art or photographs that bear special meaning to you. Add some personalized touches to your bar. Include some of your preferred colors or patterns to make the room seem more like an extension of yourself and your personality.
Helpful tips for you:
White walls will provide a clean and adaptable background for your bar. White walls serve as a blank slate onto which other design elements may be shown and a variety of aesthetics can be used.

Put a unique spin on your bar by including a chalkboard mural on the wall. This one-of-a-kind feature enables you to post notes, drink deals, or even creative drawings, making the room seem more inviting and inviting.

Putting up frames with Polaroid artwork is a great way to give your bar a unique and nostalgic vibe. These snapshots in time freeze precious moments and make for an engaging discussion starter and tearjerker all at once.

The addition of gold-finished shelving to your bar will instantly elevate the space. The storage solution is both beautiful and practical; the golden details make it stand out as a dazzling addition to your home's décor.

A free-standing oakwood mini-cabinet will do wonders for your bar's storage and organizing. The small size and sturdy oakwood construction make this a useful and attractive complement to any home bar.

Put your bottles of beer and wine on a woven tray and make a statement. Aside from being a practical and aesthetically pleasing method to serve and carry drinks, the woven tray also adds visual interest with its textured and rustic look.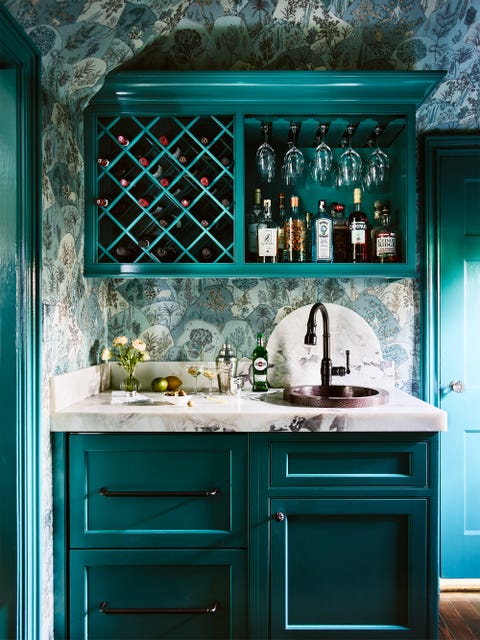 Image Source: House Beautiful
A handy prep sink installation may help you make the most of your limited bar area. To facilitate quick drink preparation and cleaning, put a small sink fitted with running water next to your bar. Put a small counter or cutting board next to the sink so you can easily chop and measure out ingredients. With this arrangement, you can make wonderful drinks despite having a little bar area.
Some helpful ideas:
Use emerald green shelving, cabinets, and drawers to make a beautiful bar. Your bar space will become the epicenter of refinement and chic with this bold color choice.

White and green nature-themed wallpaper in the bar area will bring the outside in. The use of botanical themes, such as leaves, in a wallpaper design brings to a calm and relaxing atmosphere, reminding one of nature.

A circular wooden under-mount sink is a simple way to enhance the room's natural beauty. The under-mount style creates a sleek and seamless look, while the wood's natural tones and tones offer an aesthetically pleasant contrast against the surface.

Adding a brown and white glossy marble countertop to your bar will instantly enhance its classy aesthetic. The high-gloss finish and sophisticated color palette provide a show-stopping centerpiece for your home bar.

Displaying rum bottles and flowers on the counter adds aesthetic appeal and makes for a more aromatic and engaging experience. Flowers offer a sense of sophistication and natural beauty to your bar, and the deep amber tones of rum bottles compliment the brilliant colors and delicate delicacy of the flowers.
Use Nature as a Source of Inspiration
Image Source: Houzz
The natural world is full of wonder that you should use to decorate your cozy bar. Use materials found in nature, such as wood or bamboo. Use floral arrangements, planters, or botanical prints as accents. Create a soothing and natural environment to sip your favorite drinks in by using earthy color palettes and tactile materials.
Follow these tips:
Put some chopped logs under the shelf to give your bar a more natural and rustic feel. These logs may be used as ornamental supports or as a standalone design element to provide a natural, rustic vibe to any room.

Single oak wood shelves add to the visual appeal of rustic decor. Oakwood, with its rich tones and natural grain patterns, adds a feeling of authenticity and character to the room while also serving as a sleek and practical barware rack.

Put out your bottles and glasses to show off your extensive barware collection. The addition of a personal touch and an eye-catching display is achieved by displaying your preferred drinks and glasses.

Use a vertical texture in the middle of the white walls to add depth and interest to your bar. This textural accent is both eye-catching and distinctive, serving as a welcome contrast to the room's otherwise stark white walls.

Plants placed on the left side of a home bar are a great way to bring the outside in and give the room a breath of fresh air. Plants not only offer visual interest and beauty to your bar, they also help create a relaxing and welcoming environment. 
Integrate Contemporary Bar Stools
Image Source: Houzz
Incorporating contemporary bar chairs into your little bar area is a simple way to upgrade the space. Choose modern pieces with uncluttered layouts. To complete the look of your bar, choose stools made of metal, acrylic, or leather. Their minimal profile means you can fit more of them into a room without sacrificing style, no matter how limited the square footage.
Ideas that you should be aware of:
The bar table has an L shape and is finished in a dark gray color. This modern addition to your home bar will give you plenty of room to host guests and serve beverages.

Black and white bar decor will create a contemporary and contrasted atmosphere. This all-black color scheme will make a striking addition to your bar's decor.

Oakwood stools with leather cushions and metal legs are both stylish and comfortable. Natural wood, plush leather, and polished metal come together to form a modern and stylish bar stool.

Put LED lights inside glass cabinets and on open shelves to brighten up the bar area. These low-energy bulbs provide a beautiful light that draws the eye and draws attention to your barware and other decorations.

Use ceramic white tiles to give your bar a clean, classic aesthetic. This long-lasting and simple-to-clean choice offers a sleek and sophisticated base that will elevate the look of your bar.
Geometric Patterns All Over 
Image Source: Apartment Therapy
Wine racks with eye-catching geometric designs are a welcome upgrade. Use decals, paint, or carved patterns to add geometric motifs to the outside of wine racks or storage containers. Choose wine containers or separators of geometric form for the individual sections. Your wine collection will look sleek and contemporary even in a little bar thanks to the mix of practical features and eye-catching geometric designs.
Things to ponder:
Put your wine collection on display in style against a deep navy background. Because of the depth and refinement brought about by this choice of color, your wine collection will now be the center of attention.

Add some visual interest and originality to your bar area by connecting two triangles via a wall. This geometric pattern serves as a focal point, drawing attention and giving a contemporary feel to the room.

Freshen up your bar with some plants and flowers to set the mood. All of the visitors and I really like the natural materials that were used to decorate the room.

The two triangular wine-shaped compartments are an elegant way to display your wine collection. These customized cubbies are not only a practical storage option, but also a stylish touch that draws attention to your prized wine collection.
Dark Colors of Sophistication
Image Source: The Spruce
Make the most of the attraction of elegance in your little bar by decorating with dark hues. Walls and cabinets should be painted in dark colors like navy blue, charcoal gray, or deep burgundy. Seating and bar stools should be upholstered in plush fabrics like velvet or leather. Dim the lights, add some metal ornamentation, and polish the woodwork for an air of understated sophistication that permeates every crevice of the room.
Here are some of the options to think about:
A polished oakwood tabletop is the perfect finishing touch. The glossy finish will improve the aesthetics of your bar while also offering a sturdy surface for pouring beverages.

Bar stools in black and gold will add a touch of class to your bar. These contrasting hues provide a chic sitting choice for visitors because of the opulent and glamorous feel they exude together.

White sconces on a white ceiling will look great in your bar. The ambient illumination provided by these lights makes the room seem more homey and comfortable.

Put your beer and wine collection on display with some wooden shelves. The shelves' natural textures and warm tones go well with the beverages, making it an approachable and cozy storage option.

Install white-framed glass windows above the bar to let in light and give the space an airy atmosphere. These windows not only let in light, but also give you a glimpse of the outside, which is a nice touch for your bar.

Putting a beige jute mat down in the bar area will give it a more homey and natural feel. Softness and coziness are brought about by the use of natural fabrics and muted tones.
Floating pallet shelves in a Rustic bar
Image Source: Pinterest
Use floating pallet shelves to add a touch of rustic character to your compact bar area. Put your bottles, glasses, and other rustic décor on display by converting wooden pallets into shelves and mounting them on the wall. Your bar is the ideal place to flaunt your rustic-inspired design, and the pallets' natural textures and faded look will help you do just that.
Ideas to mull over:
Use wooden racks and shelves to store and show off your glassware and wine bottles. The rustic elegance of wood makes for an enticing display of your liquor.

Black and white classical tables with drawers or shelves provide a sense of sophistication to any room. This storage unit's classic design will complement your existing bar furniture while also serving a practical purpose.

Use a crimson table mat with black borders to emphasize the table's style. This mix of bright and contrasting colors draws attention and improves the aesthetic quality of the whole.

Decorate the bar with white and red flowers to make it more romantic. These stunning blooms give a dash of sophistication and beauty, making the space seem more welcoming and alive.

Add some character to your bar with a carved wooden phrase. This one-of-a-kind creation injects the room with character and serves as a topic of discussion because of its rarity and significance.
Customized drink chalkboard on the wall
Image Source: Reno Guide
Create a one-of-a-kind focal point for your home bar by hanging a personalized drink blackboard on the wall. Use a chalkboard paint mural or a chalkboard in a frame. Create a menu of your go-to drinks, or jot down some specials to offer your visitors. It's a great way to show off your individuality and get your guests involved while also keeping your bar area neat and tidy.
Think about these ideas:
A chalkboard decorated with paintings and witty sayings is a great way to inject some fun and creativity into your bar. The adaptability and personalization made possible by this variable in the environment make for a lively and interesting setting.

Use these little, wooden shelves to show off your beer collection. These little but lovable shelves provide a delightful and aesthetically attractive storage option, displaying your beers and giving the bar a dash of personality.

Put up a warm and welcoming setting with wooden tables and a wood-planked ceiling. A bar outfitted in rustic wood has an instantaneous homey vibe because to the material's inherent coziness and warm tones.

Metal-legged chairs look well with rustic decor. Your bar stool design is aesthetically intriguing thanks to the contrast between the rough wood and the smooth aluminum.

Pinewood floorboards in the bar area will add to the room's rustic appeal. Pinewood flooring, with its light and natural tones, is a durable and aesthetically pleasing choice that helps to round out the rustic aesthetic.

Put sconces in the bar's wooden wall hangings for ambient lighting. Your bar's ambiance will be much improved with the addition of these lights and wooden details.
A wine rack built into a reclaimed wood bar
Image Source: Home Stratosphere
Incorporate a wine rack into a reclaimed wood bar for a rustic and practical look in your compact bar area. Make use of recycled or reclaimed wood to build the bar, and design the inside with holes or holders for your wine bottles. The rustic charm of reclaimed wood and the functionality of a built-in wine rack make for a show-stopping centerpiece in a compact bar.
Consider these ideas: 
An elegant oak rack with black accents and a circular arch to display your wares. The use of wood in the construction gives it a rustic charm, but the innovative design elevates it to a higher level of refinement.

Pinewood flooring is a great way to do this. Pinewood's light tones and natural grain provide rustic charm while also providing a sturdy and aesthetically pleasing base for your bar.

A single French flower in a vase is the perfect way to add a sense of sophistication and understatement. The simple elegance of these flowers will elevate your bar decor to the next level.

Grey artwork from the mid-century will add a touch of class to your bar. These intriguing pieces of art are a great discussion starter because to their abstract patterns and subdued color palettes.
Compact, detachable-cover barrel bar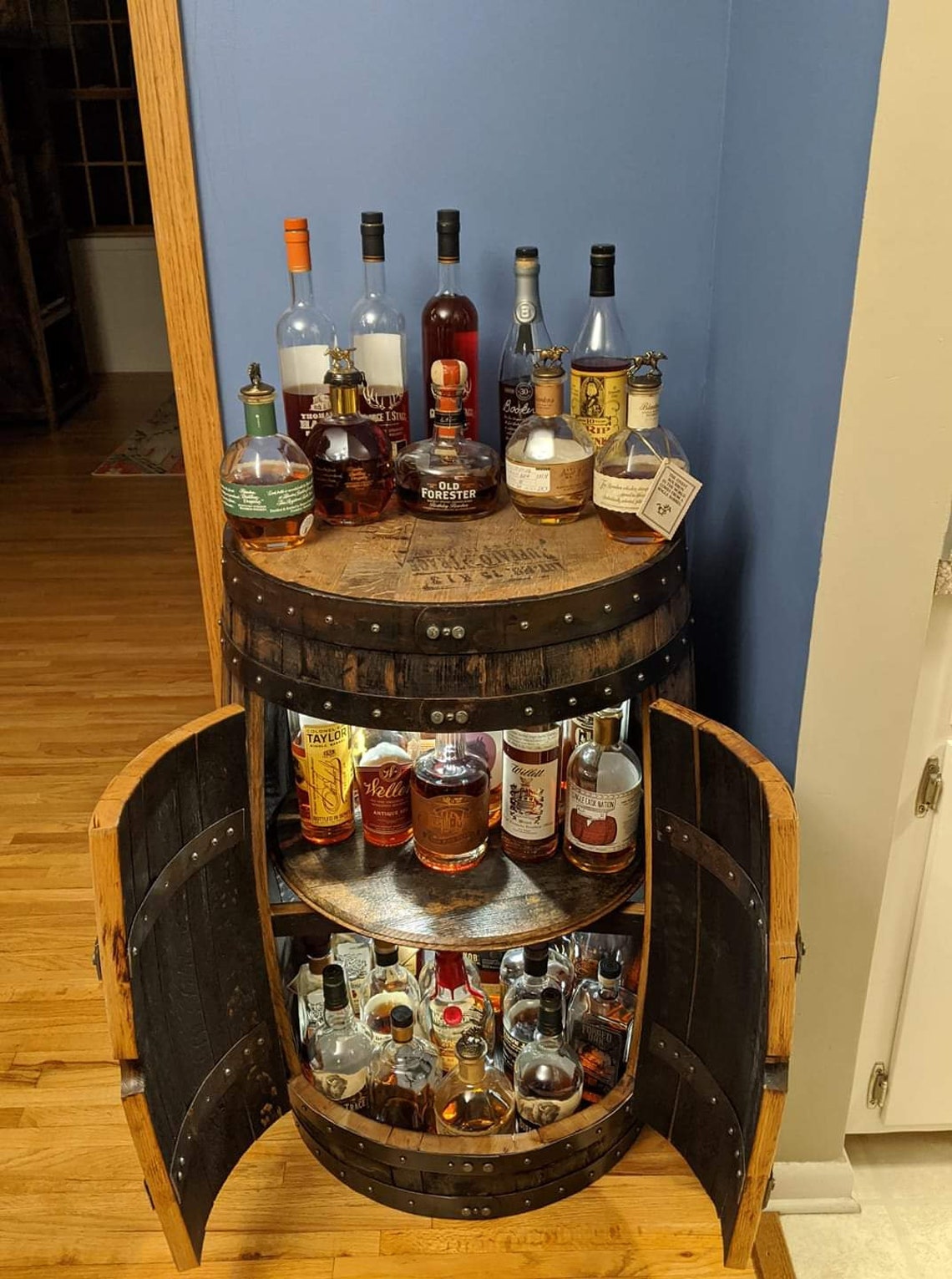 Image Source: Etsy
Use a removable-cover barrel bar to make the most of your limited bar area. You can make a bar out of a repurposed barrel by attaching a removable top that doubles as a table when the barrel is closed. When opened, a fully equipped bar with space for bottles and glasses is shown. With this clever approach, you can have a fully-functioning bar in a much smaller area without sacrificing style or functionality.
Here are some ideas to mull over:
A brown barrel cabinet will give your bar area a pleasant and rustic look. The bottles, glasses, and wine bottles may all find a home in this one-of-a-kind storage option, giving your bar a touch of individuality.

Use cool tones like gray, blue, and white to provide a relaxing tone in your home. The combination of these calming tones creates a feeling of elegance and sophistication, while also serving as a neutral background that works with a wide range of design schemes.

Pinewood flooring in a light shade will look great in your bar area. Pinewood's durability and timeless aesthetics are guaranteed by the material's natural warmth and earthy tones.
Repurposed vintage suitcase as a mobile bar
Image Source: Power Racks Direct
Let your imagination go wild by transforming old luggage into a makeshift bar. The addition of shelves, racks for glasses, and pull-out tables may transform a discarded suitcase into a handy mobile bar. Easily move it around by attaching wheels or a handle. This one-of-a-kind and endearing furniture item not only brightens up your modest abode but also serves as a handy, portable bar. Here's to chic functionality!
Give these ideas some thought:
A gray suitcase with a crimson inside will add a retro and one-of-a-kind flair to your bar. This unorthodox option is both an original and eye-catching way to store your bar necessities.

Make use of the buckled pouches inside the luggage to neatly store your alcoholic beverages. These pockets enhance the case's use and complement the case's design to provide a chic and easily transportable bar.

Use classy stainless steel wine and beer glasses. Stainless steel's sleek and stylish appearance elevates the presentation of your drinks and the whole bar experience.

Add a rustic table as an extra piece of furniture to your bar area. The table's rustic allure and organic materials help create a cozy ambiance while also improving the room's visual attractiveness.
Setup for a little Tiki bar
Image Source: Pinterest
A lovely Tiki bar layout may turn your little bar into a tropical paradise. Set the Tiki ambiance with a thatched roof or bamboo awning. Use bamboo or rattan barstools and a small bar counter. Decorate with colorful Tiki masks, grass skirts, and seashells. Stock the bar with tropical cocktails, garnishes, and Tiki-inspired glasses. This arrangement will take you and your guests on a fun and exotic tropical holiday right in your house.
We recommend these:
Raise the unfinished wood and create a more natural and rustic atmosphere. This kind of flooring is perfect for a bar since it can give both warmth and texture while also providing a sturdy and aesthetically pleasing base.

A wooden canopy above the bar creates a warm and inviting ambiance. The wooden canopy dresses up your bar area, making it the center point and a natural meeting place for your visitors.

Hanging string lights from the ceiling creates an enchanted and whimsical atmosphere. The soft glow of the lighting in the bar makes for a pleasant environment in which to unwind and have fun.

Add some wooden stools for that extra rustic touch. These stools are a great addition to your bar since they are both functional and attractive (thanks to the distressed wood finish and natural wood grain).

Use a glossy white bar counter to set off the rustic decor. This cutting-edge addition to your bar space will instantly upgrade its chic factor with its air of modernity and streamlined design.
Image Source: Wine Enthusiast
A bar rack ladder may offer both design and utility to your renovated home bar. A ladder shelf, wine glass holders, and additional bottle and accessory storage are all cleverly integrated into this space-saving layout. Keep your bar supplies neat and tidy while making the most of the available vertical space. This chic and useful addition will completely transform your home bar.
Look into these recommendations:
Pinewood flooring looks great displayed behind a wine rack. The wine rack is set off by the wood's rich tones and characteristic texture, providing an aesthetically pleasing and welcoming space.

Choose a pinewood-shelf wine rack in a gray, ladder-style design. This one-of-a-kind design makes a bold fashion statement while providing convenient access to your wine collection.

Use gray and white paint to provide a modern and clean background. These neutral tones work together to provide a sophisticated backdrop against which other design elements may stand out.

Add a modern touch to the bar area with a pair of cement chairs. Guests may unwind in style as they sip their beverages thanks to the chic ambiance created by the contemporary furnishings.
Sliding-door wall-mounted bar cabinet
Image Source: Pinterest
Invest in a bar cabinet with sliding doors to maximize storage in a small area. This cutting-edge layout conceals space for wine bottles, glasses, and other bar essentials. Sliding doors not only improve your convenience but also enhance the beauty of your interior design. Take pleasure in a sleek and well-organized bar area thanks to this cutting-edge shelving unit.
Take into consideration the following ideas:
Put up a sliding oakwood door to your home bar for a sleek and practical entry. Oakwood's inherent elegance and durability also make it ideal for creating private spaces.

A circular, arching bar is an interesting and eye-catching addition to any bar. This decorative feature elevates the whole design with its refined style and the way it captures the eye.

Put up a mirrored wall behind the bar and illuminate it from above. This mixture provides glitz and visual appeal to the bar area while also giving the impression of depth.

Include drawers and shelves behind the bar for easy access to bottles, glasses, and other bar necessities. These practical touches retain a streamlined look while keeping essentials within easy reach.

Warm up the atmosphere by lighting up the bar area with soft, inviting hues. The area seems more friendly and homey thanks to the addition of warm light from the colors.
Spice jars with magnets for mixing drinks
Image Source: Reddit
Magnetized spice jars are a great way to up your mixology game. These modern containers have magnetic bottoms, making it easy to store your drinks on a metal counter or in the refrigerator. Add a touch of convenience and flair to your home bar by keeping your favorite cocktail spices and garnishes within easy reach.
Few recommendations for you:
A wall-mounted wooden rack for displaying and storing spice jars is an excellent space-saving solution. This clever and useful rack may be used to neatly store and display your assortment of spice jars.

Put the spice jar bar rack against a white wall for a crisp, modern look. The rack's wooden construction is highlighted and made more visually appealing by the white paint, which also serves as a blank slate that works with a wide range of aesthetic preferences.

Make use of the space on the open shelf above the bar rack for the spice jars. Displaying decorative objects, bar accessories, or other necessities in this extra area for storage creates depth and visual interest in the design. 
Pub tables as an extension for bar counters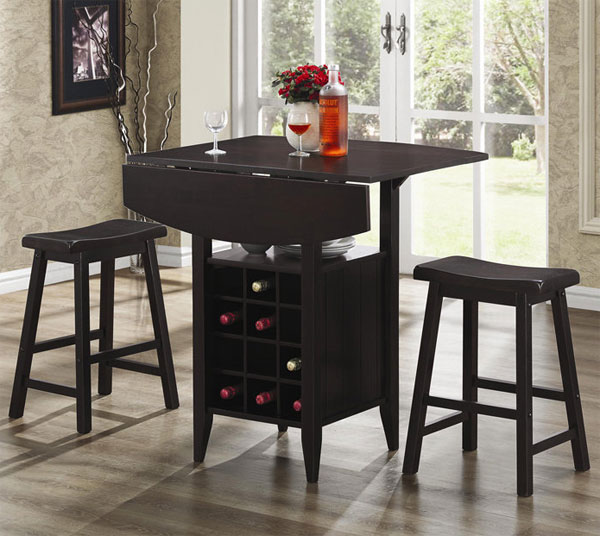 Image Source: Home Design Lover
Pub tables may be employed as extensions for your bar counter for a more luxurious feel. These high, solid tables are great for accommodating more guests and spreading out social activities. Pub tables may be easily incorporated with bar counters to provide a flexible and useful space for drinking and socializing. Your home bar is an exquisite combination of form and function.
Take into account the following recommendations:
Use dark wood for the furniture in your bar to create a cozy and welcoming environment. Guests may relax in comfort on the plush upholstery and deep, dark wood tones that adorn the furniture.

Put wine and beer storage spaces beneath the table to make the most of the available area. This ingenious layout keeps the bar area neat and tidy while yet providing quick access to your preferred drinks.

Centerpieces of roses in a white circular vase will add a touch of sophistication and natural beauty to the tables. The roses add to the bar's atmosphere by providing a visually attractive focal point with their soothing hues and light aroma.

Create a stylish and creative ambiance with artfully designed beige walls. Infusing the bar with personality and aesthetic intrigue via the use of neutral tones and imaginative patterns or artwork.

Add some shine to your bar with pinewood planks to complement the wood's inherent beauty. The glossy surface not only makes the flooring seem more modern and sophisticated, but it also makes it more sturdy and long-lasting. Pinewood's light tones and natural grain provide aesthetic appeal and coziness to the room.
A bar built out of an old radio or television cabinet
Image Source: Pinterest
Take inspiration from retro design and transform an old radio or TV cabinet into a one-of-a-kind bar. Add bottle shelves, a mirrored back for sophistication, and drawers for glasses and extras to turn the cabinet into a fully-functional bar. You may show off your ingenuity and appreciation for vintage design by displaying this repurposed masterpiece in your home bar.
Incorporate these ideas:
Repurposing a television from the '70s into a bar cabinet is a cool and inventive way to show your appreciation for the past. In addition to offering room for your favorite liquors and glasses, this one-of-a-kind and practical item will give a touch of nostalgia to your bar area.

Make use of the space above the TV-turned-cabinet by installing a shelf made from salvaged materials. Displaying ornaments, bar accouterments, or other necessities on these extra shelves enhances the aesthetics of the setting while also serving a practical purpose.

White walls will provide a crisp, contemporary background. White walls provide a blank slate that works with almost any design scheme because of their understated elegance and universal appeal.

Add to the modern feel with dark gray cement flooring that shines. This flooring's gloss, reflecting surface not only contrasts with the retro-style liquor cabinet but also lends a sense of luxury.
Multipurpose pegboard for Wines
Image Source: Flipping the Flip
Use a pegboard system for all of your wine organization needs. Put up some pegboard on the wall and use hooks and shelves to safely store your wine collection. Modify the design to suit your wine storage needs, and install extra hooks for bottle openers and stoppers. This multipurpose rack will do double duty in your home bar, displaying your wine collection while also keeping it neat and tidy.
Try these:
Pinewood pegboards mounted on the wall may greatly enhance your ability to store and arrange your belongings. These adaptable boards may be painted or stained to match your decor and offer a convenient way to display and organize your bar's many implements and accessories.

Wooden flooring is a great way to provide a cozy, organic atmosphere. The wood's inherent grain and texture create a cozy and welcoming atmosphere while also providing a sturdy and aesthetically pleasing base for the bar.

You should put the pegboards against some filthy white walls. The wooden pegboards become the main point of the room thanks to this off-white color, which gives them a little personality and contrast.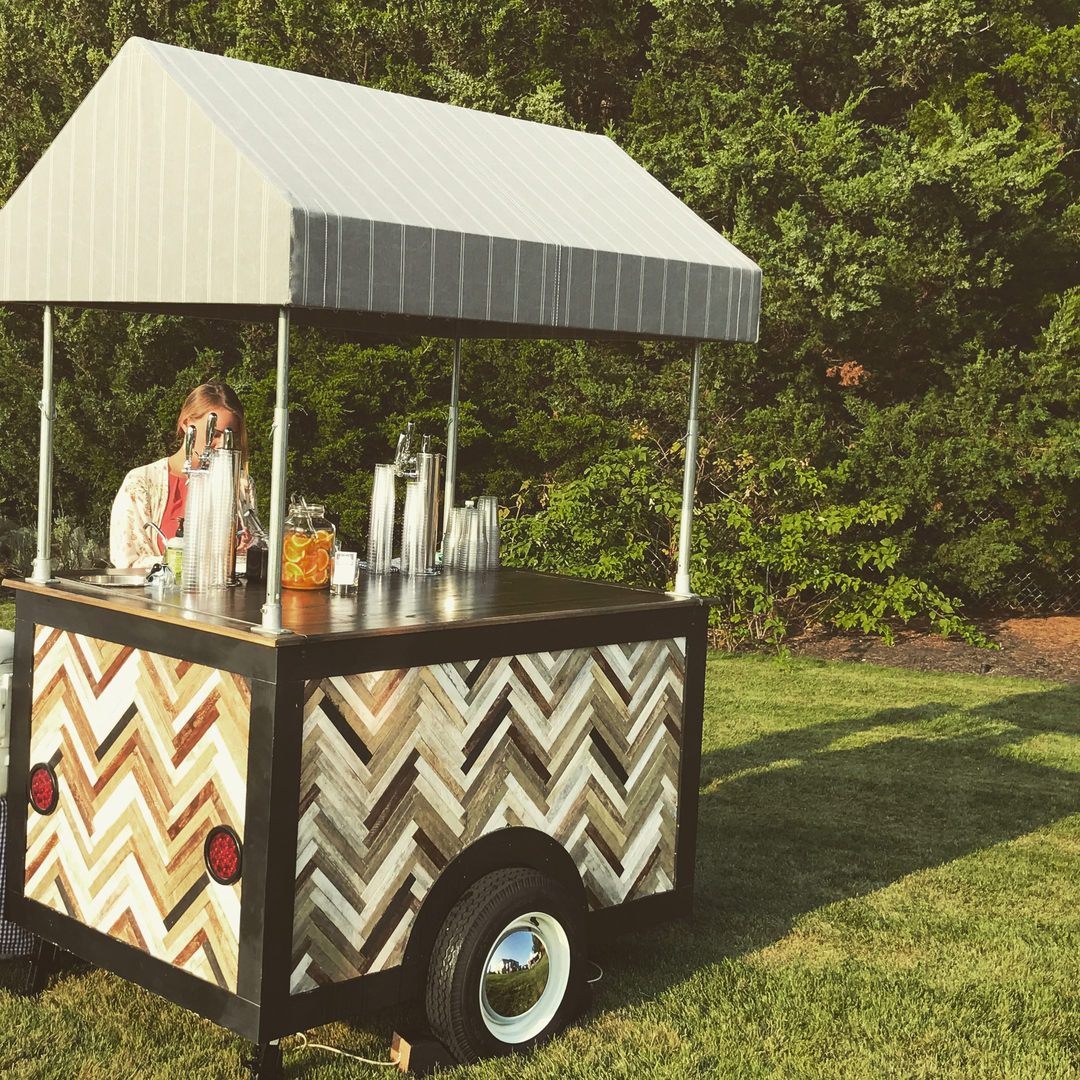 Image Source: The Bar Truck
With a canopied bar cart, you can enjoy a full bar wherever. This one-of-a-kind setup has a cart with an integrated canopy, perfect for bringing welcome shade and a refined air to outdoor events. With enough for all of your outdoor bar essentials, including bottles, glasses, and accessories, this mobile cart is the perfect addition to any backyard or patio. Benefit from the portability of a mobile bar while being protected from the elements.
Apply these suggestions:
A cart with a colorful design may liven up your bar area with a burst of energy and style. This striking stylistic component demands attention and injects some levity into the entire design.

Cover the top of the cart with a dark gray canopy that has white vertical stripes. This stylish and cutting-edge design decision offers welcome contrast while also shielding the cart's contents from the sun.

Choose a rolling cart if you need the flexibility to move about. The cart's mobility makes it suitable for a wide variety of bar designs and layouts.

Oakwood countertops are both beautiful and durable, so choose one for your home. Oakwood's rich tones and distinctive grain provide an air of luxury while also providing a robust platform for mixing drinks and serving guests.
 Open and Close Bar In the Kitchen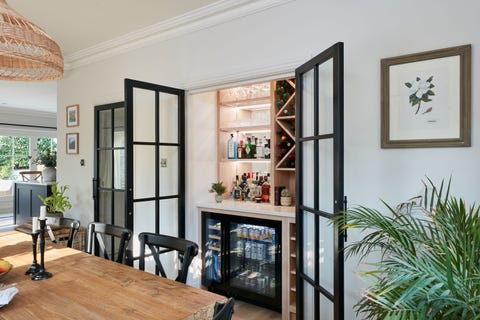 Image Source: Elle Decor
Create a cozy wine cellar out of an underutilized bedroom closet. Put in some racks, shelves, and a wine refrigerator to show off and keep your collection. Put in a mirror-backed wall and a countertop for pouring and serving. You may have all the fun of a secret wine cave without leaving your house.
Incorporate these suggestions:
Installing black-framed doors with frosted glass will give your bar area a sophisticated, contemporary look. This architectural detail raises the level of elegance, creates a sense of seclusion, and lets warm light in for a cozy atmosphere.

Make use of shelves, cupboards, and drawers in a rustic design within the bar. The bottles, glasses, and other bar necessities are attractively displayed and conveniently stored inside the rustic fixtures, which also contribute to the decor.

Put in some LED lights here and there around the bar, and you'll have an instant eye-catcher. You may add some glitz and accentuate the highlights of your set up with the LED lights by installing them behind the bar, behind the shelves, or within the various compartments.

Install a small refrigerator below the counter for instant access to cold drinks. Make sure your visitors always have access to cold drinks by keeping them in this space-saving gadget.

Choose shiny white marble countertops to add a touch of class to your bar. Marble's polished, reflecting surface exudes opulence while also offering a hardy, aesthetically pleasing surface for bartending.

Plants and a wide variety of whiskey bottles displayed on shelves and counters will inject life and character into your bar. The whiskey bottles enhance the bar's ambiance and act as conversation starters, while the flora brings a breath of fresh air.
Wall-insert bar with a recess
Image Source: Pinterest
A wall-insert bar with a recess may give your property a more refined look. This cutting-edge structure can be built right into your wall, transforming an ordinary spot into a chic and functional bar. This bar is both practical and stylish, thanks to its concealed storage compartments, shelving for bottles and glasses, and a recessed countertop for making cocktails. This sleek and functional home bar setup will take your social gatherings to the next level.
Incorporate these ideas:
Maximize storage space and create a sleek look with deep recessed bar shelves and compartments. These built-in storage solutions provide ample room for bottles, glassware, and other bar essentials while maintaining a clean and organized appearance.

Achieve a modern and sophisticated aesthetic with white cabinets featuring black pulls. The contrasting color scheme adds visual interest and creates a contemporary vibe, enhancing the overall design of the bar area.

Add a touch of artistic flair to the bar set up by hanging modern portraits and paintings above the shelves. These captivating artworks serve as decorative focal points, infusing the space with personality and style.

Opt for stainless steel compartments and a fridge below the counter for a sleek and functional storage solution. The stainless steel finish not only adds a touch of elegance but also ensures durability and easy maintenance.

Choose a stainless steel countertop for a clean and modern look. The smooth and reflective surface of the stainless steel adds a touch of sophistication, while its durability makes it resistant to stains and easy to clean.

Create a warm and inviting atmosphere with wooden floors in the bar area. The natural beauty of wood adds a touch of warmth and complements various decor styles, providing a comfortable and visually appealing foundation for the space.
Incorporate Outdoor Touch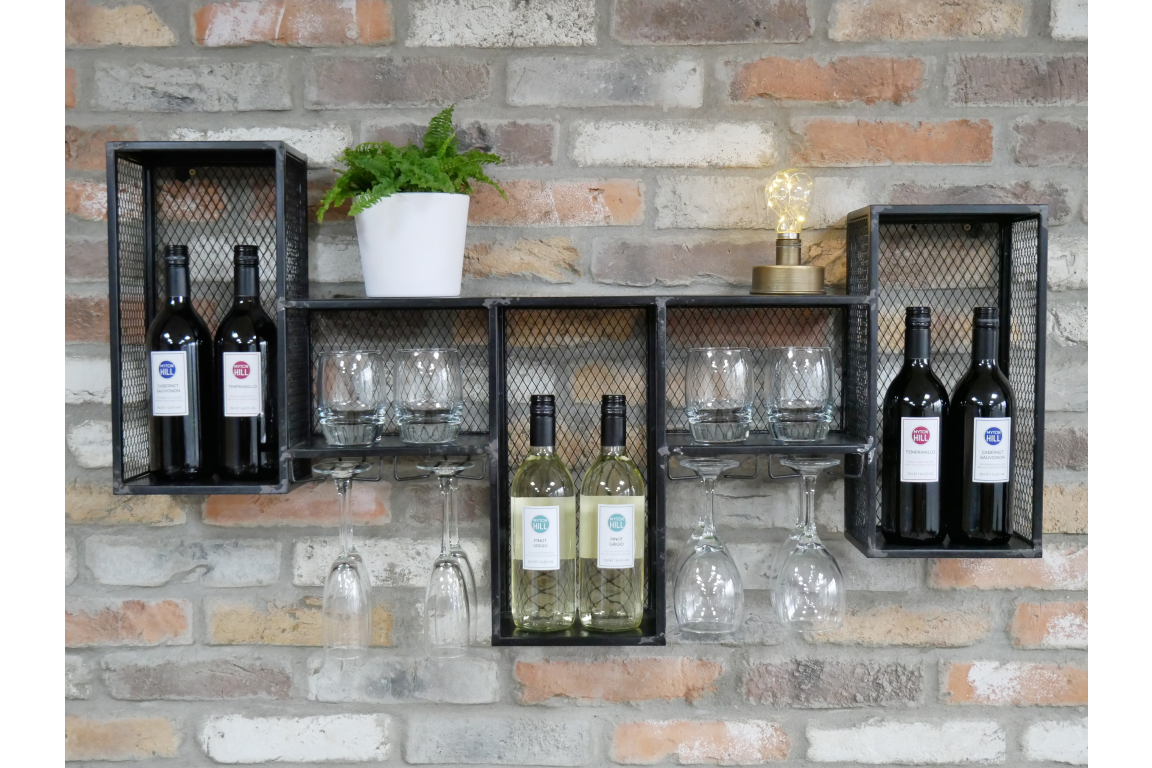 Image Source: eBay PH
A bar rack with stylish metal fencing would look great in any home bar. Metal shelves with chic netting provide a safe home for your wine bottles and glasses in this contemporary and industrial-style setting. The bar area will seem more modern and open with the open and breezy style. Use this attractive and practical rack to store and show off your best liquor and barware.
Get more ideas through the following:
An L-shaped bar shelf in sleek black metal with a decorative gate is the perfect accessory for any home bar. There's plenty of room for bottles, glasses, and bar accessories in this modern and chic design, and the fence keeps anything from rolling off.

Use a brick wall to give your bar a more authentic, industrial look. Put up a shelf on the brick wall to show off mementos or provide extra space for wine racks. This mingling of textures enriches the room with personality and variety.

Succulent plants in white pots provide a touch of the outdoors to your bar decor. These easy-care plants liven up the area while requiring little upkeep, contributing to a relaxing and welcoming ambiance for visitors.
Free-standing smart bar with wine refrigerator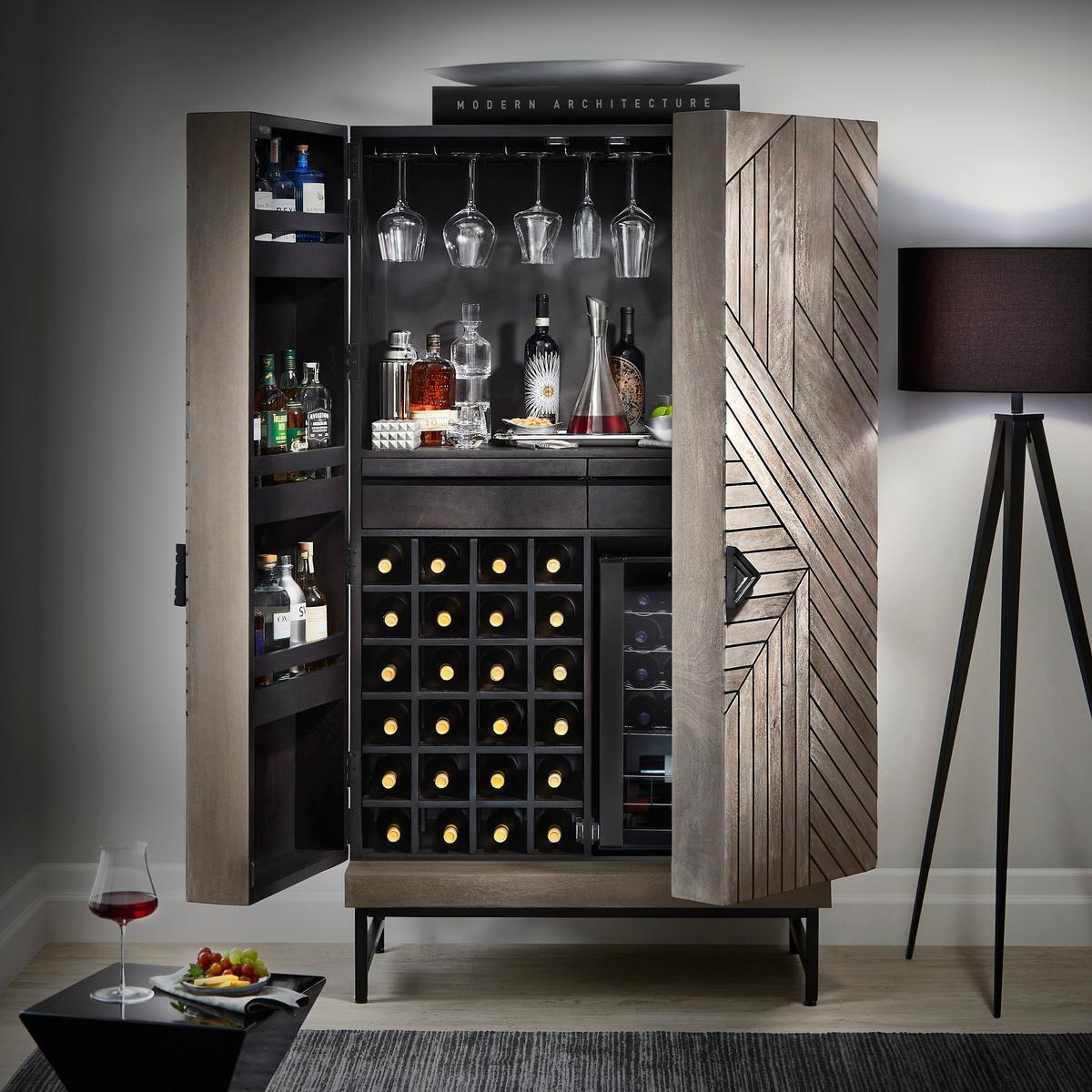 Image Source: Foter Magazine
Freestanding wine coolers and smart technology combine to create the ultimate in-home entertainment centers. This ground-breaking layout merges aesthetics and functionality, resulting in a cutting-edge, cutting-edge look. Using your smartphone, you can adjust the temperature and check on stock thanks to the smart features. With the help of the built-in wine refrigerator, you may have a top-notch bar experience without ever leaving your house.
Check out these ideas:
Wooden sliding doors decorated with geometric designs can provide a modern style to any bar. These elaborate patterns not only serve as a visual focal point but also provide convenient back-of-the-door access to hidden storage areas.

Choose black shelves and cubbies for an otherwise rustic cabinet. Bottles, glasses, and other bar necessities may be neatly tucked away in the sleek black cabinetry that stands out against rustic wood.

Pinewood flooring will give your bar a more natural feel, so consider installing these. Pinewood's rich tones and natural grain help to create a welcoming ambiance that fits in well with the room's overall rustic design.

Add a wooden, floor-standing cabinet to house your barware and glasses. Your bar supplies will be neatly stored and conveniently accessible with this specialized storage solution.

Anchor the room and provide some coziness by laying a dark gray cotton rug under the bar. The dark gray hue works well with the wooden accents and helps set off the bar area.

Bring a dark brown Lane floor lamp to the bar to light up the space. This modern and practical light fixture illuminates the area around it, making it ideal for drinking and socializing.

Choose soft grays and whites for the walls to complement the bar's minimalist aesthetic. This color choice helps the room's other features shine while also making it seem more open and airy.
Image Source: Pinterest
Embrace extravagance and refine your house with gold bar decor. Glamorize the setting with a bar cart adorned with gold accents, gold bar tools, and gilded glasses. Use wallpaper with a gold pattern. Make the bar area seem spectacular, like something out of a five-star hotel.
Take a look at these things:
Decorate your bar area with light gray walls and thin gold lines for a luxurious and sophisticated effect. This mixture raises the aesthetic value of the room by adding a dash of glitz and a few new design elements to play with.

Use basic geometric designs to decorate the walls of your bar to give it a contemporary and uncluttered look. These simple forms provide a modern setting that works with a wide range of aesthetics and serves as a canvas on which other components may shine.

If you want a classic and natural feel in your bar, oakwood flooring is the way to go. Oakwood's rich tones and distinctive grain contribute to the room's inviting ambiance.

You may have both form and function with the help of a filthy white mobile cart embellished with gold. The cart's mobility and understated beauty (thanks to the neutral color scheme and gold accents) make it a versatile and useful piece of furniture.

Choose a rolling cart that has double doors on both sides for quick access to the various compartments. The cart's aesthetic value is enhanced by the addition of visual interest and symmetry provided by these doors, in addition to their utilitarian usefulness.
Maintain Convenience with a Mobile Bar Cart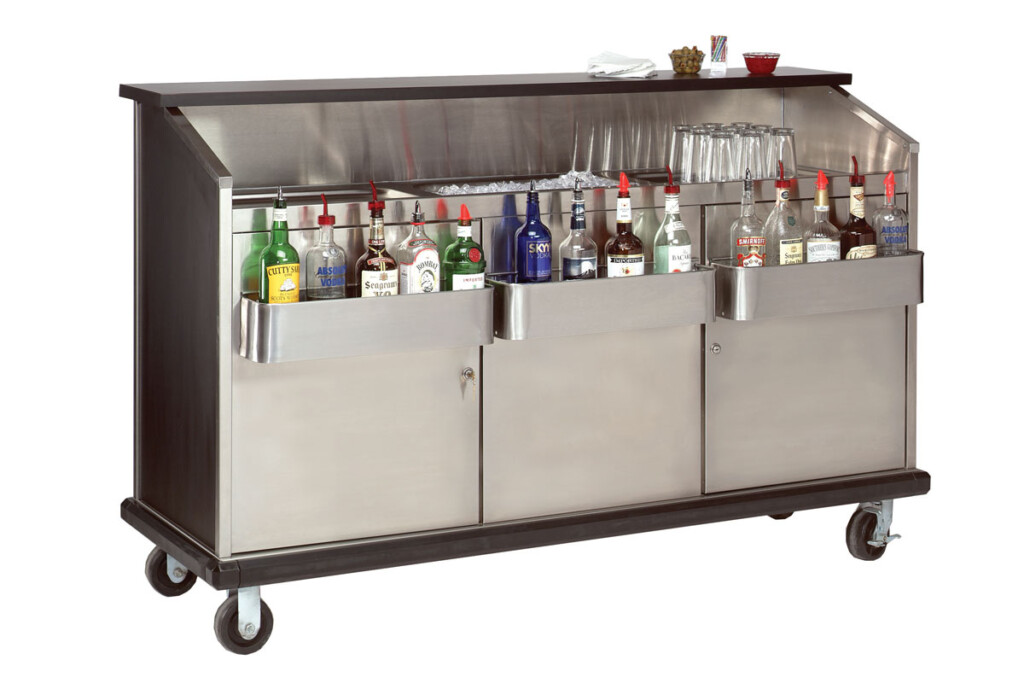 Image Source: Foodservice Equipment Reports
Enjoy the pinnacle of practicality and elegance with a mobile bar cart. You may take your favorite beverages and accessories with you everywhere you go with the help of this multipurpose and useful accessory. It has plenty of space for your belongings because to its many shelves and drawers, and it looks great doing it. This compact and convenient bar solution will take your entertaining to the next level.
Bear these in mind:
A stainless steel rolling cart with dark brown accents is a stylish and practical addition to any bar. The wheels allow for portability, while the stainless steel and dark brown accents provide a modern aesthetic.

Incorporate built-in shelves and storage compartments into the area above and on top of the cart. With these extra compartments, you can keep your bar cart fully stocked with all the bottles, glasses, and other necessities with no effort.

Choose a stainless steel cart with built-in shelves and drawers for maximum efficiency. These specialized cubbies are made to store certain things, so everything stays organized and is simple to find when needed.
Decorated Ceiling Wine Rack 
Image Source: www.unam.edu.na
Installing a wine rack on the ceiling allows you to turn your ceiling into a work of art. This one-of-a-kind piece of decor turns your upside-down wine bottles into a talking point. Add a special touch of class and appeal by personalizing the rack in your own unique way. Create a piece of art out of your wine collection and display it proudly on your ceiling.
Keep these ideas in mind:
A ceiling of golden brown wood can do wonders for the ambiance of a bar. This room seems more welcoming and intimate thanks to the natural wood treatment that was used throughout.

To make it easier to get your glasses and wine bottles, put up a stainless steel shelf. The stainless steel's contemporary aesthetic will go well with a wide range of decor schemes, and the shelf will come in handy when you need somewhere to keep your bar basics out of the way.

Place some plants amid the wine bottles and glasses to give the bar a more natural feel. The mix of plants and barware makes for a colorful and eye-catching display that breathes new life into the room.

Put flower pots and shelves on the wall to decorate your bar. This creates a colorful focal point and a more relaxing atmosphere by incorporating elements of nature into the room.

Put an LED light fixture in the center of the wine ceiling rack to show off your collection. In addition to their practical use, these lights provide an impressive aesthetic impact, which serves to highlight the wines and lends an air of refinement to the whole setting.

If you want your bar area to seem modern and industrial, go with an unpainted cement wall. The rough, unfinished aspect of the concrete wall lends an air of urban chic while also functioning as a blank slate onto which other design elements may be shown.

For a classic and earthy feel, choose oakwood for your cabinets and shelves. In addition to offering plenty of space for your barware, bottles, and other objects, the oakwood's beautiful grain and warm tones provide texture and warmth to the room.
Maximize the Racks While Embracing Simplicity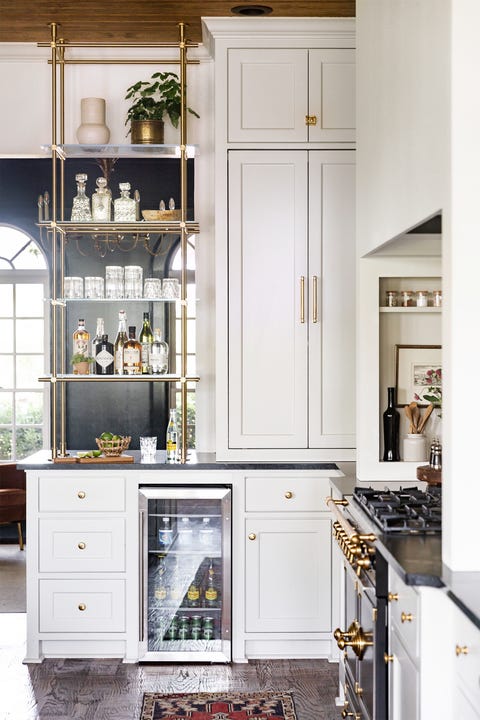 Image Source: House Beautiful
Find the sweet spot between complexity and ease of use by optimizing your rack space. Use wine racks that can be modified to fit your collection's shape and size to make the most of your storage space. Embrace simple forms and understated decoration to highlight your exquisite wine collection. Make the most of your rack space with a stylish wine display that complements your interior design.
Reflect on these thoughts:
Kitchen bars may always benefit from the addition of a traditional white wall cabinet for added elegance. You can keep all of your kitchen necessities neatly stored and easily accessible in this multipurpose unit.

Use a tiny fridge that fits under the counter to extend your storage space. This space-saving device blends in with the aesthetic of your kitchen bar while efficiently chilling your drinks and perishables.

Use tall shelves with a thin gold frame to provide a chic and practical display space. Sleek and opulent with gold embellishments, it is the perfect way to show off your most prized stemware or decorative pieces.

Put an oven under your kitchen bar for more space and efficiency. With this handy gadget, you can whip up tasty meals and snacks without giving up any of your precious counter space.

A shiny black surface on your kitchen bar will really make it stand out. The glossy, reflecting surface is not only practical and simple to maintain, but also adds a level of refinement to the room.

Put shelves and racks around your kitchen bar to make the most of the area. These adaptable containers can hold a wide variety of kitchen items and keep them neatly organized and within reach.
Image Source: The Spruce
Open shelves will provide both aesthetic value and practicality to your bar. Open shelving is a more attractive and practical alternative to closed cabinets. Exhibit your barware, including bottles, glasses, and other accessories, in an attractive and well-organized way. Accept the challenge of making your home bar seem stylish without abandoning minimalism.
Take time to read these tips:
A kitchen bar outfitted with a white marble surface is the epitome of sophistication. This high-end material is not only aesthetically pleasing but also long-lasting and simple to clean.

Kitchen bars with an Akasa wood base cabinet provide a touch of nature to the space. Akasa wood's rich tones and distinctive texture create a welcoming atmosphere while giving more room for your barware.

Put your best glassware and decorative pieces on show with white open shelves framed in gold. The white and gold color scheme exudes elegance, and the wide opening makes putting and retrieving goods a breeze.

Personalize your kitchen bar by adding plants, whiskey trays, and an antique light to the white glossy marble surface. This blend makes for an aesthetically pleasing and welcoming environment by bringing in elements of nature, refinement, and history.

If you want a classic look for your kitchen bar, white shiplap walls are the way to go. Shiplap's horizontal lines offer visual interest, and the material's white tone makes the room seem more airy and light.
Colored Wood Wallpaper in Wine Bar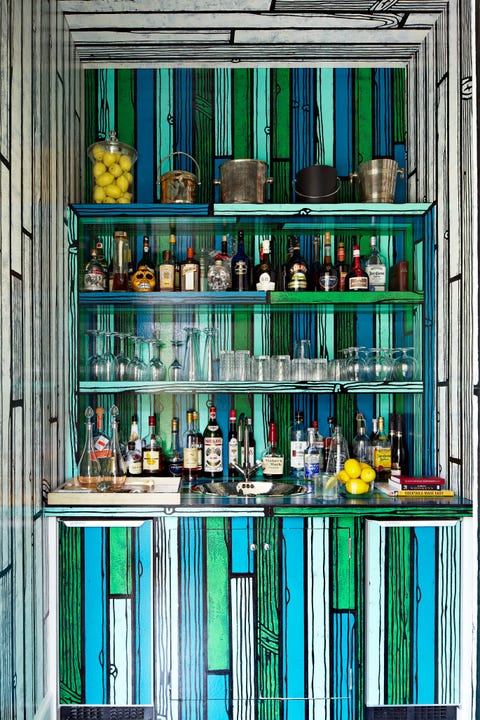 Image Source: House Beautiful
Colored wood wallpaper is a great way to add some personality and warmth to your wine bar. Adding a sense of rustic elegance, this textured and colorful wallpaper is reminiscent of the allure of wineries and vineyards. Pick colors that will make you feel at home and at ease. Make your wine bar more inviting by giving it an atmosphere of natural beauty and calm.
Think through these ideas:
Add a splash of color and character to your kitchen bar by using vertical lines of contrasting colors for the wallpaper and the cabinetry. This pattern's vivid colors draw the eye and create an upbeat ambiance.

Make use of open shelving to showcase your glassware collection, wine, and beer. It's a great way to show off your libations and adds a touch of style to your bar or kitchen.

Choose a stainless steel countertop for your kitchen bar if you want to give it a contemporary and elegant look. The sleek finish has the added benefit of being simple to care for.

A white, square tray board displayed on the counter will add functionality and style to your kitchen bar. The white tone of this multipurpose item gives it a clean and minimalist look, while also providing a distinct area for organizing glasses, cutlery, and other bar necessities.
Image Source: Pinterest
Put in a statement piece bar that will draw all eyes to the room. Exquisite detail and high-end materials take center stage in this large bar design. Its grand scale and ornate embellishments make it the focal point of your social space, where visitors may mingle in luxury. Invest in a stunning bar to serve as the focal point of your living room and wow your guests.
Mull over these suggestions:
Using light gray on the walls and ceiling will provide a soothing and adaptable atmosphere for your kitchen bar. This color is versatile and open, perfect for coordinating with other parts of the design.

Having black hardwood shelves in the middle cabinet provides a classy contrast that draws the eye. These shelves may be used for both storing and displaying your barware, including bottles, glasses, and decorative pieces.

You can't go wrong with a black industrial pendant lamp to illuminate your kitchen bar. In addition to providing enough light for your bar, this eye-catching and modern light fixture will provide an air of edginess and visual intrigue to the room.

Add a mod touch with black stools that have white geometric patterns on the feet. These stools are great for socializing with friends and family over drinks at the kitchen bar since they provide a fashionable contrast and a pleasant seated experience.

Placing an elegant artwork on the wall that depicts nature is a great way to improve the room's atmosphere and add a touch of luxury. A landscape, botanical picture, or nature-inspired abstract piece of art will add beauty and serenity to your bar.

Choose ceramic large-tile flooring for a contemporary look in your kitchen bar. In addition to being a smooth and long-lasting flooring solution, the beauty and refinement of this design are a result of the use of large-format tiles.
Play Around with Different Colors
Image Source: Architectural Digest
Using a wide range of hues, you may unleash your imagination and give your bar area new life. Create a one-of-a-kind atmosphere that reflects your personality by playing around with contrasting colors, patterns, and textures. Inject your bar with a burst of vitality and personality by using enticing colors, and let your creativity go wild.
Some choices:
A kitchen bar with a mint green surface is a breath of fresh air. This color is energizing and refreshing, making the space seem warm and welcoming.

To provide a rustic and cozy touch, replace the base cabinets with ones made of pinewood. Pinewood's deep tones and distinctive grain may give your kitchen bar a bit of country chic.

Arrange glasses, wines, and beers on open pinewood shelves of varying heights. These shelves are not only functional storage space but also a stylish accent to the room.

Choose a wall covered in light grey tiles for a chic and modern look. The tiles' neutral color scheme goes well with the rest of the décor, drawing attention to the bar's ornamental objects and vivid furnishings.

Make sure to set up some counter space for your bottles and glasses of alcohol. Your preferred drinks will always be within easy reach, and your kitchen bar will seem more put together and efficient as a result.

Use pebbles in a clear glass vase as a simple but effective accent. This organic and earthy accessory will give your kitchen bar a rustic, outside vibe.

Living plants and colorful pottery will breathe new life into your kitchen's bar. This arrangement of plants and creative ceramics is both natural and artistic, making for a striking centerpiece.
A Refrigerator Designed Under a Counter 
Image Source: Degnan Design-Build-Remodel
A refrigerator that fits neatly under the counter is a great way to make the most of limited floor space without sacrificing style. This space-saving device will fit in well with the aesthetic of your kitchen or bar while providing you with enough space to store drinks and perishables. Maintain a cool beverage selection without compromising design or convenience—the advantage of having a refrigerator that is both hidden and convenient in your house.
Take these viewpoints into account:
Pick up a stylish, contemporary fridge made of stainless steel. The modern, sleek look of stainless steel complements any kitchen bar while providing years of reliable service.

Choose a dark gray marble countertop with a high polish to enhance the sophistication of your home bar. The polished marble's deep hue and smooth texture exude opulence.

Add more room by installing a black cabinet next to the under-counter fridge. The use of black helps to set off the other colors and textures in the design.

Put an under-mount tiny sink in your kitchen's bar for easy cleanups. While keeping a minimal footprint, this sink is perfect for washing dishes and utensils without sacrificing style.

Ceramic vases and silk flowers will give a lovely splash of color and style to your kitchen counter. These accents are a nice touch that livens up the room and catches the eye.

Sliding glass windows framed in black will let in more light and look great in any setting. Your kitchen bar will seem more open and airy thanks to these windows.

For a timeless and cozy feel, nothing beats hardwood flooring. The wood's inherent charm and elegance make the interior seem homey and welcoming.
Compact bar with Detachable Shelves 
Image Source: Reddit
Enjoy the convenience and adaptability of a small bar with removable shelves. This cutting-edge layout provides flexible storage options to suit individual preferences. Shelving may be moved or taken away to provide room for larger or smaller bottles, glasses, and accessories. You may rearrange your bar in any way you choose, optimizing space use and maintaining order. You can take your home bar to the next level with this simple and versatile option.
Choices that you should consider:
Build floating wooden shelves with metal supports and a glossy finish. You may show off your booze collection in style with this mixture of materials, which has a hint of industrial flair.

It would be best to paint the walls a relaxing beige so that the shelves and alcohol bottles would stand out against the background. A bar with beige walls would be cozy and welcoming.

Build up your liquor cabinet with a wide variety of bottles to show off. Choose a variety of liquors, wines, and local beers to give your visitors more options and liven up the shelf.
Window shutters as repurposed cart frame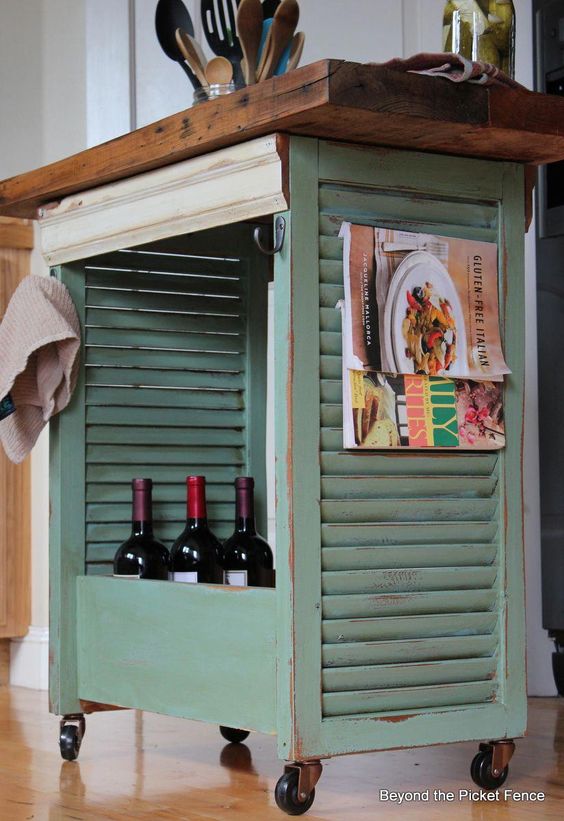 Image Source: Decor Steals Blog
Make a beautiful cart frame out of salvaged shutters. This ingenious Do-It-Yourself idea combines country chic with practicality, serving as a solid foundation for your bar cart. Put wheels on it so it can be moved about, build some shelves and a serving area, and admire the unique cart you've created.
Here are a few choices:
Repurpose some old shutters into a beautiful cart. You may give your bar a vintage look and feel by painting them a calming mint green.

Put up a polished hardwood floor to make your bar seem more elegant. The polish of the wood will elevate the look and make it more refined.

If you're looking for a rustic but adaptable serving space, a rolling wooden cart is the way to go. The wood's rustic charm and versatility as a serving area are ideal complements to the rest of the decor.

Choose a rolling cart to have your bar equipment readily available for placement wherever it is required. The cart's portability also means you can easily serve visitors in a variety of locations, regardless of how you've set up your bar.
Easy-to-Make Wine Barrell Set
Image Source: Oak Wood Wine Barrels
Make your own wine rack with this simple DIY project. Make a wine barrel the focal point to begin. Put a circular hardwood top on it, and you have a new bar table. Bar chairs with wooden seats and aluminum bases that were formerly wine barrels are a nice finishing touch. Take pleasure in the rustic appeal of a wine barrel furniture set.
Choices that you should know:
Dining at a barrel bar may help you achieve a one-of-a-kind, country-style ambiance. The barrels serve as unique and interesting tabletop surfaces, putting this eating area different from the norm.

Leather chairs with wooden table legs would look great around the barrel tables. Combining these two elements elevates the look of the barrel bar without detracting from its rustic charm.

A barrel table may serve as a service area and a mobile cart for your wine bottles, glasses, and other bar supplies. This multipurpose accessory improves your bar's functionality and comfort.

Choose brown ceramic tiles for the floor to make the space seem more welcoming. The rustic style is enhanced by the natural aspect added by the earthy tones of the tiles.

Put some plants or greenery around the bar table to make the room seem more alive. The addition of plants to your bar space can soften the mood and bring more of the outside inside.
Image Source: House Beautiful
Take in the bohemian bar decor and feel the easygoing vibe. Get going with a wooden bar counter or an antique bar cart. Hang macramé wall hangings, bright tapestries, and a variety of artworks about the room. Put colorful glasses and unusual liquors on display in woven baskets. Create a bohemian retreat fit for partying and unwinding by incorporating elements from nature, such as potted plants and rattan accessories.
Give these ideas a closer look:
The natural materials and earth tones of the Monaco seats help to create a warm and welcoming environment. This cozy seating arrangement is ideal for hosting get-togethers and hosting beverages.

Add a hint of sophistication and contrast with a set of Blackwing chairs in black and white. These chairs are a great addition to the room because of their distinct appearance.

Add some geometric-patterned cushions to the chairs to up the design and comfort factor. These pillows liven up the sitting arrangement with a splash of color and contemporary style.

Add vibrancy and excitement to a room by painting the walls a variety of colors and patterns. This assemblage of styles and elements makes the room more interesting and unique.

Hang up some interesting pictures to spice up the decor and make a statement. These pieces of art give the room an air of refined elegance and are sure to spark lively debate.

If you're going for a modern aesthetic, white porcelain tile is the way to go. The flooring's pale hue serves to illuminate the room and evokes feelings of spaciousness and lightness.

Place some tall flowers in a clear vase for a sophisticated and natural table centerpiece. This organic component revitalizes the area and improves the room's overall look.

Put in a wall cabinet to keep your bar tools, glasses, and other supplies organized. This efficient and compact arrangement helps maintain order and gives the bar a more professional appearance.
Image Source: Pinterest
Take advantage of the impact of bright colors by incorporating them into your bar's decor. Cabinets, walls, and furniture in a bar should be painted or stained in a striking color scheme. Create a visually interesting and exciting environment with the help of appropriate accents and accessories. Express yourself with a lively and vibrant bar that reflects your own sense of style.
Assess these recommendations:
A bar cabinet in a striking shade of red draws attention and makes a statement. This colorful component is more than just a pretty face; it also provides much-needed storage space in your bar.

An under-the-counter fridge is a convenient way to always have cold drinks on hand. You and your guests will always have easy access to beverages with the help of this space-saving device.

Make a wall the focus of attention by painting an abstract mural on it. This one-of-a-kind piece of art sets the tone for a lively and exciting environment with its creative flair and striking visual appeal.

The glossy white wall complements the vibrant red bar cabinet and beautiful artwork. The white wall is a blank canvas against which the other features of the room may be highlighted for maximum effect.

Place figurines and vases on the shelves of the bar cabinet to spruce up the space. The storage space is transformed into a well-arranged exhibit thanks to these aesthetic accents.

Mini pictures may provide a nice touch to the counter wall. Your favorite photographs and works of art may be displayed with pride in a gallery-like setting thanks to these little works of art.
Image Source: Bob Vila
Repurpose the area under your stairs into a bar that guests will want to frequent. Build a bar counter to match the dimensions of the stairwell. Put a wine rack on the wall or install floating shelves to make use of the height. Create a relaxing retreat with plush couches, low lighting, and a chic aesthetic by adding these elements. This ingenious bar design makes use of the area beneath the stairs.
Read the choices below:
Install a custom oakwood cabinet beneath the stairs to make use of the area. This one-of-a-kind shelving unit neatly organizes your barware while making the most of the available space.

Put in a white understairs foundation for a polished and unified effect. There is a sense of harmony and beauty in the design thanks to the use of white with the oakwood accents.

You may improve the look of your bar by using brown and white as the major colors. The contrast between the two hues makes for an eye-catching design element and the overall effect is one of comfort and friendliness.

The natural beauty of oakwood flooring will complement the built-in cabinet and finish off the design of the bar. Oakwood's rich tones and texture make for a homey, classic setting.
Built-in Bar with a Fold-Out Table Extension
Image Source: Pinterest
Fold-out table extensions from built-in bars are a great way to make the most of limited floor space. This ingenious layout lets you make better use of unused space and provide more room for guests when necessary. The fold-out table is perfect for serving beverages and eating light meals. Take advantage of the built-in bar's adaptability by using the table's fold-out extension to suit your requirements.
Ponder over these thoughts:
A collapsible wine rack may give your home bar a more industrial look and feel. Wine storage with a natural and welcoming feel is yours thanks to its wooden design.

Use a spray sand finish in a soft gray color to spruce up the wall behind the wine rack. This textured wall treatment is a great way to compliment the rustic style and add visual interest to a room.

Add a decorative touch and make a one-of-a-kind display by placing jars on the wine rack. The jars may be used to hold wine corks, tiny plants, or anything else you'd want to display in your bar for decoration.

Put some cut logs behind the wine rack to round off the country image. This complements the natural wood tones of the wine rack while also adding an organic and earthy touch to the room.
Frequently Asked Questions: FAQs 
When decorating a little bar, what are some space-saving furniture options?
There are a number of space-saving bar furniture alternatives available. Think of mobile bar carts on wheels or folding bar tables that can be stowed away quickly. You may save a lot of room in your home or apartment by using chairs and stools that can be stacked or nested.
How can I decorate a tiny bar without breaking the bank?
Make your own attractive bar without breaking the bank by reusing old pieces of furniture and doing some handiwork yourself. Find cheap barware and decorations in secondhand shops or on the web. If you want to update the appearance of your wooden furniture without breaking the bank, try painting or staining it.
What are some creative lighting ideas for a small bar space?
Create a warm and pleasant ambiance with the help of string lights, LED strips, or tiny pendant lights. You might improve the illumination of your bar counter by putting in lights that go below the cabinets. Lights that can be dimmed let you set the right tone for any event.
To what extent can I make use of a small outdoor bar area?
Use foldable or collapsible equipment that can be quickly stowed away for tiny outdoor bars. Choose durable, weather-proof materials, and choose portable outdoor gadgets, such as a little barbecue and cooler. Put shelves on the wall or hang potted plants to make use of the area over your head.
What are some tips for organizing a small bar space?
Regular decluttering and keeping just the essentials in a little bar area can keep things neat and tidy. To maintain order among bar utensils, use drawer dividers or separate them into smaller containers. You can tell the various liquors apart with the use of labels or color-coded tags. Focus on practicality by placing commonly used things in convenient locations.
Final Words 
The options for designing a chic and practical bar, even in a little location, are almost limitless. Even a little apartment may be turned into a lively bar scene with enough forethought and imagination. Make the most of available space by making use of clever storage solutions, space-saving furniture, and distinctive personal touches that reflect your personality.
There is an abundance of creative storage solutions, from floating pallet shelves to old suitcases. Tiki bars, rustic charm, and modern elegance are just a few examples of settings that might benefit from the addition of a theme. Consider the lighting, whether you want to create a brighter space by having a mirrored backsplash or a warmer one by placing ambient lighting.
Create a surprising and delightful bar area with little square footage by making the most of your imagination, compact equipment, and available space. Here's to hosting parties, sipping on your go-to drinks, and making memories that will last a lifetime at your very own cozy, stylish bar.
If you think that you are still thirsty for ideas, head to reading these articles: 
Written By: Trisha Mae Raymundo