There's nothing like a night in to relax and unwind, whether it's a quiet supper for two, a fun game night with friends, or a movie marathon with the family. It's cheaper than eating out every night, for starters. 
In fact, many individuals have found the concept of entertaining at home so intriguing that they have opted to build the ideal hangout place, leading to the proliferation of garage bars in cities all over the globe. 
It's not hard to understand the allure; it's quite neat not having to go farther than your own driveway in order to have a good time. What's more, you're free to go as far as your imagination will take you with regard to the potential outcomes. 
Garages may be transformed into anything from basic DIY drink stations to elaborate wine lounges and anything in between. Here are some garage bar ideas that we have prepared just for you!
Image Source: Furnishing Tips 
It's not as tough as you would think to set up a wine cellar in your home. You may acquire everything you'll need to build a wine cellar in a preassembled kit. You may find racks in a lot of these kits that just need to be assembled. Additionally, you may get a wine fridge, which is designed to store wine.
Things you can do:
If you're skilled with a saw and some wood, you can build your own wine rack and create your very own cellar. These wine racks are a terrific conversation piece and will give your garage bar a personal touch. 

You'll want to get a wine opener, some wine glasses, and some kind of wine storage solution in addition to putting up a wine rack. 

Wine bottles should be kept behind the bar at all times so that the bartender can easily reach for it while serving guests. Keep some wine stellars on the side as it would be easier for clients to choose their preferred bottle.
Image Source: Love Home Designs 
Mounting many televisions in your garage bar will make it possible to watch multiple games at once. Having many televisions is convenient for hosting large groups of people, such as on game nights or when friends and family come over to watch a movie.
A few pointers to remember:
A television may be attached to the wall or placed on a TV stand that also serves as a place to keep your disc collection, gaming consoles, and other entertainment components. 

The greatest speakers are a must for each television set. Having a good sound system is essential if you want to get the most out of your television. 

Think about the width of your garage and how far away you plan on sitting from the screen before making your purchase. A TV that's too tiny will be difficult to view, while a TV that's too large will take up too much room. 
Procure a Billiards Table
Image Source: Pinterest
A pool table may be a great addition to a home bar in the garage, making it ideal for hosting parties. Having a pool table around is a terrific way to get people chatting and having a good time. In addition to being fun, they allow you to display your competitive spirit.
Suggestions made just for you:
A little pool table is a great option for those who are limited on space. This is an excellent choice for dual-purpose garages or smaller garages. 

Putting a pool table top on your table may also make it a functional dining room table. You can save money and space by doing this. 

Keep the pool table's color scheme consistent with the garage's overall design.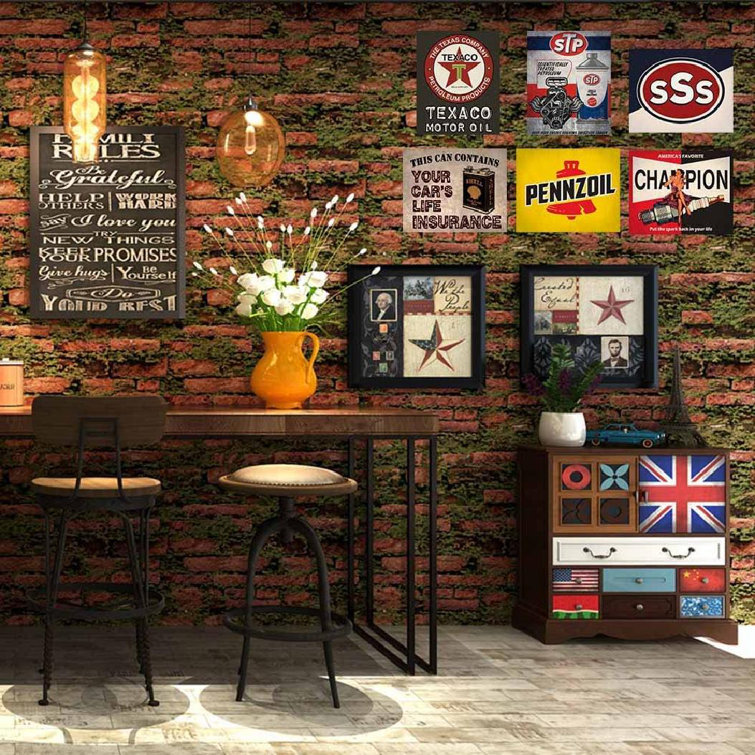 Image Source: Wayfair
Adorning the walls of your garage is a must. This is a fantastic method of showcasing your unique character while also making your garage bar more comfortable. There is a wide variety of garage decoration options available to you, so let your imagination go wild. 
Additional tips for you:
A common method of garage bar décor is the use of signage. Just by making certain declarations, you may change the atmosphere and make it more interesting. There is a wide variety of fun signage available at hardware stores and on the Internet. 

Signs may be purchased, but you can also build your own by using a stencil or painting a piece of wood. 

You might also decorate with posters and pictures of your favorite actors, directors, and films. 

Hanging license plates, street signs, or other fascinating things may give a room a more personal, distinctive feel. 

You may have fun with your friends and family while also beautifying your garage by installing a dartboard.
Image Source: Taste of Home
If you're on a tight budget but still want to provide your bar with cold beverages, a compact refrigerator can do the trick. Many people mistakenly believe that garage bars are prohibitively costly, yet all you need is a little fridge to get started.
Consider these suggestions:
Mini fridges are great for keeping a variety of alcoholic beverages, but it's important to think about the available space and the kinds of drinks you want to store in your garage bar before making a purchase. You will need a bigger refrigerator to accommodate your alcohol storage needs. 

A smaller refrigerator can do the trick if all you want to store is beer and wine. Miniature refrigerators are perfect for keeping booze, and the smaller the bottle, the better. 

Putting your refrigerator in a corner or even beneath a counter might help you make the most of the space you have.
Image Source: 21OAK
A bar counter is an absolute must if you desire your garage bar to pass as a real one. Installation of a bar counter is a quick way to improve the appearance and feel of any room. They not only offer seats for your visitors but also serve as a storage space for your barware such as glasses and bottles of liquor.
Some tips: 
It's important to think about the look you want to achieve and the size of your garage when picking out a bar counter. Instead of a full-sized counter, a wall-mounted counter or bar cart may be more practical in a limited area. 

Your bar cart or wall-mounted counter will still look great and serve their purpose when paired with attractive bar stools. 

The use of repurposed materials, such as wood or metal, may help you achieve a rustic appearance. Countertops made of glass or granite can give your kitchen an updated appeal. 

Bar accessories are a must, and they should be displayed prominently on the countertop in whatever design scheme you pick. This will add character to your garage bar and make it seem more welcoming to guests.
Be Imaginative With Your Lighting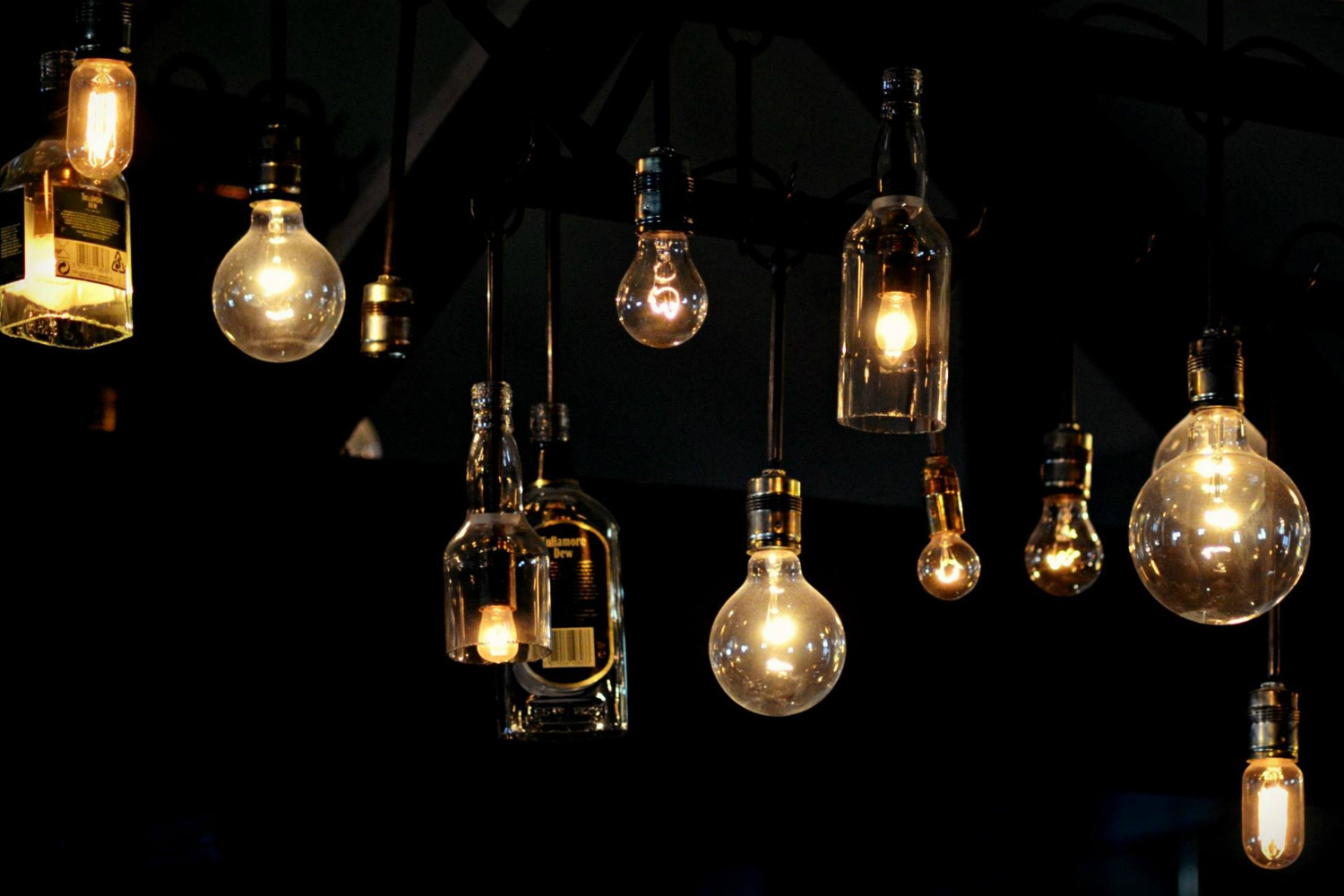 Image Source: 21OAK
The right lighting may transform your garage bar into a cozy gathering spot. Changing the light bulbs' hue may do wonders for the ambiance, so keep that in mind.
A few things to remember:
The use of string lights, lanterns, or even Christmas lights may provide enough illumination while remaining within a tight budget. Pendant lights and track lighting are also available at low prices from several retailers that cater to the do-it-yourself crowd. 

Mason jars and liquor bottles aren't only for storing food and liquor anymore; they can also serve as the basis for some really cool homemade lighting. Consider putting up ceiling recessed lighting if you need more soft ambient. 

Hanging some retro signs or neon lights from the ceiling of your garage bar is a great way to give it a more inviting and lively atmosphere.
Place a Jukebox In Your Garage Bar
Image Source: Pinterest 
It wouldn't be a garage bar without a jukebox. It's a great way to enjoy music and might even spark a discussion. The music may be played from CDs, LPs, or even digital files in certain jukeboxes.
A few suggestions to keep in mind:
Choose a massive jukebox with lights too bright to rejoice and vibe on if you want to put in some extra emotional effort. 

Pick a good jukebox with a texture that mixes old and new to give it more personality. 

Having the jukebox off to the side ensures that it won't be in the way of the dancers and that everyone can enjoy the great sound it produces.
Frequently Asked Questions: FAQs
What is a garage bar?
A garage bar allows you a separate space to host events like parties and sporting events, protecting your house from the damage caused by a large number of visitors. 
What function does a home bar serve? 
Regardless of its size or location, it is a place solely devoted to party food. You may tuck it away in a corner of the basement gaming area or transform the whole space. Even a portion of your daily kitchen area may be taken up by an in-home bar.
Which shade is ideal for a bar? 
White and beige color schemes help elongate the appearance of smaller areas. Combining white and black can give your bar a stylish appearance. It conveys a feeling of simplicity and modernism. White may either create a calming or sterile ambiance depending on how it is utilized.
What kind of wood is ideal for use in bars? 
The stress resilience and variety of hues of walnut make it the preferred wood for bar tops according to many skilled woodworkers. Walnuts may be light to dark brown, golden, or honey-colored.
How much does constructing a garage bar cost? 
$800 to $2,000 
The ideal time to buy and install a ready-made dry bar is at this point. For a basic build, the price of the bar will start at around $800.
Final Words 
Having a garage bar that is not only beautiful but also practical is necessary. Decorating your bar to exhibit your own style and create a space that is functional and visually appealing can be a lot of fun. 
One approach to make your bar area really unique is to design it around a theme that reflects your particular tastes. Although we have provided some suggestions for improving your garage, remember that the sky's the limit when it comes to decorating your bar area.
We recommend reading a few of the articles below to get a feel for the many paths to design that are available to you.
Written By: Trisha Mae Raymundo and Rachel Tate