Create a tranquil outdoor space by using these creative balcony planter ideas. Adding plants to your outdoor area improves its visual appeal and has several practical advantages. Plants have been shown to enhance air quality, lower stress levels, and provide a more relaxing environment.
Use hanging planters to make the most of vertical space and make your garden seem like it's streaming down the wall. Plants may also be grown vertically, on fences or trellises, in what is called "vertical gardens." Smaller balconies benefit greatly from window boxes, where vibrant flowers and aromatic herbs may flourish. Shade, seclusion, and a little bit of nature may all be yours with the help of some well-placed potted trees.
Succulents need very little water and may grow in tiny areas while flowering plants can give a burst of color and a pleasant aroma. Walls and trellises become living artworks when climbing plants are trained along them. Make a terrarium or plant a small garden for a one-of-a-kind accent.
With these balcony decoration ideas with plants, you can turn your outdoor area into a serene retreat where you and your guests can unwind and appreciate nature.
Image Source: Pinterest
Crochet planters allow you to give your garden a bit of homemade character. These crocheted pot holders are a work of art and may be produced in any color scheme or design of your choosing. They're a great way to give your plants a special place to call home while also spicing up your decor with some whimsy.
Think about these choices:
These colorful crocheted goods, available in a range of hues from black and white to green and white, can liven up and modernize any setting.

Find a new, interesting way to show off your plants with this crochet planter. Its complex form works in harmony with a wide range of vegetation to provide an eye-catching and verdant haven.

This hanging shelf is made from pinewood and is both rustic and practical. It's great for storing and showcasing treasured possessions because of its solid build and rustic allure.

Create an oasis on your balcony by painting it white. You may unwind in comfort and peace while taking in the beautiful scenery thanks to the minimalist decor.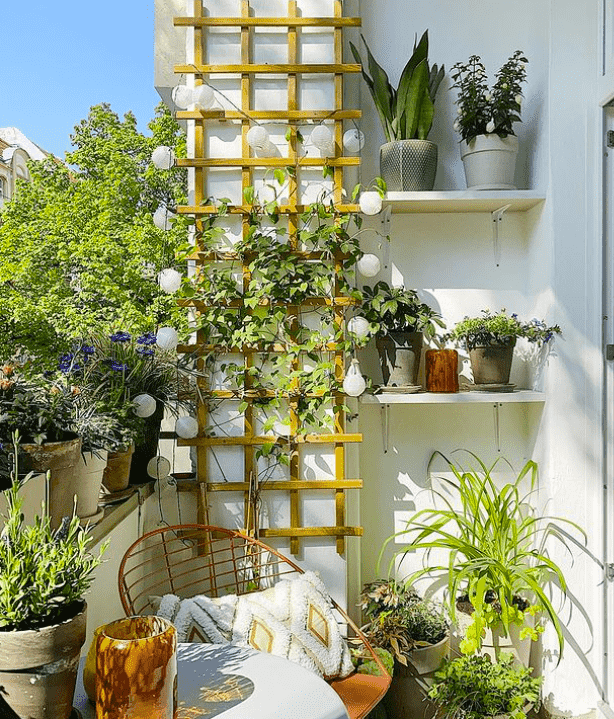 Image Source: Balcony Boss
A climbing garden is a veritable paradise that may transform a plain outdoor area into something extraordinary. Vines, climbers, and creepers may be used to cover trellises, walls, and other vertical surfaces with a beautiful display of vegetation. It's an interesting strategy for making your landscape seem more impressive.
Consider these:
Make your balcony into a relaxing haven by decorating its white walls with potted plants. Relax in your outdoor environment thanks to the harmony of nature and minimalist design.

A wooden stepladder with planter frames is an excellent addition to any balcony. This lovely and functional item will give your outdoor haven a bit of vintage flair.

White string lights are a traditional way to add ambiance to your balcony. The warm glow produced by these magical lights is ideal for social gatherings and quiet nights.

Put some potted plants around the balcony's borders, corners, and empty spots to liven it up. With this ingenious setup, your balcony will be transformed into a lush, botanical paradise.
Image Source: Pinterest
Flower pots are a time-honored and adaptable addition to any balcony. You may display a broad variety of flowers and plants thanks to the large choice of sizes, forms, and materials available for these ornamental containers. By carefully arranging them on your balcony, you may add splashes of color, scent, and beauty to your outdoor environment.
Try these:
Rectangular terra cotta pots will provide a classic touch to your balcony. Display your favorite plants in timeless elegance with the help of these sturdy and weather-resistant pots.

Elegantly store and show off your plant pot collection with racks made of wood. These durable and adaptable racks solve a problem while enhancing the aesthetic appeal of your balcony.

Incorporate chairs decked out in potted plants to create a one-of-a-kind sitting arrangement on your balcony. This ingenious blend of form and function brings a sense of playfulness and warmth to your outdoor area.

Add a splash of color to your balcony with a variety of flowers. These beautiful blossoms, ranging in color from vibrant red to soft pastels, will bring a ray of sunshine to your balcony.

Create an alluring floral oasis on your balcony by planting flowers and plants along both of its edges. This symmetrical design will make your outdoor space more beautiful and peaceful.
​​
Image Source: Garden Gate Magazine
Plants in containers are a great way to spruce up a balcony. These plants in pots provide you creative freedom since you may rearrange them quickly and simply to suit your tastes. Your balcony will be transformed into an enticing outdoor space thanks to the colorful flowers and lush greenery you may grow in pots.
Some are the following suggestions:
Put some gorgeous plants in red container pots and place them on your balcony for a splash of color. These decorative containers are more than just eye candy; they're also perfect for housing your plants.

Dot your balcony with a beautiful assortment of plants and flowers in pots, and let nature in. This blend enhances the visual appeal of the plant life by giving it depth and texture.

Incorporate grasses and cement into your balcony design for a modern look that requires no upkeep. These finishing touches provide an air of contemporary sophistication and minimalist elegance.

Wooden screens and planters made of straw will give your balcony a warm, homey feel. This outdoor environment is pleasant and appealing thanks to the use of natural materials.
Image Source: Balcony Garden Web
Herbs you grow on your balcony may be used for cooking and decoration. Aromatic basil, mint, and rosemary are great choices for container gardening or a vertical herb garden. Aside from the pleasant environment they provide, they also serve as a handy supply of tasty ingredients for your kitchen experiments.
These might help you:
Add modern flair to your balcony with sleek black rectangular wicker furniture. These stylish and adaptable furnishings will update your outdoor area with a touch of class and utility.

Plant a variety of fragrant herbs in a little black wicker garden. In addition to improving the overall atmosphere, this setup makes it easy to grab some fresh herbs whenever you need them in the kitchen.

Put some pretty string lights up in your herb garden. You can now enjoy your balcony herbs far into the night thanks to the soft and pleasant glow cast by these lights.

Use mahogany heaps as flooring to improve the look of your balcony. Your outdoor area will seem more luxurious and sophisticated thanks to mahogany's rich tones and natural elegance.

If you want to add a bit of class to your balcony, glass frames are the way to go. These see-through flourishes give your balcony a cutting-edge makeover, perfect for exhibiting prized possessions like artwork, plants, or photographs.
Image Source: Design Cafe
Flowering plants offer a magical touch to a balcony garden. A colorful and eye-catching display may be achieved by using a wide range of blooming plants. The flowers will provide natural beauty and charm to your balcony while also making it seem more welcoming and bright.
Read these recommendations:
Stainless steel edge rails draped with climbing flowers provide a touch of vertical elegance to any balcony. The striking visual effect created by this fusion of nature and contemporary will elevate your outdoor environment.

Make your balcony more inviting by decorating it in a uniform scheme of pink and white flowers. The combination of these gentle and romantic hues will add a touch of class and serenity to your outdoor retreat.

Use hanging flowers to create a cascading arrangement on your balcony. These hanging flowers will make your balcony seem like a tropical paradise.

Use brown cement to create a modern, earthy look on your patio. This kind of flooring's neutral color and varied texture make it a great choice for any space that wants to feel at one with nature.

Displaying flowers in terracotta pots on your balcony adds a sense of country chic. These planters' earthy tones and organic textures are a perfect match for the bright flowers, creating a welcoming ambiance outside.
Image Source: Pinterest
You may give your balcony a touch of desert style by planting cactus there. These low-water plants come in a wide range of sizes and forms, and they do well in arid climates. From prickly pears to barrel cactus, you may add an exotic touch to your balcony with their sculptural shapes and occasional colorful flowers.
Things that you should consider:
Put your cactus collection on display with chic white vases and planters. These vases' simple style draws attention to the cacti's interesting forms and textures for a contemporary look.

Use oakwood steps and shelves to make an eye-catching arrangement of your cactus. Oakwood's rustic charm is a perfect match for the desert landscape, creating an orderly display that does justice to your thorny flora.

A wall covered in white spray sand can turn any room into a desert paradise. This textured, neutral background complements the cactus well, evoking feelings of peace and calm.

Gray cement block-like flooring is ideal for creating an urban and modern atmosphere. The combination of your cactus exhibit with this hardy and stylish flooring solution creates a sophisticated atmosphere.
Image Source: Pinterest
Climbing vines are a great accessory for a balcony. They enhance the beauty and verdancy of vertical areas because to their trailing and climbing habits. Use quick-growing vines like ivy, jasmine, or morning glory to set the scene. Your balcony will be a lush oasis of natural beauty when you plant them.
Additional Tips for you:
Build a wooden fence and embellish it with climbing plants for a lovely, natural-looking balcony enclosure. The mix of plants and the wooden structure provides seclusion, aesthetic appeal, and a dash of whimsical charm.

Add some tan ceramic tiles to your balcony floor to improve its aesthetic value. These tiles are durable enough to use outside while yet creating an inviting space with their warm and natural tones.

Put your balcony plants on display with chic containers. Plants need a home, and containers like these, whether they're made of clay, terracotta, or something more contemporary, are both functional and aesthetically pleasing.

Add a flowerbed made of oak wood to your balcony, where it may host a wide range of plants and grasses. This organic and adaptable element may be used in a variety of ways to improve the look and feel of your outdoor area.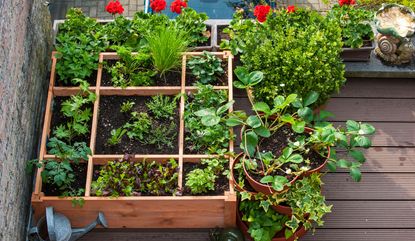 Image Source: Real Homes
If you're a pro at growing in confined spaces, your balcony may become a flourishing garden. Choose dwarf varieties of tomatoes, lettuce, and herbs that grow well in pots. To make the most of a small garden or shelf area, try vertical planting. Grow as much as you can in your little garden and enjoy the fruits of your labor.
Some tips to help you out:
Grow a lush garden of plants and veggies on your balcony with the help of a pinewood flowerbed. This solid and all-natural addition creates an exclusive area for tending your own plants and harvesting your own food.

Plants and vegetables may be kept in a number of different pots and containers on the balcony. These mobile containers provide you a lot of leeway in how you arrange and care for your balcony garden, whether you're growing herbs or greens.

Add some bright splashes of color with red flowers to your balcony garden. Whether they're roses, geraniums, or something else entirely, colorful flowers provide life and beauty to any outdoor setting.

Enjoy the outdoors from your balcony by installing a seamless brown hardwood deck. You may unwind in comfort on your balcony paradise thanks to the wood's natural beauty and warmth.

You may emphasize the rustic appeal of your balcony by leaving the brick wall unpainted. The foliage and flowers you've chosen will pop against the exposed brick since it adds personality and texture.
Image Source: Interior Designers – Flapto
If you want some peace and quiet, turn your balcony into a Zen garden. Create a serene environment with only a few simple elements like pebbles, sand, and strategically placed rocks. Balance and tranquility may be achieved by planting miniature bonsai trees, bamboo, or decorative grasses. Get in touch with your inner Zen on your balcony.
A few tips to remember:
Make a rich and lively installation by suspending plants in a variety of terra cotta and plastic containers. With this mix, you can create a variety of cascading plant arrangements that lend a touch of natural beauty to your balcony.

Exhibit tall plants in decorative ceramic containers. These artsy planters will look great on your balcony and give a beautiful setting for your tall plants.

Installing oakwood flooring on your balcony can greatly improve its appearance. Oakwood's rich tones and natural grain provide an air of elegance and timelessness to your outdoor area, elevating the mood and increasing your satisfaction with its use.

Installing a spray wall on your balcony may instantly turn it into a relaxing oasis. Your outdoor haven will be elevated by the presence of this textured and aesthetically pleasing element.

Make your balcony more inviting by furnishing it with seats and tables made of wood and metal. Durability and a contemporary look come together in this material selection, creating an inviting refuge on your balcony.

Put up a balcony garden that celebrates the diversity of life. This assortment of blooming plants and thick, verdant foliage makes for an outdoor setting that is alive with natural beauty.
Image Source: The English Garden
The satisfaction of self-sufficiency in food production is amplified by the challenge of producing vegetables on a balcony. Smaller variety of tomatoes, greens, and peppers are ideal. To maximize harvest, use containers, hanging baskets, and vertical planting strategies. Get a sense of accomplishment from growing your own healthy vegetables at home.
Ideas to mull over:
Use terra cotta and rectangular pots to create a healthy food garden on your balcony. These pots are ideal for cultivating a wide range of veggies, guaranteeing that you will always have access to healthy food without having to go far from home.

Make your balcony more appealing by installing stair-like shelves painted navy blue to display your plant collection. Your plants will look absolutely gorgeous in this one-of-a-kind and innovative display that incorporates depth and perspective.

Plant a wide variety of veggies on your balcony. This variety of vegetables, from leafy greens to vine crops, not only improves the practicality of the balcony, but also makes for an attractive and fruitful garden.

Grow your own veggies by planting them around the edges of your balcony. Vegetables grown on the side in either railing-mounted pots or vertical gardens are a smart and space-saving addition to any garden.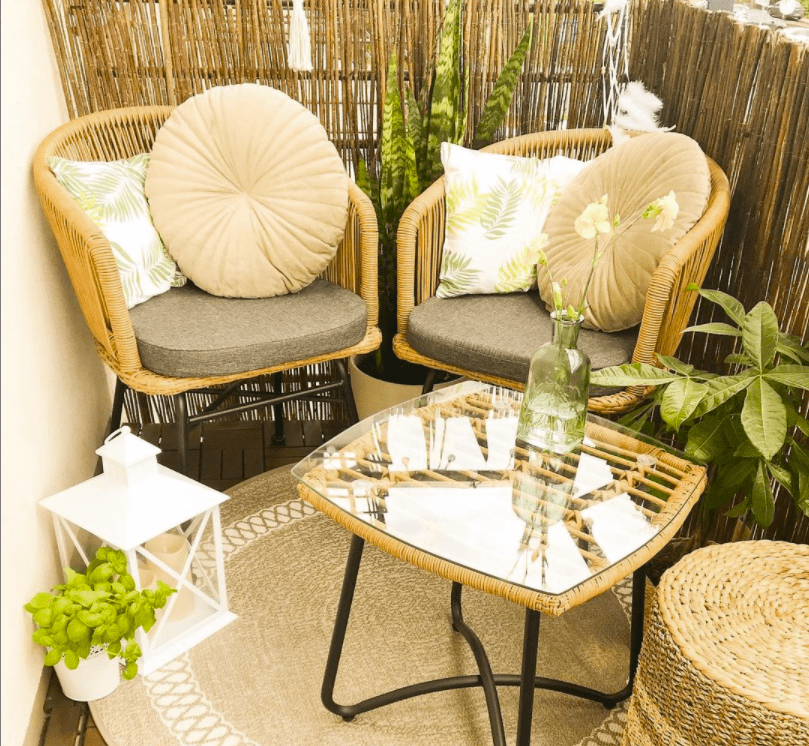 Image Source: Balcony Boss
Screening off your balcony with bamboo plants is a chic and eco-friendly method to increase your own space. Put up bamboo shutters or roll-up shades to keep out the sun and the prying eyes of neighbors. Bamboo's earthy feel and welcoming warmth create a tranquil, Zen-like atmosphere in your garden.
Options to consider:
Plants placed in the gaps and along the edges of bamboo screens will add to the verdant ambiance of your balcony. You'll get some peace and quiet and a dose of nature's lushness in your backyard thanks to this set-up.

Bamboo screens will give your balcony a tropical and eco-friendly vibe. Enjoy your outdoor area in peace and quiet with the help of these long-lasting and adaptable screens that provide shade, solitude, and a touch of natural beauty.

Add some boho flair to your balcony by furnishing it with wicker rugs, seats, and table edges. Texture and warmth from the weavings make this a welcoming place to unwind in the great outdoors.

Use contemporary lanterns to brighten your balcony. These modern outdoor lighting fixtures are the perfect combination of form and function, illuminating your space while also lending an air of understated elegance.

Add a glass-topped table to your balcony. Whether you're using it for eating or lounging, the room will seem bright and spacious thanks to the translucent surface, which also keeps the surrounding landscape in full view.

Pillow up your balcony seating with a mix of white and beige options for more comfort and visual appeal. The neutral tones and smooth textures in this set will make your outdoor space seem calm and put together.
Frequently Asked Questions: FAQs
What should I look for while picking out plants for my balcony?
Think about things like how much light comes in, how much room you have, the weather, and your own tastes. Choose succulents, herbs, or miniature floral plants if you have limited space on your balcony.
What do I need to do to plant a vertical garden on my balcony?
Planters, pockets, and trellises fixed on the wall may be used to create a vertical garden. Make the most of your available vertical space by growing plants along walls and fences.
How often do I need to water the plants on my balcony?
When to water varies on the plant species, the environment, and the containers themselves. Keep an eye on the soil's moisture levels and water as required, taking care to let any excess water drain away.
Can I put artificial plants on my balcony?
To embellish a balcony, synthetic plants are acceptable. They need little care, so they're perfect for busy people or places with poor lighting.
How can I use plants to provide fragrance to my balcony?
Select scented flowers and plants like jasmine, lavender, and roses. Put them near where people will be sitting or walking so that they can smell the fresh scent.
Final Words
Add some greenery to your balcony to enhance its aesthetic value. Plants can make any outdoor area seem more like a tranquil oasis, whether you use hanging planters, vertical gardens, window boxes, or potted trees. Plants such as flowers, succulents, and climbing vines may be used to provide this effect. 
Plant a little herb garden at home and use the herbs in your cooking. Enjoy the peace and quiet, as well as the health advantages (such as lower stress levels) that come with spending time in nature. The following are some suggestions for decorating a balcony so that it is both aesthetically pleasing and functional as a place to unwind and appreciate nature.
We have a few recommendations for you if you want to see other related articles:
10 Best Artificial Grass Paving Ideas For Your Outdoor Space
Written By: Trisha Mae Raymundo